Spring Creek MX Park
Millville

,

MN
Spring Creek (Millville)
Lucas Oil AMA Pro Motocross Championship
For a young rider trying to navigate his way to the professional ranks—which the best in the world are doing this week at the 2013 Red Bull AMA Amateur National Motocross Championship at Loretta Lynn's—injuries can have a major impact. For Minnesotan Gannon Audette, they have decimated his last two seasons. Audette, who now calls the deep South home, was a two-time champion at Loretta's (450 B Mod title in 2009 and 450 A/Pro Sport title in 2010) which lead to a factory supported ride with Star Racing in 2011. He showed flashes that season (15th in points in Lucas Oil Pro Motocross and 13th in points in Monster Energy Supercross), but not enough for the podium-driven Star team to bring him back the following year. Injuries at Dallas Supercross followed the next two seasons—costing Audette all of 2012 and 2013 indoors. A wrist injury hindered him throughout the 2012 Lucas Oil Pro Motocross season, leaving little offers on the table for 2013. He found support with JAB Motorsports (for supercross), but the ghosts of Dallas rose again when he suffered a fractured pelvis in practice. Millville marked a homecoming for Audette, and as of now the only race of his season. We spoke with Gannon this week following his twentieth overall performance in his first race back.
Racer X: Millville was your first race back from injury since Dallas Supercross. You finished eighteenth in the first moto, before having a bike problem in the second. Overall, are you happy with the way the weekend turned out?
Gannon Audette: The weekend was good and bad, but mostly good. I had a DNF in the second moto when my shock blew out. I haven't raced since Lake Elsinore last year so it's been a long time. I thought my fitness was really good. I got a bad start in the first moto and charged up to eighteenth. I got a little tight in the middle, but I thought it was a pretty good first moto back. The second moto I got a much better start and I think I was running around twenty-third and my shock blew out. That was a bummer, but I still think it was a good weekend.
After missing all of supercross and the first eight rounds in Lucas Oil Pro Motocross, how hard was it to get back into the flow of racing again?
I started out in the back so I was kind of on my own pace. I didn't start out front and find out what the pace was. It was tough just jumping in. With all the rain, I haven't been able to ride that much. I've had to ride in the forest because the track is too muddy. Jumping in and doing 30 plus two with those guys is tough, but I actually felt like my fitness was good. You can practice as hard as you want but there is nothing like racing.
You've been on the sidelines with a fractured pelvis; did you feel 100 percent coming into the race?
I felt really good. My pelvis and everything felt really good. Last year, when I hurt my wrist, that really bothered me. This was a little different, I didn't have to have surgery or do rehab or anything. I took around a month off or so and I jumped right back into it and everything felt good.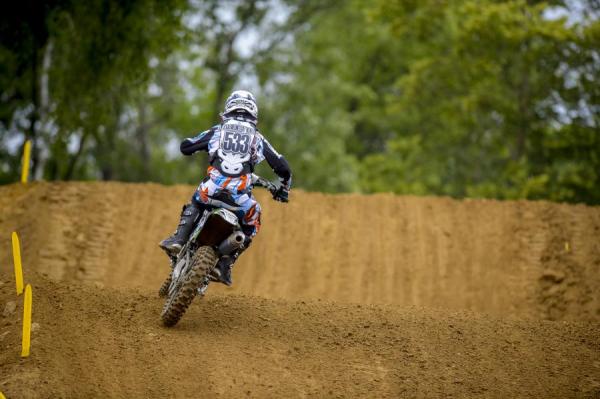 Audette made his 2013 Lucas Oil Pro Motocross debut at Millville.
Ryne Swanberg photo
You have dealt with a multitude of injuries the past two years. How hard is it to get back to 100 percent, only to turn around and be off the bike for a few months? Does it begin to wear on your physically and mentally?
A little bit. Last year with my wrist it began to get mental. This year it hasn't hurt much, but I still have very limited movement in it. It does hurt your confidence a bit sometimes because you don't know where you're at. This year [when I was hurt] I really tried to focus on getting in shape and being prepared as I could have been and I felt like I did that. I felt the weekend turned out pretty good with getting a bad start and being on my practice bike and everything.
Although you train on the Georgia/Florida border, you're originally from Minnesota. Was it good to have your first race back in the comfort of familiar surroundings?
Yeah, it was cool to do it in for of all them. I think I could have came back earlier, but I was doing it on my own. So we went up there to do the race and visit my family. It was nice to have everyone there.
We have talked a bit over the past month. Originally Millville was the only race you were scheduled to race. Is that still the case?
For now, yes. I haven't really messed with my bike yet. I still have to send my suspension and my shock out. I'm not really sure what's the matter with it. As of now, I don't think I'm doing any more races, but you never know what can happen. I know I'm ready, so we'll see.
How tough is it not to be out there showcasing that you are 100 percent?
It's really tough. I feel that I'm in the best shape I've ever been in and not being able to be out there and on a good bike is not fun. It's not fun to watch the races every weekend, except to go out there and work your butt off. Hopefully something will come up.
If this is your last race, are you planning on coming back and racing supercross in 2014?
I would like to be on a team, obviously, but I still think we are planning on doing the east coast either way. That is the plan right now, but we will see how everything falls into place.
And erase some of the demons from Dallas?
[Laughs] Yeah, I need to get over that. That place has not been good to me.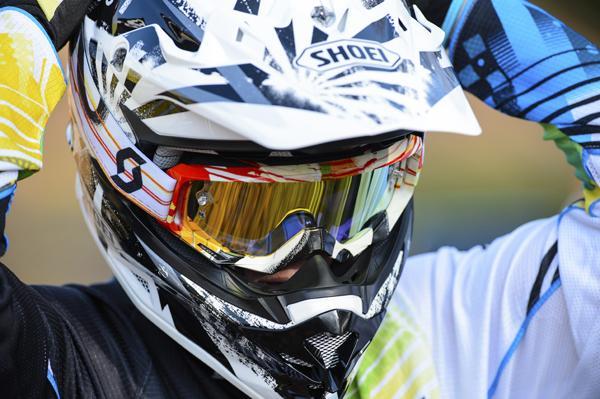 As of now, Millville will mark Audette's last race of the season.
Simon Cudby photo
Or maybe skip Dallas altogether?
[Laughs] Yeah, that's what everyone tells me. They moved Houston to west coast and I was like, 'Man, I wish they would move Dallas to the west.' I like Houston, but not so much Dallas!
If you're not going do be out there racing. What are some of the ways to market yourself to teams for next season?
I'm not sure, really. I guess go out there and do what you can. You need to have results and I've only had one race, obviously, and last year wasn't that good. We haven't really talked about that yet. Probably make some phone calls and see how everything works out.
Thanks, Gannon. Who would you like to thank for helping you out this season?
I would like to thank my mom and dad, SCOTT, Rekluse, FMF, Mika Metals, Asterisk, Leatt Brace, Dunlop, Kissimmee Motorsports and Tarmx Graphics.