Spring Creek MX Park
Millville

,

MN
Spring Creek (Millville)
Lucas Oil AMA Pro Motocross Championship
James Stewart won his first Lucas Oil Pro Motocross race of the year at Spring Creek last weekend. After winning the first two Nationals and the first four motos of the 2012 Lucas Oils Pro Motocross Championship, James injured himself and went winless for the rest of last season. Stewart was very confident last year in his ability to keep Ryan Dungey behind him and handled pressure for 35 minutes straight on more than one occasion. In my opinion, he really felt he was better than Dungey and he was doing enough to win. Nothing more, nothing less. At Colorado, the whole dynamic changed with Stewart going down in cameraman-gate—which is a whole different topic altogether. The point I am trying to make is that he felt deep down that he truly was better than the Dunge. Flash forward to later that season and he was a shell of his former self, riddled with a bad wrist and loss of fitness from sitting out most of the summer. Those weekends of Dungey dominance, combined with being beaten this supercross season by both Ryan Villopoto and Dungey have had a profound effect on James Stewart's killer instinct we have grown to know.
Growing up, Stewart was a freak of motocross dominance. With the exception of Ricky Carmichael at times, no one could really ever match the speed and talents displayed by the man they call Bubba. It was generally assumed that he would approach once thought unattainable records and he even alluded to this in interviews. He had established that he was the best, now it was all about the record books. What no one, including James Stewart anticipated, was the emergence of Team Ryan. Injuries and missed seasons opened the door for a pair of youngsters to gain ground on James's kingdom. By the time James had healed and come back to reign, he had been replaced in his role as FMOTP (Fastest Man on the Planet). Ryan Villopoto and Ryan Dungey have raised the bar to incredibly high levels and even James himself has had to reassess how to approach these two demigods of moto. For one of the first times in his life I don't think James goes to the starting line thinking he is going to win the race. This weekend was a perfect example of why I believe this is true.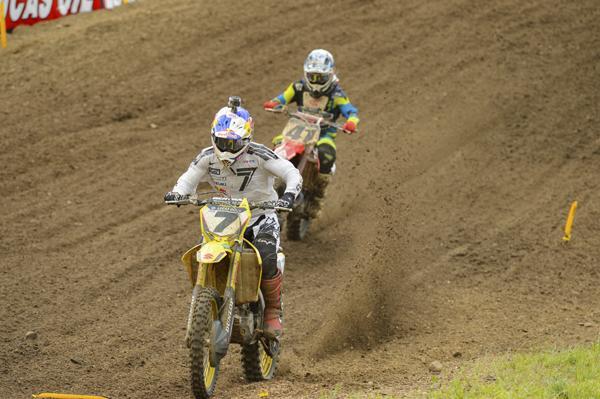 "When it seemed a pass was inevitable, he would simply turn the throttle further and hold Trey at bay." - Jason Thomas
Simon Cudby photo
All season long we have seen RV and RD be able to pass James without too much of a fight. Whether it is on the first lap or at halfway, James has rarely engaged either the #1 or #2 bikes in any kind of real battle for position. I just don't think he believes he is the better rider. I was in this position hundreds of times in my career when numerous riders who I subconsciously believed to be superior (Nick Wey, Heath Voss etc.) would come up behind me. I wouldn't necessarily move over for them but I wouldn't fight them anywhere near as heartily as I would a rider who I felt to be an equal or lesser rider. It was just a different level of intensity and determination to keep that rider behind you. This is the same for James at the moment. If Dungey or Villopoto come up behind the 7 bike, he just doesn't seem to make their life that difficult. He has been passed and dropped enough times by them that his will to beat them has been overcome. It's not that he doesn't want to beat them, he just doesn't believe he can.
The real smoking gun for this case was last weekend in his battles with Honda Muscle Milk's Justin Barcia and Trey Canard. He fought these two with such tenacity and fire that I thought he might challenge them to a duel at dawn Sunday morning. He wasn't intimidated by either of these two and it was very apparent in his riding. He took chances and pushed the limits like the James Stewart of old. When it seemed a pass was inevitable, he would simply turn the throttle further and hold Trey at bay. I was shocked at some of the efforts he made to win that first moto, simply because I haven't seen that from James in years. To me, the reason is simple: In his mind, he is better than Trey and Bam Bam. They shouldn't beat him and he will keep pushing until they don't. Mentally, his approach is far different to Trey Canard than it is to Ryan Villopoto, even if it is battling for the same position. He is willing to push that edge to establish dominance, much like he would over everyone in 2007 and 2008. He just KNEW he was better than every rider on the track and if someone dared to challenge it, they would be reminded of the harsh reality.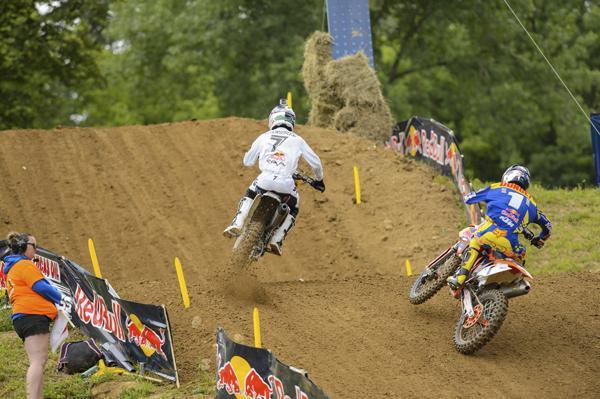 "All season long we have seen RV and RD be able to pass James without too much of a fight." - Jason Thomas
Simon Cudby photo
As James continues to get back to 100 percent of his potential, and fully healthy, this will be what I am most interested in. Does he once again regain that crucial level of confidence to fight toe to toe with RV and RD. The talent is there. The equipment is there. What we don't know is if James can mentally and physically step up to this new bar that the Ryans have set. He will have to increase his endurance, as those two are as close to Secretariat as I have seen since RC retired. They don't have many flaws and they are only improving. I know that James wants to win, it is how he is programmed and he's been doing it since he was 5 years old. To do it now, though, may be his toughest challenge ever. Not only does he have to face another Ricky Carmichael, he has to face two at the same time. Will he be able to convince himself he can beat these two? Will this pattern of acceptance continue to eat away at his psyche? These are questions that only James can answer. I have said many times that James can do things on a motorcycle that only James can do. He is far and away the most talented racer I have ever seen in my 30 years of watching this sport. Will that talent sword be enough to combat the double-headed Ryan dragon? You tell us, James. We are all waiting.