Amateur Day at Miller Motorsport Park
TOOELE VALLEY, UTAH — Miller Motorsports Park is pleased to announce the addition of an Amateur Motocross practice day prior to the inaugural Built Ford Tough Utah National, Round 11 of the Lucas Oil Pro Motocross Championship.
The amateur practice day will take place on Friday, August 16, from 9:00 a.m. until 4:00 p.m. on the brand-new, Marc Peters-designed motocross track located in the infield of the East Road Course at the state-of-the-art Miller Motorsports Park facility. Big bikes will practice from 9:00 a.m. until noon, and the smaller bikes will practice from 1:00 p.m. until 4:00 p.m. The schedule is subject to change.
"We have had a lot of interest from amateur riders about providing access to our new motocross track," said John Larson, general manager of Miller Motorsports Park. "We plan to have a full amateur race to accompany the Lucas Oil Pro Motocross Championship in the future, but it was unfeasible for this inaugural event. However, we can offer a practice day on the Friday, and we're excited to have the amateur competitors get a chance to ride the new track."
The practice day at Miller Motorsports Park was organized in conjunction with Rocky Mountain Motocross (RMX), who will be racing on the motocross track at the adjacent Deseret Peak Complex on the same day. The schedule will allow all riders to both race the RMX event at Deseret Peak and practice on the new Miller Motorsports Park course for a full day of motocross action.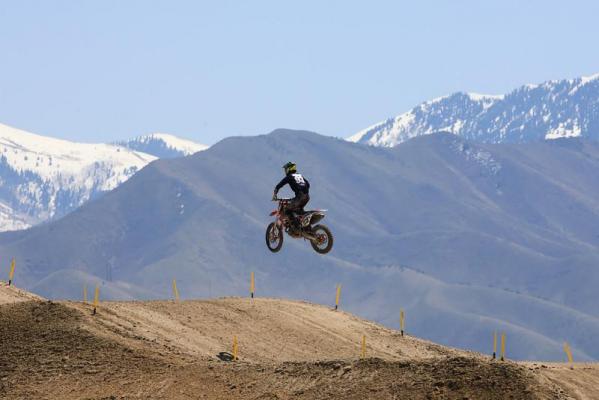 Amateur motocross riders will get their first chance to ride Miller Motorsports Park's new motocross track during an amateur practice day on Friday, August 16, 2013.
Photo courtesy Miller Motorsports Park / Jeremy Henrie)
The practice day will be open to all amateur riders on bikes 85cc and larger. The fee will be $25 for riders who register before August 14 and $35 for those who register later.
To register for the amateur practice day, visit the registration link HERE.
For information about Miller Motorsports Park, call 435-277-RACE (7223) or visit the track's website at www.MillerMotorsportsPark.com.