Washougal MX Park
Washougal

,

WA
Washougal
Lucas Oil AMA Pro Motocross Championship
Eli Tomac and Ken Roczen are the fastest two riders in the 250 Class, period. End of story. The real question we haven't answered this season, though, is who is faster head to head between the two of them. As close of a points battle as we have now (one point), we really haven't seen a knock down drag out battle as of yet. Washougal would give us our closest taste of a heads up showdown, even as anti-climactic as it may have been.
With Eli and Kenny starting inside the top three, all eyes were on the duo to see if we would finally get the battle we have been waiting for. Eli jumped out front early and clearly wanted to run away from the pack and make his life easy. When Roczen got to second, he actually closed in on Eli for a lap or two and everyone could feel the energy building. Surely Roczen would catch up to Eli's rear wheel and give everyone a race for the ages, right?  Unfortunately, Eli had different plans. Once Kenny gained a bit of ground, Eli retaliated with his own pace increase and started to stretch it back out. That retaliation was key in my opinion. In my experience, it is incredibly hard to pick up the pace when the effort is already at 100 percent. It made me wonder if Eli was pacing Kenny that early in the moto or if he just sorted out a few lines and was able to drop his lap times accordingly. For Roczen, it had to be disappointing. After all, he was fastest in both practice sessions and when he began catching Eli, that surge of confidence and adrenaline is a huge bonus. For Eli to be able to recognize the need for more speed and actually respond was impressive.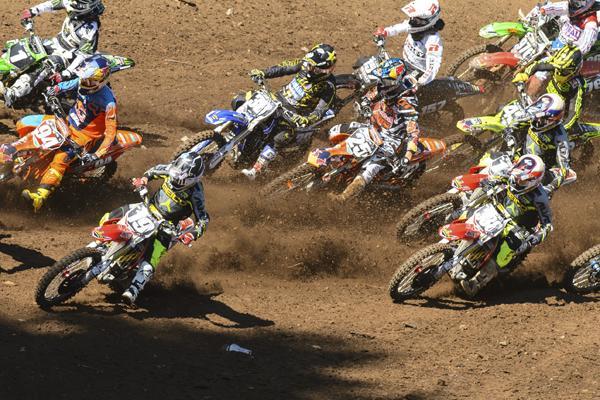 Roczen (left, 94) and Tomac (right, 17) looked primed for  a showdown in the second moto at Washougal. But Tomac had different plans.
Simon Cudby photo
The question that remains for me is this: Did Kenny relent once he realized he couldn't close the gap? He has seen Eli's tendency for bad starts and inconsistency at times this season and I wonder if that makes it easier for him to settle on a second place finish if that's all he felt he had at the moment. These two are racing for the big picture. Moto wins and overalls are great but holding the big trophy at Lake Elsinore is what this fight is all about.
Kenny has shown brilliant speed at times this season and then Eli has countered with some of the most impressive laps I have seen in years. I feel it was a big moment for Eli to not only keep Kenny at bay, but to say, "Hey, I can go faster than this if I need to" and pull back away. Whether Kenny lets on or not, that wasn't a comforting feeling to watch the 17 stretch his lead into the shadows. These last few races are truly anyone's guess in my opinion. Kenny has been more consistent with his starts and his first moto speed but if Eli can solve that puzzle like he did at Washougal, it will end up being the deciding factor in this championship.