Hyvinkää was an unseen test for most of the FIM Motocross World Championship paddock, but when the Grand Prix community rolled into the venue on Friday and saw the compact and sandy terrain there was a sense of inevitability about this twelfth round of seventeen. And so it came to pass.  For the eighth time this season a sandy education was dolled out by the Red Bull KTM duo of Tony Cairoli and Jeffrey Herlings in the MX1 and MX2 classes as they both walked the top steps of the podium. It was the third occasion in which they swept both motos together and now brings the duo within touching distance of their title renewals…with five rounds still to go.
For Herlings, especially, this was a sweet victory. His twelfth in a row drew him level with the record set by team manager Stefan Everts in 2006. The eighteen year old Dutchman reached 28 wins for his career and by beating Monster Energy Yamaha's Dean Ferris and teammate Jordi Tixier established a 151 point lead in MX2, meaning he can be champion again in three weeks at the Grand Prix of Czech Republic.
"This is what we are working for [records]," said Herlings. "I'm equal with Stefan now and I'd like to break as many records as I can. I am still very young and we are working hard. The next step is to hopefully overtake Stefan with that one and then get my second world title in Loket. I have really dominated this year…it's nice."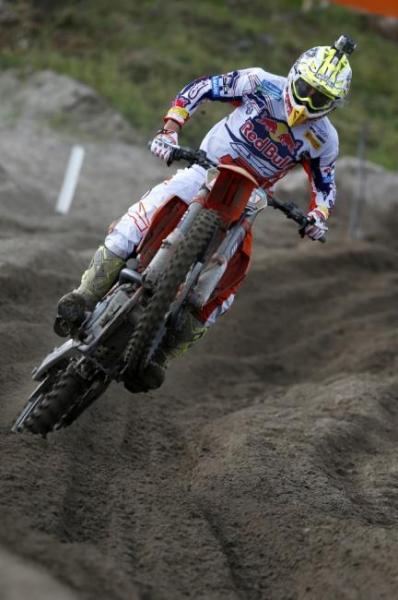 Cairoli went 1-1 to capture the MX1 overall in Finland.
Ray Archer photo
Hyvinkää drew a chorus of moans on Saturday with the riders united in their criticism that the flat layout was too short with 1 minute 30 second lap-times. In truth this was unfair. Although Finland's Harri Kullas – a rider battling to come back from knee ligament injury and once the young starlet of MX2 in 2010 – said the course used to last two minutes until it had to be reshaped to fit the Grand Prix infrastructure. Hyvinkää was similar to Mantova in Italy. In other words a very tight, level circuit with shallow spectator banking on two sides that hemmed the racetrack inside. This was never a long Finnish "epic" to begin with. Hyvinkää had also stepped late into the void abandoned by Russia on the Grand Prix calendar in February, so it was also a slightly hurried event. Predictably the track became rougher, slower and harder and the complaints subsided on Sunday. This was an effective sandy stage for racing; difficult, physical and gave the riders options. The motos ended up being only two laps longer than usual.
"Today the track for me was very good. If you pushed a little bit more then you could make the difference," said Cairoli who also admitted he struggled with some arm-pump. "It was not so important to get the holeshot here, a top ten start was just as good."
Herlings may draw the plaudits and glory for his sand ability (and the Dutchman was 55 and 51 seconds ahead of countryman and Standing Construct KTM's Glen Coldhenhoff and Tixier at both times of asking) but Cairoli is equally as deft; as those watching the 2012 Motocross of Nations at Lommel will remember. The Sicilian stalked an impressive Clement Desalle – the Rockstar Energy Suzuki rider not renowned for his race-winning speed in the sand – in the first moto and overtook with a close and measured block pass to escape in the final seven laps. In the second race he led from the front and kept distance from Desalle's teammate; the flighty Kevin Strijbos making the podium for the second time this season on the factory machine.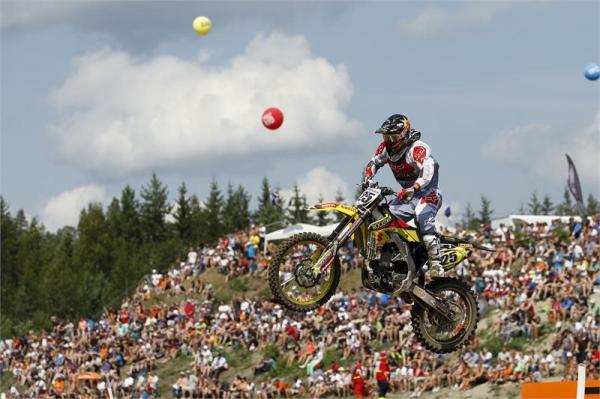 Clement Desalle would finish second overall, but the headlines came from his dust up with Tommy Searle.
Suzuki photo
Desalle finished second overall for his ninth podium from twelve in 2013 but he could have easily been penalized (and was officially reprimanded) for some overly aggressive moves on CLS Monster Energy Kawasaki Pro Circuit's Tommy Searle. Their line-stealing and bar-banging for two laps deep into the moto was almost a headline grabber. Searle was electric after a charge through the top ten and passed Desalle for third position, a race that again marked him as a special rookie talent on the 450. He was held-up by backmarkers (a legible complaint by the lead riders on Sunday) which allowed Desalle to close and mix it up. Several heated encounters saw Searle already running off the track but the Suzuki man ended the dispute by driving the Briton into a high berm shortly after and putting him down.
"There was a lot of fighting with Tommy in the second moto but this is racing," reflected Desalle. "He showed that he wasn't going to let me pass. He came close and I wanted to show that I am also there and if he wanted to do 'that' then I would also."
"I don't know why [he did it] because you cannot pass in that corner," explained Searle. "He came away second and I leave with eleventh, so it worked out for him but it was a bit silly. Obviously it is disappointing when you ride well and stuff happens like that. It was a bit out of line what Desalle did, but it happened and we'll move on to the next GP."
Watch the dice here.
Cairoli was oblivious to this and with Kawasaki's Gautier Paulin suffering poor starts and only able to classify sixth overall the Sicilian now has a 99 point lead, two Grands Prix effectively, meaning a party could be started at Bastogne in Belgium in the middle of August. Fair dues to Jeremy van Horebeek for another consistent run and a dependable speed in his first MX1 season that puts him just behind Desalle and possibly Searle in terms of the most sought after rider for 2014. Ken de Dycker was the source of bizarre rumors that he actually isn't that satisfied with his new factory KTM contract and a poor getaway in the second moto prevented the tall Belgian from entering the podium ceremony for the third time in a row. Bad luck for 2011 world championship runner-up Steven Frossard as the misfortune and injury-cursed Frenchman smacked his foot while drilling the Monster Energy Yamaha in the Saturday heat race and broke another two metatarsal bones.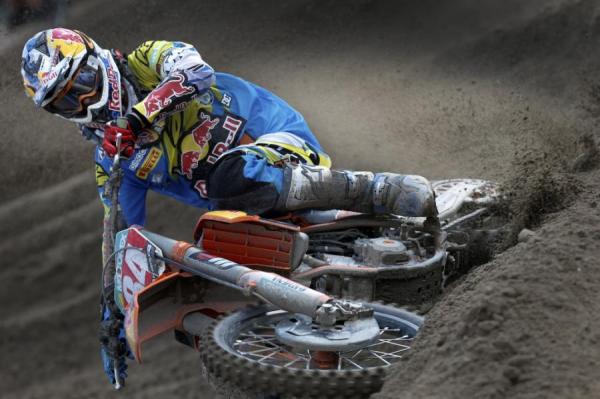 Jeffrey Herlings marched to another 1-1 performance in Finland.
Ray Archer photo
In MX2 Herlings was busy lapping away but his Dutch compatriot Coldenhoff continues to grow in stature in the sand. Pole Position on Saturday and second in the first moto lined up his first overdue podium finish. Even a first corner crash in the second race didn't seem to be much of an impediment as he gained serious ground back from last to 12th before a mechanical frustratingly ended his day half way through the moto. Ferris capitalized on two bright starts to make good on his third rostrum appearance and the Australian's enthusiasm on the box was refreshing alongside the KTM riders who now uncork champagne as a matter of routine. Worthy mention to Kullas, who fed off the home support for a confidence-surging sixth position overall and a result and could re-kickstart the career of one of the genuine nice guys in the paddock.
Some flight problems in London and also big prices for the travel to arrive in Helsinki from the UK ultimately prevented Dean Wilson from travelling to the Grand Prix, just as rumors were escalating that the 2011 AMA champ might be considering a West Coast Lites and world championship ride for 2014. It remains to be seen whether the Scotsman will join the paddock and also if Tyla Rattray also fancies his first attempt at the MX1 class after claiming the MX2 crown back in 2008.
The FIM series has chalked off two thirds of the 2013 fixtures and events in Germany, Czech Republic, Belgium, Great Britain and Holland remain.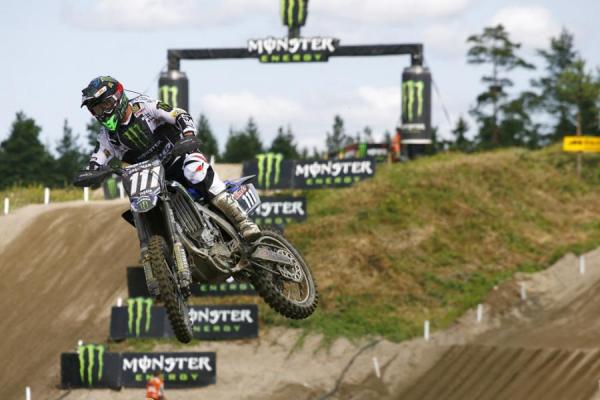 Dean Ferris used good starts to capture his third MX2 podium on the season.
CDS photo
MX1 Moto1
1. Antonio Cairoli (ITA, KTM), 39:23.418;
2. Clement Desalle (BEL, Suzuki), +0:06.700;
3. Ken de Dycker (BEL, KTM), +0:11.075;
4. Jeremy van Horebeek (BEL, Kawasaki), +0:13.381;
5. Kevin Strijbos (BEL, Suzuki), +0:17.518;
6. Gautier Paulin (FRA, Kawasaki), +0:29.507;
7. Evgeny Bobryshev (RUS, Honda), +0:31.544;
8. Rui Goncalves (POR, KTM), +0:34.243;
9. Maximilian Nagl (GER, Honda), +0:40.742;
10. Joel Roelants (BEL, Yamaha), +0:49.945;
MX1 Moto2
1. Antonio Cairoli (ITA, KTM), 39:10.609;
2. Kevin Strijbos (BEL, Suzuki), +0:05.638;
3. Clement Desalle (BEL, Suzuki), +0:07.258;
4. Gautier Paulin (FRA, Kawasaki), +0:11.691;
5. Jeremy van Horebeek (BEL, Kawasaki), +0:17.361;
6. Ken de Dycker (BEL, KTM), +0:40.436;
7. Rui Goncalves (POR, KTM), +0:41.064;
8. Evgeny Bobryshev (RUS, Honda), +0:52.288;
9. Maximilian Nagl (GER, Honda), +0:55.723;
10. Joel Roelants (BEL, Yamaha), +1:00.203;
MX1 Overall
1. Antonio Cairoli (ITA, KTM), 50 points;
2. Clement Desalle (BEL, Suzuki), 42 p.;
3. Kevin Strijbos (BEL, Suzuki), 38 p.;
4. Ken de Dycker (BEL, KTM), 35 p.;
5. Jeremy van Horebeek (BEL, Kawasaki), 34 p.;
6. Gautier Paulin (FRA, Kawasaki), 33 p.;
7. Rui Goncalves (POR, KTM), 27 p.;
8. Evgeny Bobryshev (RUS, Honda), 27 p.;
9. Maximilian Nagl (GER, Honda), 24 p.;
10. Joel Roelants (BEL, Yamaha), 22 p.;
MX1 World Championship standings after 12 of 17 rounds
1. Antonio Cairoli (ITA, KTM), 564 points;
2. Gautier Paulin (FRA, Kawasaki), 465 p.;
3. Clement Desalle (BEL, Suzuki), 456 p.;
4. Ken de Dycker (BEL, KTM), 441 p.;
5. Kevin Strijbos (BEL, Suzuki), 365 p.;
6. Tommy Searle (GBR, Kawasaki), 337 p.;
7. Jeremy van Horebeek (BEL, Kawasaki), 305 p.;
8. Maximilian Nagl (GER, Honda), 296 p.;
9. Rui Goncalves (POR, KTM), 230 p.;
10. Davide Guarneri (ITA, KTM), 195 p.;
MX2 Moto1
1. Jeffrey Herlings (NED, KTM), 39:10.242;
2. Glenn Coldenhoff (NED, KTM), +0:55.951;
3. Dean Ferris (AUS, Yamaha), +1:06.978;
4. Jake Nicholls (GBR, KTM), +1:08.956;
5. Jordi Tixier (FRA, KTM), +1:09.288;
6. Petar Petrov (BUL, Yamaha), +1:19.595;
7. Harri Kullas (FIN, KTM), +1:22.445;
8. Christophe Charlier (FRA, Yamaha), +1:25.400;
9. Jose Butron (ESP, KTM), +1:28.936;
10. Aleksandr Tonkov (RUS, Honda), +1:30.326;
MX2 Moto2
1. Jeffrey Herlings (NED, KTM), 38:52.389;
2. Jordi Tixier (FRA, KTM), +0:51.963;
3. Dean Ferris (AUS, Yamaha), +1:07.402;
4. Jose Butron (ESP, KTM), +1:12.693;
5. Romain Febvre (FRA, KTM), +1:24.516;
6. Aleksandr Tonkov (RUS, Honda), +1:25.710;
7. Max Anstie (GBR, Suzuki), +1:26.426;
8. Dylan Ferrandis (FRA, Kawasaki), +1:27.144;
9. Alessandro Lupino (ITA, Kawasaki), +1:28.444;
10. Harri Kullas (FIN, KTM), +1:30.968;
MX2 Overall
1. Jeffrey Herlings (NED, KTM), 50 points;
2. Dean Ferris (AUS, Yamaha), 40 p.;
3. Jordi Tixier (FRA, KTM), 38 p.;
4. Jose Butron (ESP, KTM), 30 p.;
5. Aleksandr Tonkov (RUS, Honda), 26 p.;
6. Harri Kullas (FIN, KTM), 25 p.;
7. Petar Petrov (BUL, Yamaha), 25 p.;
8. Max Anstie (GBR, Suzuki), 24 p.;
9. Glenn Coldenhoff (NED, KTM), 22 p.;
10. Christophe Charlier (FRA, Yamaha), 21 p.;
MX2 World Championship standings after 12 of 17 rounds
1. Jeffrey Herlings (NED, KTM), 592 points;
2. Jordi Tixier (FRA, KTM), 441 p.;
3. Jose Butron (ESP, KTM), 383 p.;
4. Christophe Charlier (FRA, Yamaha), 343 p.;
5. Glenn Coldenhoff (NED, KTM), 326 p.;
6. Dean Ferris (AUS, Yamaha), 313 p.;
7. Jake Nicholls (GBR, KTM), 292 p.;
8. Alessandro Lupino (ITA, Kawasaki), 259 p.;
9. Max Anstie (GBR, Suzuki), 252 p.;
10. Petar Petrov (BUL, Yamaha), 221 p.;