Buchanan, MI
RedBud
AMA Pro Motocross Championship
BTO Sports is your number one source for all of your motocross parts, gear, accessories and apparel. BTOSports.com is a motocross company that is truly dedicated to the sport and to the customer. Proud sponsor of your Racer X Podcasts and the BTO Sports race team.
REDDDBUUUUUDDDDDDD has come and gone. Round seven of the 2013 Lucas Oil Pro Motocross Championship, one of the best overall races front to back, is done for the year. RedBud has been hosting Nationals for forty years now, which is pretty amazing. You ever go back and watch an old RedBud National on tape? It was pretty hard pack and dusty. The transformation that this track and facility have gone through is amazing.
Some of the changes that Tim Ritchie and crew made this year weren't met with universal acclaim by the riders, but all in all, it's still a fantastic track, from LaRocco's Leap (remember when Jeff Emig kept calling it The Parking Lot Jump one year on TV? Was he drunk?) to the wall berm, to the recently added sand whoops, to the giant tabletop with grass sides that had RedBud painted on it. Ooops, not that last one, they got rid of that thing for some reason this year. All in all, combined with Independence Day weekend, RedBud is a must-see for any American motocross fan. I met some guy from Botswana, South Africa, there and he was very pumped on his day at RedBud, so there's that also.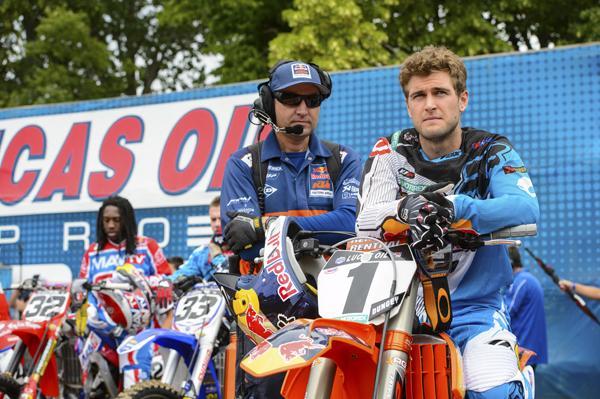 What could go wrong, did go wrong for Dungey at RedBud.
Simon Cudby photo
Ryan Villopoto had lost two races in a row and wasn't very happy about it. The Kawasaki rider had his suspension guy Kaipo Chung fly down to Florida before Southwick to work on a few things and although I thought it was specific to sand tracks, I guess it wasn't and the changes helped out. In the first moto he came through the pack like he was shot out of a cannon and quickly worked to the front. It was amazing to watch; he was three to four seconds faster than anyone else out there at times. And those other guys are the best riders in the world. Wow. RV showed us his speed is in full effect. Second moto he didn't dominate like the first one. In fact Ryan Dungey put some heat on him until he fell, but RV went 1-1 anyway, which, when coupled with Dungey's disastrous day (Dungey's DD- stamp that), helped Villopoto's points lead get real big.
Before the first moto I once again helped out RV with some line selections, as well as a gate position. I like to think both of my suggestions really helped out but Ryan didn't seem to think so. He stayed away from the inside gate (but still didn't get a good start) and he stuck inside on the tabletop after the sand whoop sections. I dunno man, I'm claiming a small piece of the victory for Ryan. What would he have done without my instructions?
As I said, Dungey had a bad day. First moto he stalled his bike and then, in talking to some mechanics I know, probably flooded it (opinions were split on whether or not you can flood an EFI bike, but two people at the highest levels on factory teams told me that yes, you can) and the KTM wouldn't fire back up. Then he probably killed the battery (they're pretty small on those bikes) because he eventually tried to bump-start it. Either way, it was a massively crushing blow for Dungey, a rider who has already had a few massively crushing blows dealt to his career via mechanical problems. In the second moto he was putting heat on Villopoto but went over the bars while going up a hill. A third was the best he could manage and he lost thirty points to Villopoto in the championship battle.
Most times the electric start on the KTM's is a lifesaver. I've seen Dunge stall it in supercross while in a rhythm lane, hit the button and then proceed to triple or double the next section. By and large the electric start has been pretty good to Dungey (and many other KTM riders throughout history) but sometimes, it does let you down. RedBud was one of those times. Electric start giveth, and taketh away.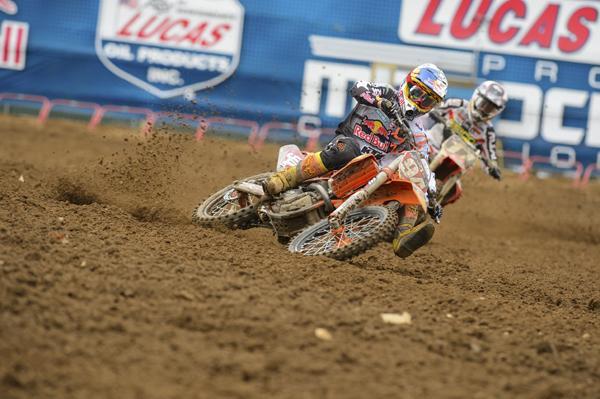 Roczen and Tomac have emerged as the top contenders in the 250 Class. Yet, it's been awhile since the two have gone head-to-head for the overall.
Simon Cudby photo
Sort of weird what people perceive in terms of what Red Bull KTM team manager Roger DeCoster had to say in regards to Dungey's DNF. Some people tweeted and emailed me that Roger threw Ryan under the bus by saying that Dungey stalled it and couldn't start it, but it fired back up in the pits. Others thought it was great that DeCoster was so honest with what happened to the bike. Just goes to show you that you can't please everyone no matter what you say, so why bother trying? The truth shall set you free…
This 250MX title is really shaping up to be a two-man race. It wasn't that long ago that Marvin Musquin and Blake Baggett were in the mix for the championship but then, two races later, POOF! It's pretty much over for Blake and Marvin. Eli Tomac trails Kenny Roczen by seven while Musquin trails Tomac by forty-five! Sure, something could happen to Eli or Kenny, like a crash or a mechanical, but both riders? I don't see it. They're both so strong. The two musketeers split moto wins at RedBud with each dude having a dominant ride. Tomac fell in the second moto while moving to the front but even if he hadn't, I'm not sure he would have caught the German. Roczen was setting the fast times lap after lap in that second moto.
It's mostly thought that Tomac is faster by a smidge and is in better shape than Kenny, while Roczen is the better starter, but I'm not sure if I'm in that camp. Roczen's fastest time in the second moto was better than Eli's (although both guys were amazing) and while it wasn't that hot and humid at RedBud, there was no intermission and Roczen showed that he was pretty fit for that second moto. In short, I have no clue which rider is better because things seem to change with every race. I know that Tomac has got to start more consistently if he's going to cut into Roczen's lead. Roczen's too fast and too consistent. It's weird that except for a couple of motos this year, we've yet to see Roczen and Tomac battle for all the marbles. One guy gets out front and takes off and then they flip it for the next moto.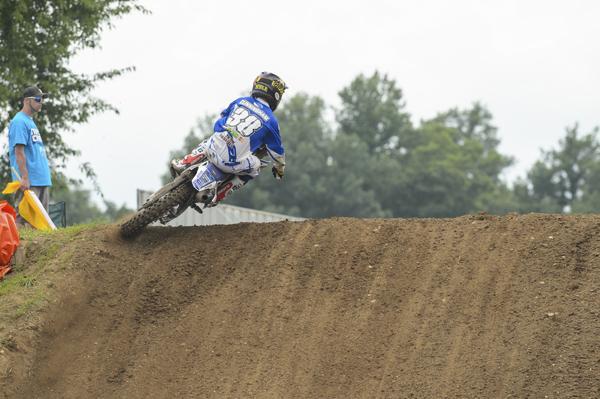 Kyle Cunningham, along with teammates Jeremy Martin and Cooper Webb, are all inside the top ten in points.
Simon Cudby photo
There's been plenty of criticism toward Star Yamaha in this space over the years (and on the podcast airwaves), and justifiably so in my opinion. Managers and riders came and went, Yamaha kept on churning out the same bike for about ten years and in general there wasn't much success in a program hand-picked by Yamaha to be its official 250MX effort. Well don't look now, but the MyPlash/Metal Mulisha/Star Racing Yamaha guys seem to be putting it together this season. With the newly retired Ryan Morais running things, a couple of great young riders in Jeremy Martin and Cooper Webb and an all-new 250F coming out next year, the future is bright for the team. There are three GEICO Honda riders in the top ten and guess what? There are also three Star Yamaha riders in there also. I swear! Here, look for yourself!
1 94 Ken Roczen 312
2 17 Eli Tomac 305
3 25 Marvin Musquin 260
4 1 Blake Baggett 247
5 338 Zach Osborne 212
6 21 Jason Anderson 176
7 77 Jeremy Martin 162
8 38 Kyle Cunningham 158
9 34 Justin Bogle 145
10 175 Cooper Webb 140
See! I bolded the Star riders for those that are a little challenged. Martin scored a third overall this weekend, Webb's gotten a third in the moto while showing a ton of speed and the veteran Cunningham is quietly having a strong season. Webb started the year off with a bang while Martin's come on lately. I don't know who's better but they've both got bright futures ahead of them. And perhaps Star Yamaha does also; they have to just keep on keeping on and not make any irrational decisions. Young riders are like delicate flowers and too much yelling and screaming will just make them keel over and not even ET (the extra terrestrial, not Eli Tomac) can bring them back.
There's no denying that James Stewart has had a tough 2013 season. With just one win this year (Atlanta SX) it just hasn't worked out for the #7. The Nationals haven't seen a change in fortunes for James either, although he should've won a moto last week, and this week he went 2-2 in perhaps his best National of the year (maybe Hangtown was better, flip a coin). Can you believe that RedBud was the first time since Thunder Valley's second moto where he finished on the podium? Yeah, me neither.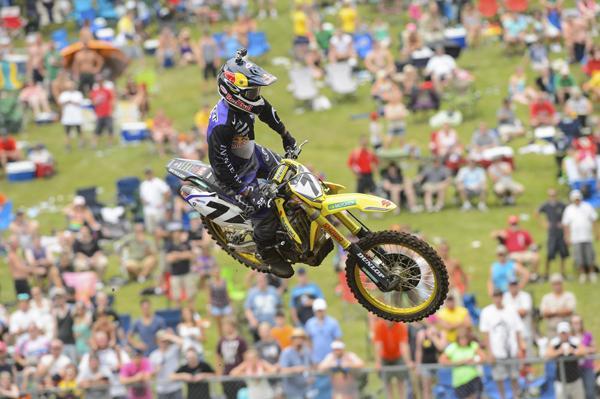 Stewart's podium drought ended at RedBud with a 2-2 performance.
Simon Cudby photo
I'll tell you what has changed in James though, and that's his demeanor. Stewart used to not like losing one little bit. He couldn't handle it very well and even when he won, sometimes he seemed to not be happy that he didn't win by enough. He's an extremely driven individual. Well 2013 has seen him take his lumps (remember when James had a ninety-eight percent win ratio when he didn't crash?). No longer winning as often is probably worse in the pocket book or his career stats, but what has also come about is a rider that's perhaps enjoying himself more than when he was champion. After the races this year, even when he's had a bad weekend, Stewart meets the press most times, he signs autographs, he hangs out with Mookie and he's pragmatic about his losses. He even told me at Muddy Creek that he was getting old now! Stewart seems to be in a happier place in his life, win or lose, and I think you can see it in him. I've been around the guy since he was Bubba, J-Mac and now just James Stewart, and I don't think I've seen him as relaxed as he has been this year.
Let's take a look at the results shall we?
250MX Results
1 94 Ken Roczen Germany KTM 250 SX-F 2 1- I had some questions about the upcoming MXDN in Germany this year, so I texted the only German that I know who lives in America. Thanks for the info, Kenny!
2 17 Eli Tomac Cortez, CO Honda CRF250R 1 2- Tomac's going back to the GEICO Honda team for next year and the fact that that's all settled now has to be a bit of a relief for Tomac. I know you may think that all these teams throwing millions of dollars at you would be awesome but it had to have been a bit stressful while trying to focus on winning the 250 National Championship.
3 77 Jeremy Martin Millville, MN Yamaha YZ 250F 4 3- Can Martin win a moto at his home track of Millville coming up in a couple of weeks? I would have said no six months ago, but now, I think he's got a shot. He's got speed and endurance, bro.
4 25 Marvin Musquin France KTM 250 SX-F 3 4- Solid day for Marvin at RedBud. His battle with Roczen was epic! Two teammates racing hard and being respectful at the same time.
5 338 Zach Osborne Chesterfield, SC Honda CRF250R 10 5- Yet again Zach's first moto was pretty poopy as he went from about second to tenth. The problem seems to be that his arms pump up and he's helpless as he goes backward. Then in the second moto, the arm pump is gone, and he kills it. He's wondering what the deal is, just like you are as you read this. Maybe he's nervous?
6 38 Kyle Cunningham Aledo, TX Yamaha YZ 250F 7 8- Yet another nice day for Cunningham. Catching and passing Baggett in the second moto was probably pretty sweet for Kyle.
7 175 Cooper Webb Newport, NC Yamaha YZ 250F 6 9- Nice solid day for Webb, two top ten motos, and that's what he needs. Just some motos with no drama and avoiding the highs and lows he's sometimes been having.
8 43 Cole Seely Newbury Park, CA Honda CRF250R 5 11- Awesome day for Seely, but the best part was his massive flying W over the finish line that he saved. Seriously, his was pretty much vertical and somehow came down with it. (Editor's note: Check Cole Seely's Twitter, @coleseely43, for pictures of the miraculous save)
9 1 Blake Baggett Grand Terrace, CA Kawasaki KX 250F 8 10- I just don't know. I really don't. Wrist? Sickness? Anyone? He's a shell of his former self right now and most of us thought that Budds Creek was going to be a turning point for Blake. It wasn't.
10 34 Justin Bogle Cushing, OK Honda CRF250R 12 7- Bogle's coming back to GEICO in 2014 and he was pretty good at RedBud. I haven't seen Robbie Reynard at the races with Justin so I'm not sure if they split or not. Someone needs to make a family tree or something of riders and trainers and keep track of the jumping around.
11 19 Will Hahn Decatur, TX Honda CRF250R 9 12- Wil wasn't happy with his day but he can sleep easy knowing that he signed a new deal for 2014 with GEICO to ride 450SX/250MX. He got a nice raise in doing so as well. Wil's such a favorite in the pits with the other riders and media that he could pretty much drag a kiddie pool full of abused puppies around and no one would say anything to him.
12 292 Adam Cianciarulo Port Orange, FL Kawasaki KX 250F 11 15- The Adam Cianciarulo Project continues. This week the kid went from second to eleventh in the first moto and then fell early in second moto and fought hard to get to fifteenth. The next lesson is happening in a couple of weeks in Washougal. Department of Not Cool was an announcer at RedBud yelling, "WELCOME TO PRO RACING ADAM CIANCIARULO!!" when AC hit the deck hard in the second moto. Really? That's what we want to do to our stars of the sport? Have them crash? Weird.
13 21 Jason Anderson Edgewood, NM Suzuki RMZ 250 34 6- Anderson was on fire in the first moto but he broke some spokes in the front wheel which apparently ended with a spoke puncturing his rear tire. Yes, I'm serious. So after coming into the pits and taking a rear and a front wheel swap, Anderson was done for scoring any points. In the second moto he was strong. I've been going by the Rockstar Energy Racing truck to try and interview Anderson for a bunch of races but I never see him around. This weekend I did get to see the injured Davi Millsaps, and because I had to wait for Ryan Sipes, I stood there while Millsaps mocked me.
14 44 Darryn Durham Butler, PA Kawasaki KX 250F 18 13- RedBud seems like a good track for Durham, right? So what happened?
15 266 Jesse Wentland Elk River, MN KTM 250 SX-F 15 16 – Good ride for Wentland, who takes the award for "First guy in the 250MX Class NOT on a good team." Jesse plans on racing this weekend's Canadian National as well, according to an email I got from a fan of his.
16 50 Kyle Peters Greensboro, NC Honda CRF250R 14 18- Good ride for Peters who missed the start of the Nationals with injury. It looks like he's coming around now.
17 556 Brady Kiesel Fort Worth, TX Yamaha YZ 250F 13 39- Very quietly this kid has put in a couple of great motos in the last couple of weeks. Pay attention, he's got some skills and he's not scared to pin it.
18 317 Justin Hill Yoncalla, OR Kawasaki KX 250F 40 14- Hill's motor blew early in the first moto and his finishes capped off a not so awesome day for Mitch Payton's crew as they went DNS (Tyla Rattray hurt in practice), 9, 12 and 18.
19 157 Jacob Baumert Buckner, KY Kawasaki KX 250F 17 19
20 248 Mitchell Oldenburg Alvord, TX Honda CRF250R 16 24 5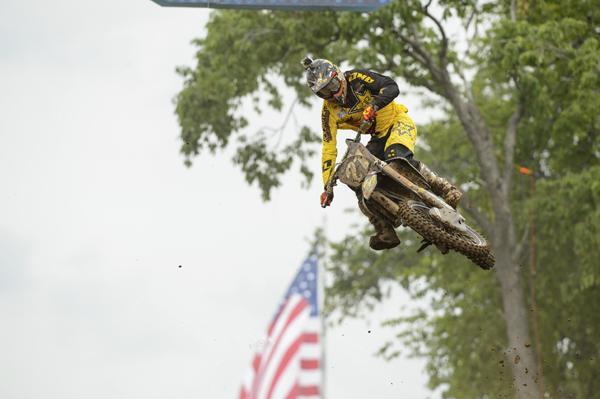 Jason Anderson salvaged 13th overall after bike problems in the first moto.
Simon Cudby photo
450MX Results
1 2 Ryan Villopoto Poulsbo, WA Kawasaki KX 450F 1 1
2 7 James Stewart Jr. Haines City, FL Suzuki RMZ 450 2 2- Stewie, Oakley and Suzuki did a pretty cool thing where he and the team were wearing purple-themed Infinite Hero gear and shirts, as well as integrated some purple into his graphics, in honor of Oakley's program to honor the troops.
3 33 Josh Grant Riverside, CA Yamaha YZ 450F 3 5- Great ride for Grant on a track that he's very fast on. It comes at the right time, as JGR Toyota Yamaha is deciding whether or not to bring him back next year. Things like this ride and setting the fastest time at Muddy Creek are why Josh Grant gets rides every year. He's very talented. Fragile yes, but still talented.
4 41 Trey Canard Shawnee, OK Honda CRF450R 5 6- Good day for Trey and I feel like early in the season his teammate Barcia was slightly better. Now I feel like Trey is slightly better than Justin. Either guy would be the number one rider on a lot of teams so Honda's pretty lucky to have both of these dudes. I hear that Honda's looking to perhaps add a third rider next year.
5 51 Justin Barcia Monroe, NY Honda CRF450R 9 4- Barcia went down in the first turn and charged hard to get ninth. Second moto he rode by himself for a fourth. I'm waiting for Barcia to break out once again really soon. He's been too quiet for too long.
6 10 Justin Brayton Fort Dodge, IA Yamaha YZ 450F 6 8- Justin Brayton is back. I'm so glad that the aliens that kidnapped him early in the National season have returned him home. Justin is once again putting in good results.
7 32 Malcolm Stewart Haines City, FL Honda CRF450R 8 7- Were the zombies in World War Z (excellent summer movie by the way- highly recommended) infected with Mookie Fever?
8 29 Andrew Short Colorado Springs, CO KTM 450 SX-F FE 4 12- Great first moto for Short as he charged hard the entire time for what was, in my opinion, his best ride of the year. Yes, I know, he got second last week. Second moto he didn't get the start, fell down on the first lap and had his work was cut out for him. RG3 got Short some new suspension settings for RedBud that worked out really well for him.
9 12 Jake Weimer Twin Falls, ID Kawasaki KX 450F 7 13- A week ago, I told someone I can't remember the last time Weimer got a good start. Then he finally got one in the first moto! He was promptly passed by about five guys in the first lap before regrouping and getting a seventh, which was a season best.
10 20 Broc Tickle Holly, MI Suzuki RMZ 450 11 11- Just another couple of elevenths for Broc, a place he's gotten a total of six times in fourteen motos. Tickle's year basically has been as follows: get a bad start and work through the pack to a position that just ensures that you're never really watching him out there. His Budds Creek second moto ride stands out as a great one but after that, not much else. I'm hearing that RCH will bring back the same team next year with perhaps another rider for SX only.
11 1 Ryan Dungey Waconia, MN KTM 450 SX-F FE 34 3- On top of all the other issues, Dungey ran out of tear-offs in the first moto and was wiping his goggles. In the second moto he ran roll-offs and they probably got a rock in them because they exploded. Is it just me or does Dungey seem to have goggle issues more than the other top guys? He must sweat a lot or have the bad habit of pulling all his tear-offs instead of one.
12 22 Chad Reed Australia Honda CRF450R 13 10- Chad fell in the first moto and had his work cut out for him. Second moto he started ninth, finished tenth and yep, it's still weird to see the #22 out there just looking like another rider.
13 35 Ryan Sipes Vine Grove, KY Suzuki RMZ 450 12 14- In talking to Ryan after the race, he's frustrated right now, no doubt about it. This week off couldn't come at a better time.
14 54 Les Smith York, SC KTM 450 SX-F FE 14 15- A couple of great rides for Les (he came from thirty-second to fourteenth in the first moto!) and he's had four strong motos in a row now after a slow start to the outdoor season.
15 800 Mike Alessi Hilliard, FL Suzuki RMZ 450 37 9- Alessi's hurting a bit from his Budds Creek crash and has had a couple of so-so races now. He crashed early in moto one, twisted his ankle and pulled off. Second moto he was okay in getting a ninth. Mike's moto performances are usually determined off how he does on the start. And I know most riders are that way also (duh), but with the 800, it's REALLY pronounced.
16 49 Phil Nicoletti Cohocton, NY Yamaha YZ 450F 10 38- Yet again Filthy puts in a good ride in the first moto and was eleventh in the second moto when his bike blew up big-time. Here's an interesting question for you fans. If Filthy Phil and Weston Peick are available to hire, which one would you pick? What if both guys found their home on the N-Fab TiLUBE Yamaha team?
17 27 Nicholas Wey DeWitt, MI Kawasaki KX 450F 17 16- Wey's best National of the year comes at his hometown track and that's nice to see. It hasn't been easy for Wey in his comeback from injury, but his head's down and he's grinding away, trying to get better.
18 57 Ben LaMay Wasilla, AK Yamaha YZ 450F 19 17- After a DNQ last week LaMay comes back with both motos in the points, which for him has been a struggle this season. He always seems to get a little better in the second half of the series so let's see if he can do that again.
19 3 Mike Brown Johnson City, TN KTM 450 SX-F 15 35- Good first moto for Mike but not sure what happened to him in the second moto. July Fourth, motocross, RedBud and Mike Brown racing- how could it get any better?
20 48 Cole Thompson Canada Honda CRF450R 16 34- Thompson switched to KTM as he's heading back home to finish the Canadian series as Colton Facciotti's fill-in. He rode pretty well and was in the top twenty in the second moto when his bike broke.
Some news and notes from The 'Bud:
- Rockstar Racing's Blake Wharton was not at RedBud and when I asked why I was told, "He's not well." When I asked when he'd be back I got a, "We don't know." So if you're a Blake Wharton fan, better hope he releases a single telling you what's wrong with him because that's about the only way you're going to find out.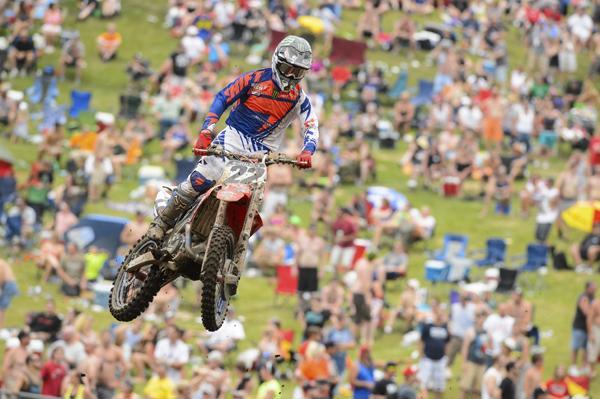 The Aussi pulled out the red, white and blue for RedBud.
Simon Cudby photo
- FLY Racing released their 2014 line of gear at RedBud and they decked out all of their 73 riders in the new stuff. I remember when the new gear came out near the end of the Nationals but it seems to be earlier and earlier all the time. Soon some company will debut next year's stuff at A1. Alias is pretty much that way now.
- With it being the Fourth of July Holiday, many teams and riders took the opportunity to be decked out in red, white and blue. Most of it looked pretty cool but my vote for best look was Reed's TwoTwo team with the blue rims on the Honda and the sweet graphics. Reed's Shift stuff was, of course, on point.
Thanks for reading this stuff. I appreciate it and I do get all the emails, although I may not respond to every one. Thanks again and email me at matthes@racerxonline.com if you want to chat about this or really anything else.