Honda Unveils Additions to 2014 Lineup
Torrance, CA: Excitement continues to build as American Honda introduces more new 2014 models for off-road enthusiasts. This ongoing infusion of innovative engineering highlights the commitment Honda is making to consumers, as more new models bring ever-higher capabilities across the board.
"For this 2014 model announcement, Honda is continuing its push to bring new and diverse machines to market while also delivering great value," said Powersports Press Manager Bill Savino. "Here we're unveiling a new generation of our hugely popular FourTrax Rancher and FourTrax Foreman lines of ATVs with completely new frames, suspension, styling and more for elevated levels of performance. We're also introducing two versions of the all-new CRF125F that features an electric-start engine along with two different wheel sizes to replace the CRF80 and CRF100F. The CRF125F offers an increase in engine displacement and a friendly, easy-to-use powerband, but also aggressive new styling and a brand-new chassis with upgraded front and rear suspension for optimum performance.
"These new models, along with additional Honda favorites returning for the new model year, demonstrate Honda's commitment to providing more choices to our customers, and we'll be introducing more exciting new models in the coming months as Honda continues to lead the expansion of the powersports market."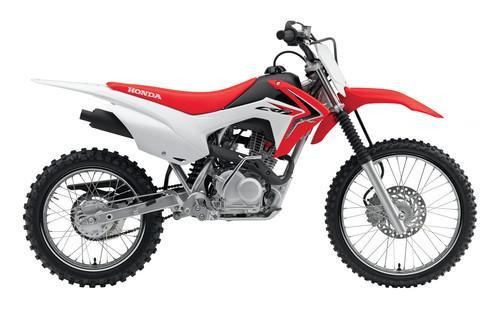 - CRF125F/CRF125F Big Wheel
In 2013 the CRF110F replaced the immensely popular CRF70F within Honda's family of fun, entry-level off-road bikes. Now, two new larger-displacement 2014 CRF125F models enter the lineup, allowing consumers more choices in this market segment. The two CRF125F models offer unique wheel sizes that allow them to replace the CRF80F and CRF100F. With a seat height of 28.9 inches, the small-wheel CRF125F seat is the same height as the CRF80F it replaces, while the CRF125F Big Wheel features the same seat height—30.9 inches—as the CRF100F it replaces. This seat-height option allows riders to pick the CRF125F that fits best. Featuring an all-new electric-start 125cc single-cylinder OHC four-stroke engine tuned for loads of low-end grunt plus plenty of pull throughout the powerband, the CRF125Fs also feature a four-speed gearbox. Add a new rolling chassis with upgraded suspension components front and rear plus styling just like Honda's CRF® motocross bikes, and you have a great addition to Honda's off-road line of family machines with a bike for all riders—young to old, beginner to expert. Color: Red; Price: $2799 (CRF125F), $3199 (CRF125F Big Wheel); Availability: September
powersports.honda.com/2014/crf125f.aspx
powersports.honda.com/2014/crf125f-big-wheel.aspx
- CRF50F
For more than 40 years, Honda mini-bikes have served as a fun and efficient first step for beginning riders. The CRF50F furthers that tradition. Credit the tough 49cc four-stroke engine, automatic clutch and three-speed gearbox, plus an inverted fork, all of which make the CRF50F a great choice to meet the specific needs of riders just entering the sport. As the first step up the displacement ladder in Honda's full line of off-road bikes for many beginners, the CRF50F will introduce many more new riders to off-road riding in 2014. Color: Red; Price: $1399; Availability: October
powersports.honda.com/2014/crf50f.aspx
- CRF110F
With its low seat height, modest size, and four-speed transmission with automatic clutch, the CRF110F fills an important entry spot among Honda's family of off-road bikes. The 110cc powerplant is tuned to meet the needs of those new to riding, and with a new throttle-limiter feature, it offers parents additional tuning options. Also, the CRF110F features a convenient electric starter plus race-inspired styling evocative of the awesome CFR450R and CRF250R motocross bikes. It all adds up to a great option for new riders. Color: Red; Price: $1999; Availability: October
powersports.honda.com/2014/crf110f.aspx
- CRF150F
Thanks to its moderate chassis dimensions, easy-to-use four-stroke power, electric starter and more rider-friendly features, the CRF150F is just the ticket for entering, exploring and thoroughly enjoying the world of off-road fun. This is a bike that's not too big, and not too small—a great fit for beginning riders but it works equally well for experienced adults who want to join in the fun. Color: Red; Price: TBD; Availability: September
powersports.honda.com/2014/crf150f.aspx
- CRF230F
With the ease of electric starting and its easy-to-handle size, the CRF230F is the perfect match for all-day fun and off-road adventure. Within the realm of recreation riding, the CRF230F has earned plenty of respect over the years. Motorcycling magazines from all over have complimented this mid-sized off-road machine for its playbike-oriented attributes that make it a favorite with so many riders. Color: Red; Price: $4170; Availability: August
powersports.honda.com/2013/crf230f.aspx
- CRF450X
The CRF450X boasts some pretty impressive credentials in the world of off-road racing—specifically, winning the world-famous and ultra-rugged Baja 1000 and Baja 500 races multiple times, enough to rightfully earn its reputation as the King of Baja. At the same time, if you're planning a weekend of relaxed trail riding rather than aiming for an off-road racing championship, the CRF450X fits the bill. Offering world-class performance plus a broad spread of power, comfortable ergonomics and versatile suspension for a fun ride no matter what the terrain throws at you. Color: Red; Price: TBD; Availability: October