One week after MX1 world champion Tony Cairoli celebrated the accumulation of 60 Grand Prix wins in a decade of racing, Jeffrey Herlings reached his 28th success in just three and a half years and by the age of eighteen. The eleventh round of seventeen in the FIM Motocross World Championship (and the second of three back-to-back across northeast Europe) saw the seventh Red Bull KTM Cairoli/Herlings sweep of the MX1 and MX2 classes in 2013. Cairoli was on top for the seventh time after a 2-1 scorecard – teammate for the next two years Ken de Dycker going 1-2 to walk the second step of the podium for the second event in a row – while Herlings was again unstoppable and extended his unbeaten run to all eleven meetings, so far spread over four continents.
Herlings' career achievement matches the tally collected by Dave Strijbos and now he has the record of 12 GP wins on the bounce forged by Team Manager Stefan Everts (set at 12 in 2006) in his sights. The teenager can equal that feat in six days and is nearing confirmation of his title defense; something theoretically manageable in three races time with a current advantage of 139 points over teammate Jordi Tixier after he shared the podium again with the promising young Frenchman.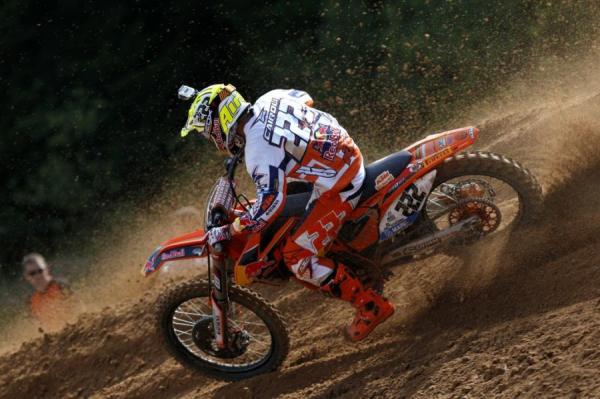 Cairoli won the MX1 overall in Latvia.
Ray Archer photo
"Stefan said to me that we needed to talk after the press conference, so maybe he's going to give me some money if I don't win next week," joked Herlings. "I would really like to beat that record. I always like to put down new goals for myself. GPs used to be 12 rounds then they went to 14, 15 and now we're at 17 or 18. It is such a long season and to win every single race would be amazing. Hopefully a DNF doesn't happen but you never know."
If Herlings goes unbeaten all the way in seventeen Grands Prix it will stand as an achievement unlikely to be topped. Surely only Everts' mammoth 101 win total remains a realistic shot in what could be another ten years of racing ahead. Much of this is to do with KTM's current strength in the class that sees four from the top five in the MX2 standings riding the 250SX-F and seven from the top ten in Kegums were on orange.
There was a hint of what will be at Kegums. The flat and ample venue will stage the 68th Motocross of Nations in fourteen months and while Latvia – a country with a population of just over two million people and granted independence from the Soviet Union in 1991 – may seem a remote choice for the sport's fabled flagship event, the circuit itself is more than equipped to deal with the logistical demands it will face next summer. The terrain itself is a bit of a mystery and had some of the best GP riders shaking their heads and frowning on Saturday. The good weather over the course of the Grand Prix kept the ground hard-pack in the majority of places but the fine terrain and berms presented a test similar to sandy conditions and mechanics were eying rival awnings to see if people were going for scoop tire profiles or normal treads. Suspension settings were also a bit of a headache as the need for traction was also balanced with a configuration to cope with all the jittery and relentless bumps.
The track split opinion. Clemente Desalle struggled immensely on Saturday – so much so that he was relieved rather than satisfied to take third overall in MX1 for his eighth podium result of the year – and 2008 Champion David Philippaerts confessed to hating the place, as did Kevin Strijbos. Many riders, especially in MX2, got a close-up view of the dirt with the likes of Christophe Charlier, Alex Lupino, Glen Coldenhoff and Dean Ferris all slipping up at some stage.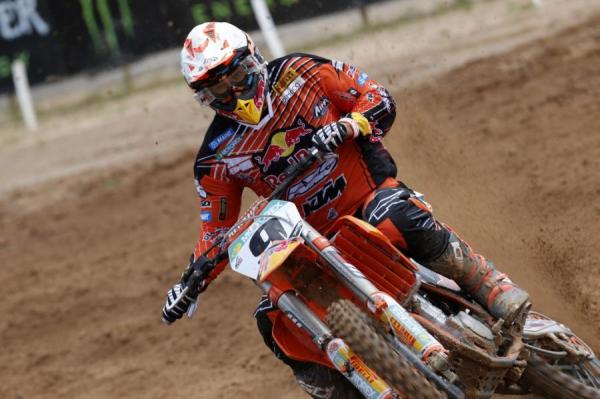 Ken de Dycker finished second overall in the MX1 Class.
Ray Archer photo
What will Team USA find next year? It won't be sand like Lommel but if the track prep heads in the same direction then it will be a curious mix. And that's without factoring the weather.
The rumour mill continued to churn at Kegums and the destination of Tommy Searle and Jeremy van Horebeek from their Kawasaki saddles seem to be the main news the paddock is waiting to hear. De Dycker – who took pole position in front of a steady Cairoli on Saturday –nonchalantly confirmed another two years at Red Bull KTM as a post-script to the post-race press conference; one year was expected, but two is a little unusual. Factory motorcycles at Yamaha, Kawasaki and potentially Suzuki if Clement Desalle decides he wants a change after four years on the RM-Z450 and Husqvarna still need confirmed residents for 2014. It will be interesting to see if anybody from the USA is tempted by the planned eighteen rounds starting on March 1. Dean Wilson's presence as a spectator in Finland next week will turn a few heads.
So as Herlings made good his escape in MX2, and Jose Butron garnered a sixth rostrum slot to give motorcycle racing "super power" Spain some long overdue pride in motocross, who else caught the eye? Romain Febvre was again quick after gaining speed from his mid-season leg break while Bulgarian Petr Petrov marked a superb career-best so far with fourth overall. The MX2 motos seemed long when spectacular crashes like those of Charlier and European Champion Mel Pocock were not sending shock effects around the circuit and it was easy to appreciate the battle of "man versus layout" as much as riders fighting each other.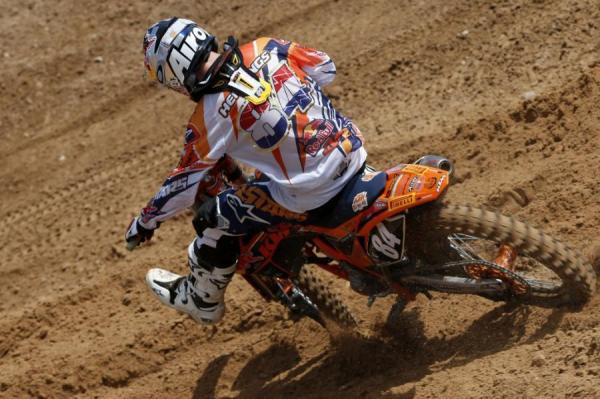 Herlings rolled to another 1-1 performance in Latvia.
Ray Archer photo
Cairoli admitted he is getting nearer to a normal training regime three weeks after stretching knee ligaments at his home Grand Prix and he played a cool second fiddle to de Dycker in the first moto but relished the chance to lead the big Belgian in the next outing. Desalle was a lonely figure in third both times as behind him a war of Kawasaki's emerged.
Gautier Paulin ended up conceding more points to Cairoli as his championship plight shows signs of tailing off. Now 82 adrift (at least three motos with twelve remaining) he failed to make the top three for the second race on the bounce but the Frenchman's exceptional ability was highlighted once more on the factory bike when he was unintentionally hit to the floor by Cairoli at the start of the first moto and somehow flew back to fifth position by the flag. Paulin had to contend with the vibrancy of CLS Monster Energy Kawasaki Pro Circuit's Tommy Searle in the second affair. The Briton has the fitness and a total lack of fear to be a big hit in the premier division but his starts remain a weakness. A defiant charge to fourth and the rear wheel of Desalle was halted and ruined by a backmarker that baulked Searle in a slow right-hander and caused a stall. Just adrift of Paulin and Searle in terms of impact, van Horebeek nevertheless continued to consolidate his status as the steadiest rookie in the class with fifth overall. There was disappointment again in the Honda camp as Evgeny Bobryshev marked his second best result of the year in the first moto but had his radiator holed by a stone in the next sprint. Teammate Max Nagl was below the weather and off the pace.
Keep an eye on Switzerland. Jeremy Seewer and Valenti Guillod are duking it out in the GP feeder series – the European EMX250 championship – and Seewer broke his countryman's three race winning streak as the popular competition reach round four and the midway mark. Just 10 points separate the pair in the standings.
Finnish names like Mikkola and Pehkonen are names embedded in motocross folklore, and are bound to be on the lips of fans once more in the coming days as Hyvinkaa stages the first Grand Prix of Finland since 2000.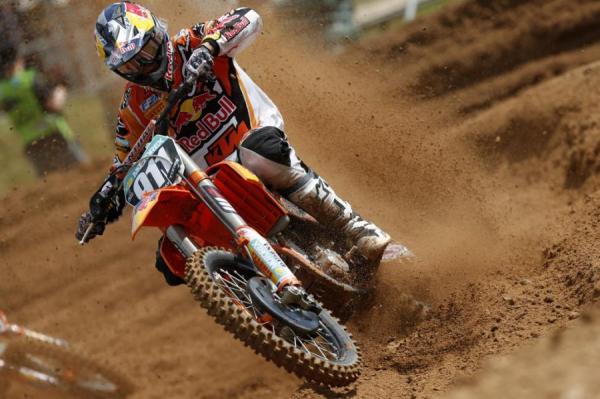 Jordi Tixier finished third overall in the MX2 Class.
Ray Archer photo
MX1 Moto1
1. Ken de Dycker (BEL, KTM), 39:15.569;
2. Antonio Cairoli (ITA, KTM), +0:07.750;
3. Clement Desalle (BEL, Suzuki), +0:12.832;
4. Jeremy van Horebeek (BEL, Kawasaki), +0:25.821;
5. Gautier Paulin (FRA, Kawasaki), +0:32.184;
6. Kevin Strijbos (BEL, Suzuki), +0:34.058;
7. Tommy Searle (GBR, Kawasaki), +0:34.392;
8. Evgeny Bobryshev (RUS, Honda), +0:42.651;
9. Maximilian Nagl (GER, Honda), +0:48.658;
10. Davide Guarneri (ITA, KTM), +0:57.589;
MX1 Moto2
1. Antonio Cairoli (ITA, KTM), 39:33.938;
2. Ken de Dycker (BEL, KTM), +0:05.408;
3. Clement Desalle (BEL, Suzuki), +0:09.753;
4. Gautier Paulin (FRA, Kawasaki), +0:12.063;
5. Jeremy van Horebeek (BEL, Kawasaki), +0:14.796;
6. Tommy Searle (GBR, Kawasaki), +0:24.159;
7. Kevin Strijbos (BEL, Suzuki), +0:28.675;
8. Rui Goncalves (POR, KTM), +0:49.576;
9. Joel Roelants (BEL, Yamaha), +0:57.013;
10. Matiss Karro (LAT, KTM), +1:13.104;
MX1 Overall
1. Antonio Cairoli (ITA, KTM), 47 points;
2. Ken de Dycker (BEL, KTM), 47 p.;
3. Clement Desalle (BEL, Suzuki), 40 p.;
4. Gautier Paulin (FRA, Kawasaki), 34 p.;
5. Jeremy van Horebeek (BEL, Kawasaki), 34 p.;
6. Tommy Searle (GBR, Kawasaki), 29 p.;
7. Kevin Strijbos (BEL, Suzuki), 29 p.;
8. Rui Goncalves (POR, KTM), 23 p.;
9. Maximilian Nagl (GER, Honda), 19 p.;
10. Joel Roelants (BEL, Yamaha), 18 p.;
MX1 World Championship standings after 11 of 17 rounds
1. Antonio Cairoli (ITA, KTM), 514 points;
2. Gautier Paulin (FRA, Kawasaki), 432 p.;
3. Clement Desalle (BEL, Suzuki), 414 p.;
4. Ken de Dycker (BEL, KTM), 406 p.;
5. Kevin Strijbos (BEL, Suzuki), 327 p.;
6. Tommy Searle (GBR, Kawasaki), 318 p.;
7. Maximilian Nagl (GER, Honda), 272 p.;
8. Jeremy van Horebeek (BEL, Kawasaki), 271 p.;
9. Rui Goncalves (POR, KTM), 203 p.;
10. Davide Guarneri (ITA, KTM), 186 p.;
MX2 Moto1
1. Jeffrey Herlings (NED, KTM), 39:23.741;
2. Jose Butron (ESP, KTM), +0:40.392;
3. Glenn Coldenhoff (NED, KTM), +0:44.150;
4. Jordi Tixier (FRA, KTM), +0:48.004;
5. Jake Nicholls (GBR, KTM), +0:53.224;
6. Christophe Charlier (FRA, Yamaha), +0:54.812;
7. Romain Febvre (FRA, KTM), +0:55.963;
8. Petar Petrov (BUL, Yamaha), +1:12.712;
9. Alessandro Lupino (ITA, Kawasaki), +1:15.794;
10. Jason Clermont (FRA, Kawasaki), +1:17.022;


MX2 Moto2
1. Jeffrey Herlings (NED, KTM), 39:29.424;
2. Jordi Tixier (FRA, KTM), +0:50.418;
3. Jose Butron (ESP, KTM), +0:57.147;
4. Petar Petrov (BUL, Yamaha), +1:03.053;
5. Romain Febvre (FRA, KTM), +1:07.640;
6. Dylan Ferrandis (FRA, Kawasaki), +1:21.923;
7. Dean Ferris (AUS, Yamaha), +1:35.685;
8. Tim Gajser (SLO, KTM), +1:43.567;
9. Pascal Rauchenecker (AUT, KTM), +1:47.383;
10. Stefan Kjer Olsen (DEN, Honda), +1:48.382;


MX2 Overall
1. Jeffrey Herlings (NED, KTM), 50 points;
2. Jose Butron (ESP, KTM), 42 p.;
3. Jordi Tixier (FRA, KTM), 40 p.;
4. Petar Petrov (BUL, Yamaha), 31 p.;
5. Romain Febvre (FRA, KTM), 30 p.;
6. Dylan Ferrandis (FRA, Kawasaki), 24 p.;
7. Glenn Coldenhoff (NED, KTM), 22 p.;
8. Jake Nicholls (GBR, KTM), 20 p.;
9. Harri Kullas (FIN, KTM), 18 p.;
10. Jason Clermont (FRA, Kawasaki), 18 p.;


MX2 World Championship standings after 11 of 17 rounds
1. Jeffrey Herlings (NED, KTM), 542 points;
2. Jordi Tixier (FRA, KTM), 403 p.;
3. Jose Butron (ESP, KTM), 353 p.;
4. Christophe Charlier (FRA, Yamaha), 322 p.;
5. Glenn Coldenhoff (NED, KTM), 304 p.;
6. Dean Ferris (AUS, Yamaha), 273 p.;
7. Jake Nicholls (GBR, KTM), 272 p.;
8. Alessandro Lupino (ITA, Kawasaki), 244 p.;
9. Max Anstie (GBR, Suzuki), 228 p.;
10. Petar Petrov (BUL, Yamaha), 196 p.;
European EMX250 standings after 4 of 8 rounds
1. Valentin Guillod (SUI, KTM), 97 points;
2. Jeremy Seewer (SUI, Suzuki), 87 p.;
3. Damon Graulus (BEL, KTM), 70 p.;
4. Ceriel Klein Kromhof (NED, KTM), 68 p.;
5. Brian Bogers (NED, KTM), 51 p.;