RedBud MX
Buchanan

,

MI
RedBud
Lucas Oil AMA Pro Motocross Championship
Red Bull KTM's Ken Roczen has held the red plate since his 1-1 performance at the Lucas Oil Pro Motocross Championship opener at Hangtown, and he's holding off the advances of others thanks to his second overall win of the season, this time at the RedBull Red Bud National via 2-1 scores. Kenny says some bike changes have paid off for him, and he talked about it after the race.
By Jason Weigandt
Racer X: Take us through your afternoon. It was an up and down day.
Ken Roczen: It was good. I was really scared coming in here because I went to the fair on Thursday and I think I ate too many funnel cakes! But I always try to enjoy my life a little bit. Actually wasn't too worried about it. Pumped coming into here. I had a good weekend at Southwick. So it's good to keep some momentum. I know I was going to be strong and I think that's important because I got some confidence. In the first moto I got a decent start. I wasn't too far back there but it just took me a while to get past Marvin and those guys. Just rode my race and ended up finishing second. I was solid with that. The second moto grabbed a decent start again. Got up front pretty quick. I think in the middle of the moto I paced myself a little bit too much. I should have just kept pushing. I saw Eli coming but I was trying not to stress too much. But I pulled it off. It's good to keep the points the same. I actually wanted a 1-1 to plug away a little bit but it's good. It's good coming into an off-weekend to keep some momentum. Overall I'm super happy with the week.
I think last week you said you had made some progress with the bike and it had been kind of frustrating. So is this kind of the result of that? Did things seem a lot better today?
Yes, I think so. We definitely made a step forward. That helped me out a lot because the track here was really deep and rutted and super bumpy so the bike was solid and I kept it straight. It didn't kick me too much. I didn't make any changes since, so pretty happy with how it works right now. I'm just going to keep riding this for now and doing my practice. But other than that I feel like I'm getting better and better with my fitness.

Ken Roczen captured the overall at RedBud with 2-1 moto scores.
Simon Cudby photo
You've obviously won races around the world. Compare these fans to some of the fans and where do they rank?
They're pretty far up there. Last year they were totally on my side; now I hear some people booing, but it's just because I'm getting better and I think for Americans it's just hard to cheer for a foreigner. But I totally accept that; it's not a big deal. I love how they are out here. A lot of them cheer me on, too. They're really good to me and I give my best to them. I love racing in front of the American crowd, for sure.
I talked to you after practice. LaRocco's leap was pretty hard to jump in practice, but I think you got it down pretty good in the races, right?
Yeah. First moto I think I jumped it every lap but one or two laps, so that's fun. And the second moto I just kept it inside and jumped double-single. It was a cool jump. It was good to have the rest time, too. You were up there pretty long. Gives you a little bit of time to let loose and breathe.
I know you talk a lot about getting moto wins and overall wins as your goal, but you've actually never had a bad race, you've always been very consistent over here. I'm thinking the year and a half you've raced the Nationals, trying not to jinx you here. Has that always been your thing, consistency? Has that always been a goal of yours?
Oh, for sure. There's a lot of riders out there that are very, very fast but it's all about being fast and good but do that every single weekend, not one weekend on and then off and on and off.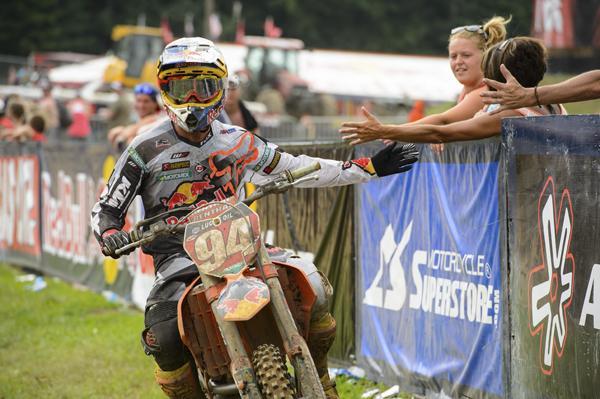 Roczen's lead over Tomac remains at seven as the two tied in points at RedBud.
Simon Cudby photo
MyPlash/Star Racing Yamaha's Jeremy Martin becomes the first of the heralded 2013 rookie class to score an overall podium, doing it with a strong 4-3 weekend at RedBud. How did he do it? Let's find out.
By Chase Stallo
Racer X: First career moto podium. How's it feel?
Jeremy Martin: Yeah, it feels great. The whole field's here now, instead of supercross [due to the split coasts] there was 20 missing. Now the other 20 are here and they're all fast, they're fit, and to be able to get up on the box, it's a pretty cool feeling.
Talk about the second moto. Marvin [Musquin] was really pressuring you throughout. For the most part you really held tough until late and then he got passed you and went down, but you were really holding it together.
Marvin and I were just battling for probably about 10-15 minutes he was right on my butt the whole time. And I was like, man, just focus on you, race the track. And that's what I did. He ended up getting around me. The track was really gnarly. There were a lot of ruts going down the straightaways and through the corners and it was really soft. Marvin ended up going down and I was able to finish her out and get on the box.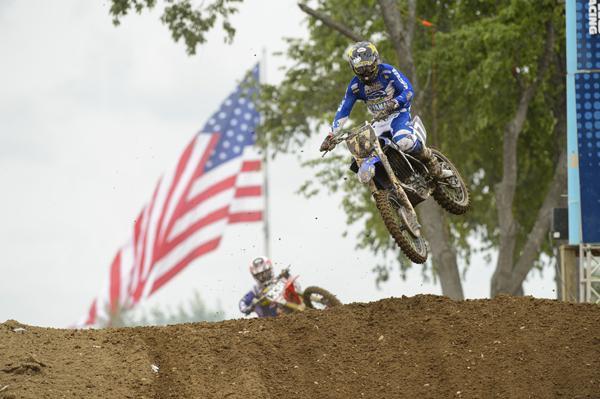 Jeremy Martin scored his first career, and moto, podium at RedBud.
Simon Cudby photo
Does RedBud remind you of home a little bit, the track?
Yeah, the track reminds me of being at home. I grew up and sometimes it would rain and everything like that and the track would be really soft, there would be deep ruts everywhere and stuff. Honestly, I really enjoy riding these type of conditions. The track here at RedBud is good every year. It's my first time here as a professional and it's pretty cool.
Going forward this has got to just give you a huge amount of confidence.
Yeah, it's definitely some confidence. Honestly, I believe I could have been up here earlier in the season, I just had to make sure I put all the pieces of the puzzle together right and things clicked right. So to be able to do that on a July 4th weekend, it's a pretty cool thing.
And talk about the crowd. Were you feeding off that at all?
Yeah, the crowd was awesome. I was out there and I'd come by every lap in the back of the track and someone was honking the air horn, they're cheering you on. It just kind of pumps you up and when you're tired it's all worth it.
And you've become the first rookie this season to have an overall podium.
Yeah, to be the first rookie to get the overall podium is a cool thing. I know Cooper Webb, my teammate, got on the box for a moto; that was cool. The bike's real good this year. To be the first rookie to get up there overall, it's a pretty cool feeling.
The team that you're on this year, a lot of competition. What's the vibe over at the MyPlash Yamaha camp?
The MyPlash, Metal Mulisha Yamaha camp is doing really good. We got Cooper Webb who's a great rookie, great amateur. Already put the bike up on the box in moto. He's really fast. And then you've got Kyle Cunningham who's like the veteran in the Lites class. He knows his program. He knows what works for him. So we've got a good group of people over there and we're just trying to keep plugging away and get better every weekend.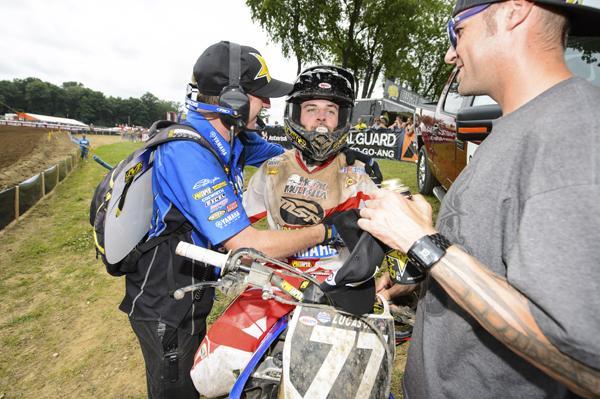 Martin and his mechanic celebrated the big day.
Simon Cudby photo
Is there something you can point to this weekend that you changed? Did you just feel good coming in?
Yeah, last week I trained and did a lot of stuff. I really worked hard on my technique and a few other little stuff with my riding coach, Dylan Turner. I just kept plugging away. You can't give up; it's a long season. Just try to keep building and keep getting better.
When you're talking about changing up a lot of stuff are you talking riding technique or bike setup?
I would just say maybe riding technique, like what I'm doing on the bike. Trying to become a little bit more solid. Eli [Tomac] and all the front runners are really solid when they're riding the bike. They're fast. In order to go fast you got to be solid and you got be in control. Otherwise you're only going to be fast for a little bit. So just working on stuff like that. It's nice to see it paying off.