RedBud MX
Buchanan

,

MI
RedBud
Lucas Oil AMA Pro Motocross Championship
Welcome to Racerhead, coming to you on July 5 from an already packed Red Bull BudBud National. This race, the centerpiece of the Lucas Oil Pro Motocross Championship, is always done up in red-white-and-blue, as it rests firmly in our star-spangled weekend as a grand stage for American motocross. Now at the halfway mark of what's been an interesting and entertaining 2013 summer so far, the level of competition should rise in July as we hit three of the bigger events on the tour: RedBud, the Washougal National, and Spring Creek at Millville, Minnesota. The points earned in these six motos will go a long way to determining who will be our champions.
Regardless of the holiday, this was a long week. There's still some confusion and heartache over what exactly led to the demise of the Southwick National, which likely ran for the final time last Saturday—and went out like a lion. As I have explained here before, there is a disagreement between the landowners (American Legion 338) and the motocross promoters who lease the land (Moto-X 338). They were really, really far apart on the numbers for their renewal, as the Legion wanted to up the rent to some four times what Ralph and Dianne Pitello were paying. There was a lot of back-and-forth between the two parties (or at least the Legion's lawyer and the Pitellos), and when it became clear that the Legion wasn't budging and they could no longer make the business model work, the Pitellos simply retired.
Before you jump to the conclusion that MX Sports should just find another promoter, let me say that there was no problem with the race promoter at Southwick—Ralph and Dianne were hard workers who did all they could for the racetrack and the national, even though they did not get the beer money (Legion) or parking money (school next door) and the facility is too small for camping. There is no other national-caliber promoter in the area that I know of, though the Legion is now actively looking for someone to take over the track operations. But if Ralph and Dianne couldn't make the new rent with all the races they were running, as well as the national, who could make it work under a multifold rent increase? MX Sports is firmly on the Pitellos' side here, and while it sucks for Moto-X 338 fans, it also sucks for them. They took a bath in 2009 and 2011 due to storms coming up the coast, and they were hoping to recoup some of what they lost in the next few years. Now they are retiring.
And before anyone jumps to more conclusions about where this race might end up, I promise you the next national won't be in the infield of any race car tracks. Miller Motorsports Park is a unique event that I believe adds diversity and a new region to the series, but others don't like the idea of holding a motocross race in a non-traditional setting. We are not looking to do more, nor can we, because according to previously agreed upon terms with the AMA, any event held at a facility with more than 35,000 permanent bleachers is considered a supercross and can't even be qualified as a national or be part of the series. So while there's certainly going to be some more threads about how I am "killing the sport" by trying new venues and racetracks, I'm just trying to grow it. And with all six rounds so far having exceptional crowds—the last Southwick attracted the most fans ever at the grand old sand track—I think we're on the right path. Miller Motorsports Park won't be everyone's cup of Red Bull, but it will be a cool diversion and it will be interesting to see how it works out. And the video you saw of a smooth, dry track last week was actually filmed back in April, and those were the first bikes ever on that track. Come August 17 it will be rough, it will have much different soil, and the riders and teams are going to love working out of the race garages like they do at Daytona. Please give it a chance. If it doesn't work, we'll go back to the drawing board.
I also wonder if the people complaining about traditional motocross realize that a few of the early outdoor national events in AMA Motocross actually took place inside car-racing facilities like Road Atlanta and Daytona International Speedway.
RedBud, of course, doesn't need much of a chance to prove itself; it has delivered time and again to the fans who come out in droves for a long, fun, and busy holiday weekend on the Ritchie family's property. Tim and Amy have really taken over the reins for their parents, Gene and Nancy, and I believe this is the biggest single motocross race in the world—usually with more fans than even the Motocross of Nations. The track is big and spectacular, meticulously groomed and maintained, the fans boisterous and proud. Tim Ritchie threw in a couple of new sections here and there, and it should be quite the show tomorrow, with races on three different networks: FUEL, NBC network, and NBC Sports. Let's get into Racerhead by telling you how you can watch it all unfold tomorrow, beginning at 1 p.m. ET...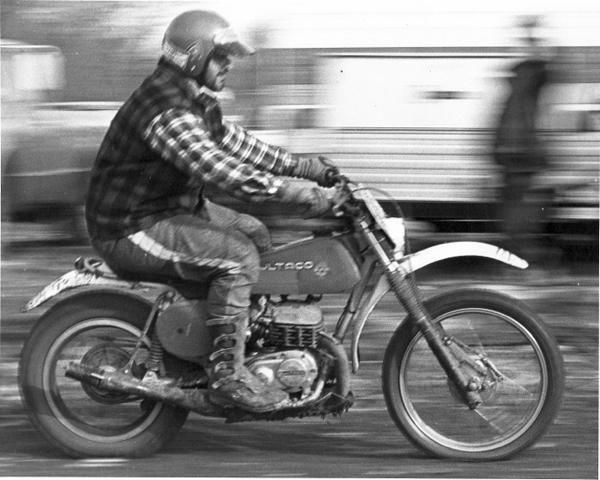 Gene Ritchie, from way, way back.
First, a little history lesson on the Ritchie family and how the patriarch Gene Ritchie got into motorcycling....
HOW TO WATCH
Round 7 of Lucas Oil Pro Motocross will feature all four motos live on TV. Tune into FUEL TV beginning at 1:00 p.m Eastern for the first motos of the 450 and 250 Class. NBC (NOT NBC Sports Network) will air live coverage of the second 450 moto starting at 3:00 p.m. Eastern. NBC Sports Network will air the final 250 moto beginning at 4:00 p.m. Eastern. For more details click here.
THE NUMBER – ½ (Aaron Hansel)
Where has the time gone? It seems like just a few days ago that the first gate of the year was dropping at Hangtown, and now we're already about to launch into the second half of the season at the Red Bull RedBud National. But before we do that, let's take a moment to look at some of the numbers from the first half of the season.
Overall Wins
450 Class
Ryan Villopoto 3
Ryan Dungey   3
250 Class
Eli Tomac     2
Marvin Musquin  2
Ken Roczen    1
Blake Baggett  1
Moto Wins
450 Class
Ryan Villopoto     9
Ryan Dungey       3
250 Class
Ken Roczen        6
Eli Tomac         4
Marvin Musquin    1
Blake Baggett           1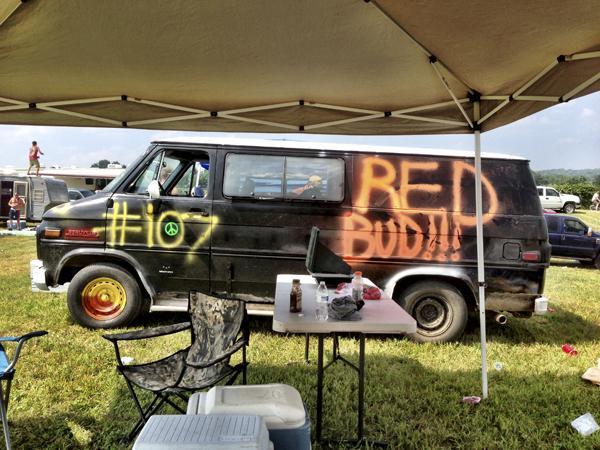 DC photo
Laps Led
450 Class (204 Total Laps)
Ryan Villopoto     129
Ryan Dungey       28
Justin Barcia        21
James Stewart      20
Andrew Short        6
250 Class (203 Total Laps)
Ken Roczen        96
Eli Tomac            58
Marvin Musquin    34
Darryn Durham     10
Blake Baggett        4
Cooper Webb       1
Fastest Qualifier
450
Ryan Villopoto          2
James Stewart           2
Justin Barcia             1
Josh Grant                1
250
Eli Tomac                 4
Ken Roczen              1
Blake Baggett           1
So this weekend, look for more from the Ryans, and also look for more pressure on Ken Roczen. He's held the red plate since the first moto of the 250 Class, yet he's only got one overall win. With Tomac picking up momentum and Marvin Musquin needing to rebound after an off-weekend at Southwick, #94 will have his hands full. But the kid continues to handle pressure well and is also due for a good ride after being sick two rounds ago at Budds Creek.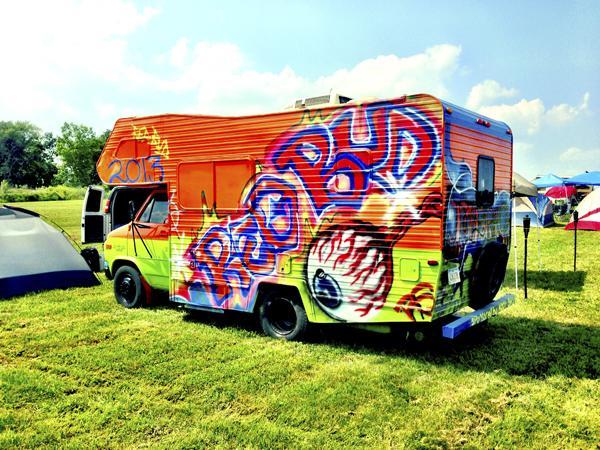 DC photo

THOMPSON GOES HOME (Steve Matthes)
Happy RedBud weekend, everyone. I, along with everyone else, am looking forward to this race, which perhaps is the best race of the year all things considered. Working for a couple of Michigan riders as a mechanic in Kelly Smith and Nick Wey allowed me to hit up a lot of races at the facility, and it's always primo in every way. I remember that after the race in 2002, some magazine was doing some race bike tests on our Moto XXX team and I got to suit up and ride the track. It was worked beyond belief and the ruts were insane, but one lap I made the left and started grabbing gears coming up to Larocco's Leap. It was going to be glorious and everything I ever dreamed of. I was going to fly through the air with the greatest of ease.
Except I got scared and doubled it. Every. Single. Lap. Oh well, it could've been a great story, but when all you see is a wall of dirt looking at you, it's pretty hard to just leave it on
You may have noticed that Canada's Cole Thompson wasn't at Southwick. It was a combination of a few things that kept him away, one of which was getting more time on his new KTM 450 SX-F. Thompson has picked up a replacement ride with Red Bull KTM Canada, and after RedBud this weekend he'll go up and ride the final five races of the series. Maybe he'll do the American races that don't conflict, maybe he won't—either way it's a bit of a bummer for Canadian motocross fans.
For Cole, the choice is that he's a full privateer and paying to race in America or getting paid to race in Canada. It's just a shame that he seems to be giving up on making it in the USA after only two years. You may remember last year Thompson scored a couple of top-tens in the 450 MX class and then was rewarded with a Star Racing 250 MX ride for the last few races. That didn't work out. Hindsight being what it is, it probably would've been best for Cole to stay with his trusty Honda 450 instead of switching to a Yamaha 250 with little notice.
Supercross went okay for Thompson—some ups and some downs—but he's yet to finish a whole series down here for financial and injury reasons. He skipped the first three outdoor rounds this year, hit High Point and Budds Creek, and probably didn't do as well as he would've liked. Then KTM Canada came calling.
As a Canadian desperately waiting for the next Rollerball, Vallaincourt, or Roy (I'll even take a Doug DeHaan at this point), I'm a tad let down by Cole and his decision. I always admired him turning down Canadian salaried rides to chase the dream on the highest level, but it looks like he's packed it in—at least for this summer. Too bad, it seems like he really didn't give it a good enough try. Can't say I blame him though.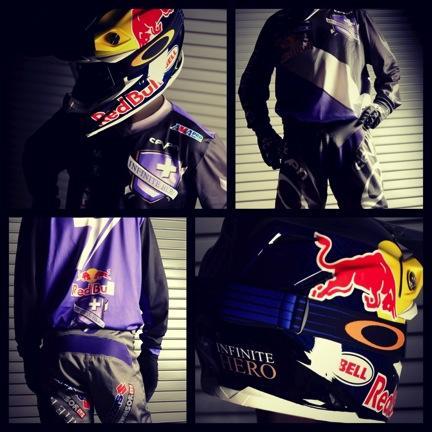 INFINITE HERO (DC)
Over the last few weeks, James Stewart has not only been doing his best to make something happen out on the track with his Yoshimura Suzuki, he's been also trying to do all he can for some our nation's heroes. At tomorrow's RedBud National, Stewart and his company Seven MX, as well as Oakley and the Yoshimura Suzuki team, will once again be working with the Infinite Hero Foundation (www.infinitehero.org). The program drives innovation and the accessibility of effective treatments for military heroes and their families through a yearly grant cycle. The Foundation partners with veteran service organizations by offering grants to achieve two critical goals: Drive innovations that accelerate rehabilitation; and increase the availability of critical mental and physical health services for the military and their families.
With this being a major holiday weekend for our nation and everyone celebrating the independence of the United States of America, the entire Yoshimura Suzuki team will be dressed in the colors of the Infinite Hero Foundation.
Says Stewart, "I look at it like this: Sure, we race and may go down and take an injury. And after that we have so many people and avenues for us to get healthy again and compete at our best. But honestly we're just racing. We have to make sure there are ways to put those types of efforts to work and help to get our troops back to the best they can be. They do so much for us, they lay their lives down. When they get home we can only do our best to help them back up."
Stewart will be hosting a group of wounded warriors from Iraq and Afghanistan this weekend at RedBud, and Seven (www.sevenmx.com) has created a special set of gear in the colors of Infinite Hero that James will wear. After the race the gear will be signed and given to the Infinite Hero Foundation to be a part of a fundraising auction that they will be setting up later in the year. For more information on Infinite Hero please check out their website: www.infinitiehero.org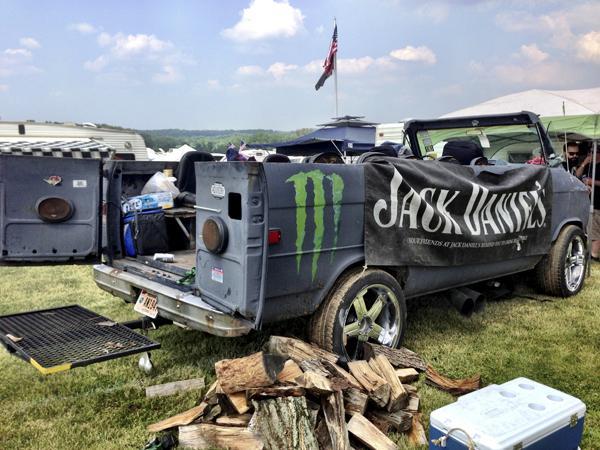 DC photo
PRO PESPECTIVE – REDBUUUUD!!! (David Pingree and Jason Thomas)
JT: RedBud is THE national to go to on the schedule, in my opinion. Being on the July 4 weekend is certainly a huge bonus, but the track and atmosphere in southern Michigan is hard to beat as well. Fans come from all over the Midwest to spectate, inebriate, and celebrate all aspects of motocross and America's freedom. I always looked forward to RedBud, mostly because the track was actually fun. Most of the tracks, while awesome in their own right, are more work than fun on the weekends. With all of the pressures and risks taken, fun can be forgotten in all of the distractions.
RedBud was one of the races where everyone seems happy it's on the schedule. One of my many RedBud memories is the fear I felt annually sitting on the starting line. The first turn at RedBud is one of the fastest of the year and crashes tend to be violent. I have seen bikes flip over my head, ridden right over riders, and also ended up lying underneath riders. The fear didn't stop there, as LaRocco's Leap always sent chills down my spine that first time every year. As it is always a different length and trajectory from year to year, that first attempt can go horribly wrong if you're not careful. I have seen dozens of riders ruin their wheels on this jump, and it's always funny to see the team managers forbid their riders to jump it after they lose a wheel or two. All in all, RedBud is a staple of American motocross. The passion of the fans, the high-flying action on the track, and the holiday weekend are what it's all about. If you are lucky enough to be headed over to Buchanan this weekend, go early and stay late. You won't regret it.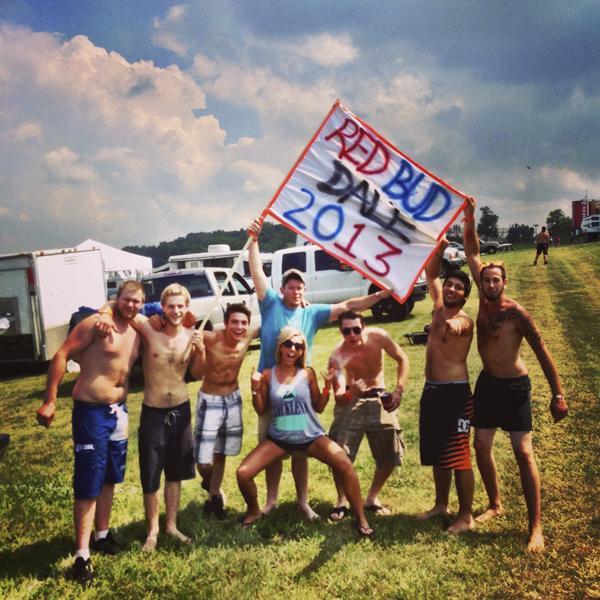 DC photo

Ping: RedBud has the best dirt, the best facilities, the best fans, and the best track on the series tour. The second national I ever raced was at RedBud in 1994 and, to JT's point, I crashed my brains out in turn one. Scared the daylights out of me. The dirt was tilled so deep that when I finally stopped tumbling, I needed my mechanic to help unearth my bike. But over the years I always enjoyed riding that track, and the fans there were always genuinely excited to watch the racing. And to party. And to get sunburned so badly that they actually turned a shade of purple. And then there's LaRocco's Leap. I jumped it once on a 125 in 1997. Carmichael was determined to jump it and I was dumb enough to follow him off it. We came from off the track, through a grass parking lot, and hit it fourth gear wide open, just barely getting to the top. It definitely was not designed for 125s. I wish I was going to be there this year to light off some fireworks, ride a few laps, or just work on an even tan. I'm sure the rest of the fans will handle those duties just fine.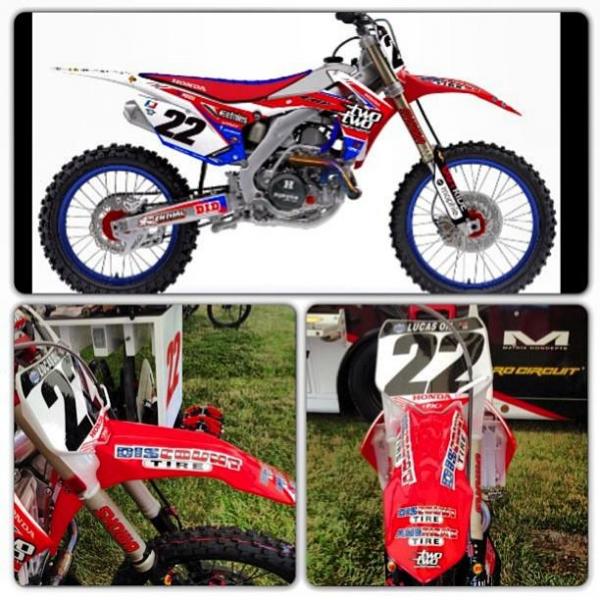 Chad Reed's TwoTwo Motorsports team is running USA-inspired graphics this weekend.
TOMAC/HAHN/2014 (DC)
A big name came off the board for Silly Season 2014 before it ever really got started, and it's no surprise. Eli Tomac has been with GEICO Honda since his last season as an amateur, and now he's delivered them a 250 SX West Region title (2012) and numerous SX and outdoor wins—and he's right in the thick of the current 250 Class title bout. With Kevin Windham retired, it only made sense that he get bumped up within the ranks of his team, and that's exactly what he happened. So after seeing lots of threads and emails and tweets that he might be going blue or green or even yellow, Eli is staying put.
Same goes for Wil Hahn, who also signed an extension with the team. Hahn had an up-and-down week, starting with a third straight moto holeshot at Southwick, but then his bike grenaded on the parade lap of Moto 2. He was invited to throw the first pitch out for the Los Angeles Angels of Anaheim (at least I think that's the team's name), and it was announced that he, too, was staying with GEICO Honda. Congrats to both riders and the GEICO Honda team.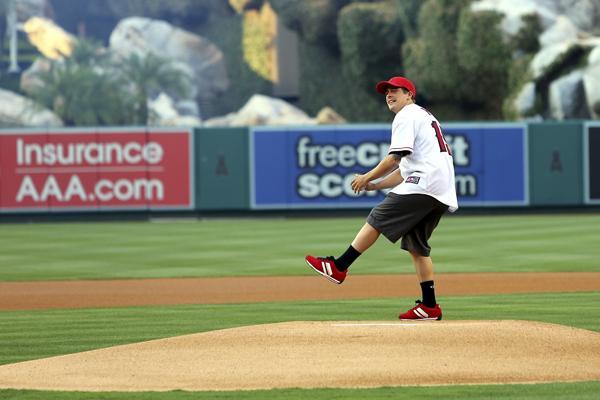 Hahn threw out the first pitch at the Angles game earlier this week.
BrownDogWilson photo
SOMETHNG ON THE HORIZON... (DC)
If you work in the motorcycle industry, you know all about dealer shows—those long weekends in the winter where you're shaking hands, talking to potential customers, and enjoying evenings of bench-racing and schmoozing.... As fun as that it all sounds, it's really not. But in October a new show—one based on the wildly fun motorcycle shows of Europe—will join the calender, and it's already getting some very serious support from the industry itself.
The American International Motorcycle Expo (AIMExpo) is set for October 16-20 in Orlando—unfortunately on the same weekend at the Monster Energy Cup in Las Vegas, another must-attend off-season event. The AIMExpo just brought in its third OEM, American Suzuki, to be a partner of the show and introduce all their new models of motorcycles and ATVs there, including demo rides for the general public. That's a pretty big deal for a motorcycle show in America!
AIMExpo will be held on October 16-20, 2013 at the Orange County Convention Center in Orlando, Florida. For more information, visit AIMExpoUSA.com, the American International Motorcycle Expo Facebook page, or on Twitter: @AIMExpo.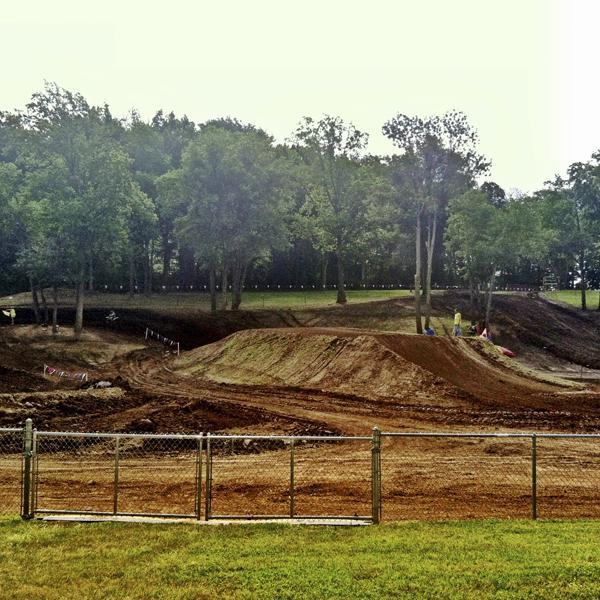 Chase Stallo photo
HEAD SCRATCHING HEADLINES OF THE WEEK
"Difficult Swedish Weekend"
Press release headline for GP team Rockstar Bud Racing Kawasaki, where they had a high moto finish of tenth.
"Jonny Walker ready for Romaniacs 2013"
PR prepping the KTM enduro rider for a rugged race in Romania … although we bet Johnnie Walker is also ready for RedBud.
HEY, WATCH IT!
Racer X Films:
Chad Reed Talks 2013 and Beyond
In the Spotlight: John Dowd
RedBud Press Day Interviews
Other:
Man vs. Moto: Episode 6
RANDOM NOTES

Be sure to stop by the Racer X booth at RedBud this weekend to pick up your 2013 event sticker and check out our special subscription offer! For only $20 you can get 13 issues of Racer X plus a limited-edition Kevin Windham drawstring bag.
Did you get an all-day pit pass? There's still time! For only $40 you get an all-day pit pass plus a one-year subscription to Racer X. Order yours now here.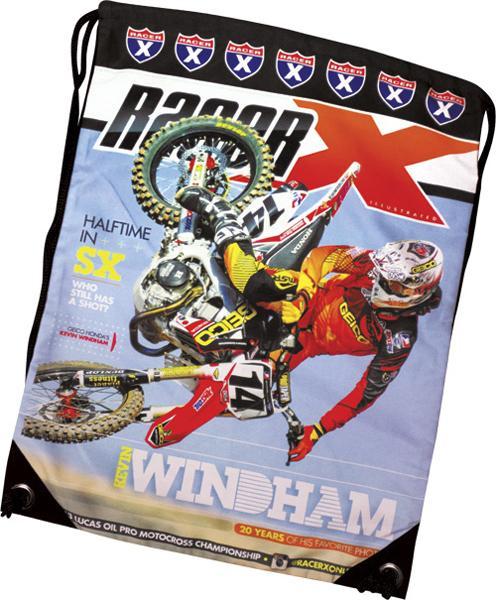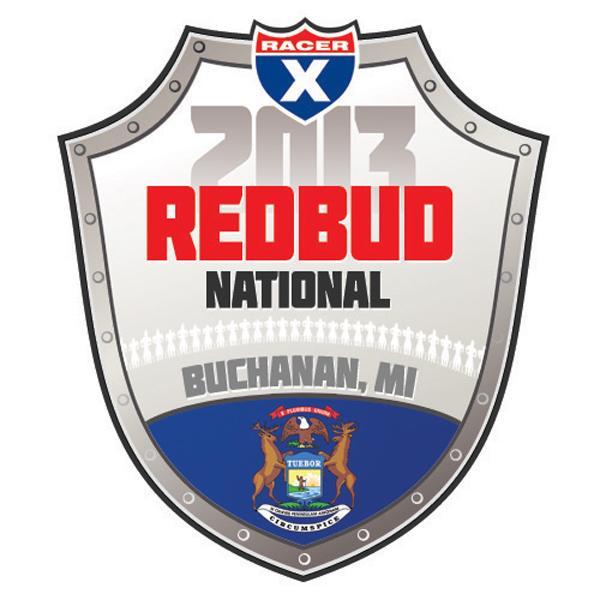 Finally, a get-well-soon goes out to an old friend of motocross, Edwin Stanton, the father of Jeff "Six Time" Stanton and a longtime RedBud fan. Mr. Stanton was seriously injured in a crash earlier this week when a guy drove into the back of a hay wagon he was pulling on his tractor on a road near his home in Sherwood. The driver of the car hit him so hard that it drove the wagon into the tractor and against Ed's back. He suffered several broken vertebrae and is in serious condition in a nearby hospital. Jeff helped care for him and then did his part to help another sold-out Ricky Carmichael University motocross camp, which was held here at RedBud. But Stanton has decided to drop out of next week's school in England so he can be with his father. His spot in the faculty will be taken by Dean Wilson, the former 250 Lucas Oil Motocross Champion.
A belated Happy Fourth of July to everyone, and thanks for reading Racerhead. See you at the races.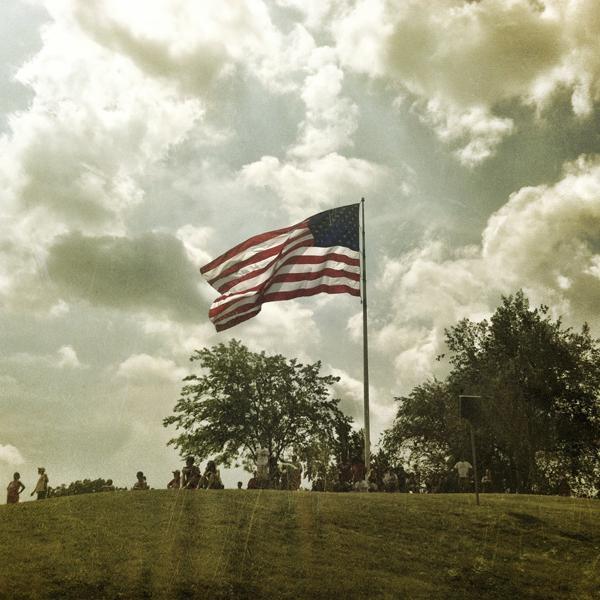 Chase Stallo photo