The Wick 338
Southwick

,

MA
Southwick
Lucas Oil AMA Pro Motocross Championship
By Chase Stallo and Jason Weigandt
- Tyla Rattray is known for his prowess in the sand. For the South African, Southwick has always been a home away from home—winning two overalls in the 250 Class and the second moto a season ago in the 450 Class. While his 10-8 moto scores for sixth overall don't jump off the stat sheet, how he achieved said results do. Rattray was the victim of first-turn crashes in both motos! The Monster Energy/Pro Circuit Kawasaki backed rider came from outside the top thirty in moto one to secure tenth. His renowned fitness came into play again in moto two as Rattray burst through the pack from outside the top twenty to secure eighth.
- On Friday, Jason Anderson and two Rockstar Energy Racing mechanics were left stranded in the Charlotte, North Carolina airport when their flight to Hartford, Connecticut was cancelled. Out of flight options, they rented a car and began the 13-hour drive to Southwick at 7 p.m. Friday night! Anderson says he did his best to sleep in the car—thanks to some Nyquil—and the trio arrived just in time for practice on Saturday morning. Then Anderson logged one of the best Nationals of his career with fifth overall! Sixth in points, Anderson is one small notch away from being a podium finisher each week.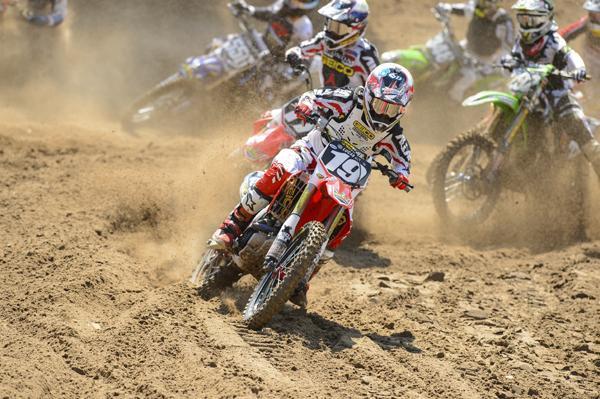 Wil Hahn is apparently running dragster motors in his Honda.
Simon Cudby photo
- Mechanical issues spelled the demise of GEICO Honda teammates Justin Bogle and Wil Hahn. Following his third consecutive Motorcycle-Superstore.com holeshot, Hahn's bike gave out on lap five while running inside the top five. Bike troubles for Hahn spilled over into moto two, as he was unable to start his bike mid-way through the parade lap. "Sometimes all you can do is put a smile on your face and look forward to the next one," said Hahn in a statement released by the team. For Bogle, a mechanical issue cost him in the second moto, which came on the heels of a fourth in moto one. "I was coming through the pack and riding really good," Bogle said. "I felt like I had a shot at the top 10 for sure. The bike started to go at about lap five, and I tried nursing it in, but a few laps from the finish it finally gave up."
- Although poor starts hindered MyPlash/Star Racing rookie Cooper Webb at Southwick, his speed and endurance showed. He finished seventh in moto one from outside the top fifteen and was in position for another top ten finish in moto two before a crash. Webb had trouble starting his bike following the crash, as there was sand caked in the radiator. Once the bike cooled down Webb was able to finish the moto a couple laps down in 34th.
- Rock River Racing's newest import Alex Martin, not surprisingly, had his best finish of the season (10th overall) at Southwick. Not only did Martin finally have a 250F practice bike this week, he also grew up riding in the sand at his home track (Millville), and currently trains on a rough sand track at Club MX in South Carolina. Martin excels at tracks such as Millville, RedBud and Southwick because of the soil, which is why he is salivating over the upcoming schedule as he explained last week: "Millville, RedBud, Southwick and some of the other tracks are really beneficial to me with the type of dirt they have. I don't do well on the California type tracks, so I'm really looking forward to the upcoming races."
- Brady Kiesel, who's also made the transition from Eleven10 Mods to Rock River, is quietly having a surprising rookie campaign. Due to team and bike issues, Kiesel hasn't been able to ride much during the week, if at all, yet was still able to finish 15th in moto one after falling twice. He was running fourteenth late in moto two before swapping out and finishing seventeenth for 17th overall.
- Everyone's favorite rippah, Jimmy Decotis, was back in the States, wowing the hometown fans with two mesmerizing starts. Decotis ran up front for a brief period in moto one in his return from a brief, tumultuous stint in the GPs. After falling outside the top ten, Decotis' engine blew. After a quick swap, he would finish thirteen in the moto two following a top three start. The Southwick faithful sure were pumped to see one last hometown hero running with the big boys!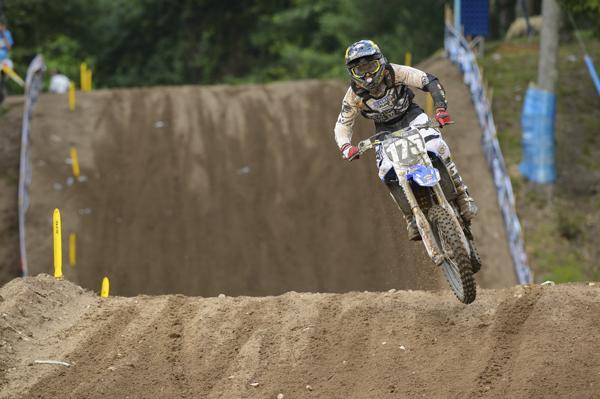 If you're wondering if Cooper Webb and Adam Cianciarulo really have a rivalry, their mega duel in the first 250 moto proved it. They want to beat each other badly! Webb came out on top.
Simon Cudby photo
- Monster Energy/Pro Circuit Kawasaki Darryn Durham's 11-14 moto scores for thirteenth overall won't grab headlines, but his rides at Southwick were remarkable. Durham fought back from thirtieth (after lap 1) in the first moto to finish eleventh. In moto two he came from twenty-eighth (after lap 1) to finish fourteenth. Pennsylvania riders like Durham aren't usually known for their sand prowess—Broc Hepler was always terrible in the sand box—but DD is making some strides this year after missing last season with injury.
- When Mike Alessi pulled off in the second moto at Budds Creek following a big crash a week ago, it appeared he was clutching at his rib cage. As it turns out, a rib on the left side popped out of place. Alessi was able to return this weekend to finish eighth overall via 8-12 moto scores. "I was only able to ride about 40 minutes this week, and that was at half pace," explained Alessi to us after the race. "So, not really the best way to do sand testing." Alessi did point out that his consistency on the day actually helped him advance in the standings against the two riders ranked closest to him, Trey Canard and James Stewart.
- We're just pretty much expecting solid performances from Phil Nicoletti every week now. He was seventh overall at Southwick on his N-Fab TiLUBE Yamaha. Just another top-ten day at the office for Phil.
- The 2013 season has been a struggle for Derek Anderson. The privateer hailing from Colorado had only scored points in two motos before Southwick. With a fourteenth in the first moto—his best result on the season—Anderson garnered seven points, one more than he's scored through the previous ten motos. Anderson would finish the day nineteenth overall following a 26th in moto two.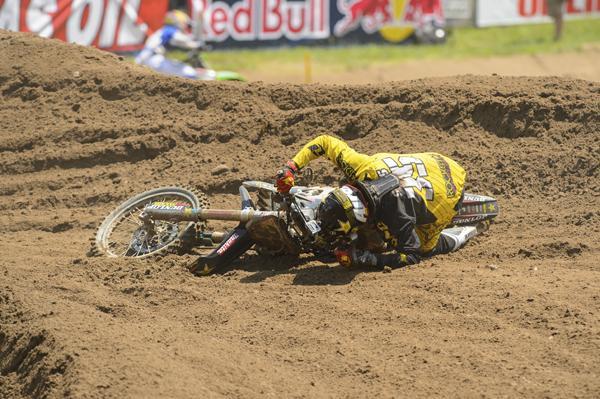 We have too many photos like this of Ryan Sipes from the weekend.
Simon Cudby photo
- What could go wrong, did go wrong for Ryan Sipes at Southwick. Sipes was collected in a first turn crash in moto one and then a second crash in the same lap, ending his moto prematurely. Sipes rebounded with a good start in the moto two, but another crash would cost the Rockstar Energy Racing rider again. "Terrible weekend," said Sipes in a team press release. "In the first moto, I had some bad brakes and in the second moto, it was all me. I was running about 7th, felt good. Then I just tipped over and it took me a while to start my bike. I don't know man, I'm just frustrated." Sipes hasn't scored points in the last three motos, now leaving him back in 13th in the 450 standings.
- Tommy Hahn is back! The #58 has been training a rider down in Texas and decided to put a bike together and go racing at Southwick and RedBud to put some closure on his career. Hahn, remember, podiumed the first 450 moto at Southwick last year and crashed while running up front again in moto two. Hahn joked on Friday that, "I'll be the guy out there with his tongue dragging in the spokes." This time it didn't go so well, with 37-34 finishes in the 450 Class.
- Mechanicals were ramped up in the deep sands of Southwick. Moto Mafia's Nick Wey had engine problems in practice and had to switch to a back up motor, which wasn't as strong as his race engine. Munn KTM's Vince Friese was unable to compete in the second moto after blowing his second engine on the day in the first moto. JAB Motorsports' Vann Martin was also a scratch in the second moto following bike problems in moto one that resulted in a DNF. Privateer Tevin Tapia had bike problems in practice and was unable to qualify for the main. Tapia said he is skipping this weekend's race at RedBud so he can go back to his home state of Washington and pick up a new bike, which he will debut in three weeks time at Washougal.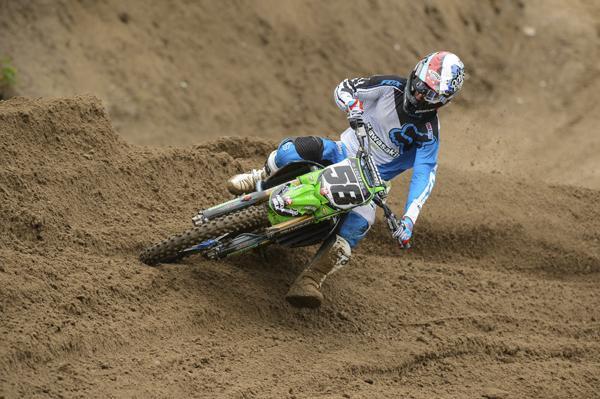 Look! It's Tommy Hahn!
Simon Cudby photo
- Witt's End Racing KTM's Les Smith had his best finish of the season with a thirteenth overall via 12-14 moto scores.
- FMF/Orange Brigade KTM's Joey Savatgy suffered a boxer's fracture in his wrist during a crash in moto one. He'll have to skip RedBud this weekend, but may be back after the series takes another break before Washougal on July 20.
- JGR/Toyota Yamaha's Justin Brayton was also swallowed in the first turn pileup in moto one. Brayton was able to rebound from a 32nd in moto one with a 7th in moto two.