The Wick 338
Southwick

,

MA
Southwick
Lucas Oil AMA Pro Motocross Championship
Ryan Dungey has been a threat to win every race he has entered since joining the 450 Motocross class in 2010. He has taken 27 victories in the last three and a half seasons, which puts him in very rare air. The interesting thing for me is how he goes about it depending on the situation around him. Further, this situation basically has boiled down to one thing: Ryan Villopoto.
In 2010, Dungey burst onto the scene and took it by storm. He won 10 out of 12 Nationals, and seemingly had everyone beat before the gate dropped towards the end of the season. Often times, he would be mired in the pack even until midway and then sure enough, he would crank up the locomotive and move into the lead by race end. Andrew Short, eerily similar to last weekend's first moto at Southwick, was often the victim of the Dungey train headed to the front. There were many motos where I was just sure that Short had enough of a cushion but the #5 just wasn't going to let it happen. There was no panic in Dungey's method, just a steady march toward the top step of the podium. Keep in mind, this series was missing the #2 Kawasaki of Ryan Villopoto.
The 2011 season saw Dungey return to defend his #1 plate but he would have a rejuvenated Chad Reed to deal with as well as a hungry Villopoto. This season would be a roller coaster of different winners as Reed would lead the series until his much-publicized crash at Spring Creek. From there it would be a back and forth battle between RV and RD to see who would take home the title. The part I liked to watch was the subtle change that Dungey was starting to develop in his racecraft. Out of necessity, he had to become much less patient in the first half of the motos. If he applied his 2010 strategy, Reed or Villopoto would be long gone by the time he kicked in the extra coal to the ol' smokestack. He wouldn't necessarily bomb the field on the opening lap, but he worked hard to at least keep the lead in sight, which had to be a dedicated change in his methods. In the end, RV would sneak away with the title after a spirited fight that came down to the last moto.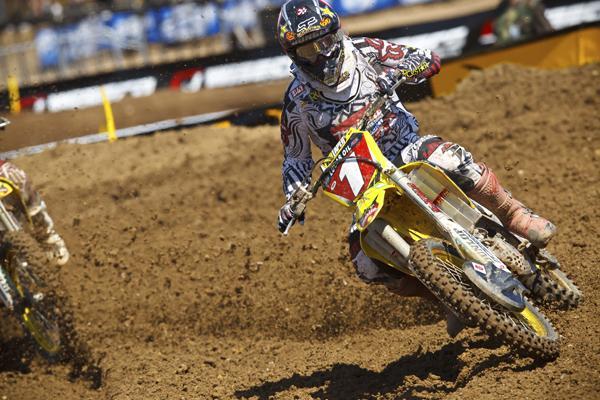 The return of Villopoto in 2011 saw Dungey change his racecraft,
Simon Cudby photo
In my opinion, 2012 was a mirror image of 2010. With Villopoto once again sidelined with an injury, Dungey was able to employ his 2010 strategy of allowing the race to come to him, never showing any panic or urgency. He was clearly the most fit of the 40 riders and would rely on this to put him out front by the end of every moto. There were many motos where I was certain that Mike Alessi was building an insurmountable lead. Lo and behold, RD would come choo-chooing through the field and ride his way to the checkers. In my opinion, he was so confident in his skills and fitness that he knew if he just rode out his plan, that was plenty to win the moto. He wasn't trying to win every moto by a minute and annihilate the rider psyches like we have seen from James Stewart and Ricky Carmichael in seasons' past. He simply controlled the race in his own fashion.
Now there has been a change to his racecraft yet again. Similar to 2011, Villopoto is back and wreaking havoc to Dungey's title defense. With RV's ability to sprint right from the drop of the gate, Dungey has had to really work on his early lap pace. The old strategy of hanging around until mid-race and then eating up riders like Matthes on a bearclaw just won't work with RV. Try that and you're looking at a 30 second deficit at the halfway flag. He has had to climb out of his comfort zone on the opening laps and try to match the torrid pace set by Villopoto. Now we are seeing RV and RD starting to both put 30 and 40 seconds into the rest of the field. Watching them push the limits of each other's ability is truly riveting.
In the post-race press conference from Budds Creek, Dungey was asked about the pace this year versus 2012. "Way faster," he said. "I think last year was a good year. With Villopoto out, there were some good races, but nowhere do I feel like I ever pushed myself even close to this limit. Last year was a new bike, new outdoor setup. So this year I feel like we've been able to make progress. The guys at the team are doing a good job. But there's more intensity, more guys out there… They're keeping you on your feet. And you have to push."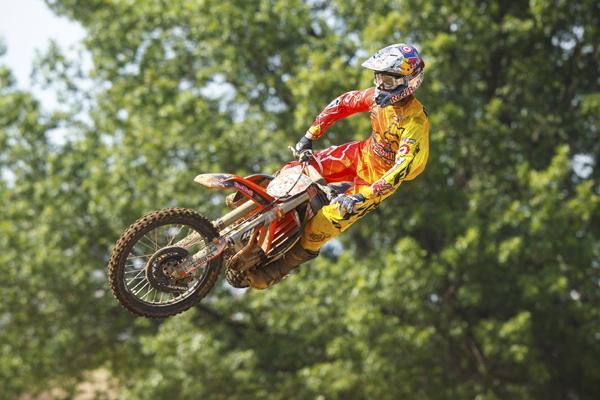 With RV out again in 2012, Dungey was able to revert back to his methodical approach.
Simon Cudby photo
As the two clear favorites, their incredible desire to beat the other shows in their riding. They feed off each other and up the pace throughout the moto, leaving the rest of the riders shaking their heads. This has been the most interesting part for me, watching Dungey evolve his early race pace. From what I see, the first few laps are where his weakness against Villopoto lies. He has been improving this, as evidenced by his second-moto performance at Budds Creek a week ago. Unlike last year, he didn't wait at all to get around Alessi for the lead. He attacked immediately and took off. He does still tend to revert back to his old ways when the chance arises, though.
In the first moto at MX-338, without RV to steer the ship out front, the Dunge took his time getting to the front. He slowly lowered his lap times while closing in on leader Andrew Short. True to form, he made the pass with a lap and a half to go, taking the first moto victory. With Villopoto's two crashes, the door was opened to his familiar game plan. Dungey did exactly what he needed to do to win the moto, nothing more, nothing less, and that's the way he likes to play it.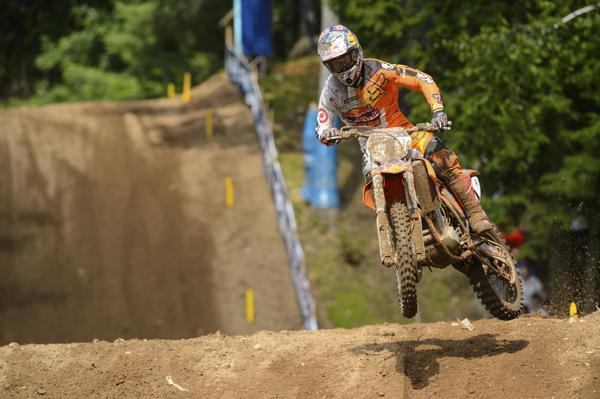 This season Dungey and RV have push each other to the limits.
Simon Cudby photo
The second moto would not play out as smoothly. With both champions starting out front, Villopoto was once again able to squirt away and secure a small but invaluable gap that Dungey was never able to overcome. The result was another moto win for Villopoto and more work to do for Dungey.
With half of the races left, this is where the championship will be decided. Can RV keep his edge in the opening stages or will Dungey find that missing link and match RV from the get go? Once they reach the 10-minute mark, they usually remain very constant. The problem for Dungey is that the constant is a pit board saying -5 seconds. In my mind, the secret for the 2013 championship is simple. Who will master this piece of the puzzle? RV has laid down the challenge. Can and will Dungey be able to respond?