Loretta Lynn Ranch
Hurricane Mills

,

TN
RedBull AMA Amateur National Motocross Championship (Loretta Lynn's)
Amateur National Motocross Championship
It is officially the eighth day of action here in Mammoth, and today was the second day of big bike racing brought to you by FMF racing. Plenty of familiar faces from yesterday were up early and ready to throw down once again on this extra rough track.
Following suit of yesterday's dominance, it would be another great day of racing for the number 62 rider of Jordon Smith. The GEICO Honda prospect rode the wheels off his Honda in the 250 B Class outriding a very fast Justin Hoeft; becoming a Mammoth Bear collector quite quickly in these last couple days.
Possibly the coolest thing going on this weekend was the FMF two stroke challenge, which included two separate divisions that needed to qualify for the full gate final. Pre-mix smoke filled the air as the riders anticipated the gate drop. One of the trickest bikes out there was Donny Emler Jr. KTM fitted with a KX500 power plant. The first moto would be a great battle between Michael Lapaglia and Mike Sleeter for 2-3 laps meeting up in every corner, with Sleeter grabbing the win. When the second moto gate dropped it would be Lapaglia up front, but he would have his troubles and leave the lead to Colton Udall and Ryan Surratt for them to battle it out. Sleeter was a contender until being forced to pull off with what looked to be a rear brake issue. When the dust and premix smoke settled the two stroke challenge winner would be your number 51 Yamaha of Ryan Surratt.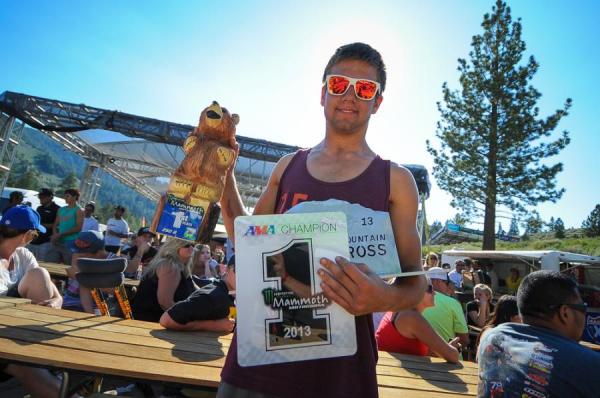 Jordon Smith was a big winner on Saturday.
Mike Emery / Insidermx.com photo
When the gate dropped for the first 250 Pro Class moto, it would be the number 965 of Travis Bright pulling a holeshot setting the pace. He was followed closely by Timmy Weigand, who made a swift pass for the lead, while behind them first lap carnage was going on all over the track. Colt Nichols stalled near the first corner and started from dead last mounting a charge all the way up to second place. Next we had Wardius running into 621 causing him to take out Shane McElrath. McElrath would remount only to have his bike fail due to a blown radiator hose from the crash. Weigand would battle out back and forth with Riese and end up taking the win.
Come time for moto two, luck would change for Colt Nichols who grabbed a huge holeshot and never looked back. Tangled on the start was your moto one winner Timmy Weigand, who would re-mount for an amazing charge through the pack up to 11th position. Close behind Nichols was an aggressive Shane McElrath who unfortunately slide out at the top of the hill taking him out of contention. From there is was an easy cruise to victory for Colt Nichols, and rounding out the podium would be Trevor Reis and Daniel Baker. Big congratulations for Colt Nichols…easily the most commendable rides of the day right here.

Shane McElrath (27) had his share of problems on Saturday.
Mike Emery / Insidermx.com photo
Ending our Saturday here in Mammoth we entered a team of bold warriors into the epic pit bike race held right in the center of Mammoth Villiage. Let's just say it was a battle that turned into straight up shenanigans of all proportions very quickly…kill switches were hit, hay bales were moved, and take outs were plentiful. The Racer X team held their own, but in the end it would be the VonZipper/2X promotions mini bike team taking home the pit bike Mammoth bear trophy! Good times were had by all.
Sunday marks the final day here in Mammoth, so stay tuned for one last report from what has been an amazing week!