Budds Creek Motocross Park
Mechanicsville

,

MD
Budds Creek
Lucas Oil AMA Pro Motocross Championship
Interviews by Jason Weigandt, Chase Stallo and Steve Matthes

Ryan Villopoto, Monster Energy Kawasaki, 1-2 for 2nd in 450 Class
Take us through your motos today.
It felt like it was alright. Seemed like we struggled a little bit in first practice and also second. We tried to make a few little changes to make it better. That first moto I felt like I was struggling a little bit and I was missing this rhythm section up here behind the start. I was able to get that done and string some really good laps together after that. And then Ryan ended up going down. So obviously that was kind of the end of it there. But second moto I didn't get the greatest of starts. Ryan [Dungey] got out front quick and he put a charge in. So by the time I got in second the lead was a big lead. I felt like the track was tough today. It was hard to really make up time, and with that lead he had we were trading tenths here and there and so it was tough to make anything happen.
When you get into second behind Ryan with a big deficit, is there a part of you that just hangs back?
No, never do you hang back. You try to keep charging and close that gap and make a pass on a guy. I think we learned a lot today as far as setup. This is kind of the first track we went to with the really big hills like that. It feel like we were a little bit off. Nothing terrible—I won the first moto, so I feel we should have been better in the second. We should have been better.
You had a good record on this track coming in.
I really like this place. But today, it kind of reminded me of Hangtown in previous years. Not Hangtown this year, but other times. It had kind of awkward bumps and ruts. It was one of the toughest tracks we've ridden so far this year. I think there were some good lines out there, but it seems like no matter where you go, you're fighting some sort of bump or something. That's what made it kind of like Hangtown. It seems like you can never get out of the bumps there. – Jason Weigandt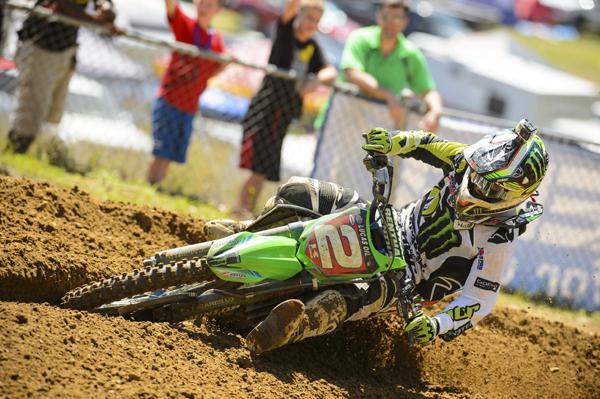 "No, never do you hang back. You try to keep charging and close that gap and make a pass on a guy." - Ryan Villopoto
Simon Cudby photo
Trey Canard, Honda Muscle Milk, 6-4 for 4th in 450 Class
Yeah, moto 1 wasn't great. The starts were off today. But moto 1 just wasn't feeling good; ended up sixth. But we made some changes and I felt really good about moto 2. I was excited. I think it's probably the best I've ridden the whole year.
Where do you feel you're at now?
I'm excited. The results haven't been where I want them, but I feel like we're continuing to build. It's difficult not to race this series for a long period of time and then come back to it.
What's up with the starts?
I don't know! The last few weeks they have just not been there at all. Really since Tennessee I haven't even been in the top ten. I don't know. I just really need to put in the time at home. I think a lot of it is a confidence thing. Knowing you can be that guy even before the gate drops. I think that good ride in the second moto helps that.
You were chasing down Malcolm [Stewart]. Did you think you had a realistic shot?
Yeah I thought I was going to get him, because I was making up good increments of time. The last two laps, he picked it back up and I wasn't able to get him. I wasn't able to get him, but I'm really trying to use it as practice, to keep getting better and better and keep pushing to the end. – Jason Weigandt
Marvin Musquin, Red Bull KTM, 2-7 for 3rd in 250 Class
First of all I had a good start in the first moto. I was really happy about the move I did in the rollers in the first lap and then I got the lead early and I was doing my thing. I was having fun on the track and leading the moto. It was pretty cool. Then I saw [Ken] Roczen and [Blake] Baggett coming on my rear wheel. I did a mistake with a lapper and it cost me maybe four seconds on one lap. But anyway they were coming back. And then I tried my best and Baggett was faster. He just passed me really clean and then pulled away. I tried my best to stay second. So it was a good moto. Then the second moto, between two motos, it's so quick. Just have to take a shower and get ready for the second moto. It's pretty crazy. And that second moto I was around the top ten maybe on the start and then it was not easy to make the pass. I was just following Ken Roczen and couldn't make anything better. And then I was kind of getting mad and then I made the pass on Kenny and passed also Wil Hahn. And right away I did a stupid mistake and lost the front end and crashed and lost maybe three positions and ended up maybe seventh in second moto. But ended up third overall, which is good. I'm happy just to be up on the podium again. That's what I want to do, be consistent and try to make some points on those guys. – Jason Weigandt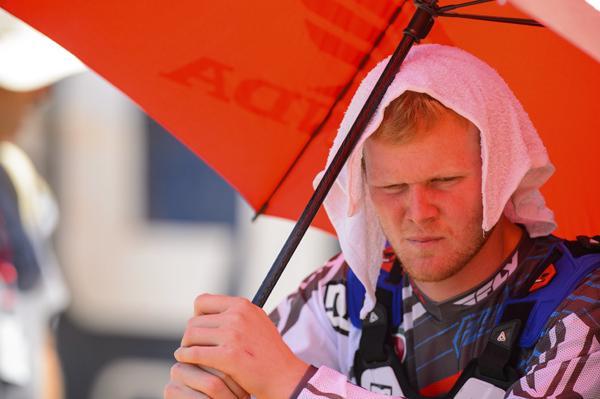 "I'm excited. The results haven't been where I want them, but I feel like we're continuing to build." - Trey Canard
Simon Cudby photo
Darryn Durham, Monster Energy/Pro Circuit Kawasaki, 13-3 for 7th in 250 Class
Firstly, flash backs to High Point 2011?
A little bit. That was the first time I've been in the lead at an outdoor race since then. So yeah, had some flashbacks. It's so nice getting the lead, having your own track to ride. It was fun.
And talk about the early part of the moto. Blake was coming up on you. You more than held your own. It looked like you were getting some distance in the rollers.
Yeah, me and Blake were pretty even, our times. I could see both our pit boards. So we were running pretty close times. But he had some better sections and I had some better sections. I was hitting those rollers really good. But Tomac came out of nowhere. He passed me and I thought it was Blake behind me still. So, Tomac passed me and I was like, "shoot." And then Blake got inside of me and I kind of was hoping he was going to go after Tomac and I would go after them. But I actually went down in the rollers shortly after Blake passed me. And then got up and we had a nice gap. I just held onto third.
Talk about what this does going forward. This has to give you that confidence again back to, "Hey, I'm getting back to where I was."
Yeah, for sure. Racing's a lot [about] confidence. Whoever goes to the line confident that moto I think can do good. All of us are good; there's probably 20 fast guys. Just go down and do it.
And talk about that first moto. You were up front, top 5 or 6 I think, and then something happened?
Yeah, I went down. It was the triple down the hill in the back. I went down the downhill after it. It wasn't anything bad but I lost my rear fender and my seat was coming off. So I rode her in. I passed a few more people back, after I went down. I think I got 13th the first moto. So, it was okay.
Talk about Tomac. You said you didn't see him at all. Was it not on your pit board? All of a sudden he was just out of nowhere.
Yeah. I don't really look back when I ride, but there's a couple times I'd glance back and I saw Blake behind me. So I knew but I had no clue Tomac was back there. I was just having fun, man. That was so fun. Not getting roosted in the face for 30 minutes was pretty awesome. – Chase Stallo
Andrew Short, BTOSports.com KTM, 12-9 for 10th in 450 Class
First moto was a little scary, got a good start, rode good, but my front brake went away. Not sure what happened, something happened to the line.
I'm actually kind of happy because you don't normally go backwards like that.
Yeah but the last few weekends I have been going backwards. Today my goal was to get good starts and try to learn that pace. I've been really struggling. I did it for quite awhile in that second moto so I learned today. My starts have been on point. I'm not coming off the the gate that good, but the motor is strong and I'm making good moves in the first turn.
Are you getting frustrated?
Yeah, it's just difficult. I've been working on it, more on the sprint side. For me, I'm not so concerned as the fitness as the speed.
What are you working on with the bike?
We changed the front, took some weight off it. Now I need to get the rear end to stay up a little bit, it's getting too deep, so I struggled to get through the rollers. So if we could get it to not go so deep into the stroke but still get that plushness I like, we'll be good. – Steve Matthes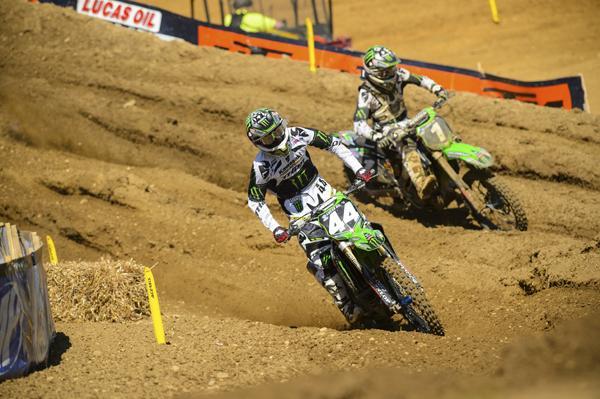 "Racing's a lot [about] confidence. Whoever goes to the line confident that moto I think can do good." - Darryn Durham
Simon Cudby photo
Mike Alessi, SmartTop/MotoConcepts, 3-34 for 11th in 450 Class
Great first moto, second moto.
It was pretty ganrly, It happenes all so fast befoee I knew it I was on the ground. I was bummed because I had pretty much a for sure podium in th ebag. I was riding good and starting to pull away from the guys in 4th and 5th. I just came out of a turn and before I knew it I hit the wall and I was in a heap of dust.
On the bright side, no doubt since Hangtown you've been on an upward trajectory.
I believe you're right. I've been training hard and working with the guys at Ohlins. I've been working hard at the starts, but anyone who knows will understand. Sometimes it seems like the harder you try the harder it is. – Steve Matthes
James Stewart, Yoshimura Suzuki, 11-13 for 12th in 450 Class
How did your day go?
Well, practice was better. I didn't qualify 18th so that was a good start. And then, I don't know; the first moto I went down pretty early. In the first moto, these first races, those guys are so fresh so everybody's going [fast]. It was hard to pass. And so I make my way up and then I'll be right behind Malcolm and he'll pass somebody and then he kind of stuffed a few people and it pissed them off, so they were trying to chase him and they were picking it up, and picking on me! It was just hard. It was hard to make moves. I was always stuck. I would go outside but then I would just lose a lot of time. Second moto I never knew what position I was in the whole race. It sucked to find out we were running 3rd and 4th. I was happy for him [Malcolm]. But made some pretty aggressive passes in the beginning, got up to third, kind of just stayed there for a little bit. And then ended up going down up here in this section. Went back and then made my way back up to fifth and then crashed in the same spot as I did in the first moto. So it was an up and down day, literally. It was up and down. I was on the ground, back up… And then the funny part was where I crashed at it was always in an awkward spot. My bike's up here and I got to climb up to get up there. It was good. I rode better the second half of the second moto until I went down. – Jason Weigandt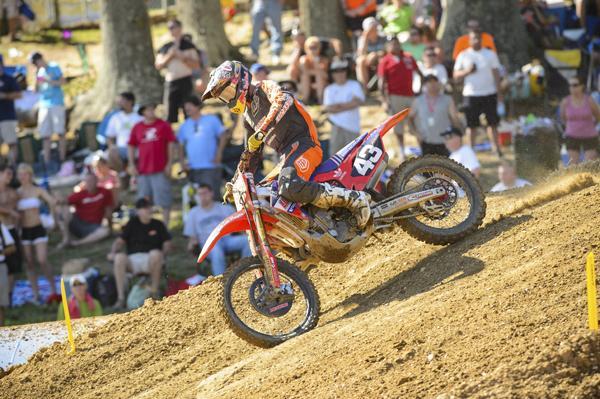 "I think I'm learning a lot this year that I definitely lost more than I thought last year. I went from the highest point in my career to not being able to ride for five months." - Cole Seely
Simon Cudby photo
Cole Seely, Lucas Oil/Troy Lee Designs Honda, 11-13 for 13th in 250 Class
You had some good starts today.
Yeah, got good starts again this week, both first and second moto. Then I showed a lot of speed, especially in the second moto. Just had a good twenty-five minutes in me but after that I got a little tired. But definitely improving and just need to find those last four or five laps and I'll be able to finish inside the top five.
After missing all of last year do you think it's just a matter of getting your endurance and strength back?
Yeah, it is, for sure. I think I'm learning a lot this year that I definitely lost more than I thought last year. I went from the highest point in my career to not being able to ride for five months. Now I'm just getting back in the swing of things. Missing the whole season outdoors definitely took a bigger toll than I thought.
Obviously you're putting in the work. What are you doing during the week to build up your endurance again?
Well, I've been Charles Dao for four years now, with Icon Sports. He's pretty much got me to where I am. And now added on working with Brian Lopes, who's an insane cyclist, world champion multi-time. Just working with him and learning from him and building onto what I already got. I think he's a good mentor and definitely a cool guy to have in my circle. So I got to thank him for the past couple weeks of busting my butt and getting me in better shape. So just going to keep doing that and learning each weekend.
Talk a little bit about the depth of the class.
Yeah, that's just the thing; I was running third for a while and then fourth for a long time. It was just like a freight train; once I got passed by one guy they all attacked me. Once I got a little bit tired that was pretty much the end. That's just what I need to find are those last five laps and keep that pace up and keep getting good starts and I'll be up there. – Chase Stallo