Muddy Creek Raceway
Blountville

,

TN
Tennessee National (Muddy Creek)
Lucas Oil AMA Pro Motocross Championship
By Racer X Staff
Eli Tomac's victory at the Rockwell Watches Thunder Valley National was one he cherished. The GEICO Honda rider wanted to show his local fans, as well as the rest of the competition, that he was up for defending his home track. Of course, Tomac didn't exactly win in his back yard, as his actual hometown of Cortez is nearly eight hours away, and Tomac flew in for the event just like he would any other.
But the Colorado faithful didn't care about the map; they were just pumped to see an ET win. Here are some other significant home-race victories for this week's The List.
1. Sacramento, California (Hangtown)
Steve Lamson- '92, '96, '98, '00 125 Hangtown Winner
Steve Lamson, from nearby Pollack Pines, was fortunate enough to win Hangtown four times in all and most of the time he did it in convincing fashion. Lammy grew up on the hard pack of Hangtown and absolutely flew there. His scored his first-ever career win there on a factory Suzuki in 1992 and his last win ever also came there in 2000 as a privateer riding a Honda. A few years later, Steve even came out of retirement and lined up on a CR125 one last time to try to capture the magic. Who can forget that? Well, actually against the modern 250 four-strokes, we should all probably try to forget about that day. Don't worry about that, Lammy is the favored son of Hangtown.
Another mention from Hangtown, NorCal's Tallon Vohland beat Ricky Carmichael in the first moto there in 1999.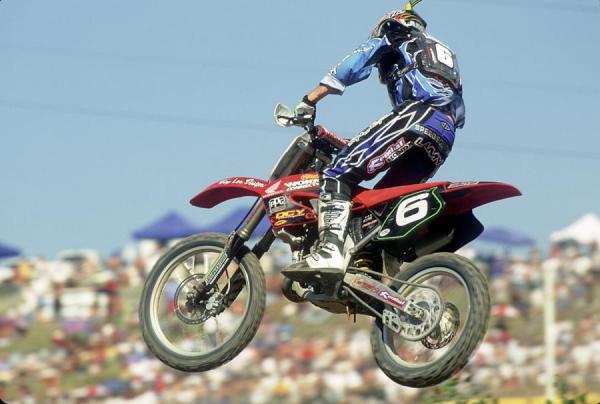 Steve Lamson won his home race, Hangtown, four times. The last coming in 2000.
Fran Kuhn photo
2. Axton, Virginia
David Bailey- '86 500 Winner
David Bailey took the hometown advantage to a new level in 1986 as he won the Lake Sugartree, Virginia 500 national in 1986. He actually lived on the property! Promoted by Gary (his dad) and David himself, the race saw the #6 factory Honda rider go 1-1 with ease in front of rival Rick Johnson. Afterwards, Johnson said that he couldn't wait to have a race on his own practice track back in El Cajon, California. No matter though, Bailey was the man in front of his hometown fans and then had the very short walk home up the hill from the starting gate to his barn afterwards.
3. (And 4.) Southwick, Massachusetts
Doug Henry – '93, '94 125 Winner, '98 250 Winner
John Dowd – '97 250 Winner, '98 125 Winner
These two local products used their Southwick knowledge to extreme advantage during title chases, generating a bunch of wins. But the greatest day of all had to be the 1998 Southwick National, when Henry won the 250 Class and Dowd won the 125s. Both rode for Team Yamaha that day, and both left the event holding the points leads in their class!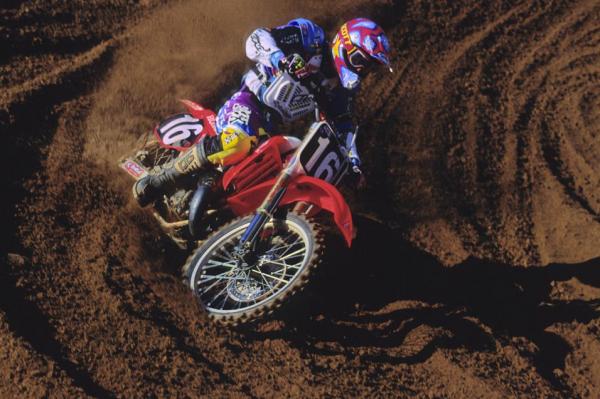 Doug Henry won at Southwick three times during his career.
Paul Buckley photo
5. (And 6.) Millville, Minnesota
Donny Schmit – '87, '88 Millville 125 Winner
Minnesota's native son, the late Donny Schmit scored two popular wins at Millville, Minnesota as a factory Suzuki rider. The kid from District 23 dominated in 1988 going 1-1 but not without some drama as he fell in the second moto while out front and had to come from fifth or so to win. The year before, Donny went 1-2 for the overall and crushed the field by more than 15 seconds to win the first moto. Just for kicks, in 1995, years after he retired, Schmit wore #100 and rode a Honda of Troy CR250 at Millville. He holeshot the first moto to the delight of the fans and eventually went 5-4 on the day for fourth overall. Darned good for coming out of retirement!
Ryan Dungey—'08, '09 Millville 250 Winner, '10, '11, '12 Millville 450 Winner
Of course, lately Millville has had a new home-state boy to cheer in Ryan Dungey. The Dunge has won an incredible five-straight times at Millville over two classes. Now that we think about it, this has to be record-level dominance at a home track. Although, if either Alex or Jeremy Martin win there, it would match Bailey's "I live right on this property" Virginia triumph in localness.
7. Washougal, Washington
Eric Eaton— '85 500 Washougal Winner
The last round of 1985 took place at Washougal, Washington, and the 250 title fight was coming down to the wire. Factory Honda stacked the class with all of its riders, including 500 rider David Bailey. With Bailey gone and Glover, the other dominant rider that year, out with injury, the 500 Class was wide open for a number of privateers and factory Kawasaki's "Bullet" Billy Liles. At the end of the day it was hometown hero Tacoma, Washington's Eric Eaton taking the win on his privateer YZ490 with 1-2 moto scores ahead of Liles. It was Eaton's first and only national win in his career. What a place to do it!
Also, some credit goes to Vancouver, Washington's Jason McCormick, who won the second 125 National moto at Washougal in 1999, just holding off a furious charge from Ricky Carmichael at the finish.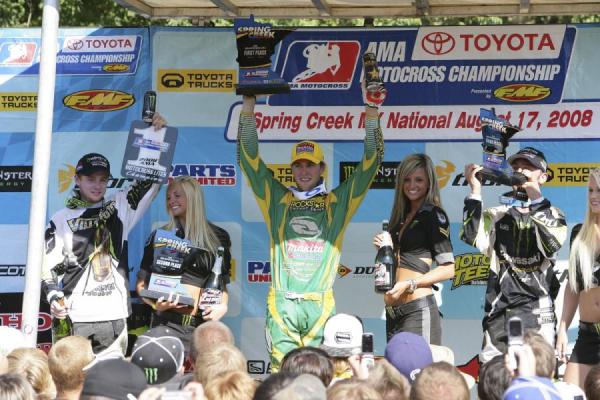 Dungey (center) has won five straight at Millville.
Simon Cudby photo
8. St. Petersburg, Florida
Kenny Keylon— '82 St Petersburg, Florida 250 Winner
What a day for Honda support rider Kenny Keylon as he won both motos at his hometown whooped-out sand track in St. Pete. This one wasn't even close at all as Keylon, given a factory Honda when Darrel Schultz got hurt, put over twenty seconds on the field in both motos for the perfect 1-1 day. As he crossed the finish line he was mobbed by friends and family. It was the first and only national win for Kenny, who's son Kyle also had his own pro racing career. Nothing like a home sand track advantage, right?
9. Gainesville, Florida
Ricky Carmichael— '97 Gainesville, Florida 125 Winner
The GOAT ended up with only one shot at a home-state National, and he made the most of it in 1997, going 2-1 to take the very first National victory of his career. RC would win over 100 more Nationals (literally) but this was the one and only in the Sunshine State.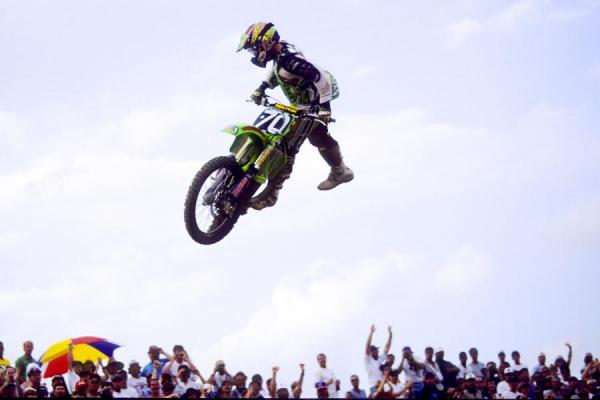 The GOAT won in his only home-state National.
Racer X Archives photo
10. Carlsbad, California
Marty Moates— '80 500 USGP Winner
In Southern California, so many truly great riders grew up there that it's hard to separate "hometown" winners from all of the big races over the years at places like Saddleback Park, Glen Helen, Carlsbad, etc. But if there is one man and one win that epitomize this list for SoCal, it was Marty Moates at the 1980 500cc U.S. Grand Prix of Motocross. Moates was from Carlsbad, and when he won the race -- the first American to win what was then the biggest race all summer -- it was shocking. He was a privateer riding an LOP Yamaha against true Japanese and European factory equipment, and he absolutely dominated both motos. Yet that was the only major win of Marty's career, and he would eventually retire and go to work with No Fear, which was located in Carlsbad literally a few hundred feet from the edges of the old Carlsbad track. Marty's not with us anymore, nor is Carlsbad Raceway, but every time we drive down Interstate 5, we can't help but think of Marty Moates....