Muddy Creek Raceway
Blountville

,

TN
Tennessee National (Muddy Creek)
Lucas Oil AMA Pro Motocross Championship
Hello, everyone, and welcome to the Rev Up. Round three of the 2013 Lucas Oil Pro Motocross Championships makes a special stop this weekend with the inaugural Built Ford Tough Tennessee National just outside of Bristol, Tennessee. The Southeast has been screaming for a National since Gatorback fell off of the schedule over a decade ago. But, where was a track that was capable of hosting such a huge event and more questionably, able to cradle a crowd of 20,000-plus? The answer is a course that has been around for a long, long time. A ton of bulldozer work, and a lot of elbow grease later, the historic Muddy Creek Raceway is primed to host the biggest national of the series. The biggest? Sure. This location is arguably the largest nucleus of motocross riders and enthusiasts in the world. They will come from Virginia, West Virginia, Kentucky, North and South Carolina, Florida, Georgia, Ohio, Missouri, Texas, Oklahoma, Alabama, Mississippi, Arkansas and of course Tennessee. It's perfect, as the nearby town of Bristol has a plethora of hotels and lodging for out of state travelers.
Meanwhile the track itself has long been a favorite of the southeast. Set in a vast green valley, black dirt runs up and down the many crevices and fingers. The legendary Mark Barnett has been burning diesel over the winter widening out certain areas, building up the old stuff, and creating new sections. It really is a bitchin' racetrack. After reading about the legendary Top Gun Showdown for years in Cycle News, I was finally able to race the track for the first time in 1993. It was Mike Brown, Ezra Lusk, and Kevin Windham in the pro class just flying down the staircase section that year. Those guys spent a lot of time on this track. Then add in other former Southeast flyers like Shae Bentley and Matt Walker, who surely wish they had their chance at a national at Muddy Creek. There's so much history here. Heck, even one of the first jump contests of sorts took place way back in the day on the famous table top by the scoring tower. Chad Lough used to always whip it the hardest.
It's going to be awesome. Let's take a look at the two divisions.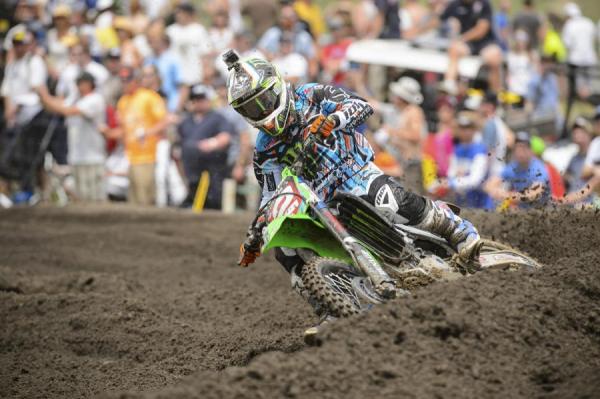 Will RV's winning streak be stopped at Muddy Creek?
Simon Cudby photo
450
Ryan Villopoto is riding with bad intentions. He has offered no quarter or reason for anyone to have a chance to beat him. He also hasn't gotten a bad start since the middle of the SX season, and until he does, or somebody goes faster than him, he'll roll on. I just don't think you can go any faster on a 450, a 350, or a 550. Ryan Dungey will try, and then we'll have James Stewart with a little extra to push, since he's ridden Muddy Creek since his 65cc days. Stewart hasn't been as fast as Dungey or Villopoto, but I think he'll be closer this Saturday.
There is a lot of racing going on past the podium though! The Joe Gibbs Racing/Toyota Yamaha crew needs a good weekend. The climate and track conditions are mirror images of their practice facility so they should have the set ups dialed. The new Pro Circuit 450 team hasn't been up to standard either. I've been yelling for a 450 team from Mitch for years and its really great that he's out there competing in both divisions. Dean Wilson and Tyla Rattray are capable of top fives, but unfortunately Dean-O is now out again after a practice crash this week. Rattray will be the lone 450 soldier for the team, and we'll see if he can pour it on. It's so tough, though. When do you call it a bad day? What are realistic standards? I mean, after the Villopoto/Dungey/Stewart trio, you're going to have to beat factory Honda's Justin Barcia and Trey Canard to get into the top five. This leaves guys like Jake Weimer, Mike Alessi, Andrew Short and Ryan Sipes with a hard days work ahead of them. Throw in Malcolm Stewart and now the mega fast Belgians and this is a hell of a class. I haven't even mentioned Broc Tickle or Chad Reed who are on factory equipment. I'll tell you what, Clement Desalle and Kevin Stribos are going to be fast this weekend and if a lot of our boys don't put in two good motos, the two GP imports are going to hurt a lot of feelings again.
250
Yamaha has taken some abuse recently, but when you look at the 250 Class so far during the Nationals, they have much to smile about. The MyPlash/Star Racing squad has started and raced near the front of all four motos thus far. They're up against two dynasties in Monster Energy/Pro Circuit Kawasaki and GEICO Honda, the factory KTM brigade and other longer-established teams. They're taking two rookies, Kyle Cunningham and carburetors to the front of one of the most stacked classes ever. I'm super biased to anyone with the #77, but I have to say that Jeremy Martin and his black gear looked sano-plush banging that holeshot last weekend. But, this class is full of fast guys, and J-Mart did get passed three times in one corner. He's doing great though, and meanwhile, in four motos, his teammate Cooper Webb has a top five and a third already. Cunningham has some good motos ahead of him too. Props to Yamaha and team manager Ryan Morais on a stellar opening effort for the series.
Ken Roczen and Eli Tomac are similar to Dungey and Villopoto in their command of the 250 division so far, but a bad start could shake things up. So could a hometown-hero performance. It's been noted all week that Zach Osborne is looking forward to this weekend. Zach has been super fast through the first four motos, and even in SX there were some instances where he had winning speed. The outdoors is his wheelhouse and Muddy Creek has been one of his favorite tracks since his pee-wee days. Everyone loves a hometown win, and #338 could pull it off.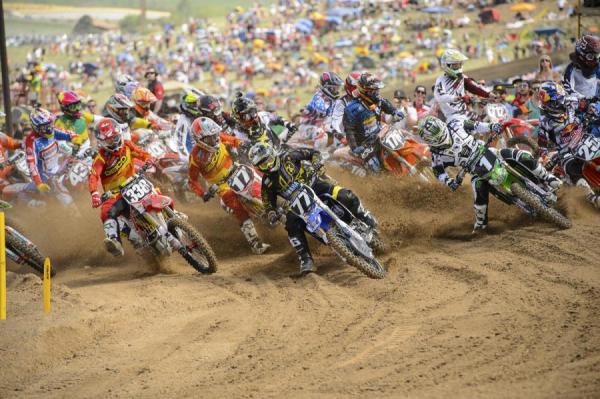 Jeremy Martin (#77) and rookie counterpart Cooper Webb have been stellar for the MyPlash/Star Racing Yamaha team.
Simon Cudby photo
Meanwhile, the champ had a bad weekend in Colorado. But Blake Baggett won't go away quietly, he just needs a spark to ignite the banter that put the #1 on his plates. He still has the charge and don't be startled if he pulls it on this Saturday afternoon.
In this division its crazy how you can put fifteen names in any order and have a decent shot at the odds. Just say some of them to yourself randomly in your head: Musquin, Wharton, Izzi, Hill, Savatgy, Bogle, Anderson, Davalos, Seely, Durham. And just think, Adam Cianciarulo will join in for High Point, and Wil Hahn is coming back for Budds Creek!
Time for round three and I'm telling you this one is going to be big. I'll be making my first trip to the Nationals this season and I'm aching to get there early Saturday morning. E-mail me (andy@racerxonline.com) if you want to get together for bench racing. The weather is going to be perfect again and I just can't wait! This area of the country is awesome. I write about diversity a lot, and I think its really cool how in three weeks the Nationals have visited three very different fan demographics. Eastern Tennessee is as unique as she is beautiful. The home of The Great Smokey Mountains and some of the most passionate racing fans in the country who love to have a good time. It's that all well and good, Tennessee champions tradition. Time to start a new one with the Tennesse National, or as I think of it, The Great Southeastern National, because this race is for the whole darned region. So pack up the cooler, ready the sunscreen and get those front bumpers pointed towards Bristol.
Thanks for reading, see you at the races!