Thunder Valley Motocross Park
Lakewood

,

CO
Thunder Valley
Lucas Oil AMA Pro Motocross Championship
By Travis Preston
Why race Hangtown? I had a couple reasons, but the main reason is I have learned a lot teaching other riders and I wanted to apply these skills in a race situation. By concentrating on applying each skill in each section, my focus improved a lot. I used to get bored doing long motos, but now a 40-minute moto seemed to go by fast!
After riding this way for a couple weeks, I noticed I was starting to get faster. I would go out to the local practice tracks where I knew some pros would be riding just to see how my speed compared. I was surprised to see my speed wasn't that far off, but we all know practicing and racing are two different worlds.
Riding with this new focus gave me more confidence because I started to make fewer mistakes. I also had more confidence because I spent many Sundays in church and started to realize riding a dirt bike at this level is a gift. If God gave me this gift, he would keep me safe. 
In the past, 40 riders going into the first turn and the possibility of crashing would always make me a little nervous. I wanted to go into the first turn at Hangtown wide open with a smile on my face and not worry about any painful consequences. To really test my new-found focus, I needed to race at the highest level. Hangtown would be the perfect race because all the riders are healthy, hungry, and ready to go.
I know I'm old, and my future is no longer in racing. My future now is in training and teaching riders the proper way to ride a dirt bike, but I really wanted to go to Hangtown just for the fun of it, and to see if I could still be competitive, even though I haven't raced a national in six years. 

JGR/Toyota Yamaha played a big role in getting me to Hangtown. I needed a good mechanic and a good bike. Fortunately, one of my former mechanics, Shawn Ulikowski, currently works at JGR, building and developing motors. We spent six years together when I was racing, and Shawn knows me better than anyone else.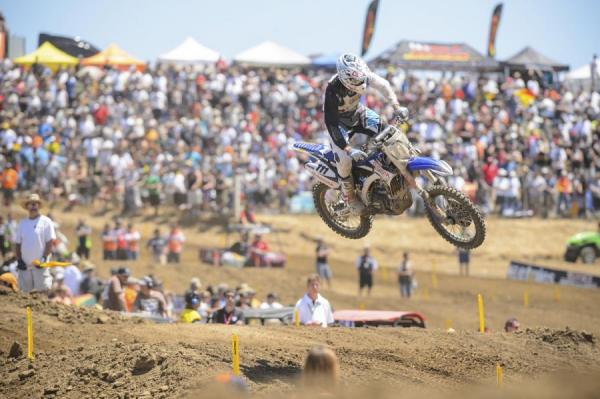 Preston finished 17th overall in his return to racing.
Simon Cudby photo
Once Coy Gibbs gave us the green light, I had two months to get ready. I started a gym program, dusted off the dirt bike, and hit the local tracks. My dad has been retired for a couple years and was able to go with me to the track everyday to help with lap times and bike maintenance. I used the same tracks I had trained on when I raced the Nationals, which helped me get into shape pretty quickly. These are natural terrain tracks behind my house in California that haven't been graded or prepped for seven years, so you can image how rough they were. I also used all the SoCal public tracks like Competitive Edge, Glen Helen, Milestone, etc. My cycling and gym programs were designed by my trainer, Steve Vittone, who also handles all the off-bike training programs for my students. 

 I enjoyed the riding, cycling, and gym workouts. But bike maintenance became my worst enemy. You tear stuff up when you ride four days a week. My bike never actually broke, but it needed a lot of filters, oil, chains, sprockets, bars, grips, and tires. My filters got a little dirtier, and my oil was a little blacker the closer I got to Hangtown, so I was really happy to see that new race bike at Hangtown! The joy was there not only because of all the trick parts, but also because I knew Shawn would have to work on it instead of me.
The last time I raced the Nationals, they were two-day events. On Saturday you would have two 20-minute practice sessions, and you would then have another two 15-minute practice sessions on Sunday morning. Nowadays, you only get two 15-minute practice sessions on race day, and that's it! This was a real problem for me because your gate pick is also decided by how fast you go in practice. Most of the time your fastest lap comes from the first practice session because that's when the track has the smallest bumps. They give you five minutes to learn the track, then you have to twist the throttle wide open and hope you remember which way the track goes. I was not surprised when I qualified 20th.
As I lined up for first moto, it felt like I had been racing all year. Shawn and I were working together like it was 2005. We had all of our routines down and it felt really good to be working with him again. 

I got about a 20th place start in the first moto and was amazed by the crashing, passing, and chaos that was taking place in lap 1. I played it smart and found some good lines and made some passes early. You have to pin it the first couple of laps, but you also have to plan ahead. In the third or fourth turn, I saw three riders going for the same rut and figured someone was going down. I changed my line and went to the outside in the corner. Sure enough, all three riders went down on the inside! Around about lap two, my arms pumped up rock solid, and I went into survival mode. I was in 15th place and just tried to hold on for the rest of the moto.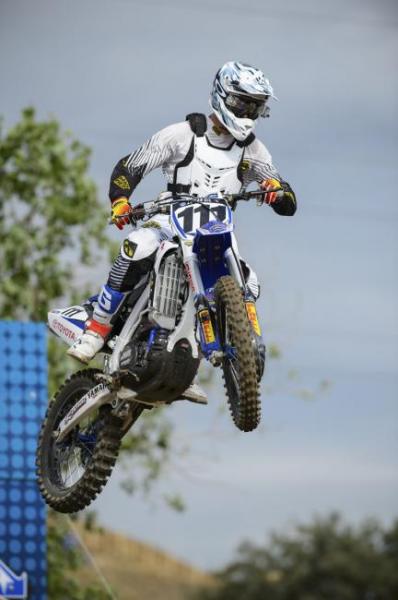 For more info about his schools go toTravisprestonmx.com.
Simon Cudby photo
One of my biggest concerns in getting ready for Hangtown was recovering for the second moto. This ended up not being a problem because I rode so slow in the first moto. The only sore muscles I had was in the forearm area. My start in the second moto was terrible. I missed my shift going into third gear. Once everyone passed me, I found a good hole in the first turn and came out around 20th. The second moto was a lot like the first moto, minus the crashing and wild riding. Everyone seemed to settle down for the second moto. However, my arm pump was still out of control. Second moto I finished 18th. I ended up 17th overall. This was not the result I wanted, but I was happy with my focus. I picked some good lines and made smart passes under pressure. I just really enjoyed getting out there and racing. This time around, I loved the excitement of the first turn and the unruliness of the first couple laps. It was encouraging to see the top riders using the same techniques I use and teach my riders.
My biggest challenge at Hangtown was arm pump. I have been riding dirt bikes for 30 years, and my arms have never pumped that bad. While I was going to all my local tracks to practice, I was able to go 40 minutes with no pumping issues whatsoever. While at the race, I could not figure out why my arms were pumping so badly. I had a seven-hour drive going home from Hangtown to mull it over. While staring at the pavement during hours of driving, I went over everything I had done while training for Hangtown. I finally realized the biggest mistake I had made in my training program. This mistake is so important and so valuable that I can only share it with TPMX students. For more info about my schools go toTravisprestonmx.com
Meanwhile, that's it for me, it's back into retirement from pro racing and back to teaching. But it sure was fun!