Thunder Valley Motocross Park
Lakewood

,

CO
Thunder Valley
Lucas Oil AMA Pro Motocross Championship
In a field that features full-season rookie debuts of the likes of Webb, Hill, Martin, Bell, Savatgy and others, former Team Green prospect Dillan Epstein flew straight into Hangtown off the radar. The California native left with a different feeling—satisfaction. He went 11-23 despite a flat tire in the second moto, and as the top privateer in a loaded 250 Class, Epstein garnered some acclaim. We talked with him about his debut yesterday.
Racer X: You came in to Hangtown very under the radar but came out shining as the top privateer. Take us through the day.
Dillan Epstein: The first moto I didn't really know what to think because I had the 25th gate pick. I'm just terrible at the timed qualifying. For whatever reason I can't put a good session together. I got off to a bad start in the first moto and rode like I knew how to ride and by the twenty-minute mark I was picking guys off. I was behind Joey Savatgy the whole moto and we pushed the edge for each other and pushed through the pack. Working through the pack like that was sick, but I was surprised at how many guys I passed. It was cool to see that I was the only privateer near the pack.
A lot of big-name rookies also made their debut at Hangtown—Webb, Hill, Martin, Savatgy, among others. Do you feel you proved something by getting close to the top-ten?
Not having a ride after the amateurs and being told maybe, left and right, and waiting for something to happen and then nothing happening, it did feel good to get near the top-ten and beat some of the guys I beat that first moto. I think I showed some people that I'm not a joke and I can do this. Hopefully I can prove it again this weekend and the rest of the series.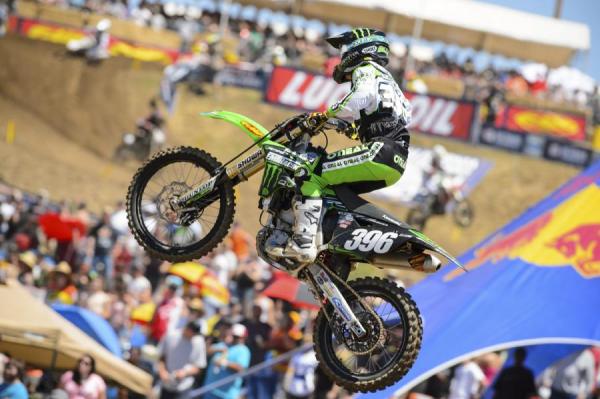 Epstein was left without a seat at the factory table when his amateur career ended, but he's trying to gain some attention this summer.
Simon Cudby photo
You have battled with most of the guys I just mentioned in the amateur ranks while with Team Green. How much different is it now that a majority of these guys are on factory bikes, which can make a big difference? Is that something you noticed?
A little bit, but only because the team is new and the established teams have a better idea of what to expect because they have been there before. We may be a step behind at the moment, but I can't complain. I have to work with what I have. Good suspension, bad suspension, good motor or bad motor, it doesn't matter because that is all I have and I have to deal with it.
Talk about your new deal for the outdoors. Is it different from what you had in supercross?
It's actually all the same group of guys, we just added on more help. Not that it was a bad thing, its just the more help the better. We are getting a better program built. We switched up a little bit of stuff along the lines of suspension and motors, but pipes and the rest of the sponsors are the same. JNA are helping out with the rig and some other things. EMT is still a big part of it. They funded all of my supercross season and are still helping out for the outdoors. Matas Inda is on the team as well, so it's awesome.
A lot of riders from the Team Green program transition straight to a factory team. One of the guys who went a different route was Blake Baggett, who signed with Rockstar Suzuki, which was a satellite team at the time, and then transitioned back to Kawasaki. Is that something you can point to and say that you can make a name for yourself and work your way to the top?
For sure. Being the only privateer to get close the top-ten is huge for me. I haven't rode a PC race bike before, but I have rode their practice bikes and they are so much better than what I have. But, like I said, I can't complain about what I have. Unfortunately I got a flat in the second moto so I wasn't able to repeat my performance. As long as I don't make the mistakes and failures, I think I can show that if I'm on great equipment I can do something with it
Right. You're not saying that your equipment is bad; it's just that they are riding is on a different level.
Exactly. I'm not expecting my team and the guys that are working with me to make equivalent stuff. None of us have that budget. I'm definitely happy with what I have.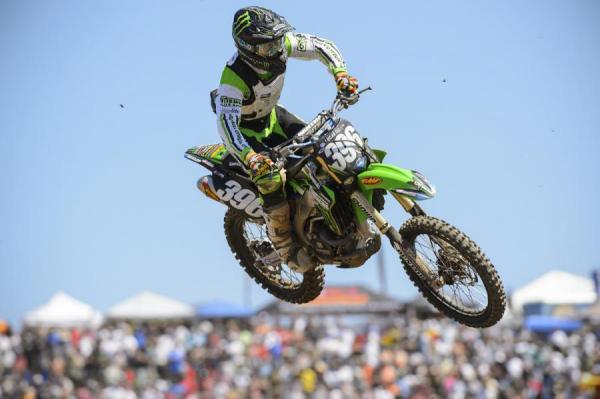 Epstein charged from 27th to 11th in the first Hangtown moto.
Simon Cudby photo
Going forward this has to give you a ton of confidence.
Coming from the back that moto, I think they said I was 27th or something, and coming from the pack like I did, and to be able to get to 11th and pass some of the factory guys like I did… it felt good. It showed me that all the hard work I'm putting in is paying off. It was definitely a huge confidence booster. It was cool to be sitting in staging [in the second moto] as the only privateer with all of the top guys.
We are heading to the thin air of Colorado this weekend. What changes are you making, not only to the bike, but your training program?
We are actually heading to Colorado as I talk with you. We will probably get there tonight and tomorrow morning, and Matt and I will probably do a little run to get acclimated before we ride. And after we ride I will probably go on a road ride to keep breathing in the thin air and get better acclimated to it. As for the bikes, Frenchie remapped the motor and did a few other tweaks. I have no idea what he did, but it should be all good [laughs].
Thanks, Dillan. Who would you like to thank for helping you out this season?
I would like to thank the Lord, first and foremost. Also, Monster Energy Kawasaki, Team Green, EMT Racing, Frenchie at C4MX, JNA Racing, MadJack Racing, B&J Trading Overseas, Graeme Brough Suspension, O'Neal, SCOTT Goggles, VP Racing Fuels, FMF Pipes, The Rock Store, Ride Egineering, Shoei Helmets, AP Designs, Moto Nation, Sidi Boots, Dunlop Tires, Motion Pro, Hinson, CV4, Boyesen, Cosworth, ASV, Dubya USA, Cycra, Matrix Concepts, Maxima Oils, Toyota of Escondido, and my dad. Can't forget him!