Hangtown Motocross Classic
Rancho Cordova

,

CA
Hangtown
Lucas Oil AMA Pro Motocross Championship
By Chase Stallo and Aaron Hansel
- After getting the call to fill in aboard a 450 with TLD Lucas Oil Honda for the injured Christian Craig, Malcolm Stewart, who originally hadn't even planned on racing Hangtown, had very little time to prepare. After racing for J-Star JDR KTM on a 250 in Monster Energy Supercross, Malcolm had ridden his Honda 450 five times before Hangtown, so maybe you'd expect him to flounder at the first round. But the box score doesn't tell the story in this case, as Stewart was absolutely flying in the first moto. After rounding the first lap outside the top ten, Stewart went to work and by the closing stages of the moto had worked all the way up to sixth. Unfortunately, that's when his overheated motor decided it'd had enough, leaving a frustrated Stewart on the side of the track desperately trying to get the engine re-fired. He even pushed his bike up a jump so he could coast down and try to bump-start it, but to no avail. He got off to an even worse start in the second moto, finishing the first lap in thirty-sixth place. By moto's end, he'd charged up to fifteenth.
- Other riders who had their fair share of bad luck at the opener include Dean Wilson, Tyla Rattray, Jake Weimer and Josh Grant. All four guys went down together in the second moto! We hear Rattray made a mistake and got out of control, causing the pileup. Weimer got the worst of it though, as he got run over a few times and completed lap one in dead last, a position he wasn't able to improve upon until lap seven. By moto's end he'd worked up to twenty-fourth. Grant's troubles weren't limited to the second moto. In the first moto, he says Wilson cleaned him  out, and Grant went flying into a fence way off to the side of the track. His bike wedged in the fence, but Grant went flying over it! A few fans helped untangle his bike and one big guy even threw JG back over the fence to get him back on the track. He finished 20th. But Wilson also had problems in the first moto. He stalled his bike while running sixth, and shortly after that went for a short off-track excursion, courtesy of a hard block-pass from Weston Peick.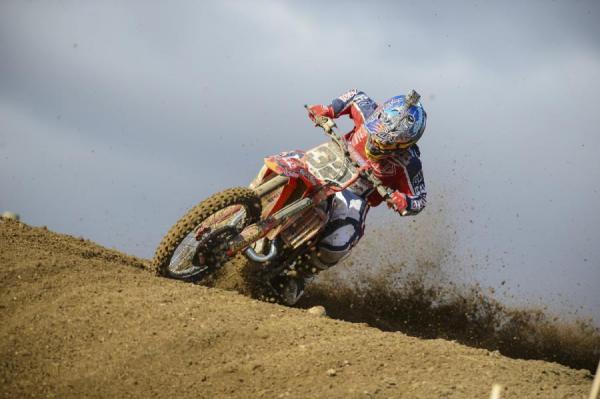 Malcolm Stewart was impressive in his 450 Class debut.
Simon Cudby photo
- Speaking of Weston Peick, the privateer rode brilliantly. We could give you a recap of just how well he rode, but really, his tenth overall, via 13-8 moto scores, speaks shouts for itself.
- Big props to Ryan Sipes for his sixth overall at Hangtown. Sipes missed most of the supercross season with a wrist injury, then made the jump to a 450 when Davi Millsaps had to pull out of Lucas Oil Motocross with a knee injury suffered during supercross. Coming back from injury on a bike you're not completely familiar with is hard enough. Doing it on one of the roughest tracks on the circuit, let alone going 8-7 for sixth overall in a stacked class, is downright gnarly. Especially impressive was Sipes' strength late in the second moto. After getting passed and slightly gapped by Weston Peick, Sipes wicked it back up with two laps remaining and engaged Peick in a battle to the death for the spot. A lapper aided Sipes, and he took the spot. Apparently the time off hasn't hurt Sipes' fitness!
- Local rider Austin Howell came up with a clever way of standing out for his hometown fans. For the parade lap Howell donned a florescent green traffic vest and threw revs everywhere as he made his way around the track. Unfortunately, his results in the second moto were hampered by an ugly looking crash in which he was ejected from his bike, trampoline-style, in the first turn. Credit to Howell for getting back in the race miles behind the pack and motoring to thirty-first in the moto.
- If someone told you that a two-stroke would win a moto at a National this summer, you'd probably assume it would be a 250 smoker against the 450s, and even then there's no way you'd believe it. If the same person then told you that a 125 would go 1-1 on the hills of Hangtown, you might just slap them upside the head and tell them to learn how to bench race properly. Then you'd have to apologize, because New Zealand's 17-year-old Courtney Duncan did just that aboard her Yamaha YZ125, winning both WMX motos by large margins.
- While the action on the track at Hangtown was hot, the interaction between Ryan Villopoto, Ryan Dungey and James Stewart was anything but heated afterward. In the post-race conference, the three even joked about playing golf with one another.
"Yes, James how is your golf game," asked Dungey in the presser. "I can still beat you," answered back Stewart with a smile. Then Villopoto added, "I'm going to have to learn to play and take you guys on." When's the last time you can remember three active National Champions being able to kid around with one another less than an hour after doing battle on the track?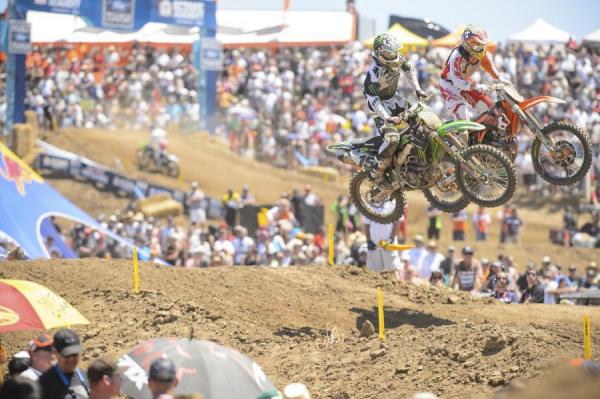 Dean Wilson had his share of issues in his 450 debut.
Simon Cudby photo
- Monster Energy/Pro Circuit Kawasaki's Adam Cianciarulo was slated to make his professional debut at Hangtown, but pulled out with an illness-we heard either the flu, but possibly bad food poisoning. We now hear it's bad enough that even this weekend's race in Colorado could be in jeapordy.
- In other WMX news, Jessica Patterson had a rough go of it on Saturday. She found herself battling through a lousy start in the first moto only to have a mechanical failure end her charge. She did better in the second moto, but just couldn't match the pace of Courtney Duncan. With Ashley Fiolek (retired) and Tarah Geiger (racing global X Games) out this year, a DNF-2 for tenth overall likely isn't what Patterson had in mind coming into Hangtown.
- How many bikes will Vince Friese ride this year? He rode a CRF450 in the 450SX supercross series, a CRF250 in the Eastern Regional 250SX series and now, in Lucas Oil Motocross he's piloting a KTM 450 SX-F for Munn Racing. That's a whole lot of testing and set up!
- At first glance Monster Energy/Pro Circuit Kawasaki rookie Justin Hill's tenth (13-9) overall in his first career pro motocross race seemed like a solid beginning to his career. But if you dig deeper, Hill's performance proved to be much more impressive. In the first moto Hill came back from a 31st place start (after lap 1) to finish 13th. He followed with another come-from-behind performance in moto two, coming from a 16th place start to finish 9th.
- Hill's teammate, Darryn Durham, was back for the first time since the New Orleans SX over a year ago. Durham brought back with him the speed that dazzled in 2011, finishing sixth in the first moto. But the second moto brought troubles as he tangled with Blake Wharton and had a big crash leading to a 36th place finish. Early reports are that Durham is okay from the crash and will be racing Thunder Valley.
- There were some comeback kids who most certainly weren't kids in the 450 Class, with Travis Preston and Ryan Huffman coming out of retirement for the Red Bull Hangtown Classic. Preston rode as the third-man on the JGR Toyota Yamaha team, and finished a solid 17th overall via 15-18 scores. He said he had arm pump the whole way! Also in the mix was Washougal-favorite Ryan Huffman, who qualified for the motos and finished 35th for the day. Preston said he's done after his one-race attempt, and he'll go back to teaching riding schools full time. Huffman? Wouldn't it only make sense to see him race Washougal again?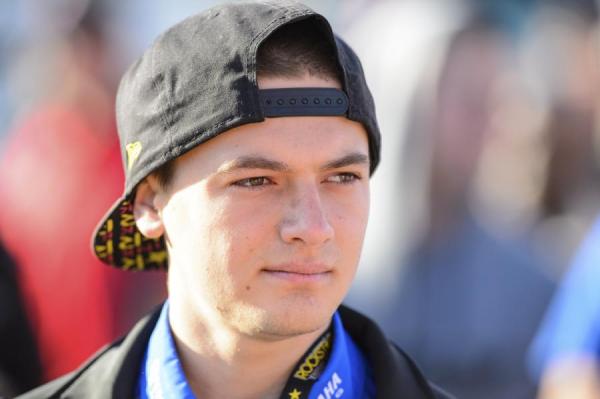 Cooper Webb had a great start to his career at Hangtown.
Simon Cudby photo
- MyPlash/Star Racing had a great start to the season with all three riders finishing inside the top eleven overall—including a fifth and sixth place finish from rookie sensations Cooper Webb and Jeremy Martin, respectively. 250 Class veteran Kyle Cunningham looks to be back in form after struggling with injuries a season ago. Cunningham overcame two bad starts (14th Moto 1 and 17th Moto 2) to finish six overall.
- Privateer Tommy Weeck was back in action after missing Monster Energy Supercross. The Washington native struggled in his return, finishing 36th overall.
- GEICO Honda's Justin Bogle, who also missed all of supercross, was impressive in his return. A pair of crashes relegated him to a 19th in the first moto, but he bounced back with a solid eighth in the second moto. Bogle's teammate, Zach Bell, who is dealing with a shoulder injury, grabbed the holeshot in the second moto, quickly dropping anchor from there. Bell tweeted after the race that his shoulder was still bothersome, which affected him throughout the day. Bell might be out for a bit to let the shoulder continue to heal.
- Eleven10 Mod Yamaha's Alex Martin made his 2013 debut, returning from a wrist injury. The Millville native finished 19th overall via 20-15 moto scores.
- Former Team Green product Dillian Epstein was the top privateer at Hangtown with a 16th overall finish. Hangtown was just Epstein's second career national, he made his pro debut last season at Lake Elsinore.
- In more rookie news, Joey Savatgy made his Lucas Oil Motocross debut with the newly formed FMF/Orange Brigade KTM team, finished ninth overall. Lots of rookies in the 250 field!