Moss Claims Win at Broadford | Highlights
Video and Race Report courtesy MotoOnline.com.au
Motul Pirelli Suzuki's Matt Moss claimed victory in the fourth round of the Monster Energy MX Nationals, his first overall since rejoining the MX1 category in 2013.
Moss rode his RM-Z450 to his second straight GoPro Super Pole before winning the opening moto, and clinched the round with a second in moto two.
The result for Moss narrowed the gap to 27 in arrears of series leader Todd Waters (Motorex KTM), who salvaged fifth for the round despite a concussion suffered in a local Queensland race last weekend.
"At the start of the year Jay [Foreman] said to me, let's just build," Moss said. "The bike's great and Jess and I have really gelled. So many people behind the scenes make this possible, so I really need to thank Motul Pirelli Suzuki.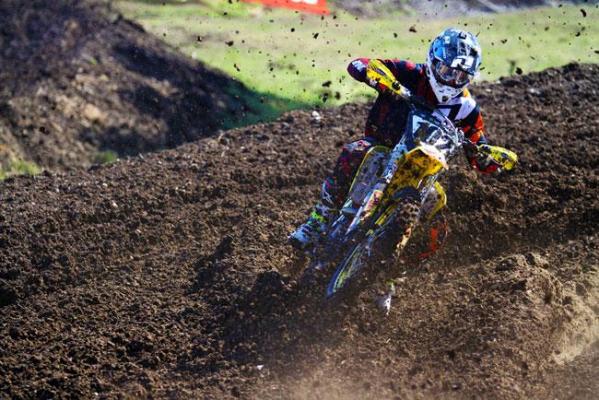 Matt Moss was the overall winner in MX1 at Broadford.
Simon Makker/Makkreative.com photo
"I'm stoked to get the win and to close the points up on Todd. Today was the first fault for him and hopefully there's many time come [laughs], but he's a true champion and he'll bounce back. We're getting the wins now and we'll chase after him."
Winning the second moto was Scotsman Billy Mackenzie (CDR Yamaha), breaking through for his first win of the year in moto two with a dominant victory. Earlier, the former GP rider rode to third in moto one even though he went down during the moto.
Mackenzie's result boosted him back to third in the series after a disastrous Wonthaggi weekend a fortnight ago, and he's taken a lot of confidence from the result today.
"There's a lot of racing left, I know Todd's got a big lead, but I feel like I've got to grips with the bike and the team's working really hard," Mackenzie explained.
"Today's the first day that I actually felt like me, because the first rounds were a real struggle. I feel like I was lucky to even get on the podium at the first two. I obviously had a bad round at Wonthaggi, but we worked hard this week, we've been working hard together and it's nice to get a win – good to see I've still got it and the bike was working fantastic. I got my very first GP point back in 2001 on a 125 and I won here in 2011, so I really do like this track. I'm having fun and that's the main thing."
Claiming his first career podium was MX1 rookie Kirk Gibbs, maintaining Motorex KTM's perfect podium run. Gibbs was fourth in moto one and sixth in the second, however it was his four points scored for second in Super Pole that placed him on the podium.
"I've just gotta give it up to my family, they've been behind me 100 percent," Gibbs said. "The Motorex KTM team took a big gamble on me this year, I struggled for the first couple of rounds there, but we're getting over that and moving forward.
"Riding with Todd has been good in Queensland, it's always good to chase, trying to get faster and faster. My whole team's been putting in big hours and it's showing with Todd – hopefully now it's starting to show with me."
Jake Moss (Campbell Mining Suzuki), twin brother of Matt, was fourth overall with a consistent 5-3 effort. Moss was again right on pace, but minor errors during the motos forced him to settle for fourth.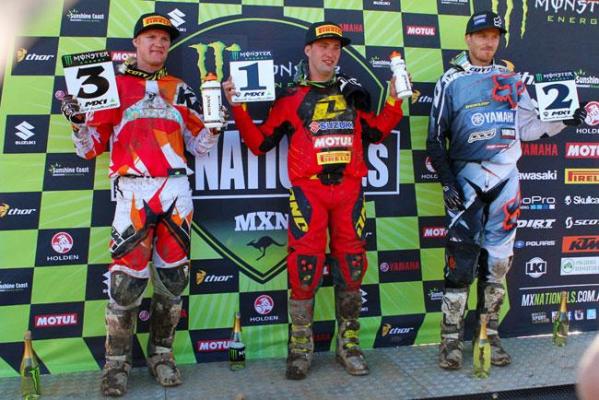 The MX1 podium of Matt Moss, Billy Mackenzie and Kirk Gibbs.
Simon Makker/Makkreative.com photo
Waters was ultra impressive in moto one with a second after being cleared to compete by Suzuki RACESAFE after qualifying. Moto two was tougher, as he circulated to eighth with the goal of maintaining the red plate.
"I come here to do one thing and that was to keep the red plate," Waters said. "That last moto was one of the toughest I've ever ridden but I have to hand it to the guys on the podium – they rode the wheels off their bikes. I'm looking forward to coming back, putting it back up there with them, so we'll regroup and go from there."
Monster Energy Kawasaki's Adam Monea again featured at the front throughout the motos, winding up with 7-4 finishes in his maiden MX1 campaign to score sixth overall.
Berry Sweet/Lucas Oil Yamaha rider Tye Simmonds had his strongest performance of the season in seventh. He was eighth in moto one, but it was his impressive moto two ride to fifth that turned heads.
CDR Yamaha's Lawson Bopping finished eighth for the round with a 6-8 scorecard, while Daniel McCoy (9-11, Carlton Dry Honda) and Cody Cooper (14-9, Motul Pirelli Suzuki) completed the top 10.
Four-time champion Jay Marmont (Monster Energy Kawasaki) experienced another difficult day with 11th, just ahead of Sam Martin (DPH Motorsport Suzuki) and Cody Mackie (Zero Seven Motorsports Kawasaki), who returned from injury for the round.
The top 15 overall was completed by privateer standouts James Booth-Elliott (Suzuki) and Daniel Banks (KTM).
Serco Yamaha's Luke Styke extended his MX2 championship lead to 30 points, winning his third overall round of the season with a 2-1 performance.
Styke stalled in moto one after leading early, but rebounded for an authoritive moto two win. He was happy to chalk more points on the board as the season approaches halfway.
"I was after the win, it was the only option in that last race and I had a point to prove," Styke reflected. "I can't thank Serco Yamaha enough, I'm on the best bike in the class. Thank you to everyone who's supporting me."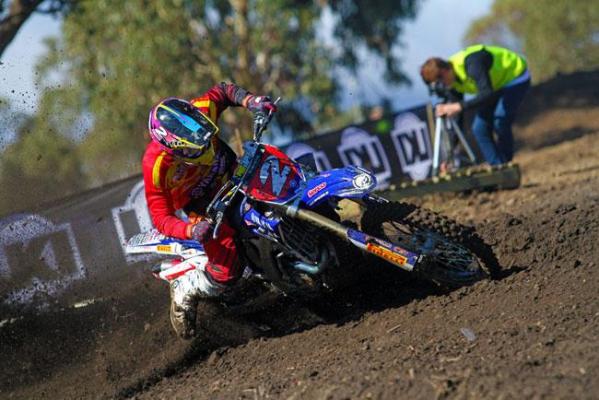 Luke Styke extended his MX2 series lead with his third win of the season.
Simon Makker/Makkreative.com photo
Styke tied on points with Josh Cachia (Carlton Dry Honda), who went 1-2 for the weekend. Cachia recovered from a bad start in moto two, continuing his recent run of form and he's now climbed to fourth in the standings.
"This track is gnarly, it was one-lined everywhere," Cachia said. "It was tough, but killer racing. I'm not one to give up, I'll fight to the end and that's it. I need to work on my starts – bring on Conondale. I really appreciate Carlton Dry Honda and big thanks to them."
Another consistent effort from rookie wonder Luke Clout landed him third overall on the second of the Serco Yamahas, posting 6-3 moto results. He's still second in the standings and will gain strength as the season progresses.
"It was a pretty good round for me, I struggled in the first race we had a bit of a front wheel problem, but I knew I had to get a good start in the second," Clout commented.
"I settled into third in moto two, it's a long championship, so I just want to keep the Serco Yamaha consistent and keep it on the box. Anything can happen, but Luke and Josh are riding solid so I will need some luck to get the win. I can't thank everyone enough."
Queensland KTM privateer Brock Winston was a determined fourth after charging to 4-5 finishes on his 250 SX two-stroke despite a fall on the final lap of the first moto.
Raceline Pirelli Suzuki's Ryan Marmont was a season-best fifth with a third in moto one, fending off an inspired late challenge from Winston. He cemented his top five with seventh in moto two.
Rounding out the top 10 for the weekend was last year's MXD champion Kayne Lamont (10-4, Choice Motorsports KTM), fellow Kiwi Rhys Carter (5-9, Suzuki), returnee Dylan Peterson (11-6, Zero Seven Motorsports Kawasaki), Kieran Scheele (8-10, Honda) and Takeshi Katsuya (7-12, Full Force Racing Honda).
Highly-touted Queenslander Joel Dinsdale (GYTR Yamaha) picked up his first MXD overall in his young career, sweeping the round and making it three race wins in succession.
Dinsdale was superb out front as he proved the class of the field all day long, now ranked fourth in the standings – 25 points off new leader Hamish Harwood (KTM).
"I just try get in a groove, stay as smooth as I can and get the flow going," Dinsdale beamed. "It'll be a good series, I'm looking forward to the next rounds, it's fun to be up front with the boys instead of stuffing around in the pack, so yeah, it was good!"
Kiwi talent Harwood was ever-consistent to score second overall with 2-2, granted the series lead after rounds one and two winner Jack Simpson (KTM) crashed out of moto one.
Simpson injured his finger in that fall, returned to the pits, then back to the track, but was ruled out of the race by series officials. He was third in moto two, placing him 12th overall for the round and third in the series, 22 points behind Harwood.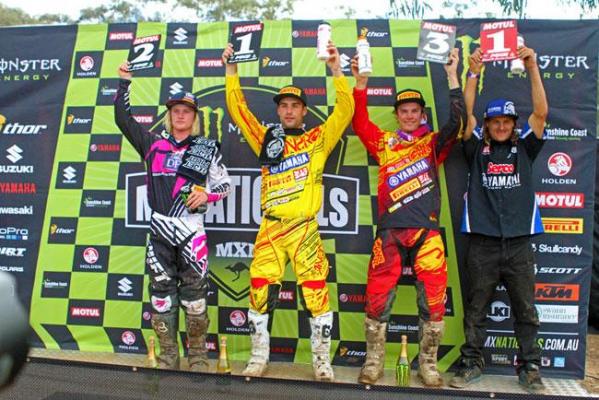 Styke, Josh Cachia and Luke Clout made up the MX2 overall podium.
Simon Makker/Makkreative.com photo
Kawasaki rising star Jesse Dobson completed the podium for the weekend with 3-5 and slotted himself in second for the season, just two points ahead of Simpson.
Corey James (Yamaha) was a fine fourth for the weekend with sixth in moto one and fourth in the second, edging out Tomas Ravenhorst's (KTM) 5-7 results.
The Monster Energy MX Nationals series will resume at Conondale on Queensland's Sunshine Coast on Sunday, 2 June.
2013 Monster Energy MX Nationals, Australian Motocross Championship
Round Four – Broadford, VIC
MX1 Overall Results:
1. Matt Moss 73
2. Billy Mackenzie 67
3. Kirk Gibbs 57
4. Jake Moss 56
5. Todd Waters 55
6. Adam Monea 52
7. Tye Simmonds 49
8. Lawson Bopping 49
9. Daniel McCoy 42
10. Cody Cooper 41
11. Jay Marmont 39
12. Sam Martin 39
13. Cody Mackie 36
14. James Booth-Elliott 34
15. Daniel Banks 30
16. Kieran Tisdale 29
17. Mitch Norris 28
18. Luke Donnelly 25
19. Jason McCarthy 22
20. Kyle Anderson 21
MX1 Championship Standings (after four of 10 rounds):
1. Todd Waters 269
2. Matt Moss 242
3. Billy Mackenzie 226
4. Lawson Bopping 217
5. Cody Cooper 202
6. Tye Simmonds 189
7. Adam Monea 185
8. Kirk Gibbs 183
9. Jake Moss 177
10. Daniel McCoy 164
11. Jay Marmont 151
12. Jacob Wright 134
13. Ford Dale 133
14. Sam Martin 131
15. James Booth-Elliott 125
16. Cody Mackie 119
17. Robbie Marshall 108
18. Kieran Tisdale 79
19. Mitch Norris 71
20. Cheyne Boyd 65
MX2 Overall Results:
1. Luke Styke 67
2. Josh Cachia 67
3. Luke Clout 55
4. Brock Winston 54
5. Ryan Marmont 54
6. Kayne Lamont 49
7. Rhys Carter 48
8. Dylan Peterson 45
9. Kieran Scheele 44
10. Takeshi Katsuya 43
11. Geran Stapleton 39
12. John Prutti 35
13. Dylan Long 34
14. Wade Hunter 30
15. Daniel McEntee 30
16. Kale Makeham 29
17. Luke Wilson 25
18. Joel Green 24
19. Matt Ryan 23
20. Jedidiah Cornhwaite 23
MX2 Championship Standings (after four of 10 rounds):
1. Luke Styke 269
2. Luke Clout 239
3. Brock Winston 214
4. Josh Cachia 212
5. Kale Makeham 199
6. Kayne Lamont 183
7. Geran Stapleton 170
8. Takeshi Katsuya 164
9. Matt Ryan 160
10. Rhys Carter 159
11. Ryan Marmont 152
12. Dylan Long 143
13. Tristen Cachia 125
14. Wade Hunter 123
15. John Prutti 85
16. Kieran Scheele 80
17. Luke Wilson 78
18. Jedidiah Corthwaite 74
19. Kade Mosig 73
20. Zak Newsome 72
MXD Overall Results:
1. Joel Dinsdale 70
2. Hamish Harwood 64
3. Jesse Dobson 56
4. Corey James 53
5. Tomas Ravenhorst 50
6. Nick Scott 49
7. Joel Wightman 47
8. Joel Evans 43
9. Dakota Court 43
10. Logan Blackburn 40
11. Jay Wilson 39
12. Jack Simpson 30
13. Daniel Price 29
14. Jake Donaher 28
15. Jacob Williams 27
16. Meghan Rutledge 25
17. Bailey Coxon 24
18. Hamish McGrath 24
19. Elijah Wiese 22
20. Sam Davie 21
MXD Championship Standings (after three of nine rounds):
1. Hamish Harwood 184
2. Jesse Dobson 165
3. Jack Simpson 162
4. Joel Dinsdale 159
5. Nick Scott 152
6. Corey James 135
7. Jay Wilson 130
8. Joel Wightman 130
9. Logan Blackburn 128
10. Tomas Ravenhorst 114
11. Dakota Court 101
12. Jake Emanuelli 91
13. Jesse McNally 87
14. Joel Evans 80
15. Meghan Rutledge 77
16. Aaron Tanti 57
17. Izak Maule 55
18. Jett Anderson 52
19. Mitchell Nichols 49
20. Tyler Lange 49