The transition to the 450 class full-time in 2013 has brought a lot of hardships for Trustimplants.com Suzuki's Tevin Tapia. But you would never know it, as the gregarious kid from Washington always has a contagious smile plastered across his face. Injuries, a deep field, and a lot of close calls have seen Tapia on the outside looking in 450SX this year, but at the Las Vegas finale last weekend, Tapia squeezed into the main with a ninth-place finish. He RV-fist-pumped his way over the finish line, although it would have been a backflip if he'd had his way. We caught up with Tapia earlier this week.
Racer X: It took a lot longer than you probably anticipated, but you finally made your first career 450SX main in Vegas.
Tevin Tapia: The season kind of started off pretty slow after making the switch to the Suzuki. I've been feeling really comfortable on the bike and was just waiting for some good things to come my way. As the series came east, I really started to feel comfortable on the bike. At Dallas I was ninth in the heat and clipped a rhythm section and went over the bars. Speed was kind enough to show the world [laughs]. I had a lot of confidence going into Atlanta and was hoping to turn my season around, and I was putting a fast lap in and a guy got in my way in the whoops and I had to change my line and got cross-rutted and high-sided. I think I was alright when I crashed, but the bike came down on top of me and the handlebar stuck right into my knee. I had a really bad partial tear in my PCL, MCL, and I stretched my ACL and chipped a bone in my left ankle. I thought it was the end of my season and was hoping I could come back for outdoors.
Luckily, I was able to just rehab it for a couple months and come back in Minneapolis. I only rode three time before that. Minneapolis and Seattle were kind of just comeback rides, but in Salt Lake I really thought I had a good chance and was pretty close again. Coming into Vegas I was like, "Man, I have to make at least one main this year. I can't keep doing this to myself." I came in pretty confident, and I prayed about it and talked to the Lord about it and we made it happen.
I was on cloud nine when I came over the finish line. I was hooting and hollering and screaming. I told [Cody] Gilmore before the heat that we were going to get eighth and ninth and we did. It was a big deal to me. Some people might not think it's a big deal to me, but it really is. I just felt super blessed because it was a goal for me and I'm glad I was able to reach it. To be able to share it with my dad, who was my mechanic that night, it was a pretty sweet feeling to share it with him.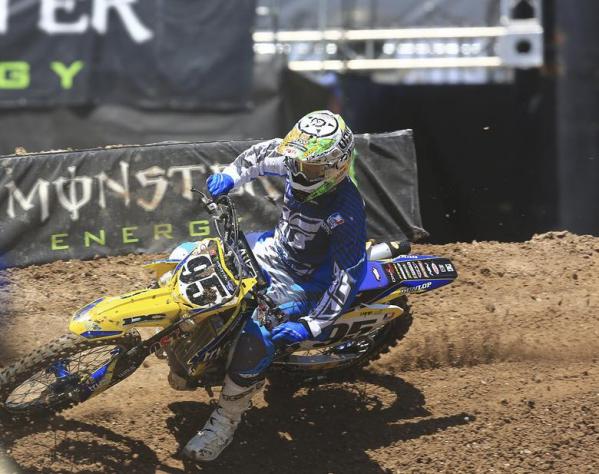 Tapia qualified for his first career 450 main in Vegas.
BrownDogWilson photo
I saw on the broadcast you gave a little RV fist-pump crossing the finish line. Is that a Pacific Northwest thing going on here?
[Laughs] Yeah, I guess. I don't know. I wish I could have done a backflip [laughs]. I can't do that, so I had to stick with the one-hander.
This season the field was very deep, and a lot of fast guys were not making mains. How difficult was it to just make the main this year?
It was hard. If you can get a start and hold your own out there, you can make it happen. The field is just so stacked. If you look at the results, more than half the guys in the main are on factory bikes. It's only going to get harder each year with everyone moving up. For a privateer like myself, you have to race the 450 class to make a living. I know I can make mains, but it is really tough. You have to be giving it 100 percent every time you're out on the track, and you can't have screw-ups.
Does it begin to affect you mentally, in regards to not riding to what you think your potential is?
Stuff like that kind of lights my fire. Getting a little taste of this and a little taste of that, it brings your confidence up and you know that you belong. Once you know you belong, it all falls in. Having confidence racing against those guys is key.
For the better part of your career, you rode for Munn KTM. Talk about how the transition has been to the Suzuki. Is it something you've had to fight a little?
I'm pretty good at making changes, but I typically have a problem trusting my bike, which I'm sure every rider has. But once you feel that trust with your bike and you know it's going to handle the way you want it to and nothing can go wrong, [it's] an amazing feeling. It took me a while to get that, and having never ridden a 450 full-time in supercross—because I raced a 350 when I was with Munn—was a totally new experience for me. I had to learn to not be lazy, because I'm usually fighting for power everywhere and now I'm not. I know I could get good starts and it was cool to be able to put it in on [Chad] Reed in the second corner or on [James] Stewart. I will be sick once I get a little more comfortable. That's my goal; I want to be the best of the best. I'm not just out there to have fun. I fighting for that until the day I can't.
Your main sponsor this year is actually a dentist's office. How do you get hooked up with a dentist's office as your sponsor?
Yeah, my main sponsor is Trustimplants.com. He's a really cool guy, and I'm really happy that he has been able to help me out. My dad and him were good buddies. My dad has his own business where he trains kids and works on motorcycles and stuff, and he was training his son. They became pretty close, and he knew I deserved better and pretty much took me under his wing. It's been nothing but a good thing in my life this year and hopefully more years to come.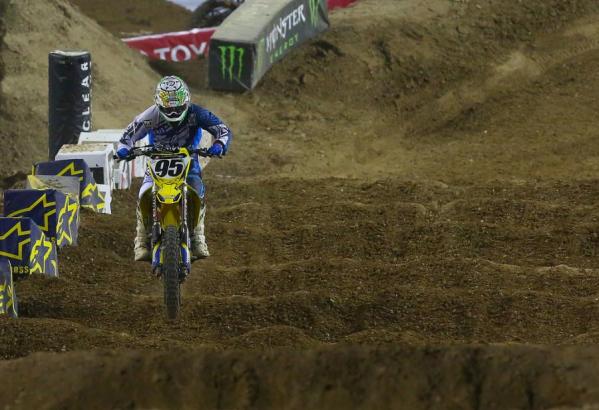 Tapia will be riding the full 2013 Lucas Oil Pro Motocross schedule on the 450.
BrownDogWilson photo
What are your plans for the Nationals? Is a full schedule in the plans, and are you staying with the same program?
Yeah, full schedule in the 450 class with Trustimplants.com Suzuki. I'm just going to ride my hardest an shoot for top-tens every weekend.
Team Gus has been a big part of your program as well. Talk about what it's like to hit the road with those guys every week.
Dude, if I had a million dollars I would be more than thankful to give it to [Team Gus owner] Gus Decker. That guy deserves an award. You can't do what he does. He has the biggest heart and will take the shirt off his back for you. He's just an amazing guy. There is not one guy in the pits that doesn't like Gus. He's the happiest and most hardworking guy. I'm thankful to be a little part of him and be able to support him by wearing his sticker. That guy is like a motocross god. I have a huge spot for him in my heart. I just wish I could help him out more.
You're good friends with Cody Gilmore, who also pits with Team Gus. After seeing what he's overcome, does it provide a bit of inspiration?
Not only all the things he has overcome, he is just a great kid. He always has a smile on his face and we can talk about riding and stuff. He's just a great guy to be around. I look up to him as far as what he has overcome and in the way he treats everyone around him. It's always something I try to do, be nice to others—unless it's on the track. That's another story! I'm glad to call him my friend.
Who would you like for helping you out this season?
I want to thank Trustimplants.com, Suzuki, 3T Performance, Dunlop, Fly, WPS, Unit Clothing, DC, Bell, DNA Wheels, Moto Seat, Mike Metals, Kalgaurd, Dr. D, ASV, Wiseco, Risk Racing, White Knuckle Grips, Rockwell Training Facility, Dragon Goggles, Devol, Crower, DT1 Filters, Team Gus, Rekluse, and Nost Suspension.