Sam Boyd Stadium
Las Vegas

,

NV
Las Vegas
Monster Energy AMA Supercross Championship
Monster Energy/Pro Circuit Kawasaki hasn't had an easy go of it this year with injuries, but fortunately for them, they picked up one heck of a replacement rider with Tyler Bowers, who rewarded the team's decision with a win at the finale in Las Vegas. We caught up to Bowers after the race to get his thoughts on his outstanding ride.
Racer X: Take us through it, Tyler.
Tyler Bowers: It was crazy. If you had told me six weeks ago when I was trying to salvage an Arenacross title with a broken collarbone that I'd be racing for Mitch Payton and winning in my first supercross main event in Las Vegas I would have told you that you were crazy. Six weeks ago, I was on the couch drinking beer! So I guess it was seven weeks ago. I was rehabbing the broken collarbone not riding during the week and racing on the weekends, just trying to salvage and get by. I took a little vacation after Arenacross was over for a week, and the next week, Mitch called me up and said, 'Hey, I've got a bike here. Would you like to come ride?' I said, 'Uh yeah. For sure. I'm warning you though, I'm a little out of shape with the broken collarbone. We've got our work cut out for us, but I think we can do it.' He said, "Let's do it." So we got all our ducks in a row. I'm pumped, and the opportunity to ride the best bike with the best team has been amazing. Riding for Mitch Payton and being part of the Monster Energy/Pro Circuit Kawasaki prestige has just been amazing.
But like I said, I came off that broken collarbone and I was pretty out of shape. We had a week to get ready before Houston and we got a lot of testing done. There wasn't a whole lot I could do for training, because if I worked too hard it'd hurt me for the weekend. Same thing with Minneapolis. I had to rest and just get by. But we took these three weeks and took full advantage of them. My mechanic Olly Stone is amazing. He was out there on his days off working. He shouldn't have been out there, but he was out there working hard for me. My trainer Tyler over at Rockwell Training Facility, Bones here at Pro Circuit testing suspension with me all day every day, just everybody. We ended up with a really good hard-pack setup, and I hate hard-pack! These guys got me going fast on hard-pack, which is amazing! It's also pretty amazing to have the heaviest guy, probably out of everyone, 250s and 450s, wins a 250SX main event. It's pretty sweet, and it felt really good to be able to pass people down the straightaway with this bike. The bike is just amazing, and I've been trying to enjoy my time on it.
I didn't get a good start in the main, I spun real bad out of the gate, and going into the first turn I didn't let loose. I don't have any outdoors ahead of me, so I could just pin it. I railed around the outside, made some quick moves the first lap and got up into third and picked two guys off after that. I think I was leading by lap four or five, and from that point I just tried to run like a scared dog and make sure there I had a good cushion.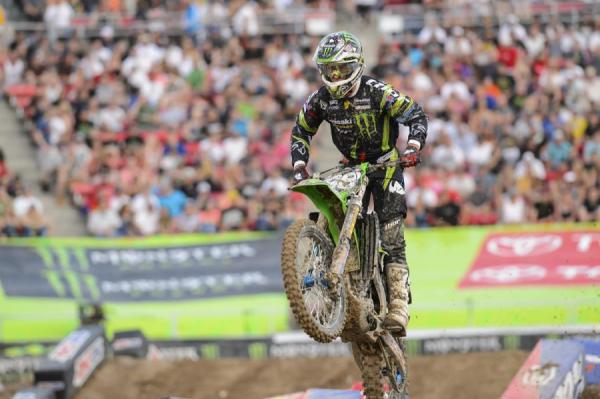 Three-time Amsoil Arenacross Champion Tyler Bowers won his first career 250SX race in Las Vegas on Saturday.
Simon Cudby photo
Were you aware of the drama that was going on behind you?
I watched the whole race man! I was watching my pit board too. I was watching [Marvin] Musquin and [Wil] Hahn going at it, and Hahn was killing it. I was watching my gap on them and making sure I kept it at seven or eight seconds, and then I saw Musquin ahead of Hahn and I knew he was going to go for me. He had a championship to win, and he was going to ride his butt off to catch me. So I tried to lay the hammer down a little bit without making mistakes. I could have gone faster, but I may have made some mistakes, which would have led to him catching me more. I knew I had enough cushion to where I could give up a second a lap for the last five laps or so, so I just needed to be safe. There were jumps that I was rolling just because it was slick and I didn't want to take the chance of sliding out. Down to the last two laps, I knew how close he was the whole time. Everyone is saying, "Oh, he was on you!" Which he was, but "on you" in supercross is a little bit different than "on you" in Arenacross. In Arenacross, laps are like twenty seconds long. I was going to win that main event, and there was no way I was going to have Marvin, or anyone, go by me. Down to the last rhythm section right before the end, I just doubled through it to be safe because I knew I had enough of a cushion, and I knew I was faster through the whoops so I got around the corner, pinned it through them and took the win.
He was close in that last corner! It definitely looked like he was close enough to get dirty if he wanted to.
Oh yeah, I could hear him right there. He was definitely that close, but like I said, I knew if I could get through that section safely, which I did, and carry momentum around the corner and pin it through the whoops I'd be fine. I had it all planned down to a tee.
What'd Hahn say to you when he came over and gave you a hug after the race?
Congratulations! He was pumped! It's his first championship. He rode like a champion tonight, and he rode like a champion this year. I'm no stranger to championships either, and it's a difficult task to complete. Marvin's a champion too, he's got world titles. It's good to have us all out there having a good night, and Hahn was just excited to be out there and get his championship. And the way it ended was probably the best scenario. I could have been between Marvin or Hahn, in either order, and that could have put a damper on things for either one. I came into this series late, I'm not racing for a championship, and the way we finished, I never messed up their points. It was like I wasn't even here. I'm sure Marvin really wanted me to be in second, but I think they both rode like champions tonight. And aside from a few hiccups, I think Marvin rode like a champion all year too.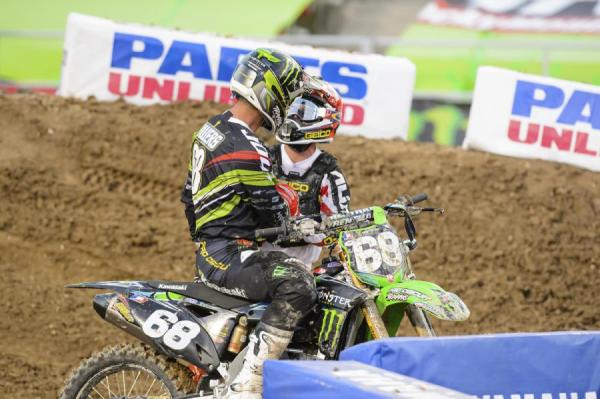 Bowers gets a congratulatory handshake from 250SX East Region champion Wil Hahn.
Simon Cudby photo
Let's talk about that Shootout for a minute. You put a pretty hard pass on Wharton. Was that payback or am I just looking for something that isn't there?
You're looking for whatever you want. It was a good pass, then I was laughing so hard I looped out! So people can take that how they want.
Wait a minute. You looped out because you were laughing out there?
Maybe... Let's just say I lost the bike somehow. I came over that single and that bike was gone. I don't know if it was because I lost concentration or if I just messed up. I don't know. That thing was just gone; it took off like a rocket ship! It was like somebody hit a turbo and the bike was gone. It was pretty embarrassing to go from doing what I had just done to looping out a second later. It's rough racing, and Wharton has been doing it all year. He's been riding like an idiot. Not just to me, but to other riders also.
You don't care if we print what you just said?
No. Wharton's an idiot. He rode like an idiot. I hope he learns his lesson and grows up. I've ridden like an idiot before, and I've taken my lumps and have dealt with people laughing and talking bad about me and literally being shunned from this industry. I had to clean up my image and come back through. I hope he catches himself before it's too late. He's not making many friends or fans out there. I think what he did to me was stupid. I'm down with a good takeout no matter what. In Arenacross we get taken out, and it's not like I've never done it, either. The thing is, there's a safe takeout, and there's too fast. What Wharton did was too fast, and we risk our lives out here on these bikes. Maybe next time he'll find a smarter and safer way of doing it to whomever he does it too. I think it was a horrible idea to do it to me because I've been doing it for years, and I've done it with the best. I haven't done it against 250 guys who are rookies either. I've been taken out by Eric Sorby, who's one of the best. I've been block passed by Chad Reed, Kevin Windham-I've raced the 450 class against some pretty bad dudes. When you get hit by Weston Peick in a corner, that dude has some weight behind him. Same thing with me, I'm 200 pounds and I can knock some people around. I think he made a dumb decision and hopefully he learns from it and improves in the future.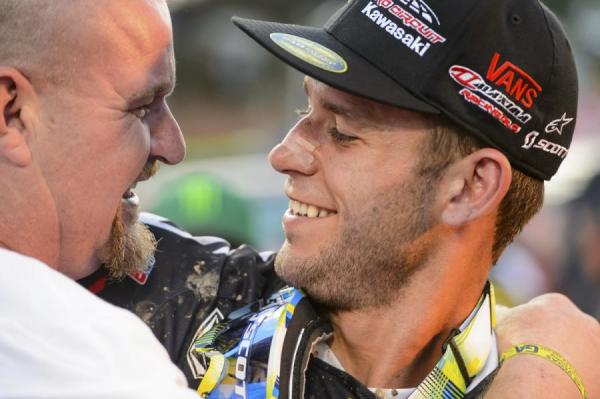 A father and his son share a smile.
Simon Cudby photo
What does your win tonight do for the image of Arenacross?
I'm just pumped to make the Arenacross series proud. The guys there don't slack. They're good at what they do, and I think it's a different animal. It's very good for teaching you how to race. If you could get a hold of the tapes that Bones has of me in Houston coming from nineteenth place to fourth, all the dodging and dipping and diving I had to do in that main event, was pretty neat. I was dodging a lot of crashes and people and patenting moves in the first lap! Arenacross taught me that. It's tight racing and you have to make fast decisions without having time to think about it. You can't sit and think about setting a guy up in a corner, because if something opens up, you better take it. Arenacross is great for the sport, and I think it's going to be great to have these amateur guys coming up through Arenacross. It's going to teach them a lot, not just about racing, but the program as well.