Sam Boyd Stadium
Las Vegas

,

NV
Las Vegas
Monster Energy AMA Supercross Championship
The race up front is over, Ryan Villopoto's got the 2013 Monster Energy 450SX title in the bag and most of the other guys are set in their spots. Really, most of the big dogs of the sport are focusing on the upcoming motocross season, but as first reported on the BTOSports.com Racer X Podcast presented by Thor MX a couple of days ago, the battle for the final spot inside the 450SX top 20 is indeed something to watch this weekend.
You see, the season ending bonus money pays down to 20th place. The 20th spot actually pays $8780.00, which is a nice chunk of change. Seriously, wouldn't you be very pumped or very bummed to get or not get an extra nine thousand dollars to put in the bank? Meanwhile, the bonus for being 21st? $0. And I don't know what your perception is of the money that these riders earn but trust me, all of them would love to have this money coming to them. When you get down to 20th, you're talking privateers who are not exactly living large like the Villopotos, Reeds, and Dungeys of the world.
So keep this all in your mind when you're watching Las Vegas this weekend, as there is indeed something up for grabs, something important to some riders and it's enough that they're going to be going all out this Saturday night. Here are the points with one round remaining: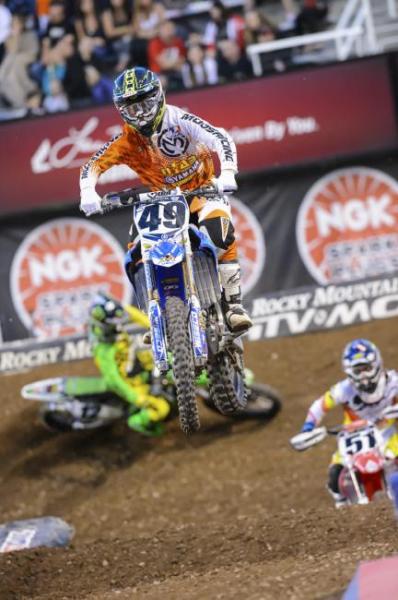 Nicoletti is currently 18th in points, and in good position to pick up a nice bonus.
Simon Cudby photo
18 49 Phillip Nicoletti Bethel, NY 48
19 42 Vince Friese Cape Girardeau, MO 45
20 84 Chris Blose Phoenix, AZ 44
21 33 Joshua Grant Corona, CA 40
22 57 Ben Lamay Wasilla, AK 39
23 55 Jimmy Albertson Shawnee, OK 38
We know Josh Grant is out and Vince Friese is lining up on the 250SX so both of those guys are not going to get any points. So it boils down to this:
18 49 Phillip Nicoletti Bethel, NY 48
20 84 Chris Blose Phoenix, AZ 44
22 57 Ben Lamay Wasilla, AK 39
23 55 Jimmy Albertson Shawnee, OK 38
Two men in, two men out! Ben Lamay and Jimmy Albertson are on the outside looking in and the rumors are that Albertson might try to race this last round to try to collect some of this cash. "Filthy" Phil Nicoletti looks to be in a nice spot to get into the top twenty as even if he doesn't make the main this weekend, because LaMay and Blose have to jump him. That would require enough points by LaMay to equal an 11th, which would be LaMay's best finish ever, and even then it only works if Nicoletti doesn't make the main at all. LaMay has to pass Nicoletti because if they tie, the tiebreak is the best position at any race this season and Phil's is a ninth.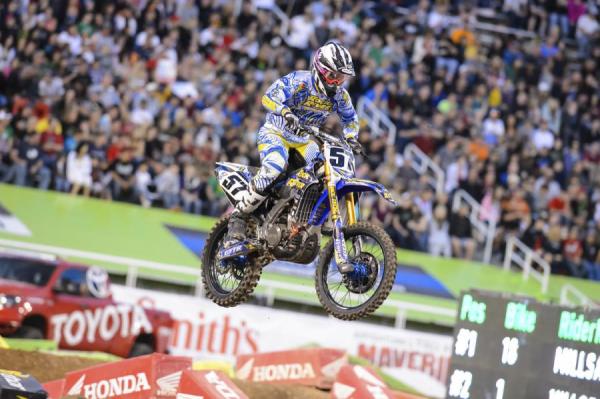 The battle for 20th will likely come down to Ben Lamy (above) and Chris Blose.
Simon Cudby photo
The real battle is LaMay versus Blose. There are five points between them. If both riders make the main it will be tough for LaMay to put five positions between he and Blose and get the almost nine grand in bonus money. But who knows? Stranger things have happened. For sure, the heats and LCQs will be extra critical to these riders on Saturday.
Stay tuned this weekend to see who out of Nicoletti, Blose, LaMay and Albertson (if he races) can get that money. It should be an all-out war!
Here's the season-ending payout money for your position in the series. Keep in mind, for the top riders, there are big team bonuses tied into the top spots as well (you think RV picked up a nice check from Kawi?) but for the privateers, a lot of this season's success will be determined this Saturday night.
| | | |
| --- | --- | --- |
| Position | Payout | |
| 1 | $100,000 | |
| 2 | $35,000 | |
| 3 | $25,000 | |
| 4 | $21,500 | |
| 5 | $16,550 | |
| 6 | $12,550 | |
| 7 | $11,550 | |
| 8 | $11,300 | |
| 9 | $11,050 | |
| 10 | $10,800 | |
| 11 | $10,725 | |
| 12 | $10,475 | |
| 13 | $10,225 | |
| 14 | $9,975 | |
| 15 | $9,725 | |
| 16 | $9,480 | |
| 17 | $9,230 | |
| 18 | $8,980 | |
| 19 | $8,880 | |
| 20 | $8,780 | |