Bill's Pipes Facebook Prize Pack Giveaway
Bill's Pipes Facebook Prize Pack Giveaway
Enter for your chance to win a FREE 4-stroke exhaust and Bill's Pipes swag
CORONA, Calif. May 1, 2013 – Bill's Pipes launched a prize pack giveaway today on their Facebook page, giving one lucky fan a shot at taking home a new SA-4 slip on of your choice*, a Bill's Pipes t-shirt, fender stickers, and extra stickers.
Follow ALL of these rules to enter for a chance to win:
Go to the Bill's Pipes Facebook page @ https://www.facebook.com/BillsPipes

Like their Page

Like their Prize Pack photo

Share their Prize Pack photo
One winner will be chosen on Friday, May 24th.
*SA-4 slip on limited to available models only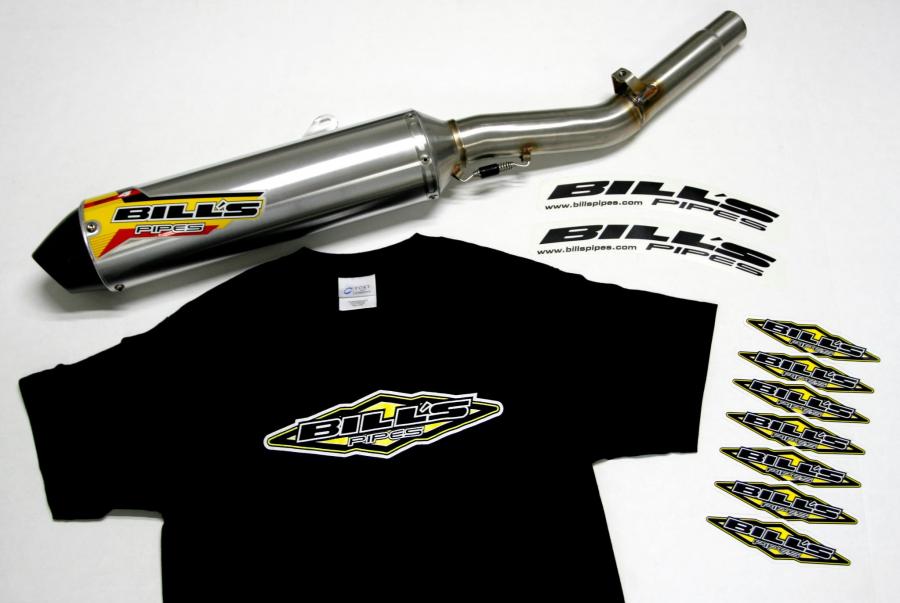 About Bill's Pipes, Inc.
Founded in 1976, Bill's Pipes is a company remembered and known as an innovator in the motocross industry, garnering countless championships in its 2-stroke heydays. Bill Cervera, the brain child behind the brand, has been building high performance motorcycle exhausts for more than 35 years and has worked with countless top riders and just about every motorcycle manufacture. During the 1990's, Bill's Pipes was at the pinnacle of success, sponsoring many top teams, and selling thousands of their highly sought after 2-stroke pipes. As the 2-stroke market faded and 4-stroke motorcycles came to dominate the scene, Bill's Pipes took a step back, but never stopped building. On somewhat of an almost decade-long hiatus, Bill's Pipes continued to build exhausts for other top brands in the industry. In 2012, Cervera decided to plan a return to the motocross market and in 2013 re-launched the brand to once again be a dominant force in the aftermarket performance exhaust market. A newly revamped company, workforce, and manufacturing process, will allow Bill's Pipes to cater to every customer and build the brand back to where it left off. Additional information is available at www.billspipes.com.