Congratulations to Jason Anderson
Rockstar Energy Racing #21 Jason Anderson earned his first ever pro career supercross victory in Salt Lake City Saturday night, fulfilling what many considered the promise he showed coming out of a stellar amateur career.
The coachseiji.com online training client started the day off on the right foot by qualifying third overall, behind Roczen and Davalos. Anderson then went on to card a second place finish in his heat race in which he battled Stewart for much of the event.
Jason got off to a great start in the main event, making smart decisions in the very beginning of the event to round the finish line in second behind Osborne on the first lap. He quickly made the pass to gain the lead and fought off a hard charging Seely for a few laps. By the halfway point of the race, Jason was riding smoothly and comfortably in the lead and brought his first career victory home.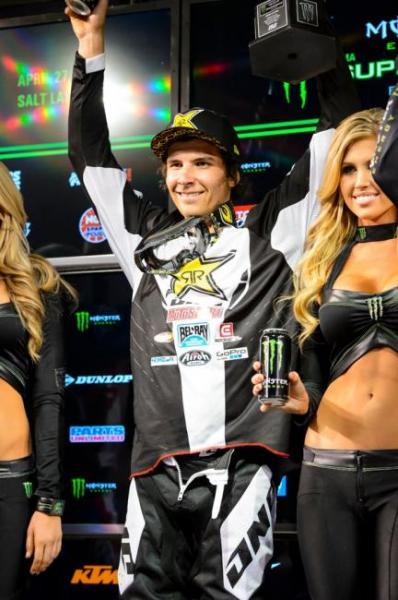 Coach Seiji is very proud of Jason and this victory means a lot to him personally as he has worked with Jason in the past, including during his amatuer career.
Coach Seiji: "To me, this has been a long time coming, I know he has struggled at times to transition to the pros, but now he knows. He can believe with all his heart that he belongs. I have no doubt that this is just the beginning of great things to come, and it couldn't happen to a nicer person and family. Congrats Jason!"