Caselli's Win Streak Continues
Johnson Valley, CA – Factory FMF/KTM rider Kurt Caselli claimed his third straight victory of the season at the fifth round of the AMA National Hare & Hound Series to further strengthen his points lead. The day was even more exciting for the Factory FMF/KTM Team as Caselli's teammate, Ivan Ramirez, joined him on the podium in the runner-up position.
Caselli took the lead as the riders neared the end of the bomb run followed closely by Ramirez. The two remained close on the first loop and were able to put a good gap on the rest of the pack. By the second loop Caselli had stretched his lead on Ramirez to just over two minutes.
On the third and final loop, the riders were given more rocky terrain which allowed Caselli to further increase his lead on Ramirez to take the win by nearly five minutes. Ramirez crossed the finish line in second position, over 8 minutes ahead of the third place ride of Nick Burson.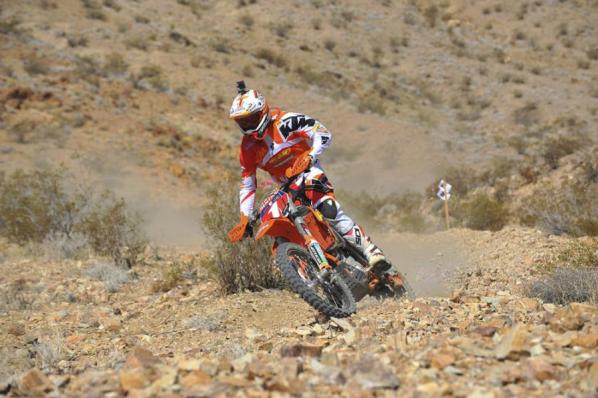 Caselli won his third straight race over the weekend.
Mark Kariya photo
"I was able to get out front early today so I never had to deal with the dust," commented Caselli. "I am happy to continue my win streak here and I am looking forward to the sixth round next weekend in Utah. I hope that my teammate, Ivan, can also join me on the podium there."
Next Event: Jericho, UT – May 4, 2013
Overall Point Standings
1. Kurt Caselli – 115
2. Jacob Argubright – 100
3. Nick Burson – 97