Seattle, WA
Seattle
Monster Energy AMA Supercross Championship
By Cory Luttermoser
We handed PulpMX contributor and Andrew Short superfan a media pass for the Seattle Supercross and told him he needed to write a story to earn it. This is what he turned in, for better or worse.
How did I get here, standing in gloomy Seattle with a press pass around my neck? That's a long story but to make a long story Short, well, it revolves around Andrew Short. Just like anyone reading this I'm a fan of moto, and an even bigger fan of Short's (come on, you all love him). I grew up riding and racing, eventually giving up on the dream of being a professional rider but never lost my love for the sport. I have a tendency to take things to excess and that includes my Shorty superfan status. I can't imagine what it's like to have someone borderline stalk you but Andrew and his wife Jacki have taken it in stride. We may be a bit of an odd couple but we've become friends over the years and they couldn't be more hospitable to my family and friends. That has made attending the supercross and motocross races a knock my socks off experience, complete with behind-the-scenes access and unforgettable memories.
Back to the press pass around my neck. A couple years ago on the Friday night before the Seattle Supercross we were having a couple drinks at Rock Bottom Brewery when Jason Weigandt and Steve Matthes walked by. I called the waiter over and asked to buy a round of whatever they were drinking and have it sent to their table. Sadly, I don't even think they were having beers. But I was, so with a little liquid courage I eventually walked over and introduced myself. They told me to pull up a chair, my friends soon joined us and we did some bench racing. Then we had a couple more drinks and bench raced some more, then more drinks and more bench racing. They found my superfan status of Shorty both creepy and intriguing (it's based on the general fact that Andrew and I look pretty much identical). My best friend @chris__holliday140 was nicknamed "The Cryer" that night after admitting he shed some tears when RV won his first 450 Supercross in 2009. We are into this! It was a magical evening and nobody was sleepless in Seattle that night, mostly because we drank so much we all passed out. The rest is history really, we've remained friends and I've somehow managed to trick Weege into thinking the articles I write over on Pulpmx.com qualify me for a press pass. [Editor's note: You're on thin ice now, Moser].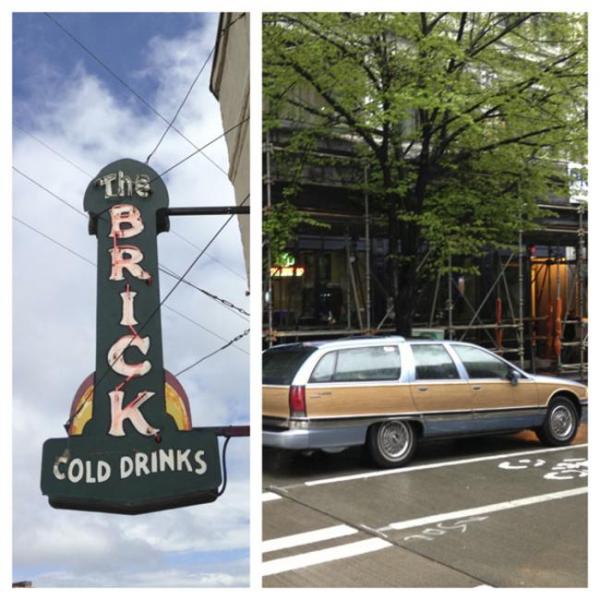 The Brick is a very fitting place for lunch when you're driving a woody.
Enough backstory lets see what I remember from Seattle this year. When my friends and I attend a race we call it a man trip. It's a vacation, so we let our hair down and have a good time, which is the politically correct way of saying we drink too much. I live in Spokane, which is only a four-hour drive to Seattle. Our road trips usually start with a drink and a woody ride, but not necessarily in that order. By woody ride I mean my 1991 Buick Roadmaster estate wagon. I don't mean to brag but it's the perfect vehicle for these trips. Our crew this year was made up of Tom, The Cryer, BigRed, Buell, and myself. We would be meeting up with Benny and Konnrad in Seattle. We stopped for lunch at the oldest operating bar in Washington State called The Brick. It was a cool place and even has a running water spittoon still in operation below the bar. We were warned not to pee in the spittoon or we would be banned for life (I don't know why they think we would do such a thing, I guess we look like trouble makers). If you ever stop at The Brick mention that "Moser hearts Shorty" and you get a free Short shot.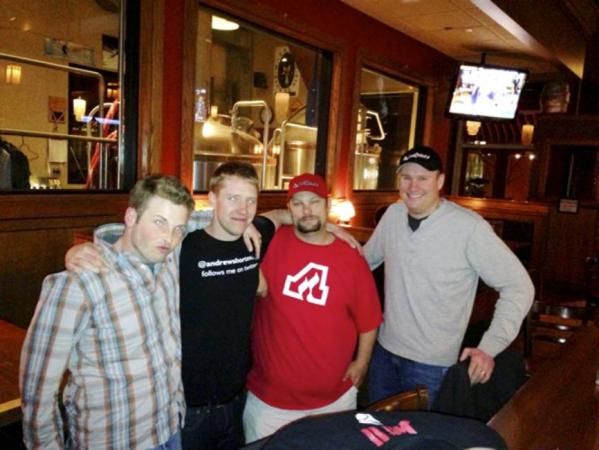 Rock Bottom Brewery where it all started. (Left to right: The Cryer, Moser, Matthes, Boob.)
It's tradition now to meet up for drinks at Rock Bottom Brewery every year on Friday night. This year we were dealt a heavy blow with the absence of Weege [Editor's note: I was covering a GNCC in South Carolina and you were supposed to take my place, Moser. So far, all I've gotten is a drinking story. Shape it up]. With Weege absent, I was forced to drink enough for both of us. [Editor's note: Grrrr.] A lot of people stopped by this year and more friends equals more fun or maybe its more people equals more alcohol, which equals more fun. I won't list off everyone who was there mostly because I don't remember but Matthes and his better half Pookie upheld the tradition by coming out, PulpMX superfan, all around nice, and very tall guy @bobfromomaha and his lovely wife made it, JGR suspension guru Jonny O was celebrating his 29th birthday, and lots of other friends showed up. A good time was had by all, especially Pookie and Bob's wife who tied for most hungover the following morning (sorry ladies by Moservations is a fact-based column, I report what I see. You were both troopers). I lost my credit card receipt so I'm not sure what the damage was but from what people told me it was a great time.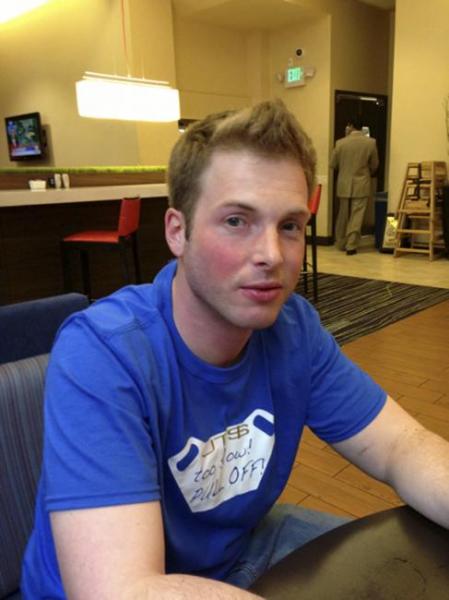 The Cryer models the "Pull off too slow" tee shirt along with the classic JT fohawk.
Nothing cures a hangover like waking up for SUPERCROSS! SUPERCROSS! SUPERCROSS! One guy in our crew, Benny, has a screen-printing machine (must be nice to have that type of liquid income). You may recall the last custom shirts he made "JT$ the peoples champ." The shirts for this trip said "JT$ too slow pull off" in honor of JT's dad Frank, who once wrote that on JT's pit board that was caught on TV. Benny also hooked me up with an "I heart Shorty" shirt in bright orange, which matched the KTM perfectly. After picking up our passes (thanks again to the Shorts, Weege, Matthes and Konnrad) I wasted no time in heading to the BTO truck to say hi to Shorty. After catching up, slapping him on the ass and telling him good luck it was time to make some waffles.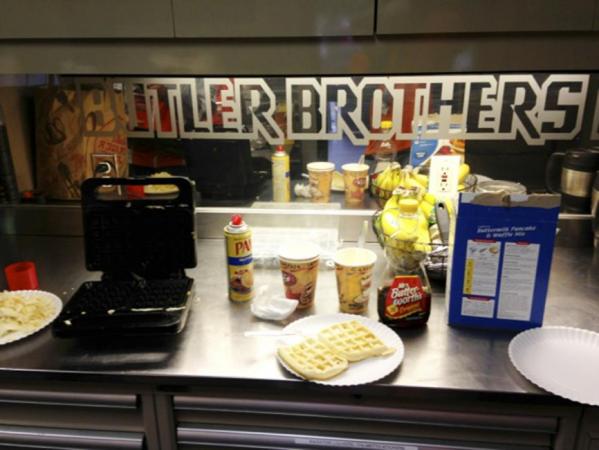 JT$ likes his waffles warm with just a little bit of syrup.
If you're a fan of the PulpMX show or any of the podcasts by Matthes you are aware that Jason Thomas "waffles" sometimes when answering questions. Yes and no and absolutes are a little tough for the guy. There have been some creative and funny waffle themed gifts given to JT throughout the supercross season by various fans, including waffle mix, Eggo waffles, and, even better Eggo waffles called "wafflers." Wow! Also, someone gave him syrup to go with his "waffles." This has apparently be a recurring theme for JT fans all season, and it wasn't going to be easy to match any of those jokes. So I bought a waffle maker and mix then set up a waffle making station right there in the BTO Sports semi. It went over better than I thought it would, I only burned the first batch which I avoided again after the truck driver Alex gave me some PAM. JT even ate a waffle and he appeared to enjoy it.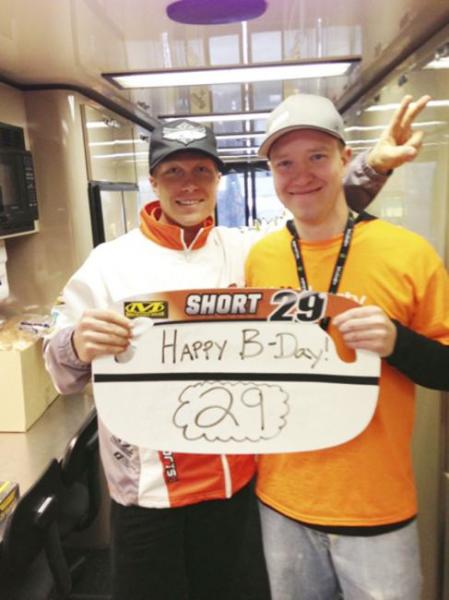 If Shorty wishes your wife happy birthday it helps make up for not being there.
My wife's birthday was on race day, which I obviously missed. It was even her 29th (Shorty) birthday, so Andrew helped me out by wishing her a happy birthday. Thanks, babe, for being so understanding that I wasn't there, sorry I'll make it up to you someday. After meeting some of the team and getting the initial bro down out of the way we decided not to overstay our welcome just yet and went to wander the pits. If Weege was in Seattle what would he be doing? Probably trying to eat for free at JGR so we went to confirm that Jonny O was still alive after last night. He was looking good and was kind enough to give us a tour of the semi while I enjoyed a fresh cup of coffee that I assume was from NASCAR country. The JGR truck has one of those slide out things so it's got a lot more space inside than most of the team trailers I've been in, the snacks were very, very, well stocked. No wonder Weege and Matthes hang out here so often.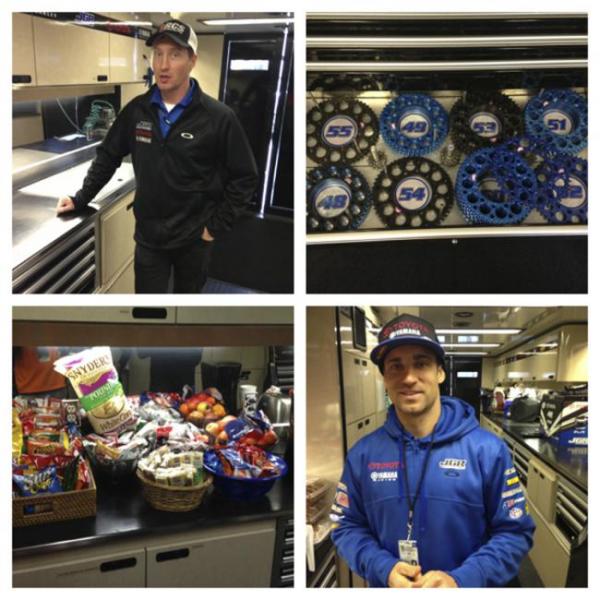 The man the myth the legend Jonny O, and a Brayton photo for Weege.
I was disappointed to see that Coy Gibbs was not playing Xbox but when I asked about it, Coy pointed to where it was sitting idle, it just had not been fired up for the day. We chatted with Jonny O about bikes, life, and love most of which I'm sure we had talked about the night before and in hindsight I wish I had recorded the conversation, as it was basically an interview. He's a super nice guy and has done a lot of cool things in the sport. Fun fact, Johnny uses his solvent tank as a workbench more than an actual solvent tank. He said all the fans love the drawer that shows the sprockets and I would agree with that statement. He also told us Brayton is really particular about his bar, clutch and front brake lever position so he uses an app on his phone to dial them in and keep them the same every weekend (he looks to run them a bit higher than most guys IMO). I recommend that Jonny stiffen up the forks a little and maybe even lengthen the fork height a bit to compensate for the soon to be rutted conditions, he said he'd take that into consideration. Bob from Omaha dropped off some coffee for Matthes who was interviewing Coy and I gladly delivered it inside the semi and took credit for purchasing the Starbucks.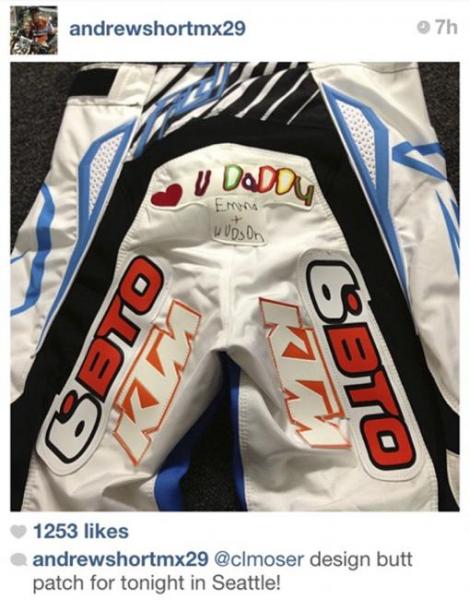 Shorty ran my butt patch design, those are words I never thought I would say.
PulpMX had a butt patch design contest a while back—it was actually my idea along with my request to see if Shorty would be willing to put his ass on the line, literally. Losing any contest is bad enough but it's worse when the contest was your idea. Well, losing never felt so good when Shorty surprised me by running my butt patch design in Seattle. I had my kids help me out by having them color the names. Swizzcore put the images together for me and I think @mxgurl on Instagram made the patch. The butt patch took me completely by surprise—I was speechless. Thanks again, Andrew and Jacki!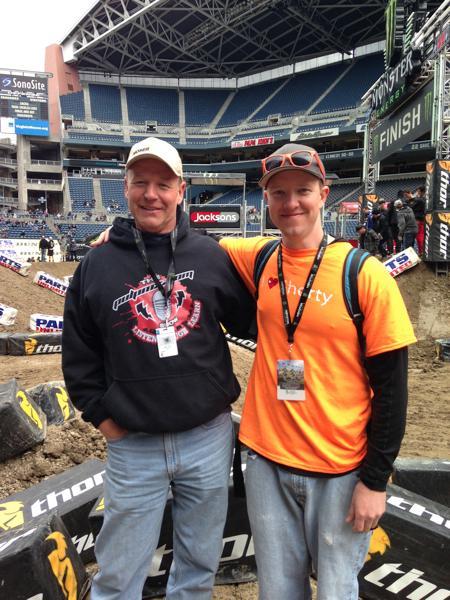 Moser Sr. and Jr. walking the track in Seattle, that's going in the photo album.
Next up was track walk and although I was proudly displaying a press pass, I knew from experience it wasn't going to get me on the track. Participating in track walk is like the holy grail of any superfan: It's unobtanium. It can't be bought. Or can it?  BTO Sports has a VIP fan experience and for $500.00 you can do the impossible and walk the track with the pros, along with full pit access, lunch, watching practice footage with the BTO Sports riders, press box access and have the retired Ironman of Supercross JT$ at your becking call all day showing you around. When it comes to track walk, the VIP fan experience is a sure thing so I bought my dad a ticket for his birthday. It's the least I could do for the countless, hours, days, weeks and months he drove me around the country riding and racing. On this day I managed to gypsy my way onto the track via my press pass, so I got to walk the track with my dad, which was pretty cool.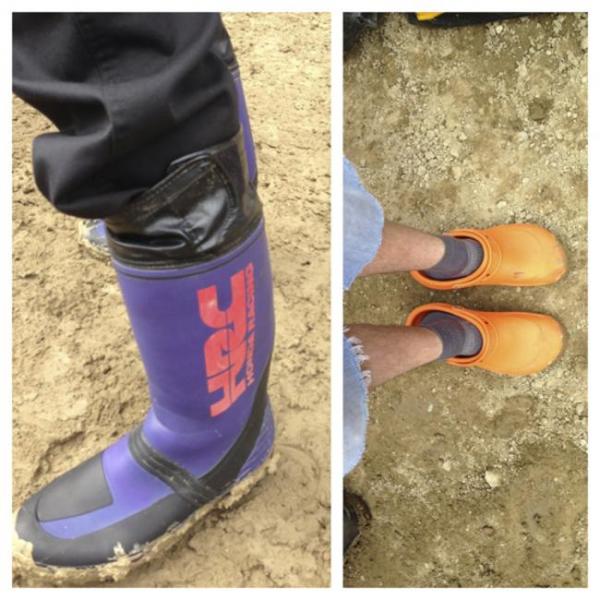 Shane Drew and I compare track shoe choice, HRC rubbers vs crocs.
The track crew did a great job covering the track and apart from the start straight being really muddy the rest of the course was pretty dry. JT kept his shoes the cleanest of anyone I saw, must be years of experience with line choice. I kept my eye on Matthes to see if he would make it past the first turn and he just made it to the first jump before stopping to chat with Honda's Shane Drew. I had met Shane a couple times before and he remembered me as Shorty's superfan (can't imagine why). I was quick to tell him they never should have let Shorty go because now I was all dressed in orange including orange crocs The Cryer had bought me. (The Cryer loves crocs, I think they are ridiculous, but I wore them all day at Seattle SX to make a point, only, I'm not sure what point that is exactly). My crocs drew our attention to Drew's trick HRC rubber boots. Shane said they were from Japan and that he had worn probably less than a dozen times in almost 20 years. They still looked brand new.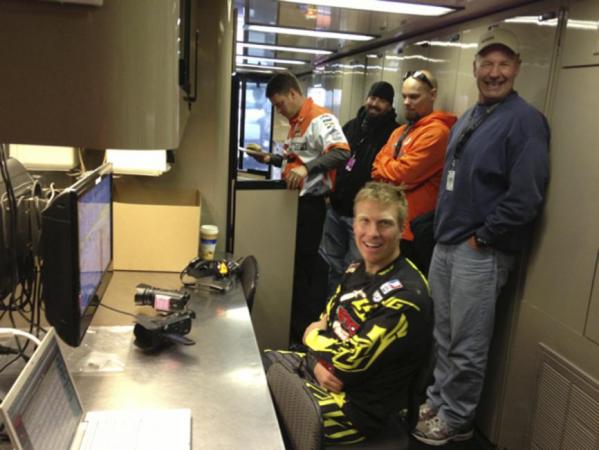 The BTO VIP members watch practice footage with Shorty, can't beat that.
I've said it once and I'll say it again: walking the track is so eye opening. Everything is so steep and the lanes narrow the face of the triple is like a wall. I don't think I could roll through the whoops, no wonder they blitz them the first lap. I stopped on top of the triple to tell my dad the triples are exactly the same length every week and then Chad Reed happened to walk by. I asked, "How long are the triples?" He responded, "Hey, this one is really short what the hell?" I looked like a real genius at this point but sure enough almost everyone over jumped the triple in the first practice.
I had a kind of marketing proposal for Shorty and the BTO Sports team, an exercise tool that could be mass marketed with the potential for sponsors to buy product placement. It's not an original piece of exercise equipment, I'll admit that, but I haven't seen it used before in the motorcycle industry where I really think it could shine. I'm talking about The Shake Weight. It helps with arm pump, hand strength and grip. Plus, it provides some real estate for product placement stickers. What I presented to Shorty and the team was that if he used it on the starting line while on live television, and they showed it, that's the equivalent of like a week of infomercials.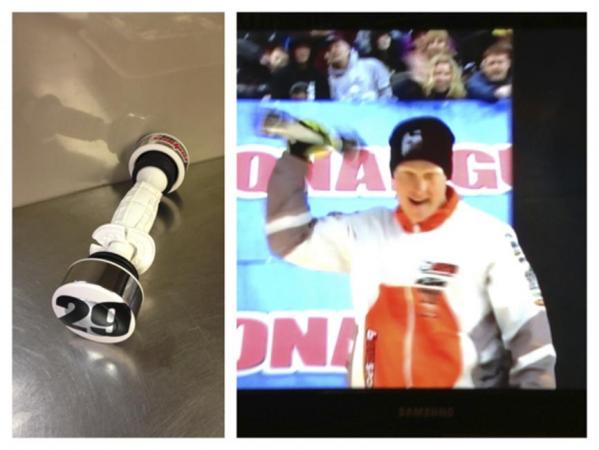 The Shorty shake weight or Shake it with Shorty, we're still working out the name.
Shorty's trainer Coach Seiji must have thought it had lots of potential because he immediately started fashioning a moto grip on the handle. ODI could be our first potential sponsor! On the end I suggest we put a Bubba Burger sticker because it was the shape of a burger and when Shorty was shaking it on the starting line on live TV that logo would be facing the camera. There was no question this is the most prominent sponsorship location! Short laughed and said I was crazy which I took to mean he was seriously considering it. My next biggest hurdle was Shorty's mechanic. Nate had decided to try using a fanny pack instead of a backpack. We tried to get the Shake Weight to fit in the fanny pack but it wasn't going to leave much room for any other tools, which proves Matthes' theory wrong. Fanny packs are not big enough for the necessary tools like a Shake Weight.
While interviewing Alex the BTO truck driver, I realized he could be using the shake weight on the road and he agreed that he drives "one handed" all the time. So we're talking huge potential for maybe a team Shake Weight sponsorship here! The Shake Weight got a lot of use throughout the day, and one of the BTO promo girls said she was used to the bigger shake weight (she seriously said that!). I think the person who shaked it hardest was SCOTT's John Knowles. Seriously though, there is no chance Shorty would ever shake this thing on the line or in the stadium, right?  Wrong! He shook it in opening ceremonies, effectively knocking my crocs and socks off! Even as I type this I can't believe he did it and I will laugh about it for the rest of my life.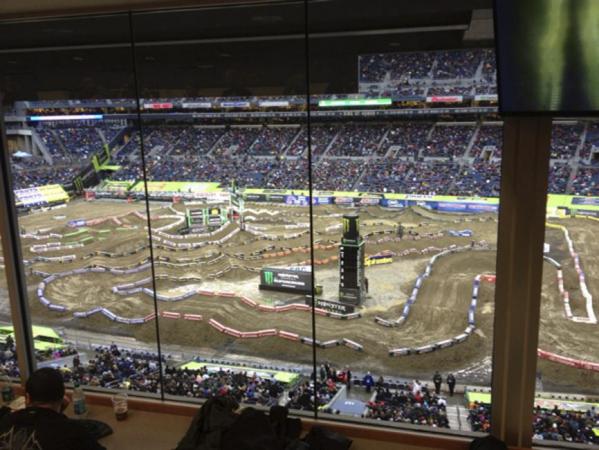 The view from the press box, no complaints.
Before we knew it, it was show time and we made our way up to the press box which was very nice, warm, provided a great view and a short beer line. Because of the muddy track conditions the riders just walked out of the stands in opening ceremonies, but it amazes me how hot that big ass flame ball is even through the glass in the press box. I had some tense moments watching the race when Shorty crashed not once but twice in the heat race and had to go through the LCQ to qualify. It's a good thing he jumped up so quickly because I'm not sure how long I could hold my breath in my fatigued state. Shorty had a decent main event especially with the track being such a mess and I was just glad to hear he wasn't hurt after cartwheeling through the whoops. After the race he signed and gave me his sweaty race gear with the custom butt patch (so cool). We were somewhat successful at trying to stay out of the way while the team tore down and loaded up. I finished up some interviews for a BTO Sports team profile I did, which you can go check out on Pulpmx.com. We told everyone on the team thanks, and I'll say it again: Big thanks to everyone who was so patient with us and provided such great hospitality.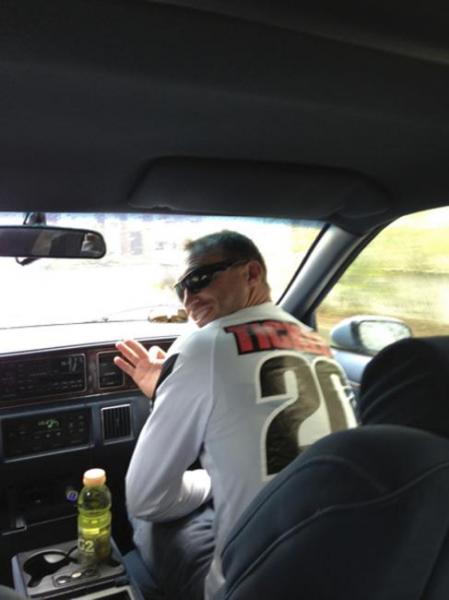 I had to stare at a Tickle jersey the entire ride home thanks to Buell.
Before long we were parched and decided we should hydrate. The only places open that late are bars, weird [Editor's note: Here we go again]. When I met up with our crew, my buddy Buell had managed to get Broc Tickle's jersey with the intention of fueling the Shorty/Tickle rivalry. Well played, Buell, well played. There wasn't much else that happened that night, at least not that I can talk about [Editor's note: well played, Moser, well played]. We did bump into Erin Bates and I thought I would be sneaky and get a picture, she probably wouldn't have noticed me taking the picture if my flash wasn't on and if I hadn't taken the picture three times with the flash on.
The morning after is always rough no matter how hard you train for it, but we all made it home safely. Hey, at least it wasn't last year, when Shorty won and I pretty much blacked out.
So, another year in the books with lots of good times with good people. Make that great times with great people. Thanks to everyone for making the Seattle Supercross so much fun, there are too many of you to list.
Thanks for reading this Short but long recollection of my trip to Seattle SX.
Moser
Please send any and all comments to jasonw@racerxill.com.