Mullins Extends Lead at Big Buck
UNION, S.C. - The battle for the 2013 AMSOIL Grand National Cross Country Series Championship heated up once again as Charlie Mullins and Kailub Russell went head-to-head for a little more than just bragging rights in their Factory FMF/KTM team pit. After three demanding hours of competition at the VP Racing Fuels Big Buck GNCC, it was Mullins who came away with the Round 4 victory, thus extending his early points lead over Russell.
The GNCC Series made its 17th Annual stop at the Big Buck Farms where the incredible race action paralleled a festive atmosphere surrounding the Union, S.C. area. With over 1200 riders in attendance throughout the weekend, the already rough and tumble Big Buck GNCC course became even more grueling by Sunday afternoon's race.
AmPro Yamaha's Paul Whibley put himself into a desirable position right away as he claimed his fourth consecutive $250 All Balls Racing XC1 Holeshot Award. However, Russell and Mullins gave no room for advancement as they jumped in right behind Whibley on the opening lap. It didn't take long for Russell to gain the lead but Mullins and Whibley were close in tow.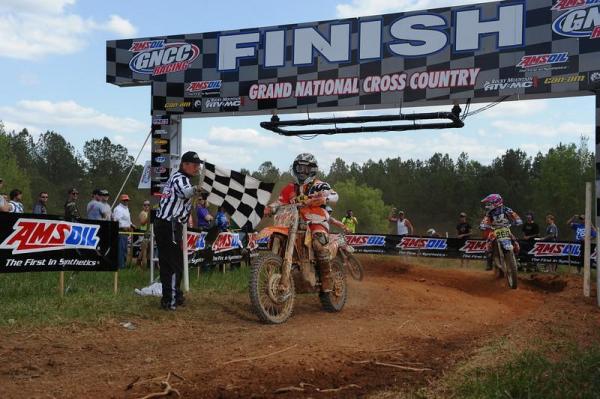 Mullins' victory gives him the points lead after four rounds of racing.
Photo: Ken Hill
Coming off an injury at the last round, Shenandoah Honda/USWE-Sports.com's Thad DuVall came into the weekend with an uneasy feeling about his condition to race. After making his way through the pack on the opening lap, DuVall found a comfortable pace that didn't cause too much strain on his injured ribs, and he quickly put himself into podium contention.
Russell and Mullins were wheel-to-wheel for a majority of the seven-lap race but with only two laps to go, Mullins was able to put the pass on his teammate for the lead. Russell didn't let Mullins out of his sights on the final lap, staying within ten seconds of his teammate. Russell put one last push on Mullins in the final corners before the finish but a quick washout by Russell hindered any chances of claiming the race win.
Mullins' victory allows him to maintain the points lead after four rounds of racing. Russell came in second just a little over thirty seconds behind his teammate and Thad DuVall landed the final podium position in third.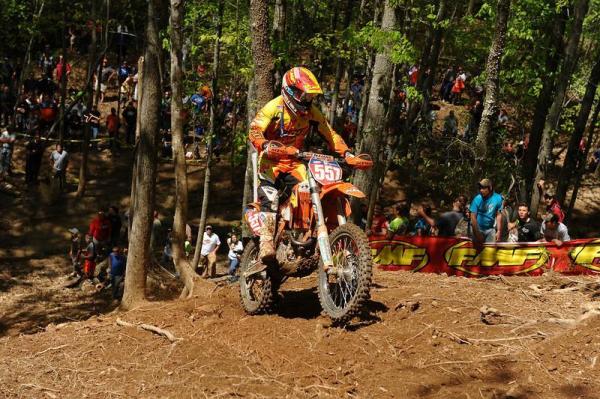 Russell led the most laps during the 3-hour race.
Photo: Ken Hill
Defending champ Paul Whibley-who is also recovering from a prior injury-struggled to stay with the lead pack the entire afternoon where he eventually settled into the fourth place position. However, Carolina KTM/RidePG.com's Chris Bach was on a mission, making his way from tenth place to fifth by Lap 2. Bach only progressed from there, closing the gap on Whibley as the race wore on. Bach eventually made the pass on Whibs as the 2-Lap card fell, riding his way to a fourth place finish for the day. Whibley held on as best he could to salvage fifth place, despite riding through the pain of a broken hand.
Rocky Mountain ATV/MC's Josh Strang began the day up front but things quickly shifted when he took a tree branch to the face through his helmet and goggles. After pulling over to remove the branch from his face, Strang was never able to recover the lost time, ultimately finishing sixth in XC1 and ninth overall. Yamaha's Ricky Russell finished seventh in the XC1 division, while Litz Racing/Ride Center USA's Takeshi Koikeda took eighth, AmPro Yamaha's Jordan Ashburn ninth and XC1 rookie Adam Bonneur rounded out the top ten.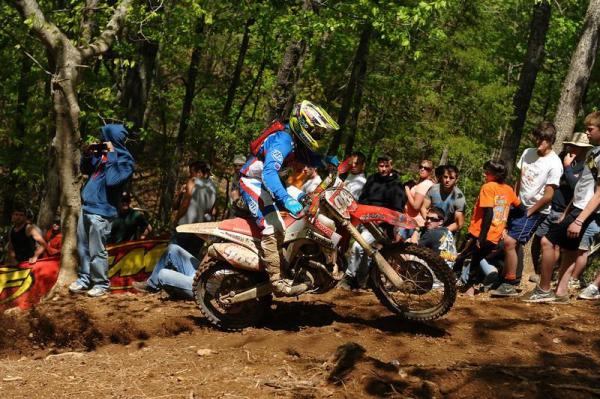 DuVall finished atop the podium with 3rd place.
Photo: Ken Hill
The XC2 Pro Lites competition was as fierce as ever with the top three riders battling it out for the Round 4 victory. It was XC2 Pro Lites rookie Grant Baylor who grabbed his second $100 DigitalOffroad.com XC2 Holeshot Award of the season and led a talented field of 30 riders into the opening lap.
F.A.R Husqvarna's Andrew DeLong put in the highlight performance of the afternoon, exploding to the front of the XC2 class by Lap 2. From there, DeLong began moving his way through the overall ranks, where he physically battled with the top five XC1 riders on the track.
Meanwhile, it was a mad dash between Offroadviking.com/Raines Riding University's Jed Haines, KTM Support Rider Grant Baylor and Rock River Yamaha's Aaron Plessinger to catch the leader all afternoon. DeLong put a comfortable gap on the rest of the class until he experienced an end-over-end crash that allowed Plessinger and Baylor to gain some time. DeLong was able to collect himself enough to maintain his lead on the final lap, securing the XC2 Pro Lites class win and sixth overall for the day.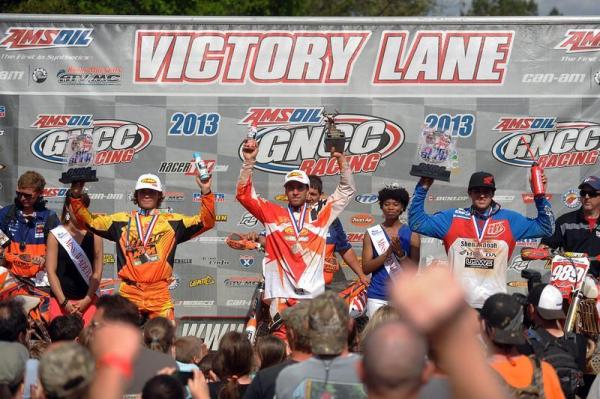 XC1 podium: (left) Russell, (center) Mullins, (right) DuVall.
Photo: Ken Hill
Less than twenty seconds behind DeLong was the intense battle for second place between Plessinger and Baylor. Plessinger was leading Baylor as they headed into the final turns before the finish line but Baylor made an impressive last minute pass to secure the second place position, while Plessinger rounded out the XC2 podium with third.
It was a tough day for DirtWise Schools/KTM-Parts.com/Maxxis rider Jason Thomas as he finished sixth place in the XC2 class. Thomas wasn't able to capitalize on a good start, forcing himself to climb through the pack all afternoon. Haines secured a fourth place finish, while Shane Hufford Jr. rounded out the top five.
North Carolina's Trevor Bollinger grabbed the Top Amateur Award once again, taking home the victory in the 4-Stroke A Lites class.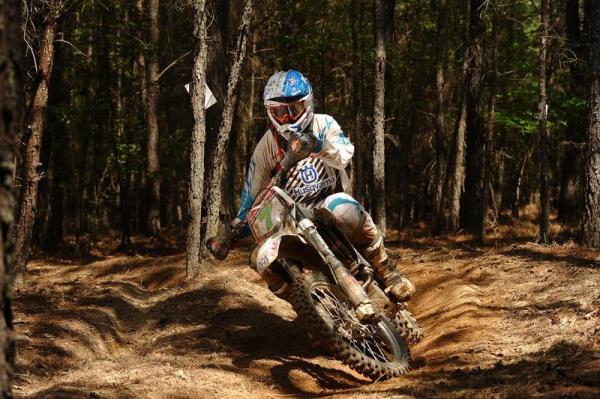 DeLong put in an impressive ride to take the XC2 win.
Photo: Ken Hill
If you missed Sunday's racing action, you can catch all three hours of the VP Racing Fuels Big Buck GNCC right now on RacerTV.com.
The 2013 AMSOIL Grand National Cross Country Series continues May 4 and 5 with the Rocky Mountain ATV/MC Mammoth GNCC. For more information on the series, visit www.gnccracing.com.
Stay up-to-date with exclusive content from the 2013 AMSOIL GNCC Series by following the series Facebook, Twitter and Instagram.
XC1 Event Results:
Charlie Mullins (KTM)
Kailub Russell (KTM)
Thad DuVall (HON)
Chris Bach (KTM)
Paul Whibley (YAM)
Josh Strang (KAW)
Ricky Russell (YAM)
Takeshi Koikeda (HON)
Jordan Ashburn (YAM)
Adam Bonneur (KAW)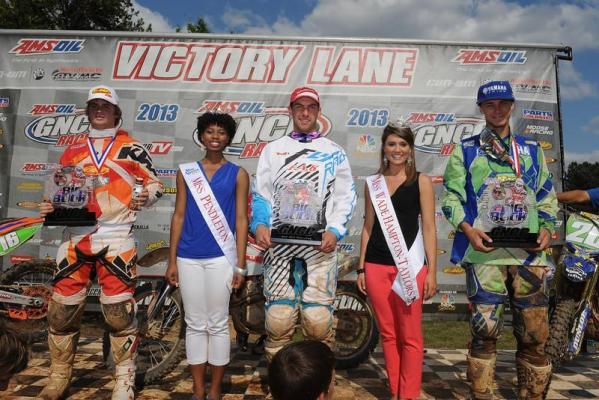 XC2 podium: (left) Baylor, (center) DeLong, (right) Plessinger.
Photo: Ken Hill
XC2 Event Results:
Andrew DeLong (HSQ)
Grant Baylor (KTM)
Aaron Plessinger (YAM)
Jed Haines (YAM)
Shane Hufford Jr (KTM)
Jason Thomas (KTM)
AJ Stewart (YAM)
Sam Evans (YAM)
Zach Nolan (KTM)
Travis Coy (KTM)
XC1 Series Standings:
Charlie Mullins (115)
Kailub Russell (105)
Chris Bach (70)
Josh Strang (63)
Thad DuVall (63)
Paul Whibley (59)
Ricky Russell (53)
Jordan Ashburn (51)
Takeshi Koikeda (50)
Adam Bonneur (44)
XC2 Series Standings:
Andrew DeLong (108)
Grant Baylor (87)
Jason Thomas (81)
Shane Hufford Jr (62)
Jed Haines (52)
AJ Stewart (52)
Aaron Plessinger (51)
Zach Osborne (42)
Travis Coy (38)
Mark Heresco Jr (31)
*Overall National Championship Standings:
Charlie Mullins (115)
Kailub Russell (105)
Chris Bach (67)
Andrew DeLong (58)
Thad DuVall (57)
Josh Strang (51)
Grant Baylor (50)
Paul Whibley (49)
Jason Thomas (44)
Ricky Russell (37)
*Indicates that the Overall National Championship Standings will determine the 2013 National Champion.