Centurylink Field
Seattle

,

WA
Seattle
Monster Energy AMA Supercross Championship
After winning in Phoenix, the expectations for Team Honda Muscle Milk's Justin Barcia increased sharply. Unfortunately, the rookie had a little trouble getting back to the winner's circle, until Seattle, where he once again holeshot and led every lap of the main. We caught up with him just minutes after taking the checkered flag to get his thoughts on his wild night.
Racer X: How are you feeling?
Justin Barcia: Oh man, I'm sky high right now, that was such an awesome race! The track was brutal, and I rode a little tight in the beginning but I loosened up at the end. There were a lot of lappers too, and it was really one lined just because the ruts were so deep. Ryan [Villopoto] was behind me, and he was charging hard, I could hear him the whole time. I just tried to ride a smart and consistent race. Getting the holeshot is so key in this class. I've been struggling with that, but I was lucky enough to get a holeshot tonight. I feel so great, it's awesome!
When you felt the pressure from Ryan, did you know who it was?
I knew he was behind me. I could see that green in my peripherals. He was charging hard and I knew I couldn't let up. I was either going to win or crash. There were a lot of lappers, but they showed a lot of respect tonight so that was cool. I appreciate that. It was definitely one-lined. The ruts were really deep, and there were a few options you could take. I could hear the sound of his bike behind me and I could tell he was sweeping some of the corners so I switched up my lines and they were a lot better and I was able to get away again. I haven't seen the times yet, but I'd say we were pretty close. The little mistakes separate the leader for sure. I've been struggling these last few weeks, and this definitely makes up for that. I've been working so hard at home and it feels great to get a win tonight.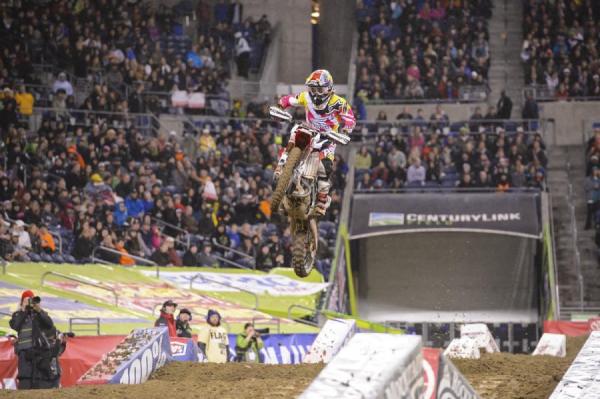 Justin Barcia lead start to finish on a tough track to pick up his second win of the season.
Simon Cudby photo
Did it seem like a long race?
Yeah, it felt like a 30-minute moto! I was like, 'Is this thing ever going to end?' When I saw my mechanic put "two laps" on the board I was like, "Thank goodness!" He [Villopoto] was hounding me hard that whole race and I couldn't get a breather. It was full-bore the entire time.
How was the track?
It was a little slippery, but honestly, it was tacky in some places and it had really deep ruts, so that kind of made up for the slickness. The rhythm after the start area was just so rutted. Ruts everywhere! I had a few sketchy moments but it was good.
Did you have any sketchy moments when you thought for sure you were going down?
Yeah, there were definitely a few of those! I don't really remember them right now, but after the start area there were some squirrely moments with a few little kickers and stuff. It wasn't a perfect race, but it was a good one.
You've had a couple fourth-place finishes in a row now, which isn't what you want. Obviously you want to go for the win, but would you have been happy with a podium here?
I definitely would have been happy with a podium. That would have made me really happy, so to get the win just tops it off. Everyone's been kind of bummed out, especially me. It's a lot of hard work during the week, and to come and get fourth or fifth every weekend doesn't feel so good. Getting this win feels incredible.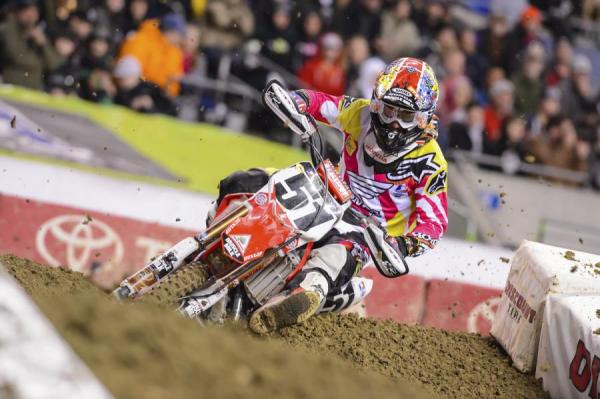 With his win, Barcia secured his first podium since Daytona.
Simon Cudby photo
You've been creeping up on the podium for the last couple weeks.
Yeah, creeping for sure. Creeper status trying to get up there! It hasn't been that great, that's for sure. A lot of bad starts and I've had to work up through the pack. When both Ryans, and everyone else, get a good start, there's not much you can do. I was definitely looking for a podium tonight. I liked the track, had a lot of fun, had good times in practices and I made it happen. It feels great.
Let's talk about your start.
What's there to say? It was awesome! I've been struggling and working hard at home, and we made some great changes to the bike, and that's what did it. I think I've been having good jumps, but I've been having a little problem once I got over the gate. We fixed that tonight, and I think you guys will be seeing some more good starts.
What'd you change up?
We tamed the bike down a little. That sucker's got a lot of power for a little guy like me, and it can get away from me easy. I only weigh 150, and I don't really have enough weight to keep the front end down.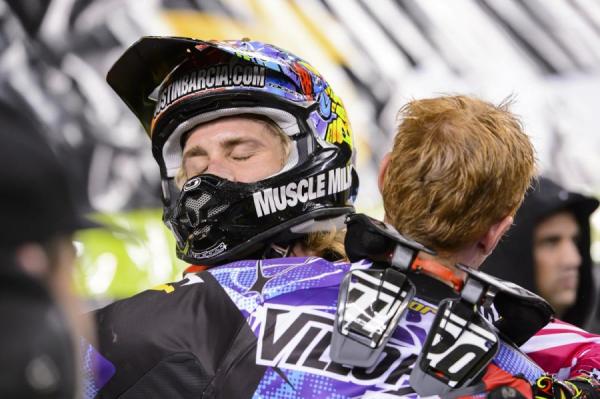 Respect...
Simon Cudby photo
Two wins so far this season. What do you think of that?
I think I should have more. I've been working really hard and I just kind of hit that lumpy area in the middle of the season. Going from the 250 Class and only riding half the series, I've got a lot of respect for the 450 guys because it takes a lot out of you, mentally and physically.
How many holeshots do you have this year?
I think probably only two. Two holeshots, two wins. Not too bad!