Mullins Carries Points Lead to Big Buck
MORGANTOWN, W. Va. - Only five points separate the leading duo of Charlie Mullins and Kailub Russell heading into Round 4 of the 2013 AMSOIL Grand National Cross Country Series as the championship battle continues this weekend in Union, South Carolina. Although the Factory FMF/KTM teammates currently share the first three race-wins, there's a fierce lineup of Pro racers looking to interject themselves into the championship chase.
Mullins bested his teammate Russell in a three-hour battle two weeks ago in North Carolina to secure two of the three wins, as well as the points lead, heading into this weekend's VP Racing Fuels Big Buck GNCC. However, Russell has proven himself worthy of a potential championship with one win under his belt so far, along with a pair of second place finishes, one of which he earned after battling through sickness and fatigue at Round 3. Mullins and Russell have set a fast-paced precedent and both riders will be tough to beat this season.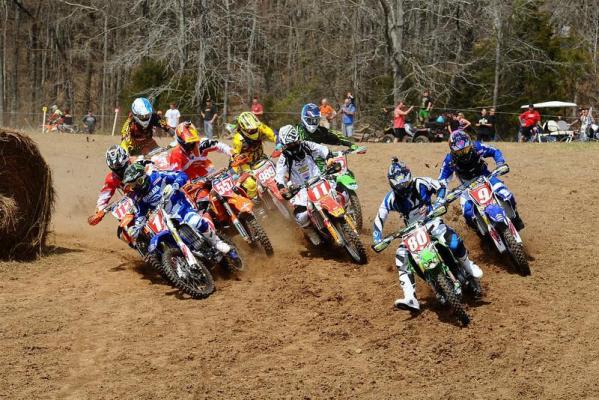 The XC1 class is full of talent this season
Photo: Ken Hill
Carolina KTM/RidePG.com's Chris Bach put in a stellar ride last round in his home state of North Carolina, grabbing his first podium finish of the season. Bach's third place finish moved him into third overall in the championship standings heading into Round 4 this weekend.
Round 3 presented a few setbacks for GNCC veterans Paul Whibley, Josh Strang and Thad DuVall as each of the three riders finished outside the top twenty overall, leaving North Carolina without scoring any points toward the overall National Championship. Rocky Mountain ATV/MC's Josh Strang was in podium contention until he got mixed up with a lapped rider and crashed, ultimately setting his pace back a few notches and finishing thirty-second overall. AmPro Yamaha's Whibley came into last round with a preexisting hand injury and after stopping to help out a downed Thad DuVall; Whibley wasn't able to fully race his way back to the front, salvaging twenty-ninth overall finish. As a result of a single rider crash, Shenandoah Honda/USWE-Sports.com's DuVall experienced separation in his ribs and did not finish the race. However, DuVall has reported that he will be racing this weekend in South Carolina.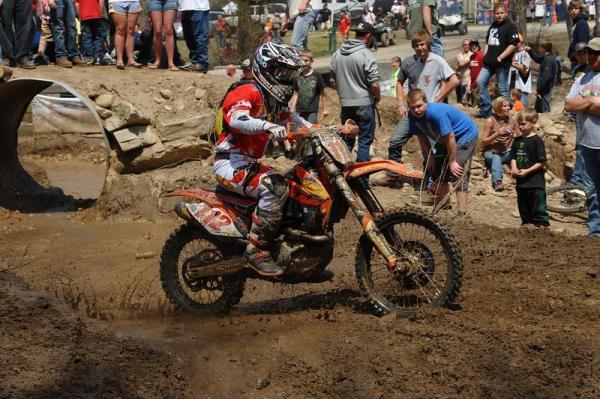 Mullins continues to wear the reverse number plate combo this weekend.
Photo: Ken Hill
With three of the top XC1 riders succumbing to bad luck last round, the top XC2 Pro Lites riders have inched their way to the front in the overall point standings. Andrew DeLong sits just behind Bach with an impressive fourth place overall, while Jason Thomas holds sixth and Grant Baylor seventh. Although DeLong finished off the XC2 podium last round for the first time since Steele Creek 2012, the F.A.R Husky rider still holds the points lead over Thomas in the XC2 class.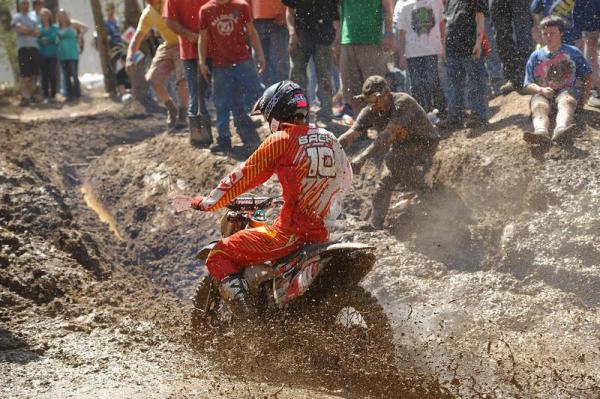 Bach currently holds third overall in the standings.
Photo: Ken Hill
Round 3 was all about the last minute duel between Rock River Yamaha's Aaron Plessinger and DirtWise Schools/KTM-Parts.com/Maxxis rider Jason Thomas, where the rookie Plessinger stole the lead away from the defending champ Thomas a few turns away from the finish, ultimately claiming his first career XC2 class win. Plessinger hasn't contested the entire series thus far, but his presence has surely added excitement in the chase for a championship. KTM Support Rider Grant Baylor claimed another podium finish last round, giving him third place in the class standings, only four points behind Thomas.
Four-wheeled ATVs will compete throughout the day on Saturday, April 20 and dirt bikes will race on Sunday, April 21. Local riders are invited to race the event as well, as GNCC racing offers classes for riders of all skill and experience levels. The amateur racer entry fee is $40 and riders can sign up at the track.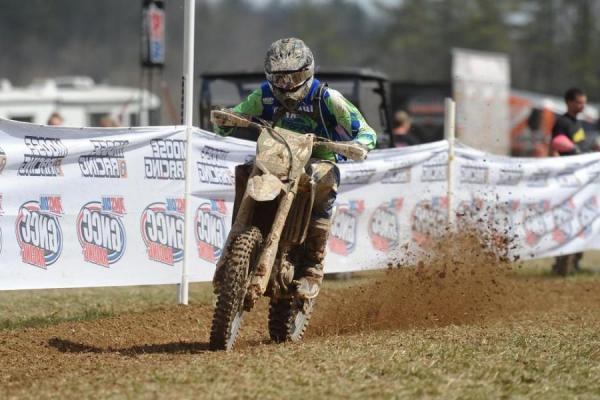 Plessinger wowed the crowd with a spectacular race win last round.
Photo: Ken Hill
Spectator passes run $15 for the full weekend, with pro pit access and pro autographs at no additional charge. On both Saturday and Sunday, youth riders race at 8 a.m., amateurs race at 10 a.m., and top amateurs and pros race at 1 p.m. Round 2 of the UTV Series will take place Saturday at 4:30 p.m.
The track is located at the Big Buck Farm in Union, South Carolina. For more information, please visit the official series website at www.GNCCRacing.com.
Tune in Sunday at 1 p.m. EST for the GNCC LIVE webcast from Big Buck, providing audio and video coverage of the Pro Bike race. Stay up-to-date with exclusive content from the 2013 AMSOIL GNCC Series by following the series Facebook, Twitter and Instagram.