Minneapolis, MN
Minneapolis
Monster Energy AMA Supercross Championship
Ryan vs. Ryan. It seems that we should have had dozens of legendary battles between these two in the last few years, but injuries have prevented many possible showdowns. In 2010 we were robbed of an epic SX title showdown when RV broke his leg in St. Louis. That also opened the door for RD5's runaway outdoor championship as well. In 2011, RV got revenge and won the SX title without too much drama from the Dungey side, but the 2011 National MX Championship came down to the wire and finally gave us something tangible to watch unfold. In 2012, injury struck once again to Red Bull KTM's Dungey and he bowed out of the championship to let his collarbone heal, thus handing an early championship to RV1. Surely we would have a battle for the ages come outdoors in 2012 right? Nope, fate's cruel humor struck Ryan Villopoto at his home race in Seattle, tearing his left ACL and handing the MX title back to Dungey once again. Round and round we go, it seems these guys take turns being "the guy", with the 2011 being the lone bright spot. With a 22-point lead and only three rounds remaining, there isn't a huge buildup to the finish of supercross this year, but at least we are seeing the best these two have to offer. This past Saturday night in Minneapolis was one of the most exciting main events in years with the Dunge stealing the victory with two laps left in front of his legion of hometown fans.
Their pace and intensity were pretty impressive as they made almost zero mistakes at flat out sprint speed. As the laps wore on, Dungey started to reel in RV by using a few different lines that would make all the difference. He had an inside line before the far triple that was particularly effective, as well as an inside line after the whoops that seemed to be a bit quicker. To be fair, it is always easier to be the rider behind. Dungey could mark RV's braking points and see what worked and what didn't. RV confirmed this after the race in this interview with Jason Weigandt. "Ryan [Dungey] was riding really well, I felt like I was riding good," he said. "Being in that position I didn't really know where he was kind of good, what lines he was taking. He could obviously see my weak points and where I was quick, where I wasn't, what lines I was taking... things like that. It made it tough to really understand where he was. I made a mistake with going into the inside over there after the triple. I thought he was going inside on that option section. I think a few times he did, but was mainly going outside. I screwed that up."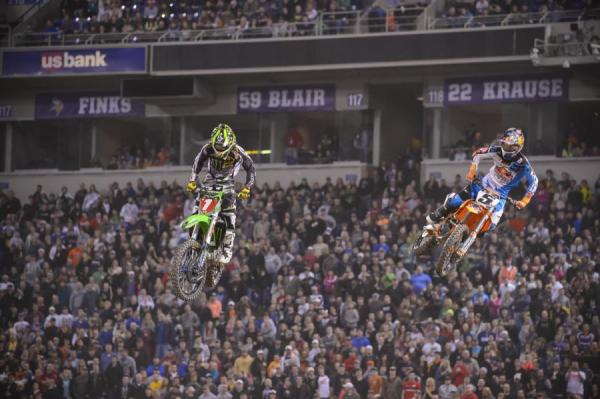 A battle for the ages between the Ryans in Minneapolis.
Simon Cudby photo
As you can see, RD had the advantage, and RV was basically blind as to where he was losing time. This isn't an excuse, as obviously if Villopoto would have been fast enough to pull away, he would have done so. In a tight battle though, being able to apply pressure is much more fun than having pressure applied on you. Once Dungey was finally ready to make a move they went back and forth a few times before it stuck.
Villopoto has been to the rodeo a time or two and did a great job of fighting the advances off until he finally miscalculated in the treacherous Minneapolis whoops. He went for a jumping rhythm in the whoops and couldn't get over to block Dungey on the exit of the section. Dungey himself didn't get a great run through the whoops either, certainly not as good as RV gave him credit for. In hindsight, I think RV could have closed Dungey off instead of basically giving him the line. I believe Villopoto thought Dungey was closer than he was, and was closing in more quickly, too. So Villopoto more or less relented past the mechanics' area and gave #5 the line. When asked about it he had this to say: "When I ended up getting him back right here, I set myself on the right side of the whoops and I couldn't get back to the left. I could have maybe swung it in and kept him from getting around me right here before the mechanics area but then in that next turn after I'd seen a lot of aggressive passes made and I didn't want to leave myself out to dry, or have something critical happen there. So I opted to, I don't want to say let him by, but he would have got me in the next turn, anyway. So I didn't want to mess up out there to put myself in a position to where I possibly could have gone down."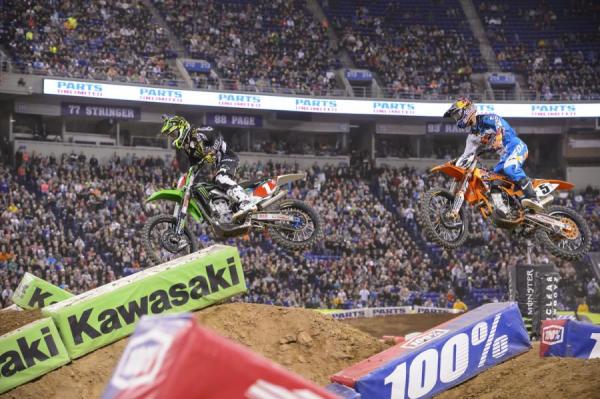 Will the Ryans put on a show for RV's home crowd in Seattle?
Cudby photo
I completely understand Villopoto's thinking after hearing his comments. Remember, the turn after the mechanics' area is the spot where Wharton and Bowers tangled earlier in the 250 main, and Bowers, who was on the outside, ended up on the ground. Villopoto would have been outside, too. But it leaves me to wonder if the points were closer, would RV have checked up after the whoops? It's a moot point and purely hypothetical, but makes for great debate nonetheless. Did RV take the conservative route and think big picture? For the rest of the race, he was charging all the way, but in that one turn after the whoops, while he was stuck on the outside, he chose not to be aggressive. Regardless, it was a great battle and one for the ages.   Next week is Seattle and wouldn't you know it? It just happens to be the hometown race for Villopoto. Can he return the favor and keep the crowd on their feet or will RD5 take the momentum and make a late season run? Time will tell but if we have another battle like that, the fans will be the true victors.