Action-Inspired Activity Tracker on Indiegogo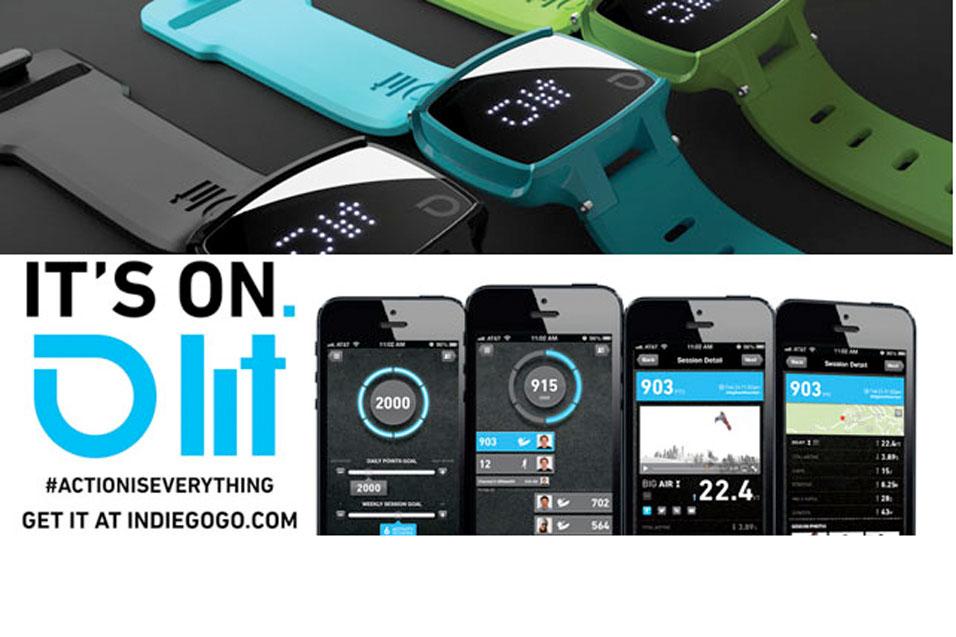 NZN Labs, Inc. Launches LIT: Action-Inspired Activity Tracker on Indiegogo
Using the latest technology, LIT Scores Your Action Lifestyle and Ignites Competition Among Friends for Surf, Skate, Snow and Moto
Temecula, Calif. – Monday, April 8, 2013 – Today, NZN Labs Inc. (www.nznlabs.com/Indiegogo) announces the launch of their Indiegogo crowdfunding campaign for LIT: the first activity tracker designed for Action Sports.
LIT is a modular, rugged, water resistant, activity tracker designed for the Action Sports lifestyle.  LIT is specifically designed to recognize the movements in action sports and applies tailored algorithms to analyze and score movements during Action Sports sessions, enabling users to track and share progress as well as initiate competition. LIT also scores day-to-day activities, like walking and running.
"LIT is more than an activity tracker, it's a lifestyle," explains Michael Ford, co-founder and President of NZN Labs, Inc. "LIT provides people the opportunity to share and compare what they love to do, whether its surfing, skating, snowboarding, motocross or other lifestyle sports. With LIT, you not only can tell your friends what you did, but you can back it up with stats, photos, video and your score. LIT gives you the ability to live an action-inspired lifestyle and is built to go where you go."
Designed for the action sports lifestyle, here are a few of the metrics that LIT tracks today:
| | |
| --- | --- |
| Surf | Skate |
| * Paddles | * Biggest Air |
| * Turns | * Total Air |
| * Airtime | * Max G-Force |
| * Max G-Force | * Jumps |
| | * Rotations |
| | |
| Snow | Moto |
| * Biggest Air | * Biggest Air |
| * Total Air | * Total Air |
| * Max G-Force | * Max G-Force |
| * Jumps | * Jumps |
| * Rotations | * Rotations |
LIT Technology
LIT's intelligent sensors are housed in a core module that can be worn on different locations of the body to optimize data collection for specific activities. Accessories for LIT include a watchstrap, clip, and lanyard with additional style and color options still in development. LIT wirelessly syncs with a smartphone or tablet, using Bluetooth LE to load activity and action into a free downloaded mobile app that will be available for iOS immediately and for select Android devices early in 2014.
LIT Ignites Competition
For competition on LIT's interactive mobile app, users earn points throughout their day for physical activities and receive bonus points for action. Points measure personal growth and drive competition with one-on-one challenges, live leaderboards, king of the mountain and other action-inspired activities.
LIT will retail for $149, but for limited time is available for pre-order on Indiegogo, starting at $99.
LIT Product Specifications
Shock resistant
Water resistant to 10 ATM / 100 m
Advanced 6-axis sensor family employing sensor fusion to analyze and interpret movements
Extreme gyro range to capture action-inspired g-force
Rechargeable battery with 4+ days between charges
Compatible with Bluetooth LE enabled iOS devices
Compatible with select Android devices in early 2014
Lightweight and soft silicon band material
Module dimensions are 38.5mm x 29mm x 9mm (1.5 in x 1.14 in x .35 in)
To support the campaign and pre-order LIT, visit www.nznlabs.com/Indiegogo

Follow NZN Labs, Inc. on Twitter @nznlabs and like NZN Labs, Inc. on Facebook /nznlabs. To get involved in the conversation use #ActionIsEverything.
About NZN Labs, Inc.
NZN Labs Inc. creates thoughtfully designed wearable technology products and apps that promote active lifestyles and encourage users to share and compare real-life experiences. Their devices are optimized for action, comfortable and stylish and encourage social and competitive community involvement. For more information, visit http://www.nznlabs.com/.