Rogers Centre
Toronto

,

Canada
Toronto
Monster Energy AMA Supercross Championship
By Chase Stallo, Aaron Hansel, and Jason Weigandt
- Fittingly (but, really just coincidentally) there was some chatter in Toronto about guys racing the Canadian Nationals this year. Current Eleven10 Mods fill-in rider PJ Larsen is talking with a few Canadian teams. Larsen also mentioned he may try and head back to Australia or even put together a deal with Eleven10 for outdoors. Jimmy Decotis hinted at the idea that he may try a couple of Canadian Nationals when Lucas Oil Pro Motocross heads out west. Although, he did say his main objective is to race as many nationals as possible in hopes of securing a ride for next year.
- Things are coming around for Monster Energy Kawasaki's Jake Weimer. He missed a few rounds mid-season with broken ribs, and was eighth in his return to the series in Atlanta. It's been tough since then, though. He showed signs of getting back to his old form in practice last week (third fastest overall) but a huge first-turn crash wiped that out. This week, he was strong again and finished sixth, his best ride since returning from injury.
- On the other hand, JGR/Toyota Yamaha's Justin Brayton is struggling. A month ago, JB was a top-five threat showing the speed to hang with the front runners (he was fifth in Dallas). Hasn't been the same since, failing to finish in the top ten in the last three races. In Toronto, he was the meat in the BTOSports.com KTM sandwich for most of the race, behind Andrew Short and in front of Matt Goerke. But Goerke passed him late, stealing tenth.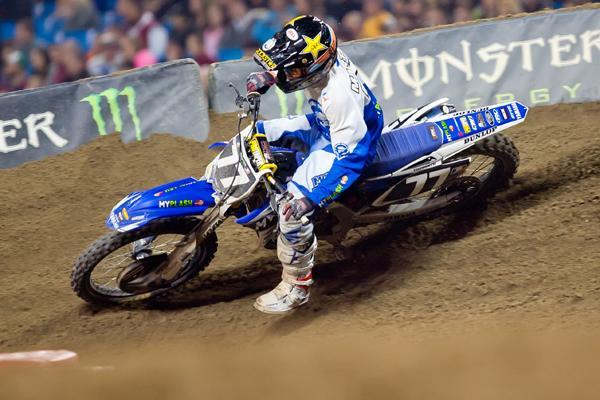 Jeremy Martin would rebound in Toronto with a fourth place finish.
Andrew Fredrickson photo
- But it has been really rough for Smartop/MotoConcepts Mike Alessi lately. Two crashes in the main event left him with a DNF (20th). Mike has gone 16-17-20 in the last three races.
- Which came first, injury or insult? MotoThump HRT's Jimmy Albertson was trying to make a pass for the final transfer spot in his heat race and tipped over. Off to the LCQ for the King of the (Air) Wheelies, but it went wrong almost immediately when he hooked bars with another rider down the start straight and crashed hard. We now hear Jimmy broke his wrist and will be out four to six weeks.
- Justin "Pooh" Sipes has been darned good recently, making the last two 450 SX mains. A first turn crash in his heat pushed him to the LCQ, where he fought back to take the final transfer spot. A pileup between he, Weston Peick and Les Smith cost all three dearly in the main event results (they occupied the 17-19th spots).
- Rookie Watch #1: Jeremy Martin continues to impress in his rookie campaign. The MyPlash/Metal Mulish backed rider bounced back nicely in Toronto, finishing fourth after a last ditch effort to secure his second career podium fell short in the final turn.
- Rookie Watch #2: Troubles continued for GEICO Honda's Zach Bell in Toronto. He crashed hard in the whoop section in practice and left favoring his shoulder. There is currently no update regarding his injury.
- Rookie Watch #3: Arguably the toughest year in Pro Circuit's history took another turn in the wrong direction in Toronto when Justin Hill (the teams only healthy 250SX East Region rider) was landed on by Gavin Faith in the first rhythm section. Hill would not finish the race. He is getting his wrist checked out today. Stay tuned for an update on his condition. Yes, Hill rode awesome in his heat race and even shadowed eventual race winner Marvin Musquin for a bit. PC can't catch a break when it counts!
- Rookie Watch #4: Toronto was unkind to every rookie not named Jeremy Martin. Privateer Mitchell Oldenburg sustained a broken collarbone Saturday after getting together with a couple of riders in the first rhythm section. Oldenburg will visit the doctor this week and if it's not badly broken he will try to race in Houston in two weeks.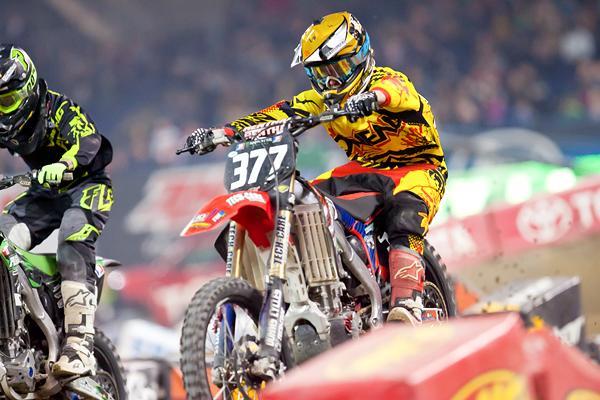 Austin Coon made his first career 250SX main event in Toronto.
Andrew Fredrickson photo
- Congrats to Austin Coon on making his first career 250SX main event in Toronto. The 20-year old West Virginia native became the first rider from West Virginia to qualify for a supercross since Steve Childress got 17th in the 125 class at the RCA Dome in Indianapolis back in 1993.
- Also making his first career 250SX main event in Toronto was David Buller. Buller would finish the night 17th.
- A week after scoring a career-high second in Indy, AG Motorsports' Kyle Peters looked off of his game in Toronto. Peters suffered a big crash in practice in the whoop section, but did say he was fine afterwards. Peters was able to sneak into the top ten and is currently sixth in points.
- The whoop section in Toronto was HUGE at the beginning of the day. Riders were getting swallowed whole throughout practice, but eventually they would break down and by the time the main came around they were not as big of a factor as earlier in the day.
- Both Cole Thompson (6th) and Vince Friese (5th) had season highs in Toronto, but they didn't come without controversy. Thompson smashed into Friese in the last turn, with the two crossing the line at the same time. Initially fifth was awarded to Thompson, but the ruling was later overturned.
- Australian Jackson Richardson secured his first career top ten in Toronto. Richardson will race the next two rounds and then head back to Australia to can get his VISA problems sorted so he can contend the Lucas Oil Pro Motocross Championships. So if you're keeping track, an Australian finished ninth, in an American series, in Canada, and will now go home to get his VISA sorted. Got it? Good.
- Speaking of riders sitting out in Toronto, Trey Canard was out of action up North with a concussion suffered last week at Indy. Canard hopes to be back racing in Houston.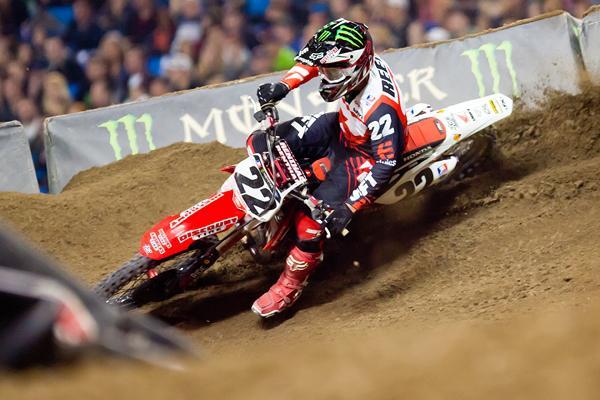 Chad Reed is scheduled to undergo knee surgery on Tuesday.
Andrew Fredrickson photo
- Just a few years ago, the dirt in Toronto was terrible. The year-round storage location left it exposed to the elements, and the dirt would come into the stadium frozen and full of ice. By the time the night show rolled around, it had thawed, creating wet, mushy dirt that broke down incredibly fast. But Feld Motor Sports, the promoter of Monster Energy Supercross, fixed that problem and now stores the dirt in a spot where water can't get to it. The dirt is drier, and the crew has also worked hard to sift rocks from it, as well. As a result, conditions in Toronto were better than ever—way, way better than when this race started back in 2004.
- Toronto marked the final race for TwoTwo Motorsports' Chad Reed before undergoing knee surgery on Tuesday. Currently, the timetable on Reed's return varies. Some reports have missing just one race, while some people think he won't show up until the opening round of Lucas Oil Pro Motocross at Hangtown in May. Of course, nobody, including Reed, will know for sure until after his surgery.
- The N-Fab TiLUBE Yamaha team had their best night of the season, with all three of their riders (Phil Nicoletti, Bobby Kiniry and Chris Blose) making it into the main for the first time this year. Even more impressive is that they all transferred out of the same heat. In the main, Nicoletti took twelfth, Kiniry fifteenth, and Blose sixteenth.
- Last year, Rock River Racing's Ben LaMay was only able to make a single main event (Oakland), and a mechanical failure cut that night short, so he's got to be pumped with the way things are going this year. After a hard-fought heat race in Toronto, in which LaMay got together pretty good with Les Smith, the Alaskan made his fourth main event of the year, recording a career high of fourteenth.
- Red Bull KTM has never won a premier class supercross championship, but with Ryan Dungey twenty-two points back of the lead with five races remaining, they've still got a shot at bringing the title home. Elsewhere in the series, their championship hopes are even brighter, with Ken Roczen leading the series out west and a red-hot Marvin Musquin, who has now won three races in a row, trailing Wil Hahn by just six points in the East. KTM could go into the Vegas finale with a shot at all three SX titles!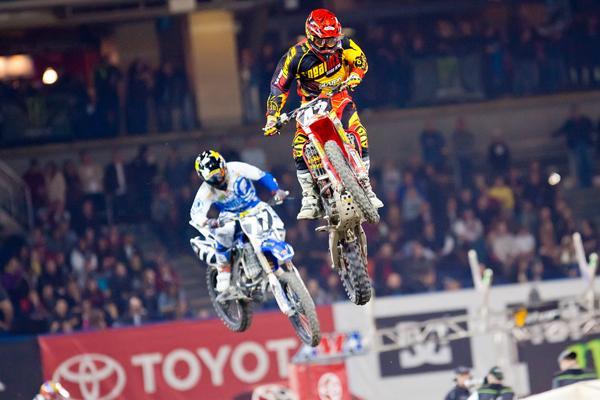 Vince Friese had a season high fifth in Toronto.
Andrew Fredrickson photo