Rogers Centre
Toronto

,

ON
Toronto
Monster Energy AMA Supercross Championship
Is this the best we've ever seen Ryan Villopoto ride? The Monster Energy Kawasaki rider has certainly won a lot of races in his career, but his recent tear through Monster Energy Supercross—four-straight wins and five of six—is impressive, especially considering how strong the competition is this year. After another strong run in Toronto, where he had to get around title rival Davi Millsaps, Matthes caught up to RV.
Racer X: I may be biased because we're in Canada but I thought this was the best track of the year.
Ryan Villopoto: Yeah, you're biased.
Really? Not that good? I know you were down to concrete in some places, but technical-wise it was tough.
It was a good track. The track was tough and it was very deteriorated and rutty and concrete, like every other track pretty much. This is a great stadium just because the floor is so big.
You were catching Davi and ramming him in that one turn after the whoops. It looked like you were trying to maybe push him out of the way a little bit. What were you thinking there? Did you have a window and you were like, hey, I think I can just get in there?
There was one rut and it's so slow, to go on the flat. So I had to go in there. I was a little quicker coming across the mechanics' area, so it would put me up right on him. I had to follow him. We came in there and bumped a little bit, but there was only one line so I couldn't do a whole lot and try to go out of it and go to a different line.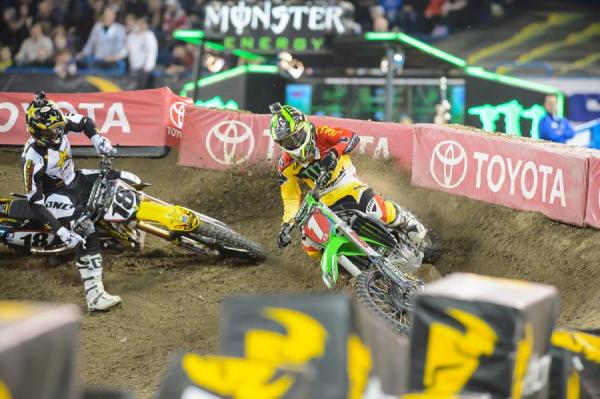 RV (1) picked up three more points on Davi Millsaps (18) with his win in Toronto.
Simon Cudby photo
Once you grabbed the lead you really put the hammer down and pulled away a little bit. It was a great ride. Did you feel like you were just on point? I didn't see you make any mistakes.
It was good. Great gate pic, great start, holeshot. I had a lot riding on the holeshot, actually.
I heard. Expensive dinner.
Yeah, an expensive dinner. Real expensive. Was able to finish the night off good and get some more points.
Surprised at Davi? He's had a few off-weeks. I thought this week, by far, might have been one of his best rides in a month, month and a half.
All year he's been riding well and he rode really well tonight. It's still 12 points. It's still close. So we've got to keep pushing.
Hey, let's talk about the track a little bit. The whoops. Chad tweeted a photo. They were really big. Then they fixed them. They were source of debate all day. What did you think of them as an obstacle? You're the two-time champion so people want to hear what you have to say. Unsafe? Need to be bigger? Need to be smaller? What do you think?
They were small in kind of the beginning and then big towards the end. For sure they were probably the biggest ones, for sure, of all year. But when I watched Wharton go through them in first practice they looked easy, and they were until they got kind of cupped out. I think if they would have been more hard-pack and got cupped out but then stayed that way then we would have had a little bit different of a story I think, just because they would have been very technical or dangerous. But they were pretty soft and they broke down and the centers got filled with dirt. So they started off big but they got smaller.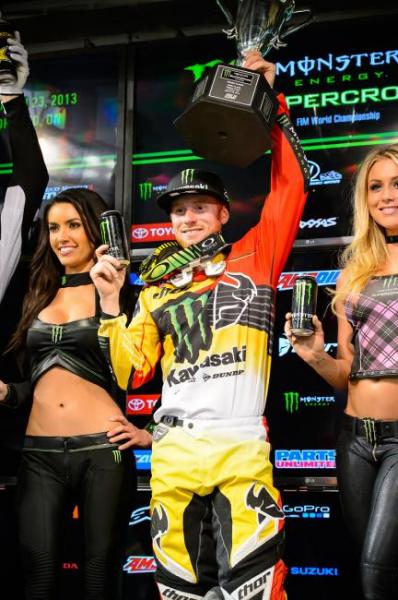 This has become a familiar site over the weeks.
Simon Cudby photo
I talked to the AMA guy and he said that guys were complaining about it and before they even rode it. He was kind of a little ticked off that Chad would put that out there.
I kind of heard something, but I don't know. It's tough to say. But I think with the way the dirt was, it broke down pretty quick and filled in.
What about your shock - happy with it all day?
Always. We didn't change anything.
Just looked a little sketchy for one practice, but that must be good. Great job tonight. Weekend off, what are you going to do?
Hang out, I guess.