Daytona International Speedway
Daytona

,

FL
Daytona
Monster Energy AMA Supercross Championship
- Blake Baggett was in attendance at Daytona, just hanging out and watching. The 2012 250 MX champ has gone through right-wrist surgery but has barely any movement in the wrist. "It's pretty bad right now," he said. Baggett doubts he'll be back for any supercross races but says he'll be racing Hangtown, for sure.
- Surely you saw the LCQ showdown for the final 450 transfer spot between Weston Peick and Bobby Kiniry. They flew across the finish side-by-side, and officials gave the spot to Peick based on a visual override (transponders put Kiniry ahead, but the transponder loop is at the base of the jump, not at the actual checkered flag). From what we hear, the final decision is made by the two manual backup scorers and the finish-line flagger, and all three say Peick was ahead.
- The Daytona track was gnarly. Combining supercross obstacles (triples, a dragonback, step-on-step-offs, and whoops) means riders have to use supercross-stiff suspension, which makes the motocross-like stuff—braking bumps, square-edged holes, and general chop—feel even rougher. Plus, long lap times led to a 28-minute main event. This Daytona, overall, looked to be a little more old-school compared to the more supercross-like Daytona tracks we've seen in past years.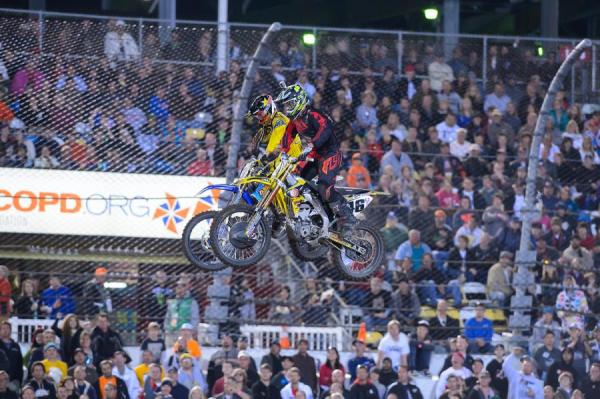 Kiniry and Peick had an epic battle in the LCQ on Saturday.
Simon Cudby photo
- Not a good weekend at all for JGR Toyota Yamaha's Justin Brayton. The Arenacross-raised racer seems to do better on traditional supercross-style tracks than outdoor stuff. Two crashes in the main led to a DNF for him. Josh Grant was back for Daytona, but only to watch. He had shoulder surgery two weeks ago and won't be back racing until Hangtown. Kyle Chisholm, who was Grant's injury replacement until he crashed last week in St. Louis, was also on hand. Chizz needs to have knee surgery, but it appears he doesn't have a torn ACL. If they discover his ACL is torn once they're inside, Chizz will be out for six months. If it's not, he will be back for the Nationals.
- James Stewart is always fast at Daytona, and he won his heat race. So what happened after that? "In the main, I pretty much laid an egg straight-up," said the Yoshimura Suzuki rider in a post-race video on his website. "I made a bad choice on the tire. I made a change between the heat race and the main event. It was the wrong decision, and I struggled from lap one. I tried my best, but had one crash, and a boring eighth place, pretty much. I manned up, I told the team it was my decision and it was my fault. This day and age, with everyone being so close, it comes down to setup and how you feel."
- Working his way back into it after missing a few races with broken ribs, Monster Energy Kawasaki's Jake Weimer has not been happy with his sub top-ten finishes the last two weekends. He has basically told us he has nothing good to say about his races right now.
- Notables who failed to qualify in 450SX: Bobby Kiniry, Jimmy Albertson, Justin Sipes, Kyle Partridge, Cody Gilmore, Chris Blose, and Travis Sewell.
- Notables who failed to qualify in 250SX: Ricky Renner, Levi Kilbarger, Steven Clarke, Jesse Wentland, Ryan Zimmer, and Jackson Richardson.
- AG Motorsports' Kyle Peters bounced back in Daytona with a seventh one week after failing to qualify in St. Louis. Peters, who had dropped from fifth to tenth in points, moved up two spots to eighth.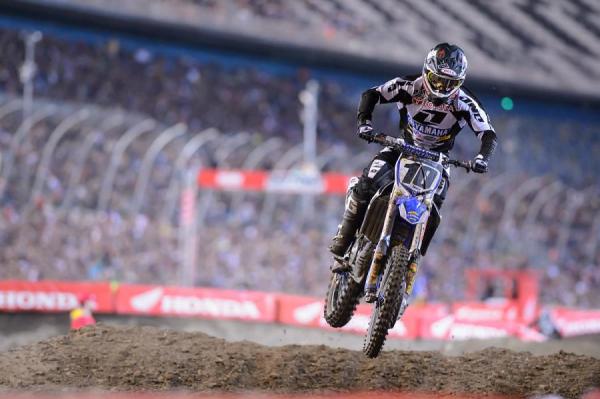 Tough night for Justin Brayton in Daytona.
Simon Cudby photo
- Initial reports have MotoSport.com/ADR Racing's Gareth Swanepoel missing at least the next three weeks after fracturing his wrist in practice in Daytona. Swaenpoel tweeted the following update yesterday: "Well good news, my wrist is not bad. It's a clean fracture and will be in a cast for 3 weeks."
- Good weekend for Eleven10 Mods Yamaha in Daytona, as they put both riders into the main for the first time in 2013. Recently signed PJ Larsen gutted out a thirteenth following a bad start, while rookie Brady Kiesel finished sixteenth in his first career main event.
- Maykers/Witts End Racing's Zack Freeberg told Racer X Online last week that he wanted to "consistently be inside the top ten." The Florida native, who had zero top-tens previous to Daytona, took advantage of the home-state conditions and secured his first career top-ten with an eighth in Daytona.
- Besides Kiniry, the Tough Break of the Night goes to … Jimmy Decotis. The rippa from Peabody, Massachusetts, looked primed for his best finish of the season as he fought his way into a top-ten position early. He also finished an impressive third in his heat race. But Decotis would later fall victim to the treacherous Daytona soil, falling down in an awkward spot which made it hard to pick up his bike. He eventually finished the night twelfth.
- BTOSports KTM's Matt Goerke was ripping in Daytona last year and nearly had a top-five finish until a late mistake. He has been riding even better this year, so a strong Daytona finish seemed inevitable—but a crash knocked him back to twelfth.
- Yes, it's one and done for Ken Roczen in the 450 class, as he will park his 350 now. "I wish I could do one of the regular ones," said Roczen, who wants a shot at a traditional supercross track to capitalize on his strong riding at Daytona. Maybe next year?
- Well look at that. Phil Nicoletti found every way possible to not make 450 mains early in the year, and only made his first last week in St. Louis. But in Daytona, the N-Fab Ti-Lube Yamaha rider made it again. But he was also feeling the effects of his big crash in last week's main, and said it was only 50-50 if he would even ride at all. In pain, he pulled off in the main and finished nineteenth.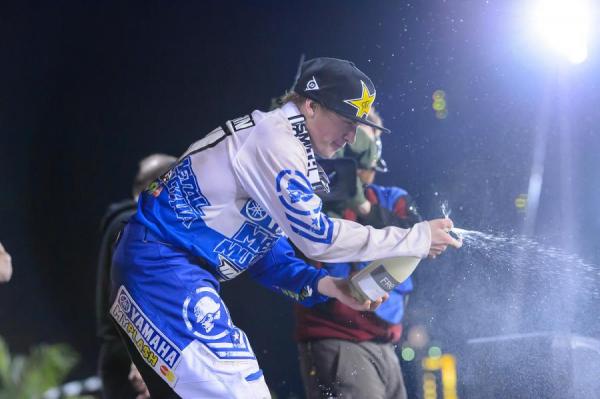 Jeremy Martin celebrates his first career podium.
Simon Cudby photo
- Rookie Watch #1: It was a career night for MyPlash/Metal Mulisha Star Racing Yamaha's Jeremy Martin, who has been on a tear since missing the main in Dallas. The rookie secured his first career podium in Daytona, and has yet to finish outside the top five since Dallas. Martin now rides and trains with Ryan Dungey down at Ricky Carmichael's farm, and no doubt that work is paying off, as he looked strong in the rough Daytona main.
- Rookie Watch #2: The hits just keep coming from Zach Bell. The GEICO Honda rider went down early after getting tangled with Dean Wilson and then washed out in a corner later in the race leading to an 18th place finish.
- Rookie Watch #3: Another quite solid night from Monster Energy/Pro Circuit Kawasaki's Justin Hill. The younger brother of RCH Racing's Josh would finish sixth in his inaugural trip to Daytona—his third top-ten of the season.
- Rookie Watch #4: Privateer Mitchell Oldenburg continues to far exceed preseason expectations. The rookie matched a career-high eleventh in Daytona, after losing a late bid for a top ten to Cole Thompson, Vince Friese, and Zack Freeberg.