Daytona, FL
Daytona
Monster Energy AMA Supercross Championship
BTO Sports is your number one source for all of your motocross parts, gear, accessories and apparel. BTOSports.com is a motocross company who is truly dedicated to the sport and to the customer. Proud sponsor of your Racer X Podcasts and the BTO Sports race team.
The Daytona Supercross by Honda (Honda's done a good job in locking this thing down for, seriously, the last 22 years. Glad to see it happening, but the big green claw seems to be more and more involved with Daytona every year. Get the checkbook out Honda, they're coming for you!) is a unique race for so many reasons and I hope most of you dear readers know why it is so different. It's Daytona man, there's nothing else to say.
And as I wrote in Going for the W on Saturday morning HERE this race almost needs to be divided into two races. Like a Daytona I.D. (in the daytime) and a Daytona A.N. (at night) so for example, when discussing Ricky Carmichael one could say "RC won Daytona I.D. and A.N. which proves he's a bad ass" or you could sit around with some buddies and ponder, "Man, I wonder if Mike Kiedrowski would have won Daytona A.N.?" because there's so much different from Daytona pre-2004.
The track's different, the time of day is different, the format is different; it's really not comparable to the old Daytona in any way, other than the soil quality and the cranky security guards.  As a mechanic back in the day for Daytona I.D., it was a tough, tough race that taxed your bike and the rider's body. And while it's still a tough race, in many ways it's much easier.  So, one of my questions to a lot of the old-timers that were there was, "Which Daytona (I.D. or A.N.) do you prefer? Surprisingly, a lot of the old timers think it's better now. Not as dangerous, a better built track and a better format according to the guys I spoke to. One of the guys that did like it the old way? Jeff Stanton. Shocking, eh?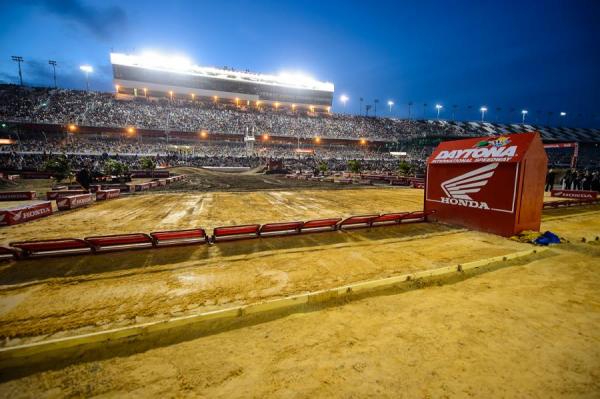 Daytona is a unique experience.
Simon Cudby photo
By the way, if you ask the Speedway people promoting the race, I have no doubt they would take Daytona A.N. because opening up the tarmac (for an extra ten bucks) and holding the race at night has increased the attendance by, I'd say, 50 percent. The stands and NASCAR track are full. Huge crowd. No doubt about it, the people are coming out in way bigger numbers than Daytona I.D..
The track itself was designed by Ricky Carmichael and it was the same as last year because, well, it poured last year and the track was a mess. So this year we got to see  RC's vision in full effect, as the weather was perfect. The track was tough. It developed its usual chuck holes, braking bumps and ruts along the way, but it also had a lot of jumps in it and there wasn't really anywhere for the guys to rest. There was always something there to challenge the racers, and all in all it was a good track. I've been going on and on about the tracks these past few weeks, but I liked this one because there were a couple things that only the elite riders could do. That made it cool.
Most of us thought that either Ryan Villopoto or James Stewart would win Daytona this weekend and most of us were proven right when Villopoto passed early leader Ken Roczen (??!?) and took off for a nice win. When I asked about the track and if he had any sketchy moments out there Villopoto replied, "It's Daytona, if you don't have any sketchy moments, you're not pushing it out there." That's the truth. Even with his great ride, this one didn't come easy. He made a mistake early in the race, panic revved his way out of a crash and had Ryan Dungey quietly sneak up to him three-quarters of the way through the race. Villopoto used his fifth win in ten races to grab the points lead over Davi Millsaps, who had a poor race. Ten weeks ago RV was twenty points behind Millsaps. It's taken some time, but he's now two points up with seven races left. I don't see him letting this thing go either, as he's won three out of the last four races. It's taken a while longer than most of us thought it would, but Villopoto is heating up.
After the race, Villopoto mentioned that he and Dungey thought that the lighting was tough out there, and there were a lot of dark spots. Then he mentioned it again on Monday's Pulpmx Show. So clearly, it was a factor and upon watching the GoPro footage HERE, you can really see that RV's concern was correct. It was dark out there. I recommend watching these GoPro videos after each race. I don't really watch any of the videos (I'm in the minority in this, I know) out there on the internet, but the GoPro stuff is must-see TV.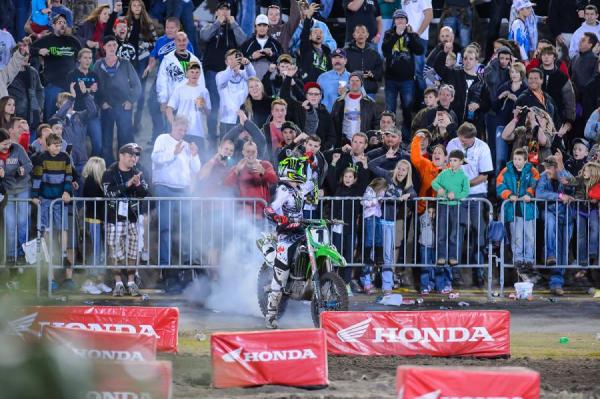 Villopoto celebrated his win in classic Daytona fashion.
Simon Cudby photo
I was worried a bit about Ryan Dungey going into the main event. He didn't qualify that well and his bike setup didn't look that great to me, but as usual, Dungey fought through all that to put in a nice second-place ride. The Dungenator almost bought the farm over the bars at one point in the main but in typical fast-guy fashion, he saved it, slammed on the brakes and still made the inside of the next turn. I'd have been thanking Jesus and probably would have stopped right there if I was Dungey but this move didn't even faze him. He just motored on. Dungey's third in the points and he's his usual fast and consistent self this season.
Hey by the way, Dungey's contract is up this year but there hasn't been much of a peep of him shopping around. I would imagine that he's looking to stay at KTM for his next deal, and why not? The switch to orange has definitely worked out for him and for the team.
One rider that is definitely on the market is GEICO's Eli Tomac. It was thought to be a done deal that he would stay at GEICO and be the team's next Kevin Windham (as in, a long-term 450 guy). But it clearly isn't done and Tomac is out there shopping around. He's going to the 450 class next year (and possibly this year for the outdoors), and if the word on the street is to be believed, he's got a test ride lined up on an RCH Suzuki this week or next. There's also a rumor that Monster Energy Kawasaki is talking to him, as they might add a third rider for 2014. And of course, there's a great chance he stays on with GEICO Honda. No matter which way you slice it, Eli Tomac's life is pretty good right now.
And as long as we're talking about Tomac, he just couldn't get the new fangled air forks working for him on the bigger 450 and ditched them at Daytona in favor of the good ol' spring fork, a decision he says he's very happy with. It showed on the track, and as the third race of his four-race 450SX stint was by far his best race. He started outside the top ten and worked his way up to fourth, right on Justin Barcia for third, before spinning out and settling for fourth. Tomac was very good at Daytona. He charged the whole race and those people that were quietly whispering, "See, the kid isn't that good," should maybe pipe down a bit. His speed has been great, he just hasn't put it all together. But at Daytona, he did.
Speaking of people that "whisper" things, I heard someone tell me, in regards to a conversation that we were having about Dean Wilson stepping up to a 450, that Justin Barcia was struggling. Man, I'd love to "struggle" like that. One race win, three other podiums, sixth in the points – all in your first year in the 450 class! In Daytona, Justin rode well to a heat race win and a third in the main event. He didn't have anything for Villopoto and Dungey, but he had plenty for the rest of the class.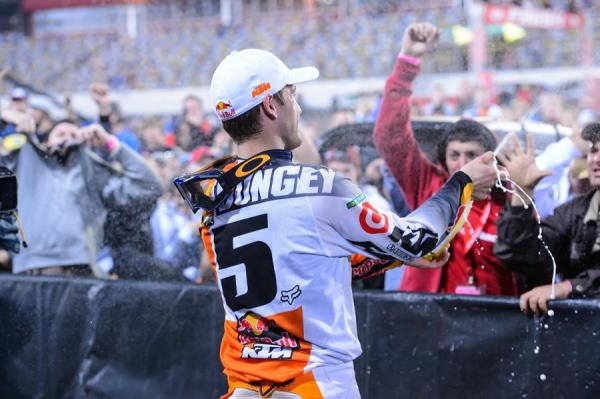 Dungey would take second behind Villopoto.
Simon Cudby photo
Before Daytona, Trey Canard came down and spent the week at Barcia's house in Florida getting ready for Daytona. I'm not sure if it helped or not, but with Daytona A.N., most guys kept their usual supercross settings. Still, it's always good to bond with your team and Florida is a beautiful place this time of year.
Before 250 east kicked off, it was assumed that Wil Hahn and Marvin Musquin would both be getting their first career wins this year. For Hahn, it's been a great start to the Eastern Regional 250SX series. For Marvin, not so much. Yeah, going into Daytona he was fourth in points, but he just wasn't up there with the leaders. He's had speed, but his starts and opening laps have really hurt him through the first three rounds. But in Daytona, it all came together as Marvin pulled a start that racers can only dream of and led the rest of the way for his first career 250SX win. After the race he told me that he was going no matter what, and it was either holeshot or get stuck in the gate. Well Marvin, good guess because it was a huge holie as the gate fell right at the moment he decided he was going. It was a picture perfect ride from Moose-can. Now we have yet another guy that's now on a roll in the 250SX class.
What's going on with Dean Wilson? The Pro Circuit rider was widely expected to be the man this series but we're four rounds deep and he only has one win. The other two losses to Wil Hahn can be explained and understood because his starts weren't good, but in Daytona, Wilson just didn't get it done. He was the fastest man in practice, he won his heat and got into second behind Marvin early on in the main, which was all great. What he did around halfway was not. Wilson just faded backward, making some mistakes along the way and dropped to fourth by race's end. It was SO not like Dean. I don't even know what happened. I went to go interview team owner Mitch Payton afterward but Bones Bacon, head suspension guru over there, suggested that perhaps it wasn't a good time. I don't know what happened and I know I'm painting it out to be a disaster, but all in all, he's only five points out of the lead with five races remaining. If he goes on to win this thing, no one will remember this Daytona race. But if he doesn't…
Let's take a look at the results shall we?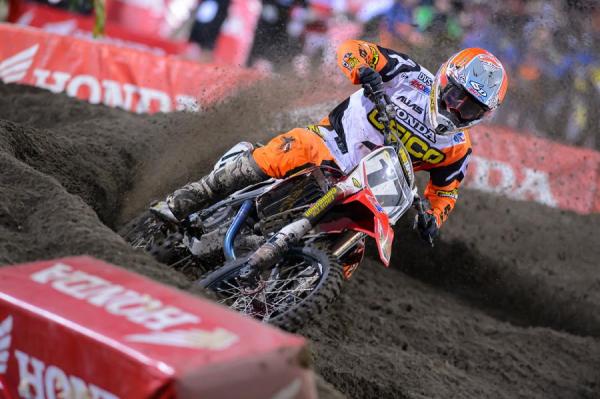 Where will Tomac head next year?
Simon Cudby photo

250SX
1. Marvin Musquin Corona, CA KTM 250 SX-F- Nice old-school heel clicker over the finish. Somewhere in Southern California, there was a French guy nicknamed Le Cobra that was smiling and nodding.
2. Wil Hahn Decatur, TX Honda CRF 250- Hahn had a strong race and stretched his points lead over Wilson. We thought he could possibly do this but even his team is surprised with these results. He's just been solid every single week. The real test will come when he doesn't get a good start. What will he do then? We know he's in shape and limiting the damage is always key in any series. On another note, it's nice to see him dedicating this season to all the Honda Ridgeline owners of America.
3. Jeremy Martin Millville, MN Yamaha YZ250F- Martin had a nice ride as he came from the back (yet again) to get his first career podium. Nice to see, as Martin's one guy that we thought would be capable of breaking up this podium group (Wilson, Hahn, Musquin, Blake Wharton) that we've been seeing in this class. He did it the very next week after we'd been talking about it.
4. Dean Wilson Wesley Chapel, FL Kawasaki KX 250F
5. Blake Wharton Pilot Point, TX Suzuki RM-Z250 – Wharton didn't get the start and that was it. He spent the rest of the race just working up, but he's not good enough to give up that much time to the top guys and still reel them in. He's better than all the other kids in the class and can catch them, but not the top guys.
6. Justin Hill Yoncalla, OR Kawasaki KX 250F- A nice result for Hill, who rode well.
7. Kyle Peters Greensboro, NC Honda CRF 250- This was a big week for Peters. He's been a surprise this season but he didn't qualify last week, which was a bit of an upset. He needed a good result to show that he was for real, and a seventh is nice to see. Peters has been solid.
8. Zackery Freeberg Riverview, FL Honda CRF 250- Nice ride by Freeberg. He's getting some tips and advice from the great Tim Ferry, so there's that.
9. Cole Thompson Brigden, Canada Honda CRF 250- The Canadian has had two nice races in a row after a rough start to the season. And this week he came from eighteenth! This was a great ride, I texted his brother after practice to tell him I thought Cole's suspension looked way too soft out there but clearly, what do I know?
10. Vince Friese Cape Girardeau, MO Honda CRF 250- C'mon Vince, it's the heat race and you're safely in position to qualify with one turn left to go and you take Gavin Faith way too high in the berm and knock him over? There's no money, points or anything on the line and it's the last turn. Really? Really?
11. Mitchell Oldenburg Alvord, TX Honda CRF 250
12. James Decotis Peabody, MA Honda CRF 250- Jimmy D had a great heat race but fell in the main event while running seventh, prompting all of New England to shed a tear. I think I saw Brotocross use a whole box of tissues.
13. Peter Larsen Menifee, CA Yamaha YZ250- Yes, this is PJ Larsen. Despite it saying Peter right there.
14. A J Catanzaro Portland, CT Kawasaki KX 250F- That's two weeks in a row I've recommended Catanzaro for a sleeper fantasy moto pick and two weeks in a row that my pick has been laughed at. Look, people, these are good rides!
15. Lance Vincent Youngsville, LA KTM 250 SX-F- Vincent's starts weren't there this weekend. He's got to go looking everywhere for them this week.
16. Brady Kiesel Fort Worth, TX Yamaha YZ250
17. Daniel Herrlein Bethesda, OH Honda CRF 250
18. Zachary Bell Cairo, GA Honda CRF 250- Rough night for Bell, as a couple of crashes sent him back. Yeah, again. I don't know man, if I were the GEICO guys (and I've spoken with them about it and they don't agree with me) I'd think about using the old Jason Anderson plan and perhaps send Bell home until the outdoors. These young kids are like delicate flowers and you have to be careful to not ruin them. Bell's been crashing a bunch and things are just starting to snowball for him, and not in a good way. I spoke to manager Mike LaRocco after the race and he said that he'd rather have a guy like Bell, who he has to pull back because he's got the speed, than try to inject speed into a guy. That's a good point, and he knows him better than I do, but if this debacle of a season continues like it's been going, there's a chance Bell could be ruined mentally.
19. Gavin Faith Fort Dodge, IA Honda CRF 250- Faith hurt his shoulder in the crash with Friese in the heat and called it a night in the main because holding onto the bars on that rough track was getting to be tough. Bummer for Gavin.
20. Shawn Rife Mechanicsburg, OH Honda CRF 250- Someone needs to break down the number of finishes to the number of DNF's that Rife has had in his pro career. The dude's fast but he just cannot, for whatever reason, finish a race. Ask any fantasy moto player out there. They'll tell ya.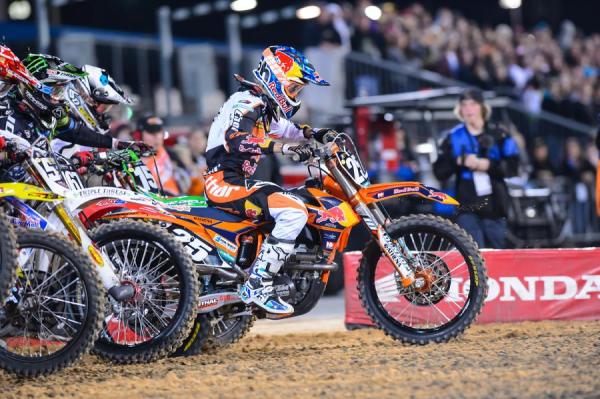 This start by Musquin helped him capture his first career SX race.
Simon Cudby photo
450SX
1. Ryan Villopoto Seattle, WA Kawasaki KX 450F
2. Ryan Dungey Belle Plaine, MN KTM 450 SX-F- Don't you feel like Dungey is just lurking there, doing his thing and if something happens to RV, he'll be there to win this thing?
3. Justin Barcia Pinetta, FL Honda CRF 450- I'm not feeling the A-Star gear. I loved it on Alessi and Musquin the last few years but I don't know, it's just not that special this year. Is this just me? Does anyone else feel this way?
4. Eli Tomac Cortez, CO Honda CRF 450
5. Chad Reed Dade City, FL Honda CRF 450- Reed won't be happy but he rode a great race. He achieved this result with one crash and showed great speed in practice and in the main. It was a tough night for TwoTwo and he probably deserved better. On track walk he told me that he wished every supercross could be like Daytona and that all the Nationals could be like Redbud.
6. Trey Canard Shawnee, OK Honda CRF 450- A decent night for Trey and what about that save in the heat race? C'mon, that was ridiculous. A massive air wheelie, into the next lane and right back again was something special. That was insane and I'm glad it worked out okay. It could've been disaster.
7. Ken Roczen Murrieta, CA KTM 350 SX-F- Great ride for Roczen on 'ze 350. He led the heat and the main! That's pretty cool, and although he was bummed after the race, I thought he did fine. He got the same result he scored last year but this year, he did it with flash.
8. James Stewart Haines City, FL Suzuki RM-Z450- Daytona's a special place for Stewie. We've seen a lot of magic, speed and some BIG crashes from James at the speedway. In a sense, he's delivered for all of us, both good and bad, over the years. This year, Stewart showed some magic in tripling a rhythm lane that no one else I saw do and was his usual fast self in practice. But he didn't get the start he needed, went down after that and it was over from there. Bummer bro, I was expecting some RV/JS magic on Saturday night. After the race, Stew Tweeted that his bike setup was off. He went with the wrong front tire and took the blame.
9. Broc Tickle Holly, MI Suzuki RM-Z450- Tickle was Tickle. He wasn't great but he wasn't bad. He was just there. A ninth is about what he's been doing all year and that's not bad, but hasn't taken "the leap" like some people thought he would.
10. David Millsaps Murrieta, CA Suzuki RM-Z450- Millsaps' worst result of the year (with one crash) and he told me that he hurt his knee on Wednesday before Daytona. Let's hope it's nothing too serious. Davi's got to get some of his mojo back after two subpar races.
11. Matthew Goerke Lake Helen, FL KTM 450 SX-F- This is where Goerke and Tickle differ. They battle every week and are right by each other a lot, but Matt's been a surprise and Broc's been just okay. Different expectations I suppose.
12. Andrew Short Smithville, TX KTM 450 SX-F- Short didn't have a good race and I'm guessing that the KTM setup wasn't on point this weekend for him. Having his finger broken by Tickle in the heat probably wasn't ideal, either.
13. Jake Weimer Rupert, ID Kawasaki KX 450F- Weimer's struggling to get that "edge" back after missing some races due to injury. He's frustrated right now (after the race he didn't want to do an interview with me because he had "nothing" to say about his race, but he relented as long as we didn't talk about his race, which made for the weirdest interview ever) but he'll be all right. It's just going to take some time.
14. Les Smith York, SC KTM 450 SX-F- Les is back in the main and a fourteenth is a good result for him. Les is a good dude. He tries hard and is one of those guys in the pits that's out of the spotlight, but he's a good rider.
15. Joshua Hill Yoncalla, OR Suzuki RM-Z450
16. Mike Alessi Hilliard, FL Suzuki RM-Z450- Tough night for the 800 as he had to go to the LCQ and then from there, he was off the track in the first turn and fighting the whole way.
17. Ben LaMay Wasilla, AK Yamaha YZ450F- LaMay made his third main of the year after a good heat race ride.
18. Weston Peick Wildomar, CA Suzuki RM-Z450- After all that drama, Peick's bike broke in the main. Maybe it was mad at being kicked off its stand and decided to get even? Just saying. Can you tell I was once a mechanic?
19. Phillip Nicoletti Bethel, NY Yamaha YZ450F- Step one for Filthy- get into the main events. Step two- finish them. Filthy is still working on step two but he'll get there.
20. Justin Brayton Cornelius, NC Yamaha YZ450F- JB10 crashed early in the main and knocked his head a bit. He'll be fine but that was it for Brayton, who's a huge NASCAR fan and I'm sure he wanted to do well at historic International Daytona Speedway.
Some other news and notes from Daytona
- Privateer Ryan Smith was out there on a YZ250 two-stroke racing around. Some fans cheered him, which is all well and good, but that doesn't get him any of the cash as he failed to make the night show. I don't have a dog in this fight but I always wonder why dudes show up on these things when it's clearly disadvantageous out there. Like, why bother?
- Once again Shift knocked it out of the park with some new gear debuted by Chad Reed. It was a simple theme with nice colors and it flowed nicely. I'm not sure what Shift did but the shift (get it?) from the gear that had the hideous flaming skulls on it to what they're doing now is more drastic than Meg Griffin pre and post face surgery. Shift's got it going on right now and no, I'm not just saying that because Beeker got me a free backpack.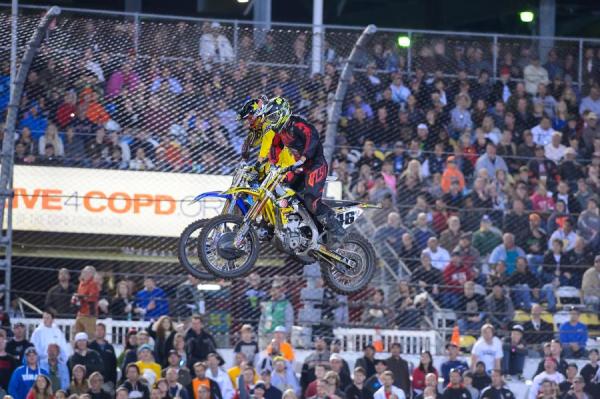 Yeah, the Peick and Kiniry battle was that close!
Simon Cudby photo
- Some controversy in the 450SX LCQ where Bobby Kiniry and Weston Peick once again went at it in a great race (maybe the best one of the year), with Peick getting beat for the final transfer spot according to the transponder pickup at the bottom of the jump. But, according to the three AMA scorers, Peick ended up getting the win at the top of the finish line, where the official scoring is. We saw this exact same thing last year with, funny enough, Peick and Faith, where Faith was given the win for edging out Peick at the top of the jump. I had never seen this before last year and now, I've seen it twice and with the same rider. Weird right? Anyway, Peick got the spot after review by the AMA. Kiniry and his team were of course upset, but it looked to me like they got it right, as Kiniry seemed to slow a bit up the face of the finish line double. No matter what the deal was, these two warriors put on a great show.
Afterward the SPEED TV cameras showed an angry Peick (he hadn't yet been told that he had actually gotten the spot) kicking his bike's rear tire, which caused it to topple on the ground. I'm not sure whether Weston meant to kick his bike over or not, but he didn't exactly leap up and pick it up as it lay there on the concrete. I'm fine with a dude being upset and showing emotion but you can't kick your bike over. It's not a good look for Weston or for his sponsors in my opinion. Yeah, he didn't think the camera was on him but you've got to be aware that you could be being watched by a camera or perhaps a future team manager. As a former mechanic, I've seen plenty of helmets being tossed, doors being slammed and gloves being thrown, but it's all happened inside the truck away from the public. I like Weston. He's a good dude and he issued an apology that we posted on Racer X afterward, but I didn't like that move one bit. Reminded me of Heath Voss on factory Yamaha hitting his bike with a hammer over and over at Millville one year. No, he didn't get a ride the next year.
All right, thanks for reading, send me an email at matthes@racerxonline.com if you want to chat about anything. Seriously, anything.