Daytona International Speedway
Daytona

,

FL
Daytona
Monster Energy AMA Supercross Championship
David Bailey always had a theory: Once a rider finds the winner's circle for the first time, he's got the map and knows exactly where it is and how to find it again. GEICO Honda's Wil Hahn proved that concept when he won his second 250 SX main event just one week after winning his first. With that in mind, we dug into The Vault to find some other winning streaks that came on the heels of a maiden victory.
1975 Jimmy Ellis: Back in the early days of supercross, everyone was more or less new to stadium racing. Can-Am rider Jimmy Ellis hadn't won an SX before the 1975 season, but he had only been in a few indoor races to that point. Then he went out and won the opener in Texas Stadium, then the Daytona SX, then the Houston Astrodome, and finally the Los Angeles Coliseum—a perfect sweep of the whole series. Not a bad first winning streak!
1976 Bob Hannah: There's really no modern-day equivalent to the way Bob Hannah showed up like a hurricane in 1976, stunning the motocross world first by sweeping the then-vital Florida Winter-AMA Series on his 250. When it came time for outdoors, most figured Marty Smith would cruise to a third straight title, but instead "Hurricane" Hannah dominated the Hangtown opener for his first major win, then won the next two Nationals. He went on to win five of the first six rounds of the '76 125cc National Motocross Championship, as well as the title.
It should be noted that while Hannah was winning those 125 Nationals, he was also competing in various 250 and 500 Nationals, which all ran on different (and sometimes overlapping) weekends. His dominance in those divisions wouldn't appear until the following season, and with equal force.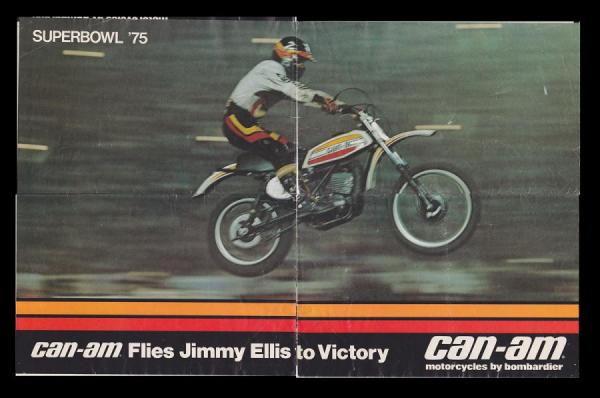 Jimmy Ellis won three more times in 1975 after his first win.
1989 Jeff Stanton: Few expected Stanton to ever become a genuine supercross threat, but spending the winter of '88 living with Rick Johnson transformed him. He was a solid second in the series through the first five rounds, then won his first career race at round six. Not long after, Johnson went out with a wrist injury and Stanton won Daytona and Houston to complete the first three-race win streak of his career, following that first win.
1993 Jeremy McGrath: After moving up to the 250 class as a factory Honda rider, McGrath needed all of three races to find the winner's circle, then he went on a four-race tear that set the tone for much of the next decade.
1996 Kevin Windham: Hard to believe Windham didn't win right away as a professional. In fact, he raced more than a dozen times in '94 and '95 before scoring his first win at the '96 Minneapolis SX in the 125 class. K-Dub immediately backed that up with three more victories in 125 SX, building a nice first winning streak of four straight.
1997 Ricky Carmichael: RC won the second national of his career, then went on a short three-race winning streak, also setting the tone for the next decade outdoors.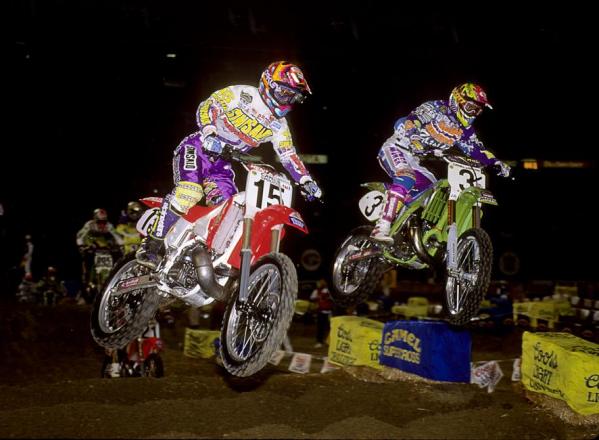 McGrath set the tone early in his 250 days.
Fran Kuhn photo
1999 Nathan Ramsey: Like Wil Hahn, Nathan Ramsey put in years or work as a professional before finally breaking through to the winner's circle. Nate Dog started as a privateer Suzuki rider from Tennessee, spending six full years on the SX/MX circuit as he worked his way up the ladder. Ramsey raced eighty-two times as a pro before he finally scored his first victory, at the 1998 Phoenix 125 Supercross as a Splitfire/Pro Circuit Kawasaki rider. He made the most of what he learned, reeling off five straight wins in the 125 West before clinching his first championship. Ramsey's persistence was his trademark!
1999 Ernesto Fonseca: "Lobito" has a special place in the record books and supercross lore. He turned pro in 1999 for Yamaha of Troy and immediately won the first four main events of his professional career while riding a Yamaha of Troy YZ125. He finally lost at the Pontiac Silverdome, then added two more wins in clinching the East Region title. Ernie is also the first and only rider from Costa Rica to win a supercross.
2002 Chad Reed: The Yamaha of Troy rider won his first 125 supercross when the East Region started in 2002, then reeled off six straight wins to clinch the championship. Reed was one race away from a perfect season until SoBe Suzuki rider Branden Jesseman beat him at the Pontiac Silverdome.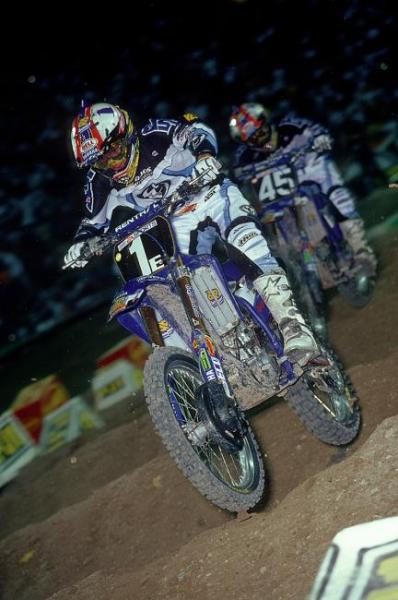 Reed won six straight in 2002 after his first win.
Simon Cudby photo
2008 Trey Canard: After winning his debut Lites SX main event in Atlanta, Trey Canard added two more to go on an immediate winning streak.
2008 Jason Lawrence: J-Law won his first career SX Lites race in San Francisco, and that indeed set the stage for a three-race win streak that eventually led him to the West Region SX Lites Championship.