Cooper Wins Second Straight in New Zealand
By Andy McGechan, BikesportNZ.com
Kiwi internationals Cody Cooper and Scotty Columb have consolidated their rankings as the New Zealand Motocross Championships reached the halfway point in the Thames Valley on Sunday.
Mount Maunganui's Cooper (Moto City Suzuki) and Queenstown's Columb (JCR Yamaha Racing) are now further in front in the MX1 and MX2 classes, respectively, after the second of four rounds in this season's Backflips Clothing-sponsored series at Patetonga, near Morrinsville, on Sunday.
Cooper has stretched his lead in the MX1 class out to 20 points over Scottish former Grand Prix star Billy MacKenzie (JCR Yamaha Racing), while Columb now enjoys a 16-point advantage over the new number two man in the MX2 class, Australian visitor Brock Winston (CMR Red Bull KTM).
MX1 class defending champion Ben Townley (Honda), of Tauranga, crashed to the sidelines at round one of the series at Timaru a fortnight earlier and he was at the Patetonga race track as a spectator only on Sunday.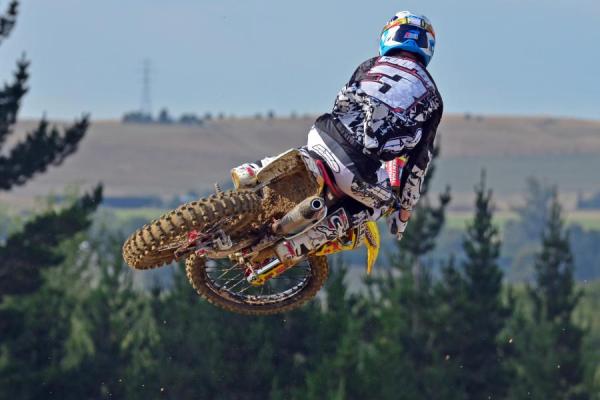 Mount Maunganui's Cody Cooper (Moto City Suzuki RM-Z450), with his position now strengthened at the top of the MX1 class standings in New Zealand.
Photo by Andy McGechan, BikesportNZ.com
Meanwhile, in the other championship division, the 125cc class, a change at the top was always expected.
Round one winner Courtney Duncan (Yamaha) was absent on Sunday as overseas duty beckoned to her, leaving the way clear for Rotorua's Cameron Vaughan (JCR Yamaha Racing) to dominate.
The 16-year-old Vaughan was second overall in the class after round one at Timaru a fortnight earlier – with an unlucky crash in one race there followed by two impressive wins – and this hinted that he truly is champion material.
And so it proved as Vaughan secured 1-1-2 results on Sunday, enough to edge out Bayride BikesportNZ.com Yamaha rider Logan Blackburn, of Te Puke.
The series now heads to Pukekohe on March 10 and it finally wraps up in Taupo on March 31.
Point Standings
MX1 class:
1. Cody Cooper (Mount Maunganui, Suzuki) 139 points;
2. Billy MacKenzie (Scotland, Yamaha) 119;
3. Todd Waters (KTM, Australia) 109;
4. Kirk Gibbs (KTM, Australia) 102;
5. Daryl Hurley (Suzuki, Hawera) 93.
MX2 class:
1. Scott Columb (Queenstown, Yamaha) 133;
2. Brock Winston (Australia, KTM) 117;
3. Rhys Carter (Mount Maunganui, Suzuki) 102;
4. Ethan Martens (Waitakere, Yamaha) 96;
5. John Phillips (Rotorua, Honda) 89.
125cc class:
1. Cameron Vaughan (Rotorua, Yamaha) 136;
2. Logan Blackburn (Te Puke, Yamaha) 131;
3. Aaron Wiltshier (Tauranga, KTM) 100;
4. Cameron Negus (Rotorua, Husqvarna) and Cohen Chase (Taupo, KTM) 89.