AT&T Stadium
Arlington

,

TX
Dallas
Monster Energy AMA Supercross Championship
By Jason Weigandt, Chase Stallo and Aaron Hansel
- If you watched the television broadcast, you heard a few chuckles from the guys in the booth when GEICO Honda's Wil Hahn clearly pulled a takeout move on Vince Friese. If you listen closely, it almost sounds like Ricky Carmichael wants to say, "He got Friese'd!" but then thinks better of it. It's going to be interesting to see how Friese gets along with the rest of the Eastern Regional 250SX competitors for the rest of the season. He definitely showed great speed in Dallas--don't be surprised to see him well inside the top five as the year goes on.
- A quick look at the results sheet reveals a rather interesting sponsor for Jimmy Decoits - High Octane Harley-Davidson, a Harley-Davidson dealership in N. Billerica, Massachusetts. As far as we know, this is the first time a Harley-Davidson dealership has sponsored someone to race a CRF250 in supercross. Anyone got any other ideas?
- Looking for the next level? The Monster Energy Kawasaki team was spotted using tire warmers to bring their Dunlops up to temperature. With every team searching for an edge, could this become the new hot (literally) set up in the pits?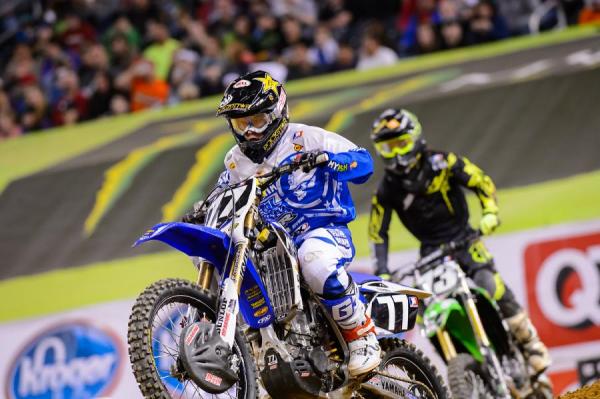 Star Racing rookie Jeremy Martin would miss the main in Dallas.
Simon Cudby photo
- Bummer for Star Yamaha rookie Jeremy Martin, who failed to make the main. He was not only fast (third overall) but looked quite smooth and consistent, belying his "first SX race ever" status. But all sorts of bad luck on the heat and LCQ starts kept him out of the running. Look for much better soon.
- Wondering who the 250SX rider is who took eleventh place in Dallas? That's #194, Jackson Richardson, of Australia. If the name sounds slightly familiar it's because Richardson competed in a limited number of 250SX races out west last year, although he only qualified at A1, where he took eighteenth. With his eleventh at the opener over the weekend, it's safe to say that Richardson is off to a much better start this year than last!
- Okay, we're just going to say it: the East 250 field isn't nearly as packed with established players as the West (notice how we side step terms like "weaker field to avoid barbs from agents and parents and sponsors). A few of the main teams have top riders out with injury, and other factory-supported outfits like Lucas Oil TLD Honda and J-Star JDR KTM don't race east. But this only spells opportunity, as 10 three-digit riders made the Dallas 250 main. If you're looking to make a name for yourself, this could be the best chance to do it. Seriously, look at the entry right above this.
- Justin Brayton keeps getting better. After a seventh last week, where he was in the podium mix for quite awhile, he rode solid again in Dallas and took a season-best fifth. Hard to compare results from one year to the next in this loaded field, but Brayton feels like he's riding better and faster than he ever has.
- Unfortunately Josh Grant is going the other direction for team JGR Toyota Yamaha, as he was unable to race again with shoulder problems. Grant is going to at least skip this weekend's race in Atlanta to try to rest the shoulder. For what it's worth, the few timed laps he did at both San Diego and Dallas in practice were still fast enough to put him into the night show--but he withdrew himself both times.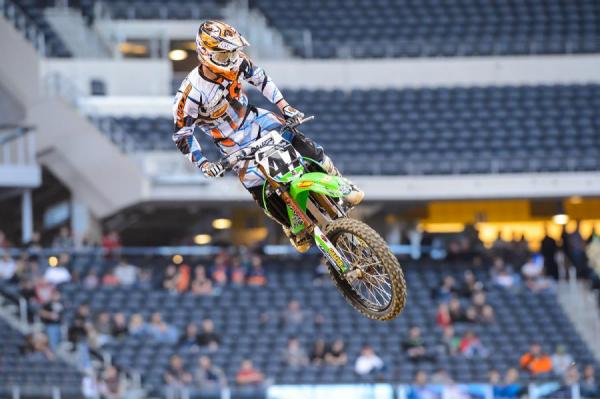 JAB Motorsports' Matt Lemoine would miss the night show after injuring his knee in practice.
Simon Cudby photo
- Time to move east: plenty of top riders, such as Davi Millsaps and Ryan Dungey, are relocating to their eastern tracks (both right along that Florida/Georgia line) this week. Dungey says his bike is so locked in that he didn't change a single thing during the day at Dallas. So, not much need for testing, he's just going to moto down in Florida for the next few weeks.
- Blake Wharton and Andrew Short, who both live in Texas, came out in opening ceremonies with jerseys to honor Chris Kyle and Chad Littlefield. Kyle, a retired Navy SEAL and Littlefield, also a veteran of the armed services, were tragically killed at a Texas shooting range two weeks ago.
- JAB Motorsports had a tough day in Dallas. First they lost Gannon Audette to his second major injury in as many years in Dallas. He has a fractured pelvis and clavicle. Ouch. Then Matt Lemoine had to exit with a knee injury. Lemoine visited the doctor yesterday and should know more this week. The teams' other 250 rider, rookie Vann Martin, missed the race recovering from a broken wrist.
- Congrats to rookie privateers Mitchell Oldenburg (12th) and Jesse Wentland (20th) on making the first main events of their careers. Also, congrats to privateer Adam Gulley (15th) on making his first career main as well. We told you this is the chance to make a name here, bros.
- If you were unable to catch the race on TV, you missed the aforementioned Wentland pulling one over on the AMA when he signed up as J-Dub Wentland. Although, wouldn't that make him actually J Dub Dub? Check out the photo below.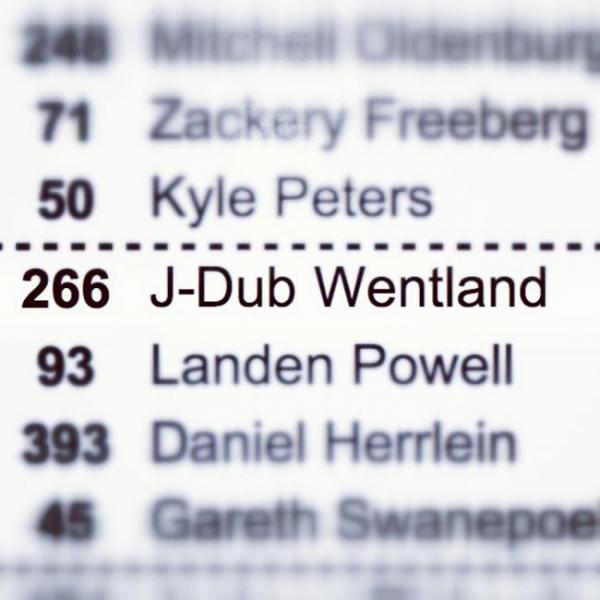 - Kyle Peters signed with AG Motorsports this year after an injury filled rookie year with Star/Valli Yamaha a season ago. Peters looked the best he has since making his debut a year ago in Dallas, finishing a career-high fourth.
- What a debut for Monster Energy/Pro Circuit Kawasaki's rookie Justin Hill, who finished fifth in his pro debut after having not raced since last March. When we asked him what it was like to line up for his first race in nearly a year, he said he didn't even realize it had been that long until we told him. So, apparently, that layoff had no impact on his ride!
- Privateer Levi Killbarger made his first main since Atlanta a year ago, finishing the night 14th.
- Notables that failed to make the 250 main: Jeremy Martin, AJ Catanzaro, Steven Clarke, Zack Freeberg and rookie Zack Williams.
- After missing the first five mains of the year, respectively, Ben LaMay (16th) and Kyle Partridge (18th) both made their second consecutive mains. And if you missed Partridge wheelie the whoops in his heat race, it's called the Internet. Google it.
- Weston Peick is now back on track after a few rough races. In Dallas he scored a season-high 11th. Velocity 3 Yamaha's Robert Kiniry also had a season-high in Dallas with a 14th.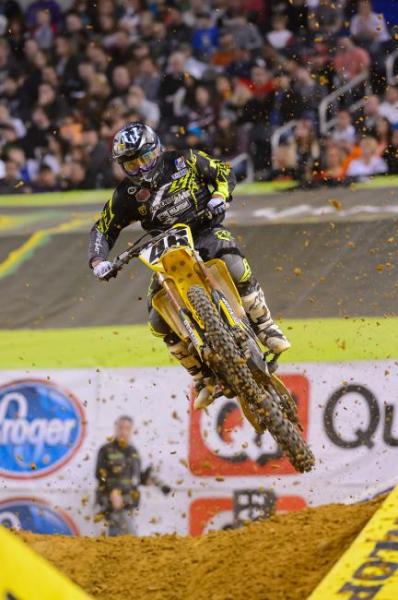 Weston Peick put together a season-high 11th in Dallas.
Simon Cudby photo
- Justin Sipes, brother of Ryan, competed in his first race of the year in Dallas. "Pooh" as they call him, made the main in his first attempt, finishing 17th. Munn Racing's Travis Sewell, who ironically is filling-in for his brother Shane on the team, also competed in his first race of the season, but failed to make the main.
- There's no doubt that Dodge/RCH Racing's Broc Tickle has failed to live up to the high expectations placed on him this year. But after some early struggles, he seems to be turning the corner. The former 250 West Region Champion scored his third top-ten of the year and the third in the last four races. He also mentions that his second-to-eleventh ride last week in San Diego was made to look worse when Andrew Short took him down late in the race, costing him a few extra positions.
Notables that failed to make the 450 main: Phil Nicoletti, Les Smith, PJ Larsen, Travis Sewell, Tevin Tapia and Matt Lemoine. Nicoletti was the heartbreaker of the bunch, as he crashed on the last lap of his heat while running in a transfer spot.