Arlington, TX
Dallas
Monster Energy AMA Supercross Championship
BTO Sports is your number one source for all of your motocross parts, gear, accessories and apparel. BTOSports.com is a motocross company that is truly dedicated to the sport and to the customer. Proud sponsor of your Racer X Podcasts and the BTO Sports race team.
Round seven of the 2013 Monster Energy Supercross Series took place in Dallas, Texas over the weekend. Sorry, I just can't use the name Arlington, where the race is actually held (as much as the city would like it). You see, Dallas Cowboys' owner Jerry Jones needed some city to step up and help him fund this amazing and awesome stadium and Arlington, a suburb outside of Dallas, did just that in the form of tax breaks and what have you. And so they would like everyone to refer to it as Arlington but until we start saying "The Arlington Cowboys," I'll just go with Dallas.
As I said, it's an amazing stadium through and through. No doubt the nicest one we go to as far as the pits, big screen, press box and all that. It's an impressive sight as you drive up because the stadium looks like a giant space ship that just dropped there. I will say this though, Chase Field in Phoenix is 14 years older and while the press box isn't that nice, the stadium itself holds up well compared to Cowboys Stadium. Stay tuned next week when I compare the nacho cheese from St. Louis to Anaheim.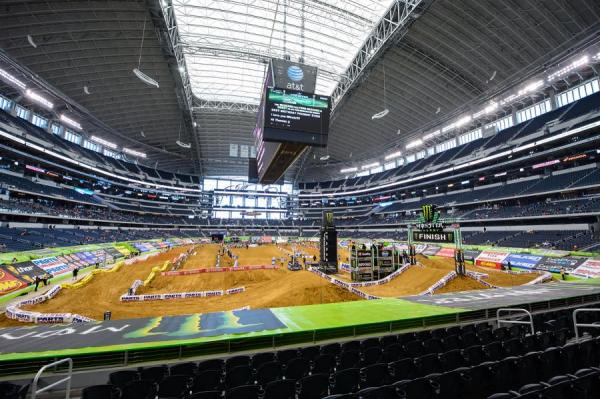 The House that Jerry built.
Simon Cudby photo
Cowboys fans are pretty intense so I thought it was funny when, going up to the press box for the first practice, I told the elevator operator that he shouldn't allow Coy Gibbs in because he was the son of Joe, who guided the hated Redskins to many beat downs of the Cowboys over the years. The operator didn't believe me though! Even when I showed him Coy's pass with the last name of "Gibbs" he wasn't having it, replying that, "Anyone could have that last name." And Coy himself clearly wanted to punch me but he couldn't because the elevator was full. Alas, I couldn't get Gibbs banned from the stadium despite my best efforts.
Hey, what's going on with the tracks? Do we need to have an intervention here? The guys at Dirt Wurx are all good guys, they work hard and try to provide the riders and fans with a nice course each and every week, but they've really had a few too many stinkers this year in my (and many others') opinion. At Dallas they had the typical hard pack dirt to work with, but not nearly enough of it because the jumps were super small and everything was very easy. The guys had it all figured out on the second lap of practice and the whoops weren't very tough, either. You had to slam dudes in the turns to make something happen because all eighty riders in the night show were doing the exact same things. I know that in perusing the pits, no one, not even race winner Ryan Villopoto liked the track this week, last week or even the Anaheim 3 track. We're going to need some sort of intervention here (maybe we can get old-school builder John Savitski to read the letters the riders have written imploring Dirt Wurx to get better?) to start getting more creative, get more dirt, or more something, because right now the guys are in a slump.
We've been waiting for Ryan Villopoto to take charge of this series each week. In my opinion he's the fastest guy on the track but bad starts, easy tracks (which prevent guys from being able to make up time) and crashes have held him back. But in Dallas he got the start and that was it. If Ryan Dungey or Davi Millsaps had gotten into the lead early, they would've won the race. It's that important on a track that's easy and has sketchy dirt. The harder you try to ride, the more backwards you go so getting the lead early and focusing on your own riding is key. Not taking anything away from Villopoto, he simply crushed them. Unfortunately for him he only made up three points as Millsaps rode another fine race to finish second.
I found it a bit interesting that Villopoto spoke about having more fun at the races. He mentioned it on TV, in the stadium and to me after the race. When asked to elaborate, he said that he can't dwell on the points gap and that he had to take what he can get for a result. It's no secret that I'm around the Kawasaki truck a lot and I haven't noticed Ryan or the team really ever changing, no matter what's going on in the points. Be it James Stewart, Ryan Villopoto or Tim Ferry (remember the 2007 450MX season when Red Dog led the points late in the season? I will now light myself on fire), the Kawasaki guys don't change and although I suppose it's cool for Ryan to relax a bit. But he bags on me the same way whether he wins or crashes out so I don't see where he needs to have "more fun," but whatever. This week he criticized me for wearing the same shoes week after week and a faded sweatshirt. Who is he, Mr. Rockwell?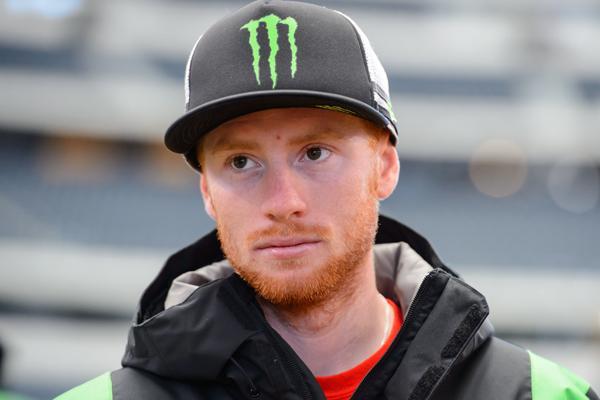 RV got back on track with a win in Dallas.
Simon Cudby photo
Perhaps the only guy who could've ruined Villopoto's fun was the number 7 of James Stewart. Slowly but surely, the seven is coming back to his old form. It's just taking longer than his fans would've liked (and if you ask the Kawi guys, I'm one of those fans). Stewart's been fast in practice all year, but his mains haven't gone his way due to rust, fitness and well, being hurt. He mentioned that he's been riding during the week now (so that means he's been able to test a bit) and in Dallas, he caught and passed Villopoto to take the win in his heat.
It was vintage Stewart out there. He looked great and the main was set up for a massive rebirth of Stew (and the bandwagon was no longer taking reservations after that heat race), as I'm sure he had some serious confidence after doing what he did in the heat. Very, very few people catch and pass Villopoto these days, in case you haven't noticed. Anyway, as per James' luck recently his RMZ developed clutch problems on the line for the main and he wasn't able to start the race. Yes, that happened.
The clutch just went away completely. The lever was flopping around on the bar like the cable came unhooked or something, although Suzuki manager Mike Webb said the cable was fine. Knowing what I know about a clutch and the way it works, it's an odd problem for sure. Perhaps the actuator arm that goes into the clutch broke, or the clutch rod itself might have broken. Anyway, it's a weird issue because I'm sure Stewart's mechanic, Lee McCollumn (one of the best in the business), checked everything over and I imagine everything worked perfectly when they rode the bike to the gate for the final. All in all, it's terrible for Suzuki and for Stewart to have this happen.
Kudos to Webb for being as open and honest to me about the problems afterward. They didn't know anything for sure at that moment and props to James for being composed and apologetic to the media afterward. Also thanks to Webb for laughing at my attempt at gallows humor when I told him that DeCoster never would have let this happen. Yes, I said that. I'm such an idiot sometimes.
Here's what I didn't like about Stewart's night. I suppose if he reads this he won't be happy, but opinions are dished around in this column quite a bit, so here it is. In an attempt to switch things up and get some better starts, Stewart had his dad down on the line, by his side and prepping his gate for him. McCollumn worked the pit board and all that but James felt like his dad could, for whatever reason, get him better starts. And as a former mechanic, I thought this was a little much and a bit of a slap at Lee. The person prepping your gate and soothing you with words of encouragement doesn't truly have a thing to do with your start. That's all on the rider, as a 50+ horsepower 450c four-stroke motorcycle with little rubber knobs on the tires is not going to know the difference between who prepped the gate. Look, whatever works for James is his decision but I imagine Lee wasn't happy. The nosy press is asking questions and the fans are whispering this and that about Stewart. I don't get it. Lee's been doing a great job of packing the gate in the heat races where Stewart's starts have been pretty good but what, he's slipping a bit in the main event gate packing? Sorry, I just didn't like it.

Stewart's good start to the night was erased due to a clutch problem that caused him to miss the main in Dallas.
Simon Cudby photo
Davi Millsaps made a few comments about being sick and unable to ride all week, which makes his second even more impressive. Davi just keeps motoring on and padding his points lead each week. It's been remarkable on so many levels that I can't really wrap my brain around it quite yet. There's NEVER been anything like this in our sport. He's been so good with a couple of wins and only one race outside the top three. I bet there are a lot of people at JGR Yamaha and Factory Honda that are shaking their heads right now. Actually I know there are. Those guys say that they always knew Davi had this in him - that's why they hired him - but that he needed to apply himself, which he didn't always do.
I think that we all mature at different ages and different times. Millsaps was an amateur prodigy who got a lot of money at an early age, had some success, some family drama and didn't really realize what he had inside there. And getting married, having a kid and perhaps hitting the ripe old age of 25 (he just had a birthday last week. But doesn't it seem like he should be about 30?), made him finally have a clear mind, get away from the drama and get to work. There's also the switch to the Suzuki, which is a very good bike. Whatever it is, Millsaps now has a clear mind and is working hard. Good for him.
The Eastern Regional 250SX series coast kicked off, or maybe I should say the "Leastern" Regional 250SX series coast kicked off. With Pro Circuit's Darryn Durham, GEICO Honda's Justin Bogle, Rockstar Energy Racing's Nico Izzi and Eleven10 Mods' Alex Martin all missing the start of the coast with injuries, it left the "least" coast with just two riders that have won a race before in Dean Wilson and Blake Wharton. Compare it to the west, which started with five riders (Roczen, Tomac, Seely, Sipes and Baggett) who had won before. But hey, all that means is that there are some racers that are going to benefit and make themselves heroes. It's a great opportunity for guys to step up and show what they can do and hopefully progress in their career with the extra confidence gained from great race finishes. Or, to put it simply, it is what it is.
Dean Wilson did what we all thought he was going to do by walking away with the main event victory. Wilson's the favorite for this title but he still has to actually get it done. This just in: racing isn't done on paper. I know, mind-blowing stuff huh? Wilson looked very good out there considering it's his first race since Hangtown in May, and after double shoulder surgeries at that. Right from the very first untimed practice, Wilson looked smooth, stylish and effortless out there. With Dean being back at the races, this also means that his mom and dad are at the races too, which is awesome because they're two of the nicest, funniest people around.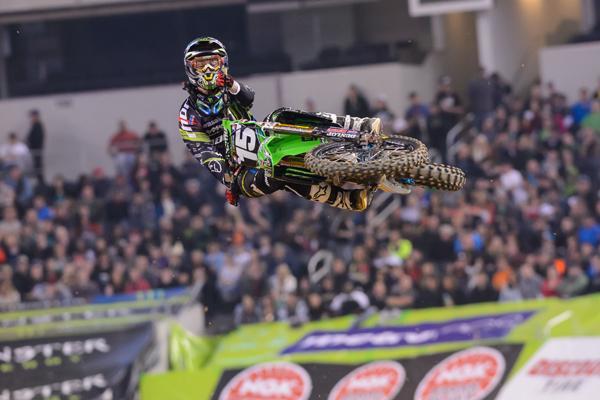 Dean Wilson picked up the first win for Monster Energy Pro Circuit Kawasaki in Dallas.
Simon Cudby photo
Wilson's three biggest obstacles to the title are a Frenchman, a media darling and a guy who's got some great hair. The Frenchman (Marvin Musquin) didn't have a great result; he fell in the first turn. The Media Darling (Wil Hahn) got a better start than Marvin but not nearly good enough, and he rode well to get a third. Blake Wharton (the other race winner in the class with two career wins, as well as the man with the great hair), had to go to the LCQ to get into the main. It did not start off well for Blake but he made the best of it with a second in the main.
Any one of these three could easily win a race (and I think Musquin and Hahn will) should Wilson crash or suffer from a lousy start, but to have a season where you first grab your first supercross win and then go on to win the title? That's a tall order. You know who hasn't been able to get their first career win and win the title in their first season? Ryan Villopoto, Grant Langston, James Stewart, Justin Barcia, Davi Millsaps, Jeremy McGrath, Damon Huffman, Tim Ferry, Ricky Carmichael etc, etc. It seems like you learn to win in one season, then learn how to win a title in the next one.
What a debut for Zach Bell of the GEICO Honda team as he:
1. Raced his first ever professional supercross race.
2. Led his first ever heat race.
3. Absolutely ate crap after separating from his bike and flying through the air like a superhero.
4. Somehow made it to the LCQ and got into the main event.
5. Crashed out in the main and afterward looked like he got beat up by Mike Tyson in 1985.
What a night for the kid! About the only thing he missed was getting to go to the moon. Something I'm sure he'll remember for years. We've all seen the crash by now and it's one of the worst ones I've ever seen, no doubt about it. Lots of Twitter and message board talk about Bell and if he should have been allowed to line up for the LCQ after appearing to be knocked out from his aerial antics. As a matter of fact, friends of mine like Chad Reed, Jason Thomas and Kyle Chisholm to name a few, all came down on me after I mentioned that Zach was checked out by the Asterisk medical crew and allowed to race. The people were angry man, almost like it was ME who made the call to send him back out there. Yes he did look like he was out cold but Bell himself said he wasn't. The docs at the SX races are some of the best, most caring guys out there and they said he was competent to race. That's good enough for me, to have, you know, the DOCTOR'S DOWN ON THE TRACK clear Bell to race. I'll take that opinion over the opinions of people watching on TV who think that he shouldn't have been allowed out there. To say that he shouldn't been out there implies that Doctor Bodnar and his staff are incompetent. I'm sorry but I'm not in a position to say that.
Some big news in the pits with the announcement that Andrew Short will be joining the BTOSports.com KTM team for the remainder of the season with a right of first refusal for 2014. Short's been on a production-based Honda since the Chaparral Honda team folded up, and has been doing pretty well. But with the Kranyak team no longer able to keep helping him out like they have been, Short's been trying to figure things out for the last few weeks. I know he badly wanted to stay on a Honda but the factory team wasn't able to take him on and this just in, racing is expensive, so Short had no choice but to get back on orange. It's nothing against the BTO guys or the KTM guys, but Andrew didn't have a great experience on the 350 a couple of years ago and he loves Hondas, so he was trying to make his own deal, or have Kranyak get some sponsors to keep going this season.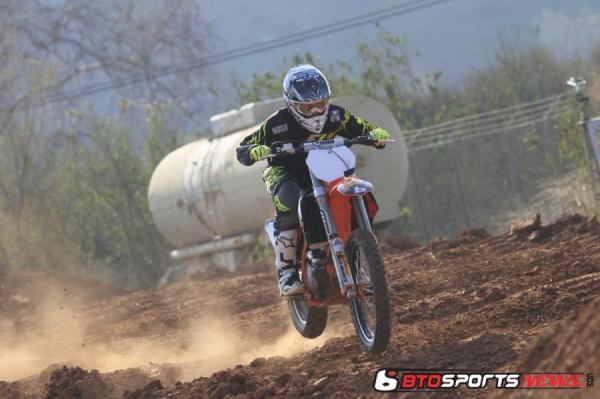 Andrew Short is back on the KTM.
BTOSports.com photo
But in talking to Short, it seems he was convinced to make the move after talking to DeCoster, who told Short how integral the factory guys are with the BTO program. Let's face it, the last time Short rode a KTM, he was testing the 450 that would eventually become Ryan Dungey's, and he broke both elbows in a huge crash. Not a good feeling. But anyone can see now that that 450 is a good machine now, and the guys at KTM have worked hard to make it just as good, or better, than any other bike out there.  Short's going to get a salary, expenses paid, a factory KTM, some good bonuses and he gets to keep all the sponsors he has now. You wait and see, the amount of stress that will have lifted off Andrew will help his results out on the track, and they're already pretty good.
Once Michael Byrne gets back racing (at least another month or so the BTOSports.com team will be pretty awesome with Short, Goerke and Byrner. What a smart move by the team, by Andrew and by KTM to make this happen. I still liked the team better when they had Jason Thomas and Doug DeHaan, though.
Let's check the results:
250SX
1. Dean Wilson Wesley Chapel, FL Kawasaki KX 250F
2. Blake Wharton Pilot Point, TX Suzuki RM-Z250- I love Wharton's podium speeches. He turns going to the LCQ into a good thing by saying it's just more track time. When the moto gods give you lemons, make lemonade, man.
3. William Hahn Decatur, TX Honda CRF 250- Wilbur told me after the race that he knows he's got to make this title happen, hence the aggressive move in the heat race. And after the race he was carrying a bag that looked like he was either going to the beach or he was 70 years old.
4. Kyle Peters Greensboro, NC Honda CRF 250- What a ride by the AG Motorsports rider! Great result for Peters in a career best supercross finish for the kid that was on Star last year. In my opinion, they gave up on him too soon. Scroll down a bit to last summer's OBS from Redbud HERE and you can see how Peters stacked up against fellow one and done Star riders like Wil Hahn, Darryn Durham and Rockstar Energy Racing's Jason Anderson, who was given time to find himself as a pro. Peters came into last year with an injury suffered two days before the first race, then got hurt in the summer and that was it, he was dropped by Star. So it had to be nice for him to get this finish and see Star's newest "Kyle Peters," Jeremy Martin, not even qualify. Will he keep these kind of finishes up? Probably not but don't sleep on this kid, he's got some skills. And hey kids out there, if you get dropped from Star, it doesn't appear to be a death sentence at all.
5. Justin Hill Yoncalla, OR Kawasaki KX 250F- Hill's first ever supercross race and his first race in a while. The younger brother of Josh did pretty well, all things considered.
6. Marvin Musquin Corona, CA KTM 250 SX-F – Last to sixth wasn't what "Moving" Marvin "The Martian" Musquin wanted but it was a nice salvage job as he nipped Gavin Faith on the last lap. Musquin's going to win a race this year, stamp it. But this sixth does hurt, no doubt about it.
7. Gavin Faith Fort Dodge, IA Honda CRF 250- Another guy we called a sleeper this year in our 250SX East preview podcast, Faith came out and won the heat over Musquin and Hahn. Yeah, you read that right. He didn't get a good start in the main but he still rode very well. Faith looked very, very good.
8. James Decotis Peabody, MA Honda CRF 250- Something tells me that Decotis and Cole Thompson will be battling it out each week as fastest full privateers in the main event.
9. Vince Friese Cape Girardeau, MO Honda CRF 250- Friese showed good speed all day, which isn't a surprise; he rode well on the 450 on the West Coast. He'll be better than this result showed.
10. Lance Vincent Youngsville, LA KTM 250 SX-F- Lance started up front in the main and was fifth for five laps so this finish (I don't think he crashed) isn't what he wanted. As a "veteran" in the class (this is his third year) he's got to be better, and I'm sure he knows that.
11. Jackson Richardson Cairns, Australia Honda CRF 250
12. Mitchell Oldenburg Fridley, MN Honda CRF 250
13. Gareth Swanepoel Murrieta, CA Kawasaki KX 250F- Swanie was incognito this weekend as I never really noticed him one way or another. He's better than a thirteenth. I'm not sure what happened to him.
14. Levi Kilbarger Logan, OH Honda CRF 250
15. Adam Gulley Jonesburg, MO Kawasaki KX 250F- Adam Gulley has a twin brother named Aaron and they both wear their gear while they're walking the track. That's about all I know about them. I wonder if you spray chain lube on one, does the other get wet?
16. Ryan Zimmer Fuquay Varina, NC Honda CRF 250
17. Cole Thompson Brigden, Canada Honda CRF 250- Whoa Canada! Cole Thompson, who is Canada's great hope in supercross, is back on a privateer Honda and looking good, although you wouldn't know it from this result. Thompson was third for a couple of laps when the only jump on the track that was sketchy bit him and he cartwheeled badly. Hence the DNF. Still, he's ok and he showed that he can be a top five guy each week.
18. Zachary Bell Tallahassee FL Honda CRF 250- I'd be in tears also if my life flashed before my eyes. Because then I'd see how bad my life really is.
19. Bradley Ripple Cypress, TX KTM 250 SX-F
20. Jesse Wentland Elk River, MN KTM 250 SX-F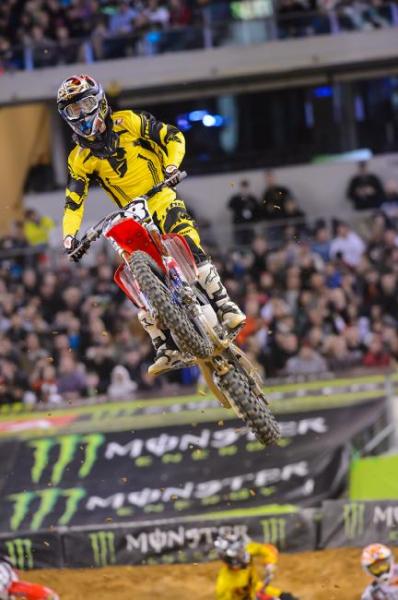 Cole Thompson had a career night going before a crash knocked him out of the race.
Simon Cudby photo
450SX
1. Ryan Villopoto Poulsbo, WA Kawasaki KX 450
2. David Millsaps Murrieta, CA Suzuki RM-Z450
3. Ryan Dungey Belle Plaine, MN KTM 450 SX-F- Yeah look at Dungey setting Reed up and making a hard semi-aggressive pass on the 22. I like it! We've always been waiting for Dungey to ride with a bit of an edge (unless you're Jake Weimer as he has no problem being agro with Jake) and he showed it in Dallas. Good ride for the #5.
4. Chad Reed Dade City, FL Honda CRF 450- Not a good race for Chad as he goes from second to fourth in the main. After the race he met with his team and then the media with his hood up, looking and sounding depressed. He'll be fine going into Atlanta, St Louis and Daytona, you watch. It does seem though that for every step forward he takes to where we think he's ready to win, he takes a step back the next week.
5. Justin Brayton Cornelius, NC Yamaha- Brayton's been very good but very quiet out there. Can he get a bad start and rip through the pack into the top five? Probably not but then again there aren't that many that can. But if he starts up front, he can finish there. Next time you're at a race, watch the #10, he's pretty good.
6. Justin Barcia Pinetta, FL Honda CRF 450- I don't like the A-Stars gear that Bam Bam's been wearing. What happened to the designer over there? The stuff Alessi and Musquin used to wear was sweet.
7. Trey Canard Shawnee, OK Honda CRF 450- A few quiet weeks for Canard, but that's okay. Yeah, he maybe set us all up for wins and podiums in the first couple of weeks but if you'd have told him before the season that he'd be fourth in the points with some podiums after seven races, he and his fans would take it all day long.
8. Matthew Goerke Lake Helen, FL KTM 450 SX-F- I was talking to Ian Harrison, the long-time motor guy at Suzuki and now at KTM. As far as bikes go, the only difference between Ryan Dungey's motor and Goerke's is that except for some titanium and a different right side cover where the kickstart hole is gone, there's nothing different. The KTM factory guys are heavily involved with the BTOSports.com KTM team and it's been showing as Matt is now a solid top ten, and if things go his way, perhaps a top five rider. I'm super impressed with Matt but my buddy Jason Thomas has always said that Matt has had this type of talent buried in him, but he's just been hurt too much.
9. Andrew Short Smithville, TX Honda CRF 450
10 20 Broc Tickle Holly, MI Suzuki RM-Z450-Tickle felt that Short's pass on him last week was a bit out of line (I didn't see it) and had some words with Andrew after practice about it. So needless to say when I saw Tickle all over Short like flies on meat during the last couple of laps, I was watching to see if Tickle could get some frontier justice on the #29. Alas, he could not, but it was exciting.
11. Weston Peick Wildomar, CA Suzuki RM-Z450
12. Mike Alessi Hilliard, FL Suzuki RM-Z450- Not a good race for the 800 as he went backward in the main event. Not sure what was up, but did I expect him to stay in fifth? No, but going back to twelfth without crashing seems a little weird.
13. Jimmy Albertson Shawnee, OK Honda CRF 450- I watched with curiosity as Trey Canard reeled in his buddy Albertson in the main event. I knew that with the track being what it was, it was going to take an aggressive move to get Jimmy out the way. And seeing as how these two are best of friends, I wanted to see what would happen. But, using the skill of a surgeon, Canard took Jimmy wide in a left-hander without ever touching him. Albertson was top ten for a while but he had two bad laps in a row, got passed by some dudes and thirteenth is the best he could do. Still, he's a ton better than he was last year on the BTOSports.com Suzuki squad.
14. Robert Kiniry Holland Patent, NY Yamaha YZ450F- Having Kiniry in X Brand goggles (whom I do some race service for) has allowed me to watch Bobby a little more closely this year. Everyone knows I'm a fan of the guy. He epitomizes effort and gnarliness out on the track. Having said that, I'm surprised at how close he comes to wadding himself on almost every lap. Let's just say that technically he's not the best supercrosser around. He uses strength and balls to be as fast as he is.
15. Joshua Hill Yoncalla, OR Suzuki RM-Z450
16. Ben LaMay Wasilla, Alaska Yamaha YZ450F- Two in a row for LaMay. This is what I was saying last week; he needs to get a few of these under his belt so he can build on this.
17. Justin Sipes Flaherty, KY Kawasaki KX 450F- Pooh Sipes is back! After recovering from injuries he suffered last year, Ryan Sipes' brother showed up on a privateer Kawasaki with pops wrenching and used Phil Nicoletti having Phil Nicoletti luck (two turns from qualifying for his first main he was blasted off the track by Goerke) to get into the main.
18. Kyle Partridge Lake Elsinore, CA Honda CRF 450- Partridge switched teams and bikes for this race and is now on a Honda. He looked pretty good in getting to the main but once in the main, he's got to work on getting near that top ten.
19. Chris Blose Phoenix, AZ Yamaha YZ450F – Blose has had crashes and bike problems in just about every main he has been in. Bummer, we haven't been able to see his best riding yet.
20. James Stewart Haines City, FL Suzuki RM-Z450- I now not only do not like Stewart's knee, I also don't like his clutch.
Some quick hits and as usual, these are dedicated to Tom McGovern:
- The JS7 Seven gear this weekend was pretty cool as it was dedicated to Michael Jordan, who celebrated his fiftieth birthday this past weekend. The Jumpman turning fifty is yet another indication that I'm getting old (as is Kevin Windham, who is holding a mic and not a set of bars at the races). Seven collaborated with Nike to make some North Carolina Alma Mater color stuff. It looked sharp and after all, who doesn't like blue boots?
- Found out that in 2014 the Yamaha YZ250F is finally getting a huge makeover. My sources say it will have the backwards motor like the current 450, a new frame, they'll drop a valve to make it a four-valve head and it'll have sleeker/slimmer shrouds and tank like the 2014 450F. Nice to see Yamaha moving into the modern era on the small bike.
- Related to that note is that there weren't any Yamaha's in the 250SX main event, with Star Racing's Jeremy Martin (who qualified third fastest) not making it. In fact there were only TWO Yamaha riders in the entire pack of forty night-show qualifiers. Yes, you read that right. I've applauded Yamaha in the past for raising their contingency for 2013 but clearly they have some work to do to get pro racers on their machines in the 250 class. Maybe that new 2014 will help.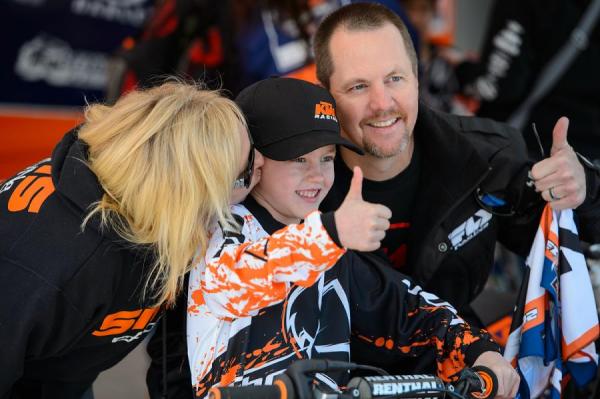 The KTM KJSC was back for the second time this year.
Simon Cudby photo
-  So yeah, the latest thing is tire warmers. We're turning into road racing more and more. The Honda guys were the first ones to do it and now Kawasaki is following suit. Some of the riders swear that if you put the Dunlop through a heat cycle it responds better on the opening laps of a race. Unlike road racing, tire warmers don't have to be removed right before the race, the tire just needs to go through a heat cycle. Yep, we're there folks.
- The KTM KJSC was back this week and like the first week, it was a hit. I know that KTM pays Feld to put this show on at halftime but to me, Feld should pay KTM, as it's so so so so so much better than a fat suit run, a Tuff Block challenge or whatever else that has been there the last few years. I forgot about the KJSC all those years that it was on the tour and I suppose, like Cinderella sung in 1989, you don't know what you got 'till it's gone. This weekend in Atlanta sees the debut of one Evan Ferry, and we're ALL very excited for this in the Matthes household, as another Ferry begins his supercross domination.
- With the Andrew Short to BTO KTM news, it appears that the wayward Kranyak Racing team is officially closing up shop. So just add a whole bunch of highly skilled guys to the pile of the other highly skilled guys from Chaparral Honda and JDR J-Star KTM that are all looking for jobs in the industry. Tough deal for those guys and I admire Mike Kranyak for going as long as he did with no real goal in mind. But in the end, these guys are out of gigs a quarter way into the season and it's going to be tough to land decent jobs. Good luck to them.
- When I was working for Tim Ferry we used to talk about how MX fans just move on right away when a guy retires. For examples, look at Larry Ward and Ezra Lusk- two dudes that caused entire stadiums to freak out (Ward-Seattle, Lusk-Atlanta) retired and no one seemed to miss them much. I guess because there's no jersey raising or anything like that. Anyway, now that Ferry is retired he said he knows why no one cares about the old guys. He told me he has not returned Motocross Action's Jon Basher's two calls to him. And when I asked him why, he said, "I don't know". So next time you're wondering why your old MX hero doesn't get much press, just think about the fact that perhaps your old mx hero just wants to be left alone.
Thanks for reading and shoot me an email at matthes@racerxonline.com if you want to chat about Dallas, Tim Ferry, basset hounds or really anything at all.