AT&T Stadium
Arlington

,

TX
Dallas
Monster Energy AMA Supercross Championship
The series may have packed its bags and headed out east, but the track conditions—and layout in some regards—tagged along for the ride from San Diego to Arlington. By the time the night show rolled around, the soil was so hard it made concrete feel soft. Dallas is usually hard packed, but last year's track was a little bit softer than this year's. All of the riders had to deal with the lack of traction and one-lined corners, but an unlucky few had to experience how firm the racing surface was the hard way.
Most notably, Zach Bell's debut supercross heat race ended with a red flag after he lost control on the face of a triple while leading. Surprisingly, he got up under his own power and was able to line up for the LCQ after passing two concussion tests. We saw him after the race and he remembered the entire incident and says he was not knocked out. His wrists and hands where hurting though. In that LCQ, Blake Wharton—who failed to qualify after spinning out one turn before the checkered flag in his heat—led Bell en route to the main, securing the last two transfer spots. Rookie Jeremy Martin was unable to qualify through the LCQ after getting a poor jump on the start.
Bell's wild ride continued in the main, where he had a DNF resulting crash at the end of the rhythm section following the whoops. Almost simultaneously, Cole Thompson was ejected over his bars at the end of a different rhythm section while running towards the front of the pack. Thompson did half of a front flip and landed directly on his back into the face of a landing. It was an awful crash, but after collecting himself for a moment, he too walked off under his own power. The track may have been close to concrete, but these 250 riders must be made of rubber. Bell was spotted at the end of the night sporting a bruised eye and a few wrapped up fingers—banged up but not broken.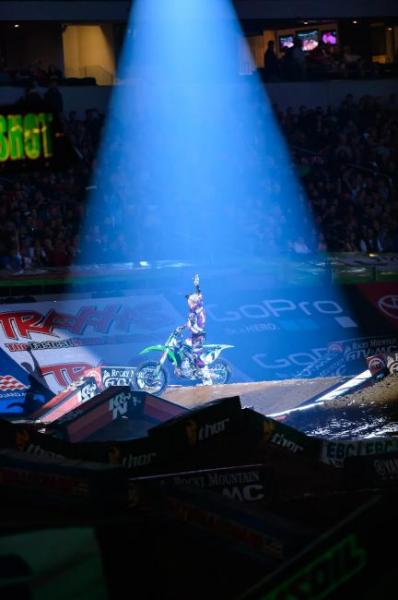 Not even a visit from a UFO could stop Villopoto on this night.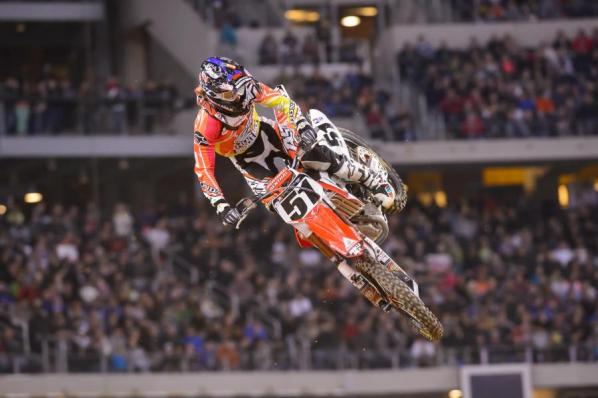 Barcia crashed in his heat and had to make the main via an LCQ win. He blew the start in the main and finished sixth.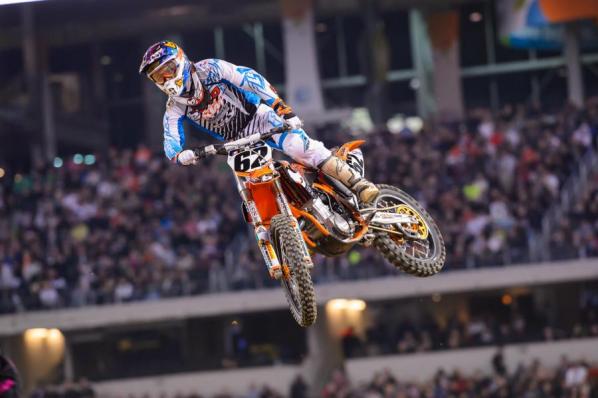 Another top ten for Matt "Beef" Goerke. You can pretty much lock that in every week.
Cudby photos
Dean Wilson and Wharton had excellent main event rides up front, but Marvin Musquin's ride from last to sixth place through traffic was impressive. The Frenchman went down in the first turn and made the most out of a track with limited passing options. Wilson will be tough to beat outright in the series—as he proved by dominating the opening round—but efforts like this will keep Musquin's title chances alive.
Another set of top tens from Andrew Short and Matt Goerke. And now they're teammates! The big news from the pits is Andrew Short moving to the BTOSports.com KTM team starting next weekend in Atlanta. The team Short rode for the last few weeks, Kranyak Racing, is not going to make the rest of the races this year.
Much like the 450 racing from last weekend, one rider grabbed an early lead, took advantage of the single-lined track and checked out. This time it was Ryan Villopoto who used the fast and limited track to his advantage, while Millsaps, Reed and Dungey battled for runner-up position behind the defending champ. Villopoto was able to gain more time on the trio as they continued to battle each other. In fact, Justin Barcia appeared to have enough momentum to possibly make a charge up to that group after clearing mid-pack traffic from a poor start. He caught Justin Brayton—who was in fifth place—and trailed him for a few laps, and then the Barcia/Brayton dup started to close on the Reed/Dungey/Millsaps trio. But a couple mistakes by Barcia took the wind out of his sails and he finished out the race in sixth. Brayton hung on for fifth.
Meanwhile, Dungey—who was in fourth for quite a ways—bumped up his level of speed and aggression during the closing laps. He checked Reed up a little bit in a corner to move into third. He set his sights on Millsaps, but it was too late in the race for Dungey to make it happen.
Millsaps keeps digging deep. He told us he was sick all week, didn't ride, and could barely breathe through the second half of the main event. But he held strong under Dungey's pressure down the stretch.
Dungey said he didn't change a single setting on his bike all day, which is the first time he has ever done that in his 450SX career. He likes his bike that much right now.
So, Reed, Dungey and Millsaps were very close on speed, while Villopoto was able to edge away. What does that mean? It means Millsaps is still increasing his points lead, but Villopoto hopes to keep the ball rolling and slowly chip away at that gap—consistency is the game at this point. And with the tracks turning out so simple lately, and the lead pack trying to push the edge to find an advantage, minimizing the mistakes is the most critical part of the game right now.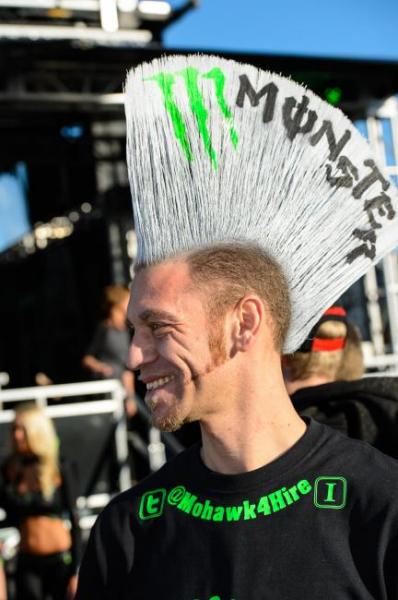 Even the mohawks are bigger in Texas!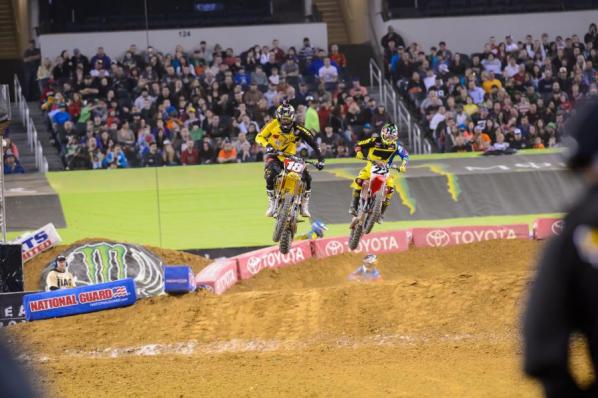 The Reed and Millsaps battle early in the 450 main was darned good.
Cudby photos