AT&T Stadium
Arlington

,

TX
Dallas
Monster Energy AMA Supercross Championship
Welcome to Racerhead, another one from the road. This time it's the Indianapolis Trade Show, a longtime stop on the motorcycle industry circuit for many. This is where folks introduce new products to dealers, network, and bench-race. But as a magazine guy, it's mostly just bench-racing, fueled by cocktails. The
Racer X
display this year is actually dedicated to bench-racing and beer-drinking: we're having an indoor tailgate party, minus the actual tailgate. We've got some lawn chairs, Tuff Blox, coolers, and a whole bunch of issues of the brand new
Racer X Illustrated
, featuring Monster Energy Supercross points leader Davi Millsaps.... Wow, still seems weird to write that, even though Millsaps is no longer just a surprise winner and now a bona fide frontrunner on this tour. Our work here will culminate in the
Racer X
viewing party tomorrow night for the Dallas Supercross, which will once again air live on SPEED (thank you, Feld Motor Sports!). If you're here at the show, you're invited—it's free and and it's inside the convention center. Follow the trail of empty Pabst Blue Ribbon cans and you should find us.
Down in Texas, at the remarkable Cowboys Stadium, the "second season" of supercross begins in both classes. The 250SX East Region kicks off with four obvious favorites: former Lucas Oil 250 Motocross Champion Dean Wilson, Red Bull KTM's Marvin Musquin, Millsaps' Rockstar teammate Blake Wharton, and GEICO Honda's Wil Hahn. Those guys are all seasoned in this class, though only Wilson and Wharton have wins to their credit. I'm anxious to see all four of these guys, as they are healthy and ready to go, though I don't think anyone of them will holeshot. Those honors will almost certainly go to SX debutant Zach Bell of the GEICO Honda team, if he can keep it up on both wheels long enough to get to the main event starting line.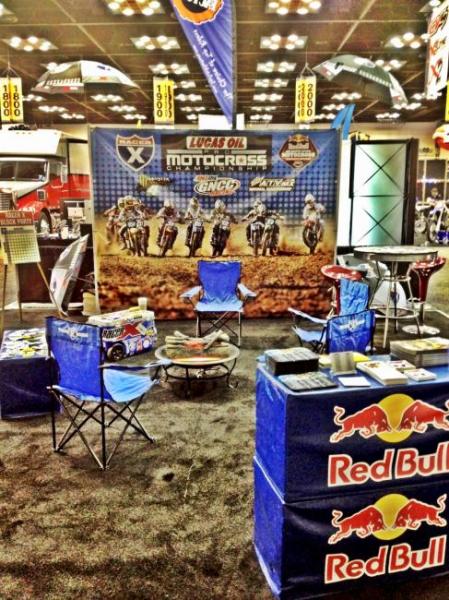 The Racer X booth at the Indy Trade Show.
Unfortunately, there's some top talent that will be watching, and I don't just mean the West Region guys. Darryn Durham, who won a round last year, plus Nico Izzi, Alex Martin, and Justin Bogle are all top-shelf 250-class riders who are injured and won't be starting their 2013 seasons this week. In a related note, I'm hearing that both Eli Tomac and Ryan Sipes will soon be joining the 450 class, making it even more stacked!
As far as the regular 450 class goes, it's like a new season as well: the "California season" is finally over after six excellent races (one of which was in Phoenix). As I mentioned above, Millsaps still holds the red plate, and he's done an amazing job of managing this series so far. He takes wins when he can get them, though he's also just as satisfied with a second or third if that's what the night holds for him. Davi has been on the podium all but once, which is another remarkable thing to write about when it comes to this veteran. But behind him there's a logjam of men who will no doubt use this reset race as a chance to get moving again. Chad Reed had an straight shot at his first win last week, only to trip in a banked turn. Ryan Villopoto has got to figure his starts and crashing out. Trey Canard and James Stewart are, like Reed, due for a win. And Justin Barcia has already proven he can win in this class. Tomorrow night should be an excellent race!
Before we get into the roundup, I want to wish my longtime friend Ryan Hughes a speedy recovery from a frightening crash earlier this week. Ryno, a Team USA hero, cracked some vertebrae while riding in California. Fortunately, he was able to report on Twitter, "Extremities are all moving with feeling !! That was the scariest thing ever ! Thank you for all your love out there - that was my last ride."
Get well soon, Ryno.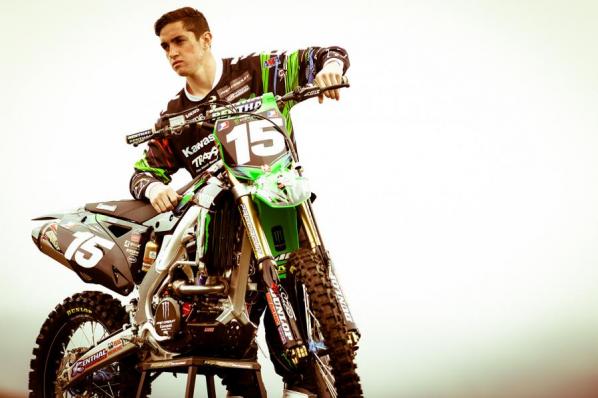 Dean Wilson and the rest of the East Region will be in action tomorrow in Dallas.
Jeff Kardas photo
HOW TO WATCH (Chase Stallo)
Round 7 of Monster Energy Supercross can be seen LIVE on SPEED Saturday with coverage beginning at 8:30 Eastern. The Racer X crew will be bringing you live updates and play-by-play action all day and night so be sure to follow us on Instagram and Twitter (@racerxonline) and as always check out RacerXonline.com for updates from practice and the race.
THE NUMBER – 71 (Aaron Hansel)
We think of Monster Energy Supercross as an American series, and except for one Canadian round, it is. But that hasn't stopped the world's fastest racers from coming here to test their mettle in supercross (as well as Lucas Oil Motocross), thus transforming this American series into a true international affair. Many of them have had some great results, too, namely in the regional supercross classes. In fact, if you were to total up the number of victories that have been taken by foreign riders in the 250SX class since Mickael Pichon got the import party going at the San Diego Supercross in 1993, you'd end up with this week's number: 71.
With thirty-three wins, the French Legion consisting of Pichon, David Vuillemin, Stephane Roncada, and Christophe Pourcel has far more victories than any other foreign nation, and with a healthy Marvin Musquin set to line up in Cowboys Stadium this weekend, expect that number to get even higher by season's end. Although the Frenchman wasn't able to take home a victory in the Western Regional 250SX series last year, he did nab four podiums (three of them second-place finishes) en route to third overall in the points, despite a DNF in Dodger Stadium. That's pretty good for his first attempt at this crazy-tough sport we call supercross, and now that he's got a full season of stadium experience under his belt, expect him to be a fierce competitor.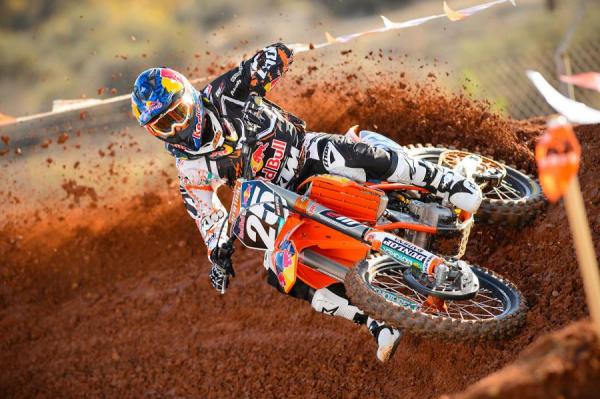 Marvin Musquin hopes to join his French counterparts with a win in 2013.
Simon Cudby photo
Speaking of foreign riders in this year's Eastern Regional 250SX class, Dean Wilson is also sure to add to the number 71, perhaps as early as tomorrow night. With five wins to his credit, Wilson's Scotland (yep, he's a Scotsman, not Canuck. Sorry, Matthes) isn't anywhere near France's powerhouse status, but it gets them on the list of other countries with multiple wins.
Come to think of it, with both Musquin and Wilson in that class, there's a chance we may not see a single American victory in the East this year. Come Vegas, how high will this week's number have climbed? To the high seventies? Perhaps even the eighties? We'll have to wait and see, but one thing's for certain, the number 71 won't last long.
Here's a side note: Now that Ken Roczen has four wins in his career, that gives Germany a total of four 250SX main-event victories—believe it or not, twice as many as Texas! Rockstar Energy's Blake Wharton is the only Texan to ever win a supercross main in this class, and he could very easily make it three—and a first for #13—tomorrow night.
SEASON UPDATE (Jason Weigandt)
Lots of talk this year about whether we've entered a new era of supercross or not (also lots of talk about "game changing," easily the hottest new term in the pits—move over, epic!). We've seen some of the old guard step away (Kevin Windham) and new kids come in with immediate success (Justin Barcia). Old favorites Chad Reed and James Stewart haven't quite had the seasons they want, and a rider who straddles both the new and the old groups (Millsaps) is leading the way. But the real changeover doesn't have anything to do with names or where they finish—it's the general closeness in speed of the top riders.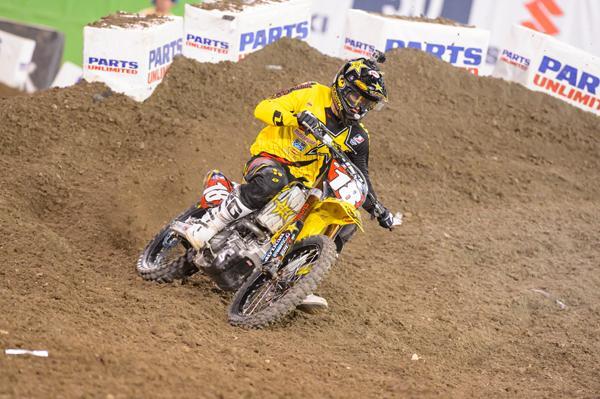 Davi Millsaps holds a 19-point lead in 450SX as the series heads east.
Simon Cudby photo
Only once in six main events has a rider really come through the pack to get the W (Ryan Villopoto went from sixth to first in about two laps at A2). Starts are more critical than ever, and it's no coincidence that the points leader (Millsaps) has also been the best starter. It's also no coincidence that Ryan Dungey's season went from bad to good as soon as he pulled a start at Anaheim 3. No coincidence that James Stewart's results and starts are a mirror image (both subpar for him). No surprise, really, that Chad Reed was at the helm of two early-race crashes this year, because the veteran knows that you have to go for it on the first lap if an opening is there.
But this is not as new as you might think. The 2011 season was also chock full of unpredictability and excitement, and that season also saw starts mix up the results. That year's "Big Five" (Villopoto, Reed, Dungey, Stewart, Trey Canard) would often finish where they started because they were so close on pace.
It led to unpredictable racing. The 2012 season was set for the same with four winners in four rounds, until injuries ruined it. Now 2013 is the same—no one, sans possibly the defending champ, can overcome a sub top-five start to win the race. And with starts very often random, this almost guarantees a randomness to the results. Remember the days when an elite group of two or three riders had the speed to finish on the podium no matter what? This year, it's at least seven deep (and last week, Justin Brayton made a case as another rider who can hang) and no one can overcome anything.
And maybe that's Millsaps' other big advantage. He gets the start, but he only takes what he can get. Davi has said several times already this year that if he gets passed, he gets passed. He's just doing his laps and accepting whatever finish he gets. Notice that he hasn't been on the ground in a main event this year—in a season where speed is pretty much equal across the board, staying up could be the deciding factor.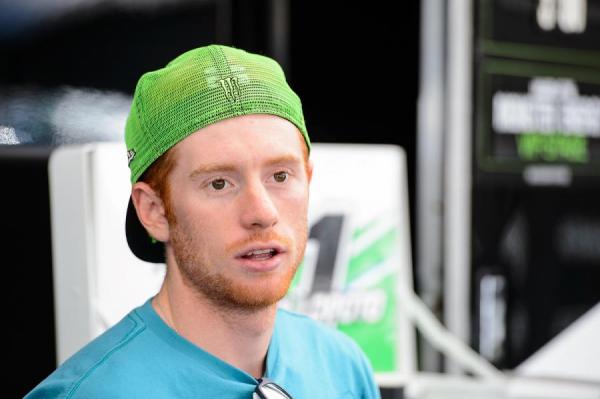 Ryan Villopoto hopes to put a dent in Millsaps' lead this weekend.
Simon Cudby photo
RacerTV (DC)
Something we've been working on here with our sister company Racer Production is a new online network to watch motorcycling racing activities.
RacerTV.com
will host the 2013 AMSOIL GNCC Series streaming live as well as big amateur races all over the country (and maybe even Canada). It's a chance to bring together race coverage in one free platform. Stay tuned for much more in the coming weeks. You can view coverage now of the 2012 GNCC Championship as well as the recent CMC Golden State Series on
RacerTV.com
.
PRO PERSPECTIVE – Going East (Jason Thomas and Ping)
JT: Go east, young man. While not exactly how history wrote it, this advice rings true at least for this week. After six tumultuous 250 rounds, the West riders now get a two-month break before they resume in bound-to-be-soggy Seattle. The East Coast guys, on the other hand, are floating their valves at this point. With the same-length off-season, these first six weeks have been an excruciating wait. Most of the East Coast is made up of rookies and youngsters, so look for highly volatile results after the first five guys or so.
With half of the "elite" 250 East riders still injured (Durham, Bogle, Izzi, Martin), there is a HUGE opportunity for guys like Vince Friese, Gavin Faith, Jeremy Martin (Alex's little brother), Zach Bell, Cole Thompson, and maybe even a complete unknown to jump in and make a name for himself. I can't remember a better chance to score a top-ten and really get sponsors that valuable TV time, though like DC, I look for Wilson, Musquin, Hahn, and Wharton to be the dominant four until those injured thoroughbreds return. If everyone can stay healthy, the full roster will be an awesome battle for the podium. Hopefully some of the young upstarts can prove me wrong and enter the mix now. Either way I am excited for the East to get going!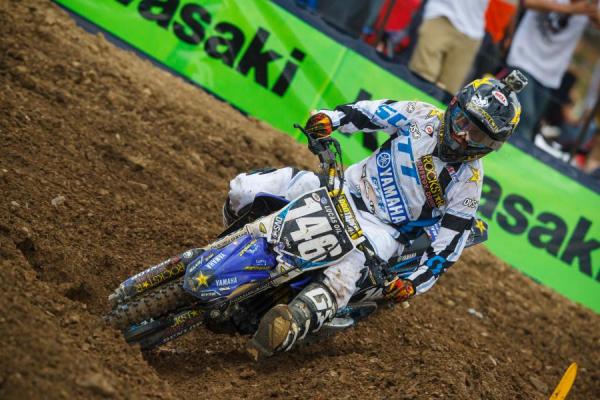 Jeremy Martin is looking to make a splash in his SX debut Saturday.
Simon Cudby photo
As for the West guys, after the first three rounds, would anyone have guessed Roczen would be in the driver's seat and Tomac would be the one hoping for a mistake? It was a tale of two halves as Tomac completely dominated in the first three while Roczen has been arguably the best rider in the second three races. Tomac bounced back last weekend taking the win in San Diego but Kenny was champing at the bit as the checkers flew. Eli will now jump to the 450 starting next week, and I honestly expect him to immediately be right in the mix. If he grabs podiums right away, I will not be shocked whatsoever. Remember, this is the guy who won his first pro race, back at Hangtown in 2010, so he's already proven he can hit the ground running.
Roczen, on the other hand, is going to get some valuable outdoor testing and training done and try to protect that lead when the series swings back west. It's a two-horse race now as the stretch run begins in late April.
Ping: Ken Roczen is in the drivers seat out west. If he can stay out of trouble he is going to win his first championship in America and there isn't much Eli Tomac can do right now to stop that. But I think Eli has his eyes set on the horizon. His 450 supercross experiment will give him some track time in the premier class, a commodity for a guy who plans on being there full-time next year. And like JT says, I wouldn't be surprised at all to see him joining the lead group right away.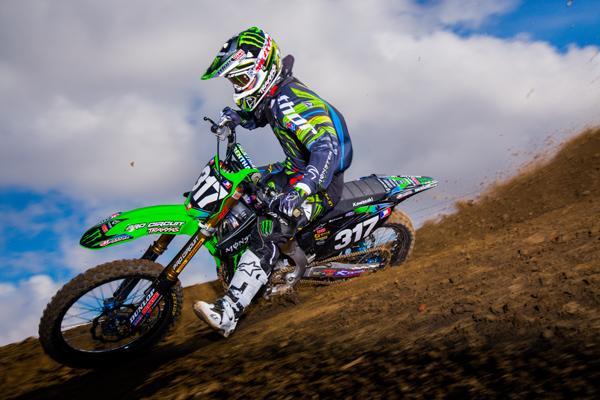 Justin Hill will make his pro debut in Dallas.
Jeff Kardas photo
The eastern region is looking like a two-man battle. Based on wins and titles alone you have to give the nod to Wilson as the favorite but Marvin has skills for days. Don't discount his ability. The dark horse back here, in my opinion, is Wil Hahn. Wilbur has been ready to deliver for two years and has been derailed by injury each time. If he continues to pull holeshots on the reg and keeps it on two wheels he might be the "other guy" in the east coast mix. There are a handful of great riders injured, which will open the door for some privateers and lesser known riders to break through this season. I'm anxious to see how Justin Hill performs. He's been under the radar but I'm sure Mitch and the crew have him working hard to be ready. Blake Wharton is another rider I hope to see do well. Blake has winning speed he just needs some starts and some luck. The east opener is alwasy exciting because it's like the season is starting over. Be sure to watch this Saturday.
LEGAL WATCH (DC)
One of the most basic of our civil rights in this country is the right to peace and quiet, and that's made for plenty of legal problems for motocross track owners and people hoping to use public land to ride their motorcycles. As we reported last week in Breaking News, that right to not be bothered by other folks' noise has become a big obstacle for Chad Reed down at his home near Dade City, Florida, which boasts MX and SX tracks, plus a carting circuit. He's been there since 2004, but he's now got a few neighbors up in arms because they claim the noise has grown over the years as the tracks have expanded, and now they can hear "the squeaking wheels of the carts." (Thank goodness there was no mention of his four-stroke race bikes....)
It's also become quite heated, as local commissioners have taken up the neighbors' cause and have begun to target Reed. "He's an absolute, arrogant, unashamed scofflaw," attorney Charles Burr said of Reed, according to the Tampa Bay Times. He represents Bud and Jacque Klein, who live near the track.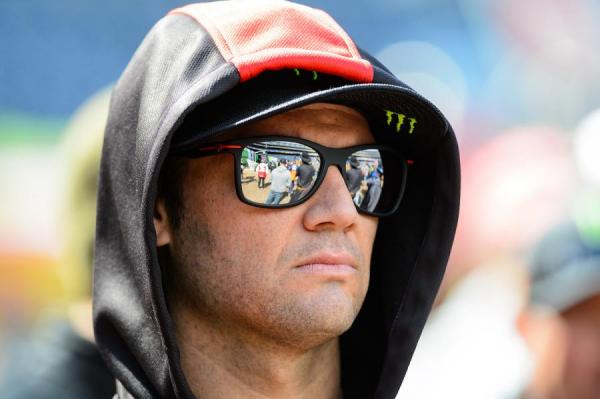 Reed is coming under fire over noise complaints at his house in Florida.
Simon Cudby photo
"I'm so angry," added Commissioner Pat Mulieri. "What they're doing is smacking us in the face."
We're guessing that Reed isn't doing anything different with his track other than riding more—he's been doing both SX and MX since 2009, as well as karting. We're also guessing there's a local election coming up and a popular and busy motorcycle racer makes an easier target for local politicians.
Not sure how it's going to end, but here's hoping Chad can hold the line and make peace (and maybe a little more quiet) with Bud and Jacque.
The interesting thing is, it really is more about the additional noise of the karts for these neighbors than the motorcycles. "He asked to practice his motocross," Mulieri said in the newspaper. "Nothing was said about go-carts. Now the guideline is if you want a continuance, stop go-carts or I'm not voting for a continuance."
DOES ANYBODY HERE REMEMBER.... (DC)
When you work at a motocross company, bench racing happens often. Someone will stumble across an old photo or newspaper or sticker or trading card and say, "Does anybody here remember [fill in the bank]?" Most of the time someone else here or in our small circle of tuned-in bench-racing friends like Eric Johnson, Nick McCabe, Paul Buckley, the Ritchies, the Davis brothers, etc., will come up with a tidbit about that all-but-forgotten moment in moto history, and then we move on.
But what happens when no one really recalls? That was the case this week when Nick McCabe sent over a couple of links to mentions in The Vault of some past 125 SX guys like Illinois' Kenneth Bollmeier (second in the 125 main at the '87 Miami 125 SX, between Keith Turpin and Ron Tichenor) and Minnesota's Bruce Gates (third in the '87 Pontiac 125 SX) and even a guy from New Jersey named Peter Hichens who was second in that year's 125 SX at the Meadowlands in New Jersey. Personally, I was in college at the time and didn't get to nearly as many pro races as I did before I went to school, let alone now, so these names don't register much...
So we're asking our readers for help: Does anybody here remember podium finishers Ken Bollmeier, Bruce Gates, or Peter Hichens? Because other than a few mentions in Cycle News and these listings in The Vault, we're drawing blanks!
http://vault.racerxonline.com/1987-02-21/125esx/the-orange-bowl
http://vault.racerxonline.com/1987-06-07/125esx/giants-stadium
http://vault.racerxonline.com/1987-02-21/125esx/the-orange-bowl
(And I already found something on Bruce Gates—he's in the unofficial Minnesota Motorcycle Hall of Fame, according to MXBob.com. And we found this on a New Jersey site.)
IN THE MAG - "The Last Factory Team"
With a crew of accomplished technicians and managers and a diverse roster of championship-caliber riders, Red Bull KTM is a throwback to the factory teams of a bygone era. Read more about how the squad was put together and how the pieces fell into place in this feature written by Aaron Hansel starting on page 184 in the April issue of Racer X Illustrated.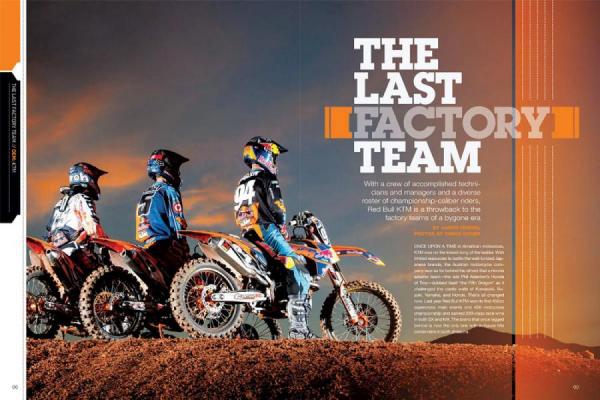 INDOOR CLASSIC (DC)
The roots of arenacross go back to maybe 1967-'68, when dirt track races were held inside the famous Madison Square Garden in New York City, as well as the brand new Houston Astrodome. There were also races in Russia back in the fifties inside giant sports stadium, complete with over-under jumps made of wood. Even Miami held a stadium motocross race back in 1964, on the infield of what was the old Orange Bowl, complete with a couple of wooden jumps.
But in my own lifetime, the first indoor race I ever remember attending was Motorama, held inside Farm Show Arena in Harrisburg, Pennsylvania. The race was the first true arenacross I can remember, and it's been running since the mid-seventies. Never part of the old PJ1 National Arenacross Series developed by Mike Kidd, or the current AMSOIL Arenacross tour, the race is nevertheless a right of passage in the Northeast. Like that other well-known tradition known as Punxsutawney Phil, the groundhog (prairie dog, for you out-westerners) that supposably predicts whether or not we're going to see more winter or an early spring, the Motorama is the sign that spring is coming for racers all over this area. Here's a preview of the event, written by Glen Hoffman of the Harrisburg (Motocross) Examiner.
RCSX (Chase Stallo)
The 4th Annual Monster Energy Ricky Carmichael Daytona Amateur Supercross (RCSX) at Daytona International Speedway is on the horizon. The event, which takes place March 10 and 11, offers amateurs an opportunity to ride on the most prestigious motorsports grounds in America—Daytona International Speedway. MX Sports event director Tim Cotter announced today that RCSX now has contingency from all six OEMs (Honda, Kawasaki, Suzuki, KTM, Yamaha, and Cobra) and factory-support rigs and personnel will also be on-site. To register for RCSX, click HERE.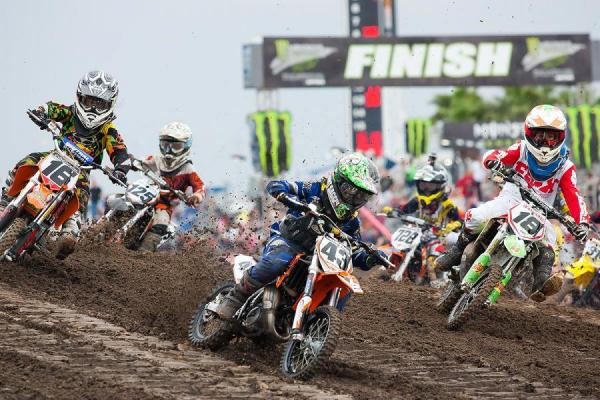 RCSX is on the horizon.
Andrew Fredrickson photo
HIGHLIGHTS OF THE WEEK (Jason Weigandt)
With the 250 East SX campaign about to begin, we spent the week diving deep within the ranks of that class.
Check out our 250 East Spotter's Guide here.
A check-in with title contender Wil Hahn here.
And Matthes, JT and myself broke it down in a pre-season 250 podcast here.
And finally, you had your chance to weigh in with our online poll. Go vote!
HEAD-SCRATCHING HEADLINE(S) OF THE WEEK
"Reed looks to erase memories of 2012 Dallas Supercross crash"
Yes, one year ago Chad Reed looked to be ready to surge in the Monster Energy Supercross Championship, only to suffer an ugly crash at Dallas, knocking him out of title contention and the outdoor series altogether. He's still not quite back up to speed, but he's getting there. Last week might have been his week in San Diego, if not for washing out just as he had closed in on Rockstar Energy Racing's Davi Millsaps. Now he feels like he's owed one, having spent one full year on the comeback trail. I will say what I said last week: I believe it's time for a new winner in the 450SX class, and it's most likely to be the talented Mr. Reed, though this is pretty much a home race for Muscle Milk Honda's Trey Canard, and James Stewart is doing very good work despite his knee issues. Dallas might mark winner #5 in this 2013 championship chase.
"Steven Clarke and Brad Ripple to campaign for TeamNational Switchgear/Shea Racing/PassportWorld.com"
This headline comes from a team PR previewing the season. Within the PR, the team is called Team National Switchgear/Shea Racing/PassportWorld.com, powered by SMS Racing KTM. Is this the longest team name ever?
HEY, WATCH IT!
Dallas Animated Track Map
DC Shoes: Robbie Maddison's Air.Craft
Beyond the Finish Line: The Big Picture
Julien Leiber at Le Touquet
The Making Of: The Touchscreen Glove Ad
RANDOM NOTES
If you plan to attend the Dealer Expo at Indianapolis this weekend, then you will want to be part of the Racer X Supercross viewing party tomorrow night. Located in the Sagamore Ballroom inside the Indianapolis Convention Center, this will be the industry's biggest party of the year. Doors open at 6:30 with classic MX videos, live music, food, beverages, prizes, and special guests. Three cinema-size screens will bring all the action. Your show badge gets you in.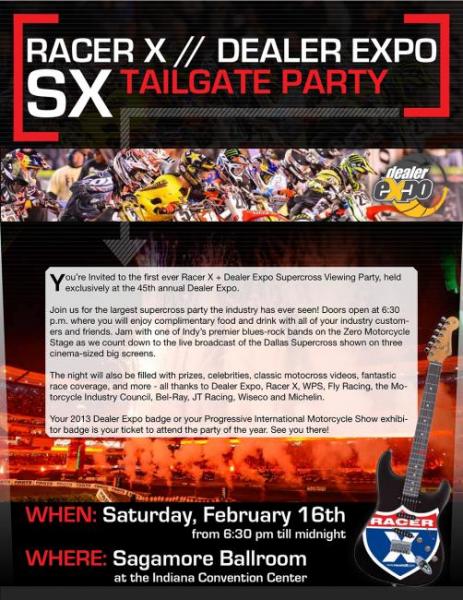 Last Sunday we dropped by the Carlsbad Reunion near the site of the late, great home of the old Hang Ten U.S. Grand Prix of Motocross. The stars were there in droves: Brad Lackey, Roger DeCoster, Broc Glover, Ronnie Lechien, Scott Burnworth and just a whole bunch of legends from the most famous track in American motocross history.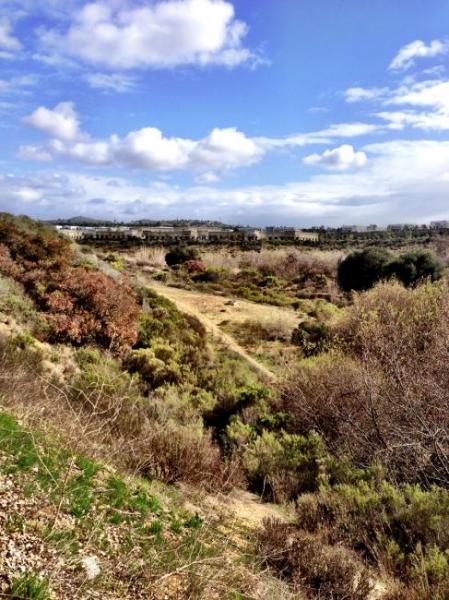 Sadly, here's how Carlsbad Raceway looks today—at least what's left of it.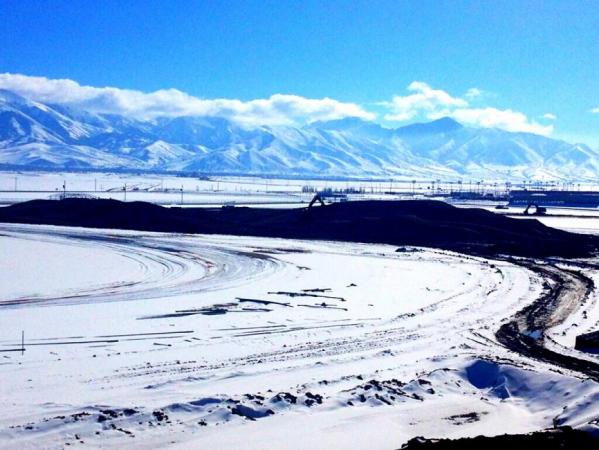 Meanwhile, out in Utah...
And here's Jeff Ward on the cover of Cycle News, on a Yamaha from the original race that turned into the Superbikers at Carlsbad. This photo was taken by MX photography legend Charlie Morey.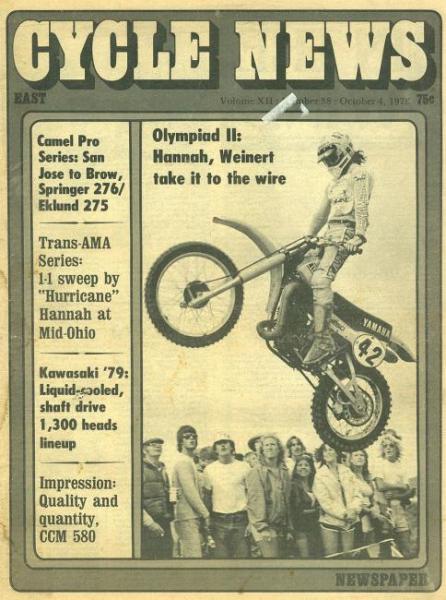 And check out how the Dallas SX looked in the mid 1970s.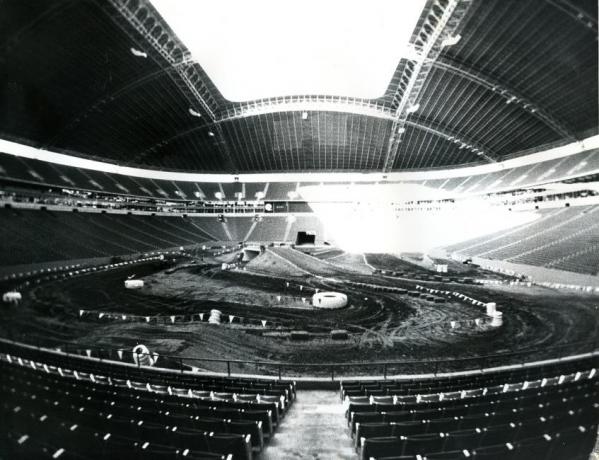 So long, thanks for reading Racerhead, and see you at the races!