Replay XD Brian Deegan Giveaway
Replay XD Brian Deegan Giveaway
Replay XD Gives You a Chance to Get the Hook-up from "The General"

Newbury Park, Calif.
– Action-sports star Brian Deegan is now giving you a chance to get hooked up with gear from all of his sponsors and an opportunity to win his special edition Replay XD1080 camera.
"The General" is giving away a huge gift box that includes shoes from DVS, an entire case of
Rockstar Energy Drink, a Metal Mulisha Rockstar Energy Showcase Tee, Rockstar Energy Off-
Road Hoodie and Rockstar Energy Blasted Hat and the grand prize, Deegan's signature Replay
XD1080.
Whether it's off-road racing, Rallycross, freestyle motocross or just a fun day at the Mulisha
compound, Brian is filming it all with his Replay XD1080.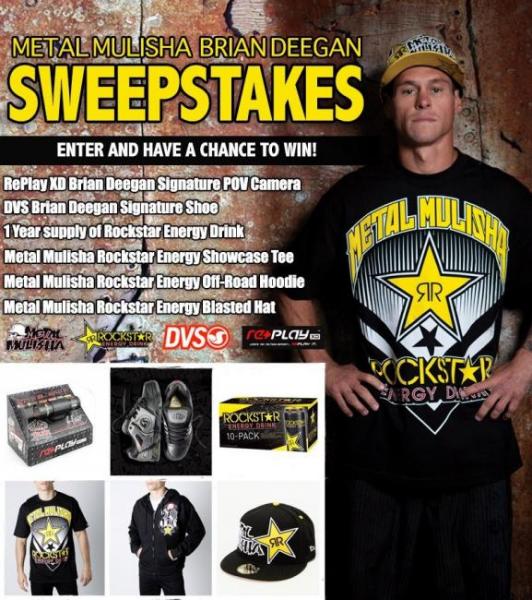 "Brian Deegan is an awesome member to have aboard the Replay XD team," said Replay XD
President John Spar. "He is one of the most recognized faces in the action sports industry and a serious competitor in any discipline."

To view contest rules or sign up to win, visit www.facebook.com/replayxd or head over to the
website at www.replayxd.com.

Replay XD was designed by a group of racing professionals with over 50 years of experience in the high performance racing industry. The development team saw the need for ultra-lightweight cameras that could capture never before seen video footage from the most extreme racing and action environments on Earth. The Replay XD1080 has been put through the most grueling conditions possible and has come out unscathed with crystal clear footage. Replay XD's goal is to bring you the most technologically advanced recording systems available today. http://www.replayxd.com (805) 480-9800. Facebook, Twitter,Youtube