O.co Coliseum
Oakland

,

CA
Oakland
Monster Energy AMA Supercross Championship
By Aaron Hansel and Jason Weigandt
Identifying the pivotal moment that changed the structure of the race at Oakland this week is easy. Watching it live and trying to figure out exactly what happened, not so much.
We are of course, referring to the moment when Chad Reed, a rider who we're used to seeing maintain precise control at almost all times, lost control in the whoops and bounced off a few bikes before getting into Josh Grant and torpedoing into the pack as they were rounding turn two. The end result was a big pileup that involved names like Bobby Kiniry, Kyle Chisholm, James Stewart, Trey Canard and more. What's more, Ryan Dungey got shoved due to the carnage, too, and then bumped Justin Barcia, who was plowed into a berm, ending his race
The reaction in the press box was one of shock and disbelief, and it took several moments for many to remember that there was still a race going on elsewhere on the track. Had that many guys really just gotten blasted only two turns into the race? Shouts immediately rang out from several members of the media; "Reed and Stewart are down!" "Barcia's on the ground!" "Reed was out of control!" "Look at Stewart, he's limping!" Fingers flew as Tweets were frantically hurled into cyberspace attempting to explain to fans across the country what had just happened.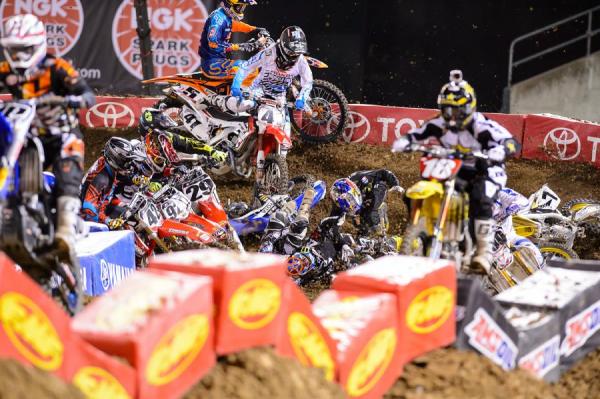 A massive second turn pileup claimed a number of the top contenders in Oakland.
Simon Cudby photo
What had just happened? The crash played out in an instant, and further adding to the mystery is the fact that the TV camera that was mounted in turn one got knocked over, erasing a camera angle that potentially held some key evidence as to how this whole mess came about. In our race report, we incorrectly placed a good portion of the blame on Josh Grant, but from what we've surmised since, Grant is innocent (JGR says its team video shots show Grant way outside in turn one, and not making any contact with Reed until the final moment of impact in turn two). In the Racer X Podcast, Jason Thomas said that many of the guys themselves didn't even know who had caused the smashup.
"All of those guys that were lying on the ground were blaming each other," Thomas explains. Mistaking Grant for Stewart, Reed initially thought Stewart had ran him high in the corner and into traffic. Stewart was left wondering why Reed had gone straight up the berm instead of turning right. If you're Grant, you're upset that your top-five start was ripped from your grasp. If you're Barcia, you were just left in pain.
Of course, reports go in all directions. The TV footage puts the blame squarely on Reed, as he hopped from one line to another in the whoops and then went on a wild ride. But without a true shot of the first turn and the inevitable contact that always happens there, it's hard to tell what made Reed hop out of line. Team videos indicate some bumping and banging in the first turn, but riders will, of course, point fingers in all directions.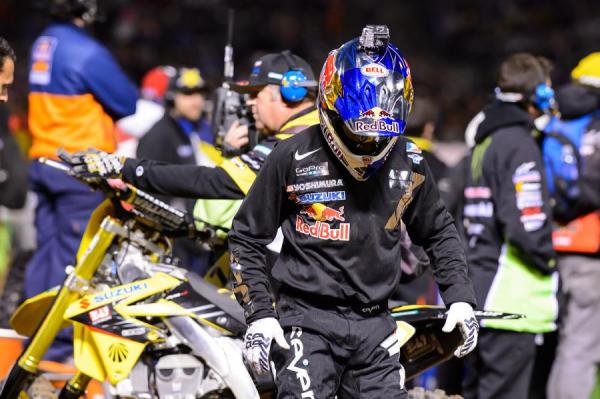 James Stewart, along with Justin Barcia, got the worst end of the deal, as neither was able to finish the race.
Simon Cudby photo
But then the evidence arrived today courtesy of the GoPro camera mounted on James Stewart's helmet. Have a look--hard to blame anyone but Reed for this one.
In addition to drastically changing the outcome of the race, this particular moment also leaves a visible impact on the championship picture. After the race, Stewart himself told Racer X's Steve Matthes that he believes that after his DNF in Oakland, the title may now be out of his reach. Reed, who finished in twelfth, also feels the sting in points. After going 4-4-3 at the first three rounds, Reed now sits in fifth place, twenty points back of points leader Davi Millsaps. Barcia, with two-straight DNFs, is all but eliminated from title contention.
On the flip side, while title contenders where picking themselves up off the ground, others were enjoying career-best rides. Matt Goerke, Vince Friese and Jimmy Albertson all logged their best-ever finishes. In all, it was a crazy few seconds that will have a dramatic impact on the entire year.
For a video breakdown of the crash, check out this article at PulpMX.com.