PC New Product: T5 Single Exhaust
Just like Pro Circuit's popular and championship-proven Ti-5 Exhaust System, the Pro Circuit All-in-1 T5 Single Exhaust System, currently available for the 2013 CRF450R, produces the same results but with a more durable stainless steel and aluminum construction. This race system was designed for durability, and has been demanded by off-road riders and racers alike. Our new all-in-1 design allows riders and racers from multiple riding disciplines, racing classes, and countries to take advantage of this cost-effective alternative to the dual exhaust system. Whether it be off-road and trail riding and racing, AMA professional racing, AMA amateur racing, or FIM professional racing, the Pro Circuit All-in-1 T5 Single Exhaust System is the
only
exhaust system you will need.
Product Features:
Made in the USA
Meets AMA professional racing sound regulations
Meets AMA amateur racing sound regulations
Meets FIM racing sound regulations
Outdoor friendly – comes with a removable USFS approved spark arrestor
Cost-effective alternative to the dual exhaust
Lightweight and durable due to the stainless steel and aluminum construction
RC-4 resonance chamber helps to reduce noise output
Machined mid-pipe to head pipe joint for a better, leak-free fit
Aluminum muffler bracket
TIG welded
Asymmetric muffler design for increased packing volume
Comes with an additional silencer packing kit and race tip for closed course racing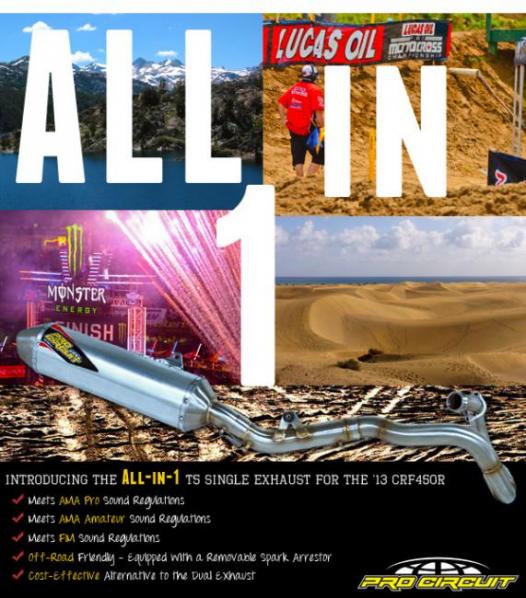 Part Numbers and Pricing – All-in-1 T5 Single Exhaust for 2013 CRF450R

Part Number
Description
Retail Price
0111345G
T-5 STAINLESS SYSTEM WITH A REMOVABLE SPARK ARRESTOR CRF450 2013
$779.95
The Pro Circuit All-in-1 T5 Single Exhaust System for the 2013 CRF450R can be purchased
here
or at your local dealer.
Click here
to find a dealer near you.
Connect with us >>
Facebook:
http://www.facebook.com/procircuitintl
Twitter:
http://www.twitter.com/procircuit78
Instagram:
http://www.instagram.com/procircuit78