100% is proud to support motorcycle legend Doug Henry as he prepares to compete in Adaptive SnoCross at the 2013 ESPN Winter X Games. Henry will be equipped with a snowmobile specific Racecraft goggle as he lines up at the gate this weekend in Aspen, CO.
Doug's racing achievements throughout the years are nothing short of amazing.  Henry is a three-time AMA Motocross National Champion and played a big role in changing motocross racing forever by becoming the first rider to professionally race a four-stroke motorcycle in Supercross back in 1997.  Henry claimed the 1998 AMA Motocross Championship aboard his Yamaha YZ400F becoming the first four-stroke rider in history to win a title.
Once Henry retired from motocross racing, he turned his attention to Supermoto.  Popularity in the sport was growing, and Doug quickly became one of the most dominating riders in the world and went on to win a gold medal in the 2005 Summer X-Games.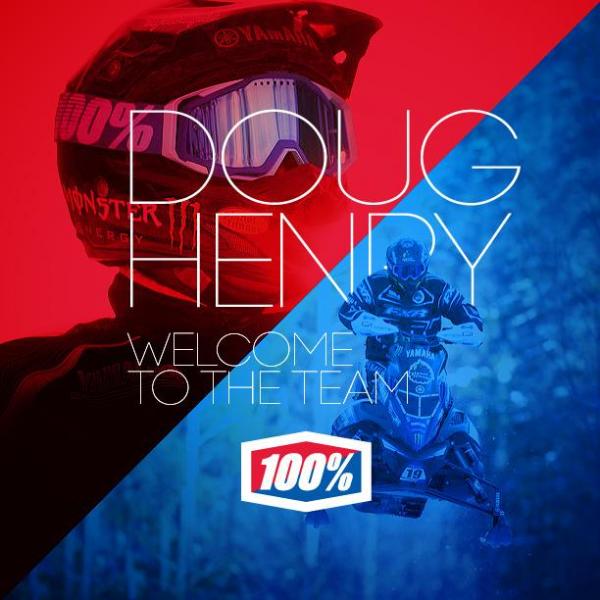 While Doug has enjoyed great success in racing, he has also been forced to overcome a great deal of adversity.  Henry broke his back in a huge crash at the Budds Creek Motocross National in 1995.  He amazingly fought back to race motocross again before starting his Supermoto career.  A crash during a Supermoto race in 2007 left him partially paralyzed.  No matter what challenges Doug has faced, he always perseveres.  His determination and strength really exemplifies what giving 100% is all about.
Doug has now turned his attention to snowmobile racing.  He has always enjoyed snowmobiling and entered his first X Games Adaptive SnoCross in 2010 where he won a bronze medal.  Doug is heading into Winter X prepared and has his sights set on a win.  Tune into ESPN this Sunday, January 27th starting at 2:00 PM EST to watch the race.
For more, visit www.ride100percent.com
About 100%:
The roots of the 100% brand date back to the early 1980's when the popular logo graced the factory racing equipment of the biggest names in motocross.
Thirty years later the passion for the spirit of racing remains.  With a complete new line of premier goggles and accessories for MX, Off Road and MTB, 100% is about to inspire a whole new generation of racers and ask them the original tag line, "How much effort do you give"?
100%.  The Spirit Of Racing.
For more info, contact info@ride100percent.com