Angel Stadium
Anaheim

,

CA
Anaheim II (A2)
Monster Energy AMA Supercross Championship
Welcome to Racerhead, and welcome back to Anaheim. The third round of what's been a very, very interesting and exciting Monster Energy Supercross season is upon us, and I'm betting it would be hard to find anyone who, two weeks ago, would guess the top three in points to be Davi Millsaps, Justin Barcia, and Trey Canard! (At the same time, I would have bet a case of Stella on the 250 SX standings being Eli Tomac, Ken Roczen, and Cole Seely, in that order.) The stadiums have been packed, the vibe in the pits exuberant, and the drama obvious.
It was with all that in mind that I decided to wander up to Angel Stadium yesterday to check out press day, something I don't often get the chance to do. The first guy to walk in was Andrew Short, and he told me things were going well, that Chaparral Honda was still moving forward—Larry Brooks was there working his cell phone like he was working a telethon fundraiser—and how much he can't wait to get back to Texas.
Next was Max Anstie, a great kid who is back from England for a few weeks before returning to Europe and then off to Qatar and Thailand to the first two Grand Prix races. Max is riding for Rockstar Energy Suzuki of Europe, which is different from Rockstar Energy Racing here—he actually has direct Suzuki support, which means he gets to ride on the Suzuki test track. Believe it or not, 450 SX points leader Davi Millsaps does NOT get to ride that track, so his team owner, Bobby Hewitt, rents Milestone's SX track for that team to prep on. Max did say he had a great week, in that he got to ride not only with James Stewart but Ricky Carmichael as well.
Racer X Films' Chad DeRosa was there at the presser too, and he filmed interviews with Andrew, Max, and the always funny Malcolm Stewart. Then we approached James Stewart to see if he wanted to talk, as he was busy talking baseball with California Angels' World Series hero Scott Spiezio. James said sure and Chad started rolling tape. I had no idea James was going to pick that moment to explain that the problem with his knee was not a tweak or twist, but rather a full-on torn ligament.
When he said it, I literally winced in phantom pain. Suddenly the slower-than-maybe-ever Stewart made some more sense to me. He was nursing the knee—that much was obvious—but now he was committing himself to the idea that he must now go as fast and hard as he can, until he can't go anymore. Then he will get the ligament fixed, which almost certainly means no outdoor nationals this summer for the Seven, and understandably so. The question is, how long can he go with his knee wrecked, and how long will it be for him to come back next time? We will begin to know the answers tomorrow night at Round 3.
Beyond that, it was business as usual on the West Coast, more or less. I don't know of a single person in the industry who was bummed about the fact that Feld Motor Sports had to switch this round from Dodgers Stadium in Chavez Ravine back down to Anaheim (about 90 minutes' drive, without traffic). They've built a whole new track, and they've got a lot of interest building in the battle for the points lead, as Millsaps still wears the red plate on his Rockstar Energy bike, and Barcia now has the momentum of a win on his side, and in only his second true AMA Supercross on a 450.
I bumped into Ryan Villopoto the other evening as well, and I have a very strong feeling that he's going to wick it up this weekend and get himself his first win of '13. He was out at the Kawasaki track today and our own Simon Cudby was filming, so look for a video from Racer X Films later today.
Let's get into the week that was, and what you can expect to see tomorrow night.
THE NUMBER: 7777
Someone pointed out to me on Saturday night that James Stewart was riding the #7 Yoshimura Suzuki, wearing his new number-sake SEVEN gear, finished seventh in the main event, and is now seventh in the points standings. That's four sevens, which would be a great hand in poker, but it's well below what Stewart expects in supercross. But then again, that's what happens when you suffer an ACL tear, which is exactly what the world now knows that James did at Anaheim 1 (seven days earlier, of course). He looked very fast in practice, at least when he took a lap or two to twist the throttle. That was only on a couple of occasions, but still enough to lead the way atop the leader board. What does that injury feel like? As someone who tore his own knee up a couple of times, I can't imagine how the grinding and the uncertainty and constant potential for another twist of the knee must feel while racing supercross.
What we do know is that Stewart started last year with almost the exact same finishing positions—8-6 in the first two rounds of '12, compared to 8-7 now—only he was riding the JGR Yamaha that he would not finish the season upon. How did he do in his third round last year, the Los Angeles Supercross? Third. And then he won the fourth race in Oakland. But that was a healthy James Stewart. When we spoke yesterday he said he was going to basically just try to forget about it and ride.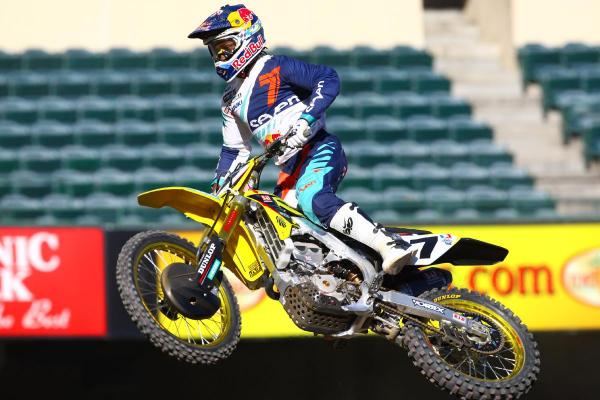 It was confirmed this week that Stewart has a torn ACL, but will continue to race through the injury.
BrownDogWilson photo
What has been lost in all of the questions (and now answers) about his knee is the fact that he looks extremely smooth and comfortable on that Suzuki on the laps he decides to wick it up. It's a shame that he now has this injury to sort out, because with this being Suzuki's 50th anniversary and all, and there was a lot of hope that James would do something special this season. Thank goodness for Suzuki that Davi Millsaps and the Rockstar Energy team are still on their bikes, even though their support is almost nonexistent from the brand.
Take a look at all of James Stewart's race finishes over the last ten years right here. There are long strings of 1s in the left-hand column for finishes, but it's been since the early months of 2009 since he's won three races in a row, and starting a streak of any length is going to be quite a chore for anyone in this field of stars young and not-so-young, especially with a blown knee.
SURVEY SAYS
Last week we asked this question in the Bel-Ray Online Poll here on Racer X Online:  

Will Davi Millsaps leave Phoenix with the red plate?
Here's how you responded:
Yes: 57.5% (5647 votes)
No: 42.5% (4176 votes)
As I told friends last night at the big Parts Unlimited Showcase, I'm even more surprised (and impressed) about Millsaps going back to Anaheim 2 with the red plate than I am with the fact that he left Anaheim 1 with it in the first place.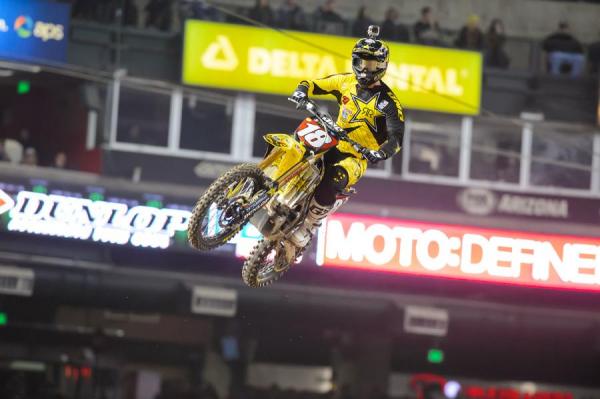 The readers got it right! Davi Millsaps will be sporting the red plate at A2 on Saturday.
Simon Cudby photo
HOW TO WATCH - by Chase Stallo
Monster Energy Supercross returns to CBS for the first time in 2013 this weekend. Directly following Speed's coverage of 250SX, at noon Eastern on Sunday, CBS will broadcast coverage of 450SX beginning at 1 p.m. Although racing is not live this weekend, you can still catch live coverage of qualifying on Supercrossonline.com beginning at 2 p.m. Eastern. The Racer X team will be in full force, scouring the pits for all the latest happenings, so be sure to follow us on Twitter and Instagram (@racerxonline) and stay tuned to Racer X Online for race reports, breaking news, videos and results from Round 3 in Anaheim.
WHAT'S EATING CHAD REED? - by Steve Matthes
I suppose writing a blog about what's going on with a guy who's gone 4-4 in two races is a bit overkill. I mean, there are a lot of racers out there who would take Chad Reed's finishes at the first two races and be more than happy with them. But there's something missing from Reed this year through two races.
At Anaheim 1, Reed qualified eighth and ran fifth for most of the main before passing Justin Barcia after the Muscle Milk Honda rider fell. And again, fourth is not too shabby, but he started right behind the top four (Millsaps, Canard, Barcia, and Dungey) and they gapped him pretty good. He was over fifteen seconds back at the finish in fourth. Last week Reed qualified seventh, started third, but was passed by both Villopoto and Canard to put him to fifth, but moved up one spot with Canard's last lap fall. And he was battling with RV on lap 15 before dropping back late in the race and finishing a whopping nine seconds back of RV. That's nine seconds in five laps that RV put on Reed!
Much of the whispers are of Chad being unhappy with the performance of the all-new SFF Showa arifork. In fact, Reed switched to his 2012 fork for the Anaheim night show, but it's unclear if he finished the main event with it. In Phoenix, the new air fork was on all night.
I stood around at Reed's truck after the race in Phoenix for an hour or so waiting to get a post-race interview with Reed but he was meeting with Shane Drew and Dan Betley of Honda for a long time. This wasn't anything out of the ordinary, as Honda requires post-race meetings out of all their guys, but the length of the meeting was definitely out of the ordinary. In speaking to some of the guys on the team about his riding and the bike's progress level, I very much get the sense that they're still searching.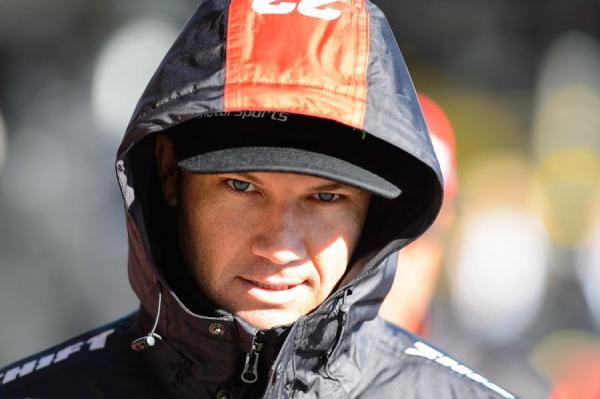 Reed has been on lockdown this week trying to find the right setup.
Simon Cudby photo
The fork is working great for Trey Canard and Justin Barcia judging by their rides at the first two races; Hondas won the Monster Energy Cup, got second at the first SX, and won the second on the new bike. Kudos must go out to the Red Riders for getting everyone literally up to speed this quick, and all the suspension geeks talk about this new air fork being a big gain in performance (once dialed in) and the missing pounds are also a big benefit.
All of this is probably for naught, as Reed spent three full days on lockdown out at the Honda track this week, testing many, many hours with the Japanese technicians from Honda and his own team. Maybe he will put in a good ride tomorrow night and all of this stuff will be forgotten, but then again maybe not. Is the beginning of a slump for the 22 that sees him slip off his usual excellence? Right now, it's all up in the air (fork) in more ways than one.
GAME ON
Yesterday marked the first day of Tournament 3, the next huge tournament for players of Mad Skills Motocross for iOS. If you have the game and haven't yet registered for the tournament, you've still got the better part of a week to compete in Round 1. Just make sure you update to the latest version and hit the TOURNAMENT button on the main menu.
If you have an iOS device but you don't have Mad Skills Motocross, well … that's just crazy. You can (and should) get it here.
HANSEN VS. RAY: THE AFTERMATH - by Aaron Hansel
Aptly named, the Last Chance Qualifier is a rider's final shot at getting into the main event. Not surprisingly, aggressive block passes and takeout moves are often common in the LCQ. However, the blatant and dangerous use of a motorcycle as a battering ram, especially when a rider is way, way out of qualifying position on the final turn of the final lap, is not.
By now you've probably guessed that the above situation is in reference to the shameful move put Josh Hansen put on Alex Ray in the closing moments of the 450 LCQ at A1. They were pretty much last place when it happened, and the move earned Hansen a $4,000 fine and probation for the rest of the supercross season from the AMA. His team also chose to bench him for last week's race at Phoenix.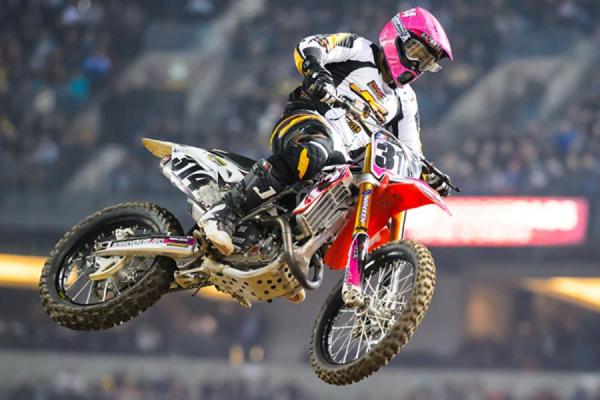 "The fine was steep but if it were a $1,000 fine and a slap on the wrist, things would stay the same. I had nothing against Hansen and still don't." - Alex Ray (pictured above)
Simon Cudby photo
"I went to the inside and I thought he [Ray] was going to check up and he didn't, and we just hit shoulders," Hansen explained. "When we hit, it ended up being a way worse deal than what was expected. It was wrong, I admit it. I'm bummed it happened and I am ready to move on. I'm on a professional team and I'm a professional rider and I took actions into my own hands at Anaheim and it got me in trouble. I wanted to make it right and if the team had to bench me for a race, that was fine with me. That's what we had to do. I knew they [AMA] were going to give me a fine, but $4,000 is absolutely out of control. I realize the kid got hurt and I felt bad about that, but the kid raced on Saturday night in Phoenix."
Ray, who says he and Hansen have never had any type of interaction before, believes that that the fine needed to be big in order to have an impact. "I feel that the punishment was fair," he said. "The fine was steep but if it were a $1,000 fine and a slap on the wrist, things would stay the same. I had nothing against Hansen and still don't. The incident was unfortunate for us both and people make mistakes. Plain and simple, it was just a dumb move. I've put it all behind me with no hard feelings. He apologized to me and we have not spoken since."
Whether the fine was too little, just right or excessive, a fine of that amount is not unheard of. In fact, Justin Barcia was fined $5,000 for his actions at the Houston SX last year involving Lance Vincent. Vincent was being attended to by the Asterisk Medical Crew when Barcia came over and started yelling at him because the two had collided in the air earlier during the race, ruining Barcia's almost certain victory that night. Then he roosted away, roosting Doc Bodnar in the process. Not good.
If there is a silver lining in this for Ray, who was given an $800 set of POD knee braces from Fox Racing's Chris "Beeker" Onstott, it's that he and his sponsors have gotten some additional exposure that they otherwise would not have received.
"The incident has somewhat put me and my sponsors on the map," Ray admits. "Any publicity is good, although who wants to get cleaned out and hurt to get some press? If I could rewind, I would definitely not want that to happen again. My sponsors—PRL, Spider Energy Drink, VBMX, JT Racing, Jett, MotoConcepts, Noleen, J6, MPS, TMM, Bob's House of Honda, Gray Parker and Mike Medena—and friends have stepped up to help me this year, so I want my results to do the talking. Phoenix was way better for me, leading the LCQ. It was kind of funny; so many more fans were like, 'Aren't you the dude Hansen took out?' So maybe I have a new fan base. That's one positive, I guess."
And what about the $4,000 fine handed down to Hansen? All rider fines are given to the Asterisk Medical Unit, the same crew that helped Ray off the track after the incident in the first place.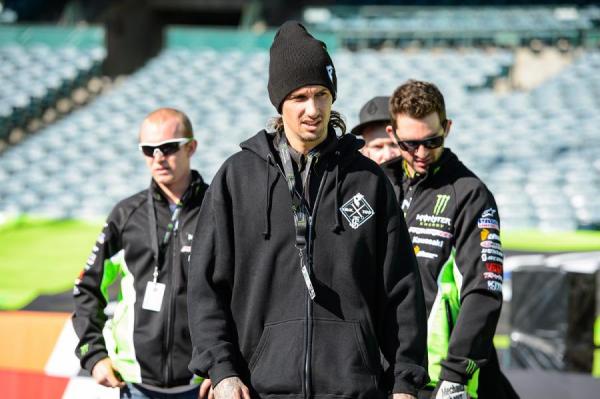 Hansen will return to racing at Anaheim 2 following a one-week suspension.
Simon Cudby photo
PRO PERSPECTIVE: 450 VS. 250 – by Jason Thomas and David Pingree
JT$: There has been much ado about lap-time similarities between the two classes. Over the years, this has been discussed ad nauseam among riders, managers, and mechanics. Being almost half of the displacement, and with matching lap times, surely the 250 riders are that much better, right? Not so fast, my friend.
Comparing lap times on different machines is comparing apples and oranges. The bikes are similarly built, but when it comes to how they react and perform, they are very different. If you watch closely, you can see how differently they are ridden in aggressiveness, line selection, and with respect to consequences. On the 250, momentum is everything. With less power to regain speed, riders need to focus on riding lines and rhythms that will allow for carrying momentum. Drawing a line around the racetrack, you would want to see all smooth curves in your design. No starting and stopping—that's the key. On the 450, however, riders have a little more freedom to explore. Straight lines sometimes will make sense as, with just a twist of the throttle, one can be back up to pace. Kevin Windham has made a career of this point-and-shoot method. Shortening the race course and utilizing the 450 torque is a difficult skill to master but, when perfected, is tough to top.
The interesting thing to me is how the current new crop of riders is incorporating this 250 strategy onto 450s. Watching Barcia and Villopoto, you can see their corner entry points are different than many established veterans'. They sweep in from the outside and try to arc the turn while carrying incredible amounts of speed. You rarely see these guys take sharp angles, and this is a direct result of their 250 expertise. They are applying principles usually saved for 125s and 250Fs to bigger bikes, and their results are telling the tale. Carrying so much speed on a 450 isn't easy, and with more weight and less maneuverability, crashes seem a bit more prevalent. It's interesting to watch the new guys fighting for traction with this strategy.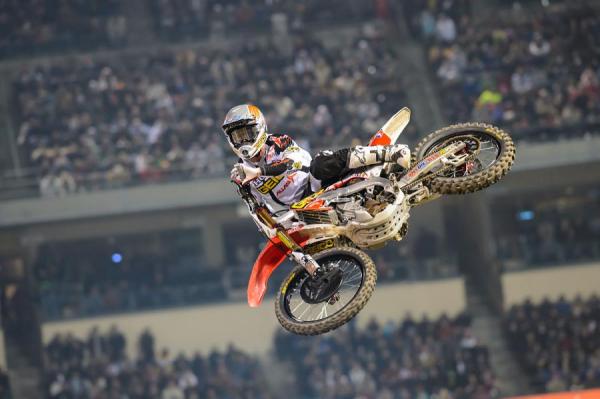 Eli Tomac set the fastest lap of the night, 250 and 450 combined, at the season opener in Anaheim.
Simon Cudby photo
I feel that the displacement sizes are not a problem. The 250 is ever-improving, but privateer-level bikes are still a struggle to do some of the bigger jumps on Saturdays. The 450 is incredibly fast and difficult to excel on, but that adds to the discipline and talent it commands. Any factory or top-level rider can tell you how slow a stock 450 is. The difference in power between a full-fledged factory race bike and a showroom bike is astounding. We are talking 10hp-plus in gains. That is my main argument for why the 450 is not too much. If it was even close to a problem, the riders wouldn't be always begging for more power, torque, etc. A stock 450 would be plenty of power and we would all be ready to go racing straight from a dealership. Monster Energy Supercross is the elite level of supercross racing on Earth and the bike should mirror that level.
PING: While I love me some Jason Thomas, I have to disagree with him this week. I mean, it's tough to get on his side when he's saying things like "Much ado." But I think the lap-time crossover that we are having is further proof that we've gone too far with CC's and horsepower. Do you remember when they had a 500 class in supercross racing? Well, it was a dumb idea then and I think it's still a dumb idea. Unfortunately, that is pretty much what the guys are racing in the premier class now: modern, finely-tuned 500s.
I challenge you to go back and watch a video from the '90s or early in the new millennium and tell me the racing wasn't better. There was more passing (aside from Jeremy McGrath being out front) and more action on the track than almost every race we see today and the two-strokes played a big part of that. Can you ever remember a 125 rider turning a faster lap time than a 250 rider in supercross? It didn't happen. There was often a triple that the 125 riders couldn't jump. I'm not saying that supercross racing isn't exciting now, because it certainly is. I just think we overshot the CC advantage we needed to give to four-stroke bikes to make them competitive.
All that said, there is no going back. Bikes will get lighter and better and riders will adapt. But with current 250 race bikes cranking out close to 50 horsepower and being significantly lighter than a 450, they are going to be going just as fast. But as JT mentioned, it isn't easy to continue to go that speed when you step to the 450. It is more bike and it requires a different style and a higher level of respect. And yet, I think guys like Tomac, Wilson, Seely, Roczen and others will figure it out just fine.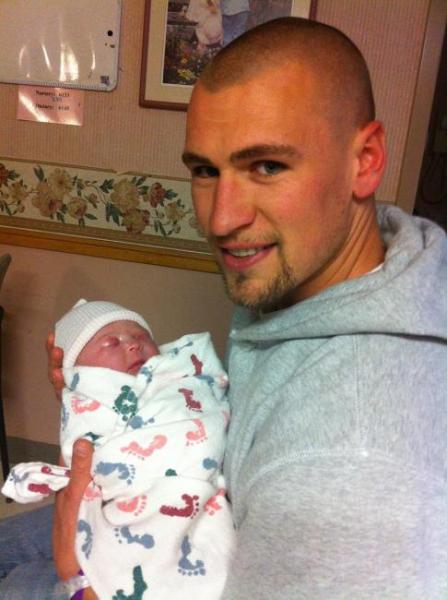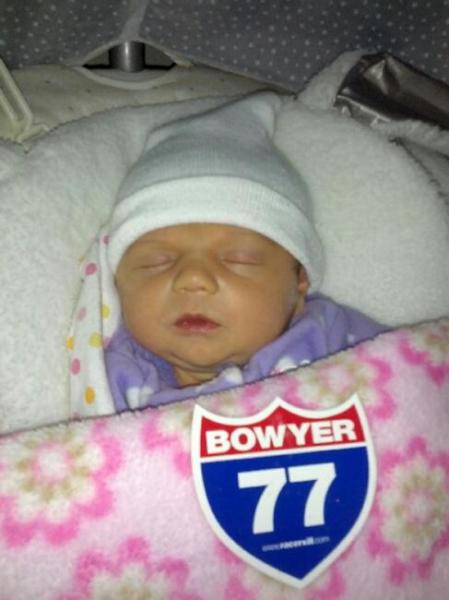 Congrats to Bobby Kiniry and wife Brittney on the birth of their first child, Everly Michelle Kiniry (left) and our own Andy Bowyer on the birth of his child, Stella Bowyer (right).
WE'RE NOT IN KANSAS ANYMORE
–
by Jason Thomas
Dortmund, Germany, is the last race of the ADAC German SX Championship. A three-day race, it's a grueling dogfight every year with lots of cash up for grabs. Riders from France, South Africa, Australia, Canada, America, and England comprise most of the field, making it a true international event. Most of the top teams will bring in "ringers" for this last event to try to steal the overall win and prestige. Past examples are Dubach, Larry Ward, Demuth, Roczen, etc. This year that guy was Ivan Tedesco.
Ivan was left without a chair when the music stopped for 2013. No responsibilities for American supercross create a breeding ground for Dortmund opportunities. Teams comb over the list of available riders, as it always conflicts with a race in the States. As the top rider available, everyone was clamoring to get him on their bike. In the end, it was Sturm Kawasaki that finalized a deal to bring him to the land of pretzels and beer.
As anyone who has raced in Germany can tell you, it is not the same animal as what you see in the good ol' USA. With 27-second lap times and incredibly sticky dirt, mistakes are prominent and more costly. The track is very tight and hay bales are everywhere, so one little gaffe can turn disastrous in the blink of an eye. As I watched Ivan go out for his first practice on Friday, I wondered how this would affect him. Right away, I could see it was going to be interesting. As he was very fast, he was also pushing the limit of the racetrack. Clipping hay bales and cross-rutting is playing with fire, but pushing the limits puts you in this scenario.
Here's another look at Martin Davalos' spectacular crash in Phoenix
Alex Martin's Sand Crash at Club MX
Note: This happened in December.
Stimilon Motocross Challenge 2013 Invite
RANDOM NOTES - by Chase Stallo
Answer Racing announced earlier this week the signing of Kevin Strijbos. Answer is looking to expand its international program and the factory Rockstar Suzuki team member will be the first GP rider to be directly supported by the company.
Unit is coming out with gear! According to Facebook page: "Your first glimpse at the first ever Unit MX gear. Coming out later this year. You can't stop us." We will have more to share as soon as they share it with us...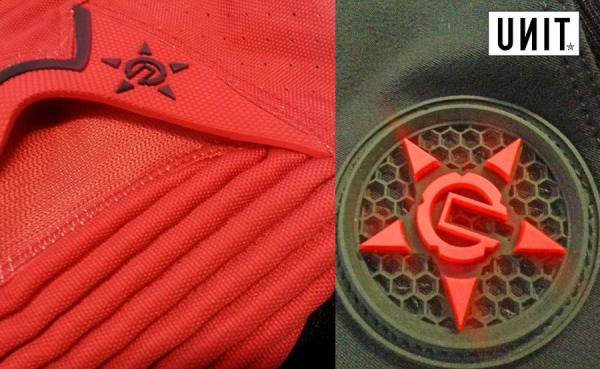 Speaking of gear, Trey Canard will debut the new FLY Racing's innovative "Lite Hydrogen" racewear this Saturday at Anaheim 2.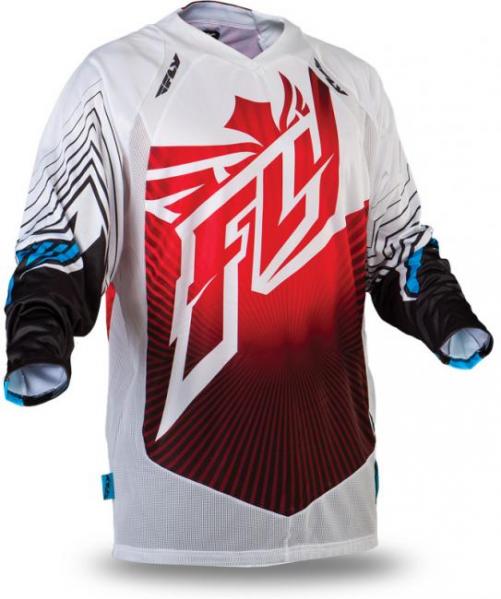 Husaberg USA has joined Twitter and Instagram. Make sure to give them a follow @husabergusa.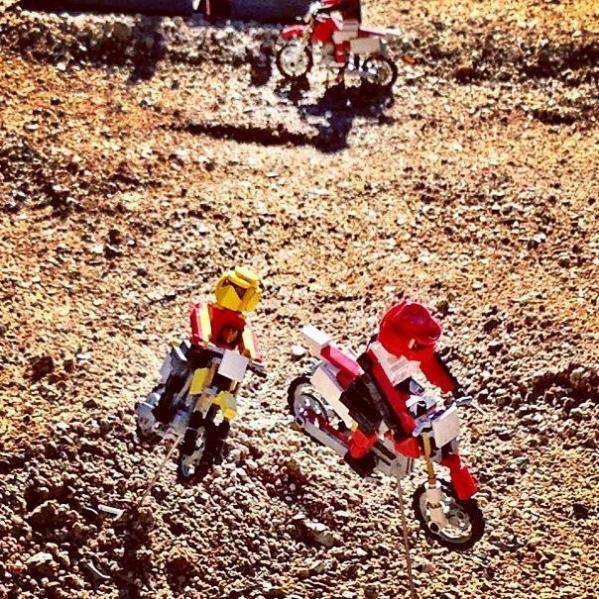 The eternal duel! @jeremymcgrath2 vs. @rickycarmichael lives on at LegoLand in Carlsbad!
Thanks for reading Racerhead, see you at the races.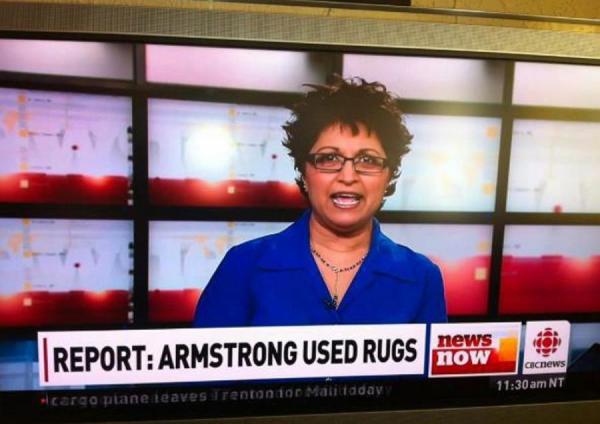 This photo of a CNN mistake popped up on a few cycling sites after Lance Armstrong's too-little/too-late mea culpa with Oprah....