Angel Stadium
Anaheim

,

CA
Anaheim II (A2)
Monster Energy AMA Supercross Championship
One of the early-season surprises in the 250SX West Region is J-Star/JDR KTM's Joey Savatgy. The kid just plain hauls butt and after two rounds, he's tenth in the points (finished ninth in Phoenix), but his riding has opened more eyes than that position would indicate. After coming within two turns of winning a heat race in Phoenix, he had many people checking their programs to see who #176 is on the KTM.
For Savatgy though, it's not enough to be a surprise. It's not enough to run up front, grab some starts, be the highest rookie in the points and even find himself ranked ahead of such names like Jason Anderson, Malcolm Stewart and Travis Baker. Nope, this kid is like a lot of amateur stars coming into the pro scene in that they're not happy unless they're right near the front, battling for podiums or wins.
"It's been a learning process, the first round didn't go the way I wanted it to," said Savatgy to me on the Pulpmx Show. "And Phoenix went better, the heat race was fine and I put some good laps in there. I struggled in the main event but made some progress and we'll go forward from there." Hmm. I'm not hearing a lot of goody goody gumdrops and gee whiz's in there.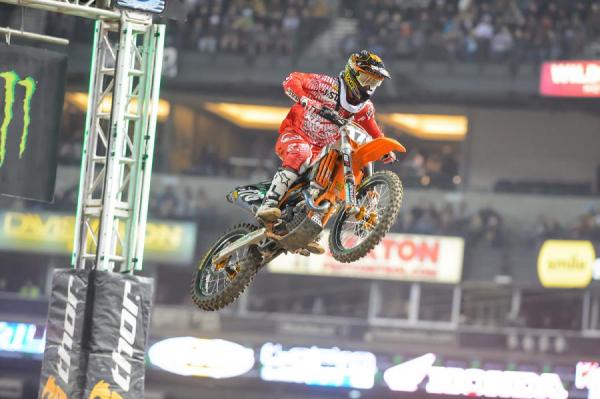 Savatgy finished a career best ninth in Phoenix.
Simon Cudby photo
Savatgy, who raced with Zach Bell (GEICO Honda), Jessy Nelson (Lucas Oil/TLD Honda) among others as an amateur explains how his deal came together.
"I was on Hondas the whole mini career, won some titles at Loretta's that year and then went to Suzuki for the big bikes," he explains. "My last year at the Ranch didn't go well for me but JDR KTM came to me to test the bike at Glen Helen, I came out and I guess they liked what they saw. "
J-Star/JDR KTM team manager Nathan Ramsey (a former factory racer and 250SX title winner) broke down the search for Savatgy like this:
"We started talking about an amateur program and wanted to be like other teams out there. We talked to Colleen Millsaps and she mentioned Joey being overlooked. She knows the amateur kids and made us look at him. In doing our research, we knew he had some skills at supercross. We saw the potential and he's a good kid. We all went over it and this is the type of kid that we wanted. He's going to make us look good and it's a win-thing for us and for Joey."
These new kids coming up, they've been on a supercross track for so long by the time they hit pro, there's not much that surprises them. Listen to what Joey said when I asked him about racing supercross for the first time.
"Nothing really surprised me to be honest," he said. "The only thing would be that there are all of these people there, and you can hear [them cheer] when things go down. But when the gate drops, it's not [different from] what I thought it would be. It's got jumps, whoops and a starting gate so I just have to find my rhythm and make it work."
Note to self: time to change up the standards when it comes to supercross rookies. They're ready.
When I aked Ramsey what rider Savatgy reminds him of, he had an interesting take. "Riding style-wise, I'd say Ryan Morais in that he's very fundamentally sound," says Ramsey. "He's always in a good position on the bike. Attitude-wise, he acts like he's more like a veteran though. A lot like a Trey Canard in the little I've been around Trey."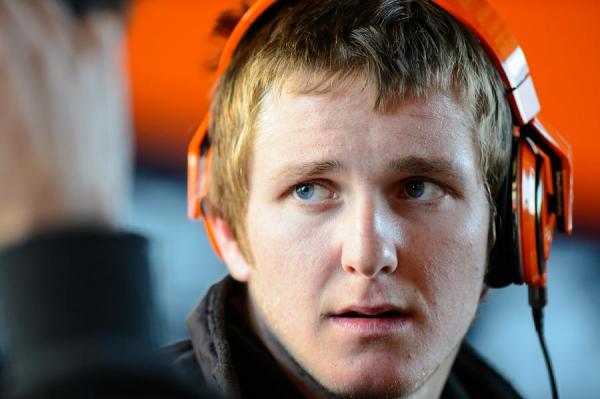 Savatgy was groomed at MTF, and has quickly adapted to supercross.
Simon Cudby photo
Growing up at Millsaps Training Facility has clearly been beneficial to the California-born Savatgy, and he says that Colleen Millsaps' amateur bootcamp has been a huge help to him.
"In 2005, I went out there before Loretta's for a camp and they offered me a chance to be a member there. So we moved out to Georgia and have been at MTF every day since," he says. "It's a bunch of us pushing each other. It's constantly a race, you don't want to get beat. When I finish with supercross, I'm going to have my hands full riding outdoors with those kids."
So far, Savatgy's pro progress is right on schedule. "We're super happy with him," says Ramsey. "We have taken big steps with him and the first goal is a top ten which we achieved. We even told him, if you don't make the first main event, no big deal. It was his first pro race and first supercross at that, and it's a big deal. For him to be relaxed as he was, he's not your average rookie. He didn't make any bad choices and wasn't overwhelmed. He's a really smart rider.
"His growth rate has been amazing and he's been progressing really fast, but he's also a really levelheaded kid and not a diva," continues Ramsey. "He's fun to work with, you have a making of a Canard or (Ryan) Dungey -- he comes to the track with a plan. We're impressed and he's going to keep growing. Last weekend was a huge step, he showed what he's capable of. He knows the speed and we're pumped about the future."