BTO Sports is your number one source for all of your motocross parts, gear, accessories and apparel. BTOSports.com is a motocross company who is truly dedicated to the sport and to the customer. Proud sponsor of your Racer X Podcasts and the BTO Sports race team.
The 2013 Monster Energy AMA Supercross Championship is turning into something very special. Perhaps it will be business as usual in a few weeks and we'll be talking about this two race blip and laughing like school girls about the nuttiness, but I'm betting on the former. We're entering a new age people, and it's not the age of Aquarius, it's the age of parity. Yes, I'm calling it right now. And if it doesn't happen, forget this column ever existed.
Basically there are four eras of supercross since the sport started in the mid '70s. The tracks of the '70s and early '80s were more like outdoor tracks. I don't know if the dirt back then was just free or what, but it appears so because the tracks had lush outdoor berms and deep ruts. Very strange. There were a lot of singles, tabletops and these things called stutter bumps. Oh, and the sport of SX was ruled by Bob Hannah; he was the man. Bob wasn't pretty, but he pinned it and held on. He also won three titles in a row and would have many more wins had he not broken his leg and missed a season. He also would have won more races if he hadn't gotten hurt when he got on a factory Honda. Ask anyone who was around in '83 and '84- Hannah was the man.
After that era, it was the Ricky Johnson era. Watch The World's Greatest Supercross Races 5-DVD collection (this is pretty much the best thing to ever happen to me. I'm serious) HERE (and by the way, do NOT pay $49.95 for it, it's on eBay for $10) and you can see that the 1985 and 1986-ish era tracks start changing quite a bit. Things look much more modern. I have a Dirt Bike Magazine that covers the 1987 SX at the LA Coliseum, and in it Tom "Wolfman" Webb and the boys go on and on about daredevils, freak shows and jumps that can break necks. Ricky Johnson, Broc Glover and Micky Dymond were the only ones to jump a certain double so they took it out for the night show. Flip the page and you'll see a photo of the double. I'm pretty sure I could clear it. But still, the tracks have real whoops, big jumps and if you close one eye, they're pretty close to what we have now. And Johnson just kills it. He's tough, stylish and takes the sport to a new level with a tip of the Troy Lee SE2 visor to Jeff Ward, who is actually so good he spans a few different eras.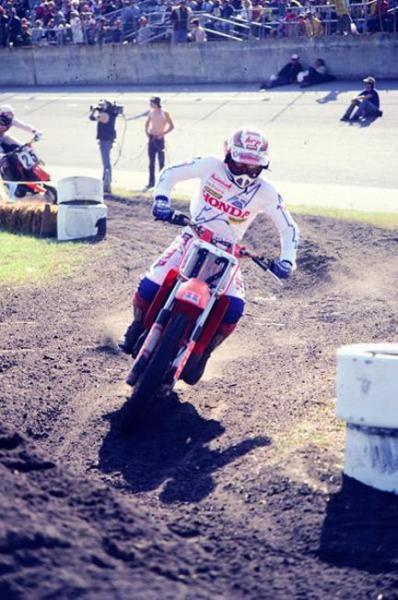 Bob Hannah was a force on the supercross circuit during the 70s.
Racer X Archives photo
Danny Storbeck put an abrupt end to the Johnson ear by landing on Ricky's wrist, which sort put the sport in between conquerors for a few years. Stanton is the man, Bradshaw throws it away and Bayle is just weird. No one became an icon and defined the era. Then, in 1993, along came Jeremy McGrath and he started a run that is unparalleled in supercross to this day. MC was fast, hit the downsides perfectly, got great starts and stayed much lower over the triples than everyone else. He just dominated for seven years (Jeff Emig beat him in '97 but Jeremy was on a Suzuki that handled like a tugboat and made so little power that MC burnt through clutches like me through White Castle sliders). MC introduced a new era and wore the crown well. I'll also say that the tracks have never been tougher than they were in the late '90s and early '00s.
In 2001, along came Ricky Carmichael to knock off McGrath. We all saw it coming, and to his credit, Jeremy did a fine job of beating the kid off for a bit, but RC was too young, too fast and too fit for McGrath by '01. Carmichael wasn't pretty. He had a little bit of Hannah with a bike setup that wouldn't work for anyone but him and Verne Troyer, but he got it done. He just wore guys out, had balls of steel and captured the next three supercross titles. He sat out a year with injury, but won the next two championships before hanging it up. Along the way he racked up enough wins (48) to sit second on the all-time win list behind McGrath (72). So if you're following along, at the close of the '06 season, the sport of supercross had seen just four riders (McGrath, Emig, RC and Chad Reed) win the supercross title in fourteen years. Parity isn't exactly the sport's best friend at this point.
After RC, James Stewart did things the others could not. He took the sport to a new level but crashed too much and got hurt too much to be "the guy" full time. But still, two titles and third on the all-time win list ain't too shabby. Reed won another title, Ryan Dungey got one, and Ryan Villopoto also got a pair. Now, in the six years after RC, we have four different champions - as many as we had in the fourteen years prior! In the last few years I think we've been in something similar to the post-RJ years. We've got some great riders, but no one is able to be the guy and be someone that some tubby writer names an entire era after.
And with that, smash cut to 2013. We've just seen two races that produced two very unlikely winners, and the riders that have combined to win the last seven supercross titles and have 120 wins between them currently sit fourth, fifth, seventh and ninth in points. Even more startling is the fact that between all of them, they've only got two podiums in two races. It's been a wild start to the year and I'm a believer in the fact we're seeing a new beginning (to steal a phrase that is trademarked by my buddy The Newf) in the supercross series. Maybe the "old guys" will rebound and stick it to these kids but I'm thinking that they're going to be in a battle all season long.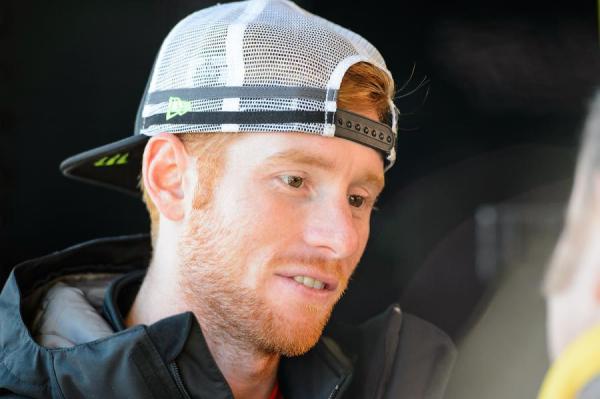 RV bounced back with a hard fought second after a disastrous opening round.
Simon Cudby photo
Here's what's going on with the contenders:
Ryan Villopoto has now crashed in his last four races (Seattle 2012 when he tore up his knee, the Monster Energy Cup, A1 and Phoenix) and although he got second in Phoenix, he probably should've gotten third (Canard crashed on last lap). In my opinion he's the one "big guy" with the least amount to worry about. In my post-race podcast HERE, he all but admits that the switch to the Showa SFF Air Fork is still an issue for him (more on that later).
James Stewart has got a wonky knee that seems to be holding him back, although how much of it is the knee and how much of it is James is yet to be determined. He did set the fastest time in practice and he won his heat race so that's the good. The bad is that James just looks like a normal dude out there. Started eighth, finished seventh. These are strange days indeed, and it's a bummer for everyone he's not 100 percent.
Ryan Dungey has crashed both weeks and this week he barely made the main event. Dungey's speed looks to be about where it always is (a tick off Villopoto and Stewart) and his fitness looks great, but what's up with this crashing? I thought he was going to win at A1 but he went down shortly after that. Dungey ran an air shock last week and this week went back to a traditional shock with, like, a spring and everything. Dungey's reputation as a guy that gets a bit lost with his testing only gets more reinforced with this move.
Chad Reed, he's just plain in a bad mood. He's gone 4-4 in the two races for the best placing of the "big guys" but he knows that he's been a bit fortunate. There's been no point at all in two weeks where you were like 'Wow, this could be Reed's night'. One of Chad's biggest strengths is his ability to step up when the opportunity presents itself and this week he tried but almost ate crap big time. That was it for the 22. He backed it down and took the fortunate fourth after Canard's last lap tip-over. He's gone back and forth with a traditional spring fork and the air fork the last two weeks and after the race, he had a meeting with the Honda guys (Dan Betley and Shane Drew) that was still going at 12:30AM. I know this because I was waiting there to talk to him. Just me and some autograph seekers and I outlasted all of those dudes but one before I packed it in. Anyways, Reed's not pumped at all. He's even doing track walk with his hood up- a sure sign that he's mad. Trust me.
Someone on Reed's team pointed out afterward that Reed beat Villopoto and Stewart the first week and Dungey and Stewart the next week, yet hasn't been on the podium. When have you ever been able to say that? That's right, never! That is why this is a new era folks. Soak it in and let it smother you. Feels good doesn't it?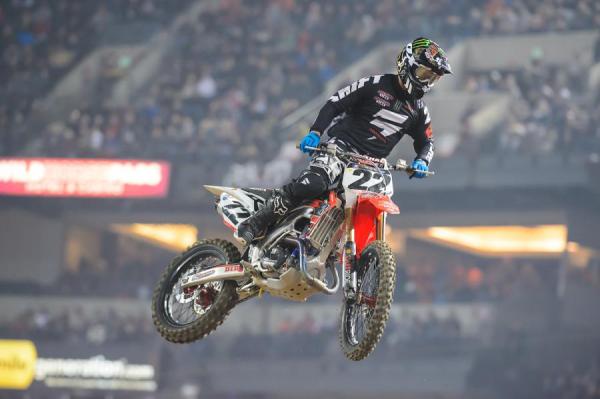 Reed is not happy about back-to-back fourth place finishes to begin the season.
Simon Cudby photo
Okay, let's get to the track. It was tough! After the snoozer at A1 (which is what the guys do on purpose), the difficulty level of Phoenix was much higher than the track a week ago. There were a couple of quad jumps, a tough rhythm section and whoops that were no joke. Phoenix always dries out and gets slick for the night show too, which ups the difficulty level a few notches. One thing though; I've been doing this for a while and I'm always a fan of laying down sand on the track. Looks great in photos, gets rough and always seems like it has potential but it just never works out, especially in a corner like it was this weekend. It just gets pushed out into a berm that everyone takes and there's no passing. I did like the wall right out of the sand section but again, it just never works like it should or like you would think. Sand sections have the potential of one of those sappy rom-coms with all those stars in it but then unfortunately turns out like one of those sappy rom-coms with all the stars in it.
We knew Justin Barcia would win, it was just a matter of time for Bam Bam but in Phoenix, I daresay that his win came sooner and easier than most of us thought it would. The two-time Eastern Regional 250SX champion is on factory Honda, he's a great rider and he's certainly on his way, already, because he won just the second 450SX he was ever in. C'mon, that's what Damon Bradshaw did! On a side note, my buddy Weege informed me that Josh Grant did that same thing when he won Anaheim 1 2009. He actually rode Seattle for GEICO Honda the year before and his win on a JGR Yamaha was his second 450SX ever- the things you find out sitting next to Weege! Barcia won his heat, grabbed the holeshot in the main event and checked out. And just like that, Justin Barcia becomes a first time 450SX winner a lot quicker than we "experts" thought he would. Is he a player in this series? Duh.
With his starts, his bike, his skills and Jeff Stanton in his corner the future looks pretty bright for Barcia and for Honda also. The Red Riders have three musketeers (Barcia, Trey Canard and Eli Tomac) in the system that would make any OEM jealous. The only thing that could possibly go wrong for Barcia at this point is for the cops to pick him up on the way to the race for vagrancy (look what happened to Rambo in First Blood!) because he sort of looks like a homeless guy.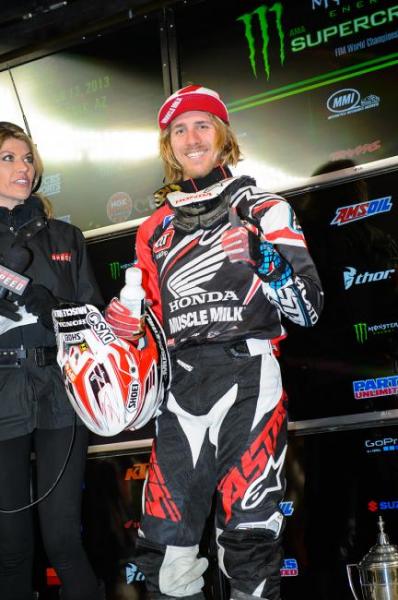 With his first career win in Phoenix, Barcia climbed to second in points.
Simon Cudby photo
Let's take a look at the results shall we?
250 Main Event
1. Eli Tomac Cortez, CO Honda CRF 250- Not much to talk about in terms of Tomac's ride. He had a great ride from about fifth to first and he was a machine out there just marching through the field like a little Terminator. Tomac's the man this year on the west. Soon, we'll be asking if he can run the table. He's that good.
2. Ken Roczen Murrieta, CA KTM 250 SX-F- Roczen's 2-2 after two races may have him frustrated, but really, if anything weird happens again (like it did last year at San Diego) Kenny's right there to pounce.
3. Martin Davalos Cairo, GA Kawasaki KX 250F- Davalos led for a while before ending up third which is so typical Martin, it's not even funny. BUT, this week is different in the fact that he had a hard crash in the heat that was really scary. Luckily for Martin, he got up and headed to the LCQ. And then from the wayyyy outside, he pulled a great start and like I said, led for a bit. He definitely showed some real heart and grit in doing what he did.
4. Cole Seely Murrieta, CA Honda CRF 250- Seely is a tick off the top two guys but I'd love to see Cole get the holeshot and see if he had anything for Tomac. On a clean track and with the ability to push hard, I think Seely can run with Tomac. Maybe not beat him, but definitely run with him.
5. Jessy Nelson Paso Robles, CA Honda CRF 250- Nelson is two for two with holeshots this season. He really showed me something last week in getting up after that gnarly first turn crash, and this week, he took fifth!
6. Zach Osborne Lake Elsinore, CA Honda CRF 250- Osborne crashed in practice and had a shoulder injury that almost kept him out of the night. But there he was out there trying his hardest with a bad wing. And sixth with said bad shoulder is nothing to sneer at.
7. Ryan Sipes Ekron, KY Suzuki RM-Z250- Like Canard, Sipes had a last lap fall and it knocked him from fourth to seventh. He's been real quiet through two rounds, almost too quiet. Expect a breakout ride from Sipes soon. A heat race win, leading a main event, something.
8. Kyle Cunningham Aledo, TX Yamaha YZ250F
9. Joey Savatgy Thomasville, GA KTM SXF250- Savatgy is a real surprise. The rookie J-Star JDR KTM rider is tenth after two rounds and this weekend he was very quick.
10. Christian Craig Wildomar, CA Honda CRF 250- Craig didn't get the start he needed but man, he looked incredible out there. So good man, so good. Of course this "report" isn't based on the fact that his girlfriend up in the press box bought Weege and me hot dogs, right?
11. Max Anstie Hemet, CA Suzuki RM-Z250- Max isn't going to get a ride over here with any really good teams. Frankly, I think his window has closed, but he's still riding well.
12. Tyla Rattray Wildomar, CA Kawasaki KX 250F- What's going on with Tyla? He came from last to get twelfth, but through two rounds, he's got to be the surprise disappointment of the series. This guy was leading the Western Regional 250SX series after a few rounds last year.
13. Austin Politelli Menifee, CA Honda CRF 250- I think Austin is one of the surprises of the early season, he's in his second year and has done pretty well. He looks good on a bike as well. Politelli is on the HRT Honda team, in case you're wondering.
14. Josh Cachia Murrieta, Ca KTM 250 SX-F
15. Travis Bright Ojai, CA Honda CRF 250
16. Trevor Reis Alpine, CA Honda CRF 250- I don't know anything about Trevor but good ride!
17. Michael Leib Menifee, CA Honda CRF 250- Leib crashed in the first turn and may have some thumb damage, he'll know more this week.
18. Malcolm Stewart Haines City, FL KTM
19. Topher Ingalls San Luis Obispo, CA Honda – Ingall's bike blew up. Bummer.
20. Jake Canada Sun City, CA Honda CRF 250- Canada's helmet removal system, which is mandated by the AMA, wasn't in so he was sent back to get a new helmet with one in it. Unfortunately, because of live TV, the gate had to drop when it was scheduled and Jake was left with no helmet as the board went sideways. He quickly got it on as the gate fell, was probably three to four bike lengths behind everyone else, passed eight guys and then got black flagged because his helmet wasn't done up. I agree with the decision because to be out there with an unstrapped helmet isn't good. The funny thing was the AMA just wanted him to stop and do it up but he thought he was out permanently so he rode back to the truck. He definitely could've gotten some points back had he just strapped it up and kept on going. Canada's season has started terribly.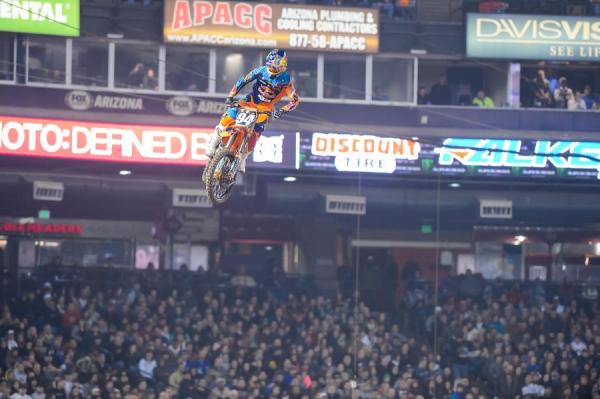 For the second week in a row, Ken Roczen finished second behind Eli Tomac.
Simon Cudby photo
450 Main Event
1. Justin Barcia Pinetta, FL Honda CRF 450- What if we had a race with all the old legends and heroes that dot the pits? We've got Jeff Stanton (Barcia's coach), Mike LaRocco (GEICO manager), Tim Ferry (Canard's coach), Broc Glover (Dunlop), Marty Smith (Slaton Racing), Roger DeCoster (KTM), Steve Lamson (Team Tedder), Ezra Lusk (Millsaps' coach) and Coy Gibbs (son of NFL legend Joe and ace photocopier)? That would be something.
2. Ryan Villopoto Poulsbo, WA Kawasaki KX 450F- RV started on the inside gate again, and again, it didn't work. Just saying.
3. David Millsaps Murrieta, CA Suzuki RM-Z450- This just in, Millsaps is for real. Last week's winner remains the series points leader and all this on a bike that his team owner Bobby Hewitt bought. That's right, Suzuki doesn't support this team whatsoever and so that means Millsaps is eligible for Suzuki contingency. I asked him about this and he didn't know anything about it but upon checking, I see that Suzuki pays $2500 for a SX win. Bonus!
4. Chad Reed Dade City, FL Honda CRF 450
5. Trey Canard Shawnee, OK Honda CRF 450- Oh no Trey! Canard had a great race for second last week and was a half a lap away from getting second and walking away from Phoenix with the red plate when washed the front end out. Later he admitted that he was thinking about all that when he went down. This allowed three dudes to pass him and POOF, there went the bonus money, the red plate and everything else. In a way though, big deal because there was a LOT more to like about Trey's ride than not. Is he back? Yes, yes he is.
6. Jake Weimer Twin Falls, ID Kawasaki KX 450F- Weimer had another quiet race. Started fifth, ended up sixth. Villopoto's pass on him by tripling and scrubbing the smaller fourth jump while Weimer quaded was amazing. Jake never even saw it coming.
7. James Stewart Haines City, FL Suzuki RM-Z450- The new Seven gear that James wore in the night show was pretty good looking stuff, but to me, Reed still has the title of nicest gear. You know this to be true when other gear guys look down at their feet and admit, "It's pretty good."
8. Ryan Dungey Belle Plaine, MN KTM 450 SX-F
9. Andrew Short Smithville, TX Honda CRF 450- Shorty went from thirteenth to ninth in a good ride. He got passed by Dungey with two laps to go which had to bum him out, but I do know he's stressed about his team's situation, and that can't be good.
10. Joshua Grant Corona, CA Yamaha YZ450F- Grant hasn't been that spectacular through the first two races. He's gone backwards in each of them and hopefully he figures it out.
11. Kevin Windham Centreville, MS Honda CRF 450- During track walk KW and I ran into each other (ok fine, I was showing him lines) and I made a joke about him announcing his retirement after A1 on my post-race podcast. He just laughed but then went into about how guys like LaRocco, Ferry and others before him have told him that it's time to get out when you're scared. He wasn't saying he was scared but he was saying that he doesn't want to hit the ground anymore. I tried to do my best to pep talk him with a, "Hey, if you like the track and get a good start, you could podium," Gipper-type speech but he wasn't having it. He's bummed out about just 'riding around' out there and I'm thinking this result wasn't ideal either. But then he goes out and does some 100-foot-plus transfer jump in the dark for opening ceremonies. Maybe I'm overreacting here but I wouldn't be surprised to see KW not make his 2014 goal of hanging it up and that's a shame.
12. Broc Tickle Holly, MI Suzuki RM-Z450- This Chisholm-Tickle thing is just ridiculous. It's been like two years of these two going at it. It doesn't matter if they're separated by ten spots on the first lap. By the end of the race they will find each other.
13. Kyle Chisholm Clearwater, FL Yamaha YZ450F- Chisholm had a meeting with his team after the race to try and make some things better on his bike. He's not really pumped with two thirteenths to start the year. Hey, it could be worse; his teammate Bobby Kiniry didn't qualify.
14. Weston Peick Wildomar, CA Suzuki RM-Z450- Hands up those that saw, in this massively stacked 450SX field, Weston Peick just cruising into both mains with no problems? Lou Peick, you can put your hand down.
15. Justin Brayton Cornelius, NC Yamaha YZ450F- Brayton was my sleeper pick on Twitter before the main event. It didn't work out at all. Not even close.
16. Matt Lemoine Collinsville, TX Kawasaki KX 450F
17. Matthew Goerke Lake Helen, FL KTM 450 SX-F- I didn't notice Matt out there that much so I'm not sure what happened.
18. Vince Friese Cape Girardeau, MO Honda CRF 450- Friese is another guy that's done well. He's two for two this year and seems to be staying out of trouble, but I can't say for sure. With Vince, it's just about trying to not make enemies out there.
19. Jimmy Albertson Shawnee, OK Honda CRF 450- Albertson provided me with the best moment of the night when he won the LCQ over Ryan Dungey. It was a great ride and he straight up beat The Dunge. After missing A1 when he had a fever, Albertson showed that he has improved over last year. It's nothing against Dungey at all but don't you love when the little guys have their moment?
20. Mike Alessi Hilliard, FL Suzuki RM-Z450- Mike crashed off the start and then had some more bad luck along the way. Weird that he couldn't triple into that one rhythm section. Just about everyone else was doing it. Anyways, how's MotoConcepts Racing's finishes after two races for Alessi and Canada? 20-DNF-20-DNQ…that, folks, is really, really hard to do, even if you're trying.
So yeah, air forks (and in Dungey's case, air shock) are all the rage right now but with Villopoto and Reed both struggling a bit with the setup, I have to ask, is it worth it? In talking to some suspension guys, they all say that these teething problems are indeed worth it. Besides the obvious weight difference, the air forks deliver a plush ride and force traction to the front end. Yes, there's the buildup of air pressure from frictional heat to deal with and yes, there are some issues in trying to nail setup, but right now, the teams have no past settings to go on. They're sort of shooting in the dark. In Honda's case, they have an all-new 2013 CRF450 and the air forks to deal with, so potential for chassis issues to pop up is high. Don't worry, they'll nail it soon.
Villopoto is going stiffer and stiffer because of course, the race pace is dramatically different from the practice pace and in the case of Reed, he's just searching for ways to get better so why not start eliminating what's different from your past success? Anyway you look at it, air forks are here to stay according the suspension geeks. The gains are going to be well worth it when they figure it out.
Something that has been helping out a lot of riders on different teams for the past few years is a company called Dartfish that has come in with special video imaging software. What it does is, via video, take a lap of you riding around the track and superimpose it with a lap of, say Ryan Villopoto (if you're RV, do you superimpose yourself with yourself?), and you can see his entrance and exit points in the corners and rhythm lanes and all that. I've seen it and it's pretty cool stuff but no teams that I speak to will ever let me film it or take a photo of it to show you guys. It's a very valuable (and expensive) tool to see where you're losing time compared to a competitor. Check out the examples on the website and picture it on an SX track. Cool stuff indeed.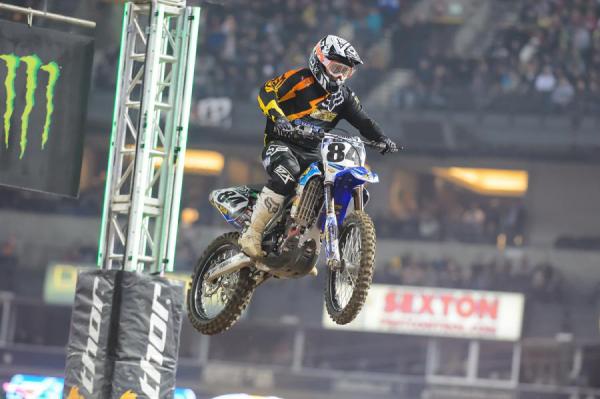 Kyle Partridge was disqualified in Phoenix after an altercation with Chris Blose (pictured above).
Simon Cudby photo
There was drama in the pits as the AMA ended up disqualifying Kyle Partridge for the night after he waited for Team N-Fab's Chris Blose after the heat race for some words. Kyle thought Blose's pass was too aggressive and wanted to let him know. There were three mistakes that sort of all added up to the DQ. One was the waiting for Blose (so there was a conscious effort to start something), two was confronting Chris in an aggressive manner and the third and final strike was attempting to punch Blose. That was it. Partridge was DQ'd and he should know better. Two people I spoke to (one was a member of the N-Fab team and could be biased so I'm not just going off that) said that there wasn't anything wrong with the pass Blose made on Kyle, just aggressive SX racing. I like Kyle. He's a good guy but he's got to know better.
Speaking of DQ's, Kranyak Racing's Josh Hansen wasn't there this weekend because he was benched for the weekend by his team for his actions at the end of the LCQ at A1 when he just blasted fellow rider Alex Ray in an incident that no one has on tape. I saw it perfectly and covered this incident in last week's column, but what I want to touch on here is team manager Paul Delaurier making the move to suspend his rider. It was a ballsy move, no doubt but one that I applaud. I spoke with Paul and he says Josh was apologetic afterwards, and Paul knows that by benching Hansen it's going to cost the team points in the standings, as well as possible sponsor money, but he felt he had to do it. As a former mechanic of eleven years, I wish more people would do what Paul did when riders treat a support staff with as much disrespect as Hansen did. There are all these people behind the scenes that work very hard so that a rider can go out there and race, and when there's an action that's disrespectful to the team, you have to make a tough call. Bravo to Paul who says he really likes Josh and is really trying to help him. If you know Delaurier, you know that he's one of the good guys in the pits.
If I were H&H team manager Kenny Watson last year, I probably would've done the same thing as Delaurier when Hansen blatantly cut the track at Daytona and hopped back into the race. He didn't qualify and the whole team probably spent close to $10,000 to just be at that race. It was disrespectful to the support staff that worked so hard for Hanny to be there. I know that Josh and I don't have the best relationship and some might think I'm just out to get him, but I'd say this about anyone who tries to basically injure another rider when the race is over. By the way, Ray's knee brace was broken from Hansen's front wheel and Beeker, the Fox rep (and Hanny's gear guy) got in touch with Ray to offer up a free set of Fox Pod braces, which is pretty cool and classy to do.
Thanks for reading, email me at matthes@racerxonline.com and we can chat.