Chase Field
Phoenix

,

AZ
Phoenix
Monster Energy AMA Supercross Championship
Hello, everyone, and welcome to the Rev Up. Supercross is pretty cool, huh? Ho, ho. The season opener is always special, but this one really drove it home. There wasn't a fan in the world that wasn't going crazy at the sight of Trey Canard and Davi Millsaps throwing down. I had an idea that Trey was going to have winning speed coming in so he didn't surprise me. Canard won the east region 250 supercross title as a rookie, defeating Ryan Villopoto. He has won at every level since graduating to big bikes at Loretta Lynn's. Canard was top three (or winning) every race he entered until he broke his femur... the second time. When you see that image of him being carried off the track last year then watched him go for the win last weekend it was simply magic. He is a very young man to have had so many comebacks. But, you can't call this a comeback. He picked up right where he left off.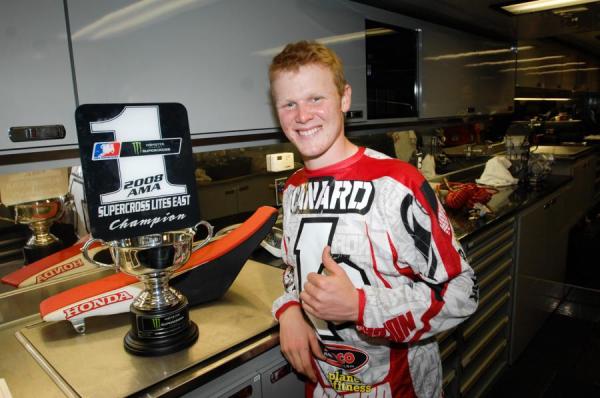 Finding speed has never been an issue for Canard.
Carl Stone Photo
Millsaps owns a different story. It's been a long time since Davi has won, or challenged for wins consistently. He's bounced around from factory ride to factory ride, and left most scratching their heads when it didn't come together. None of those former bosses should have been surprised to see 'Saps near the top of the practice charts. I wasn't at all. I was a little bewildered that he smoked James Stewart and Canard in his heat race. But I was downright astonished when he battled back to pass for the win on the last lap showing tough as nails stamina and salty determination. He was the man. His bike looked and handled great while Davi rode his best all day long. Millsaps at his best has always been the stuff to get the job done and he did it big that time. Not enough accolade now a days for the winner. Congratulations to Rockstar Energy Racing and Davi on one of the biggest victories the sport has seen in a very long time. In the big picture, I think his win made supercross look outstanding. It proved the factories can be beaten. It proved that you can be down but not out, and it proved that even a semi-god like Ryan Villopoto can bleed. You can bet your ass RV1 has some scabs on his elbows coming into Phoenix.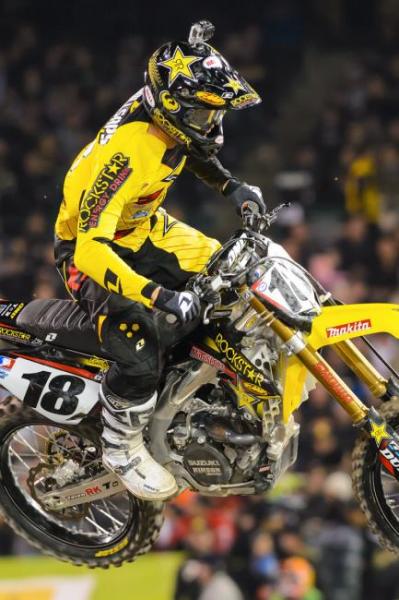 Millsaps is back with a newfound determination and better yet, the points lead.
Simon Cudby photo
So, now Phoenix. As much as we've gone on about with Anaheim, the fire is rising for round two. Contenders like Ryan Dungey, Chad Reed, and Jake Weimer can breathe a little easier. That said, I look for those three to mirror their opening efforts for a while. We won't see Reed come into his own for a few more rounds and the other two are going to be 3rd through 5th guys all year. It's going to be tough for those three to beat the confidence of Millsaps and the speed of Canard this weekend. This is where we enter Villopoto. Should he panic about finishing 16th? No, not at all. In fact, I think RV will have the points lead, or be very close to it by the time they leave Anaheim 3.
What about Justin Barcia? He was fast as expected and over the years I've learned to watch the bikes attitude as much or more as the riders. The factory Honda's were the best on the track last weekend, in my opinion. Barcia is close to finding the right relationship between his rage and his machine. They're not together yet, but very close. He might be the guy this weekend in the unlikely event that RV short-circuits again. This creates a bit of a rub. If the defending champion doesn't win this weekend, something is wrong.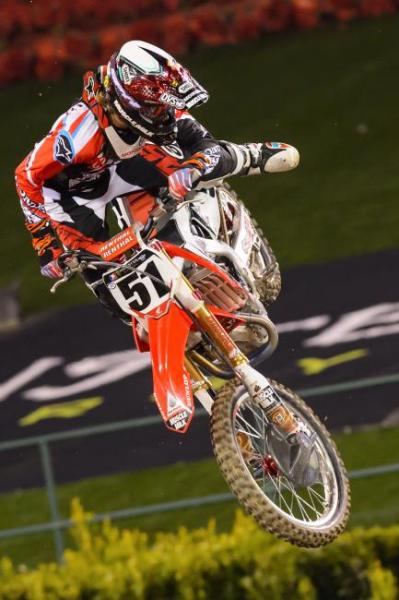 Barcia has the ability to capture his first 450SX main event win.
Simon Cudby photo
Speaking of wrong, James Stewart getting injured in practice at the season opener is a bad deal. If his ACL is torn it is only a matter of time before it pops. He's in Robert Griffin III territory in that he won't be what he was before the injury. Unlike RG3, Stewart is no longer a young man in motocross years. His situation perforates sadness with me because I love watching that guy race. He is a terrific competitor and I'll never understand why his racing career turned out the way it did. If that sounds cryptic, that's because it is. I don't know what he'll be able to do this weekend, or the rounds to come, but I hope it's a miracle and he can make it work enough to race. He's a warrior and he'll race until he can't race anymore.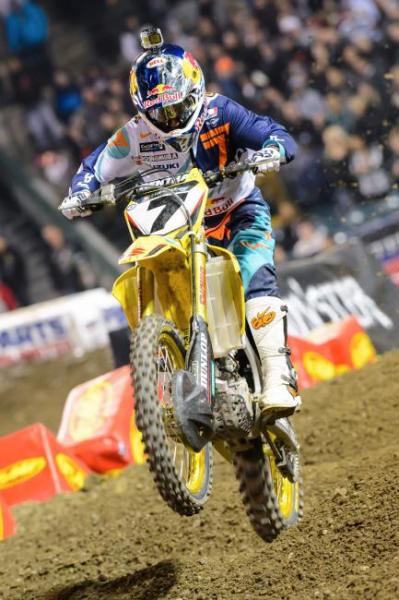 Stewart's health will be a question mark going into Phoenix.
Simon Cudby photo
In the 250SX class, boy is it simple. Eli Tomac will have a year like Jeremy McGrath, Ricky Carmichael, and James Stewart had during their last season on tiddler machines. Over the top domination. Ken Roczen, Cole Seely, and Tyla Rattray and maybe a couple others will knock on the door and there will be furious racing in the wild, wild, west... but Eli's gone. Nobody can do anything with him whatsoever, but it is a hornet's nest behind him.
Phoenix. It's already time to do it again. Did everyone have a merry little go of it watching the show last Saturday night? It was all the way badass, heart-pounding awesome! What I loved the most about it was watching Davi and Trey racing their hearts out for the win. Not a part of the press conference, not a single race win in 2012, yet just as much talent as anyone and they made it happen. How do you make it happen in pro supercross? You get in shape, get good starts and race with confidence. There are a half dozen riders that can make it happen for round two. Last weekend was like shooting a bottle rocket into an evergreen patch. Sparks flew in a lot of directions and a few fires were lit. Time to watch the fires grow. And grow they will.
Thanks for reading, see you next week.